Abstract
Although Weber's law is the most firmly established regularity in sensation, no principled way has been identified to choose between its many proposed explanations. We investigated Weber's law by training rats to discriminate the relative intensity of sounds at the two ears at various absolute levels. These experiments revealed the existence of a psychophysical regularity, which we term time–intensity equivalence in discrimination (TIED), describing how reaction times change as a function of absolute level. The TIED enables the mathematical specification of the computational basis of Weber's law, placing strict requirements on how stimulus intensity is encoded in the stochastic activity of sensory neurons and revealing that discriminative choices must be based on bounded exact accumulation of evidence. We further demonstrate that this mechanism is not only necessary for the TIED to hold but is also sufficient to provide a virtually complete quantitative description of the behavior of the rats.
Access options
Access options
Subscribe to Journal
Get full journal access for 1 year
$225.00
only $18.75 per issue
All prices are NET prices.
VAT will be added later in the checkout.
Rent or Buy article
Get time limited or full article access on ReadCube.
from$8.99
All prices are NET prices.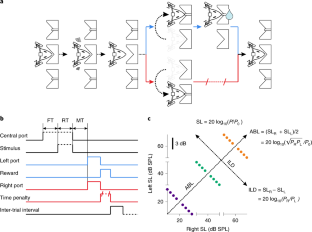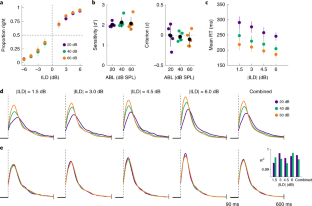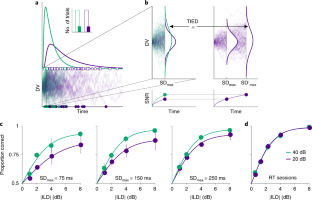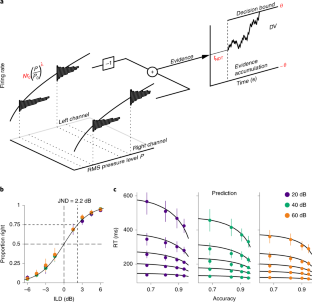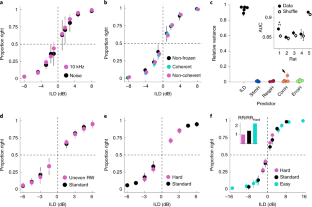 Data availability
All data are available from the authors upon reasonable request.
Code availability
The custom Matlab scripts used to analyze the data are available upon reasonable request.
References
1.

Weber, E. H. De Pulsu, Resorptione, Auditu et Tactu: Annotationes Anatomicae et Physiologicae, Auctore (Prostat Apud CF Koehler, 1834).

2.

Laming, D. Sensory Analysis (Academic, 1986).

3.

Fechner, G. T. Element der Psychophysik (Breitkopf and Harterl, 1860).

4.

Link, S. W. The Wave Theory of Difference and Similarity (Psychology Press, 1992).

5.

Gescheider, G. A. Psychophysics: the Fundamentals (Psychology Press, 2013).

6.

Treisman, M. Noise and Weber's law: the discrimination of brightness and other dimensions. Psychol. Rev. 71, 314–330 (1964).

7.

Green, D. M. & Swets, J. A. Signal Detection Theory and Psychophysics (Wiley, 1966).

8.

Deco, G. & Rolls, E. T. Decision-making and Weber's law: a neurophysiological model. Eur. J. Neurosci. 24, 901–916 (2006).

9.

Teodorescu, A. R., Moran, R. & Usher, M. Absolutely relative or relatively absolute: violations of value invariance in human decision making. Psychon. Bull. Rev. 23, 22–38 (2016).

10.

Simen, P., Vlasov, K. & Papadakis, S. Scale (in)variance in a unified diffusion model of decision making and timing. Psychol. Rev. 123, 151–181 (2016).

11.

Henmon, V. A. C. The relation of the time of a judgment to its accuracy. Psychol. Rev. 18, 186–201 (1911).

12.

Wald, A. & Wolfowitz, J. Optimum character of the sequential probability ratio test. Ann. Math. Stat. 19, 326–339 (1948).

13.

Gold, J. I. & Shadlen, M. N. Banburismus and the brain: decoding the relationship between sensory stimuli, decisions, and reward. Neuron 36, 299–308 (2002).

14.

Forstmann, B. U., Ratcliff, R. & Wagenmakers, E.-J. Sequential sampling models in cognitive neuroscience: advantages, applications, and extensions. Annu. Rev. Psychol. 67, 641–666 (2016).

15.

Wesolek, C. M., Koay, G., Heffner, R. S. & Heffner, H. E. Laboratory rats (Rattus norvegicus) do not use binaural phase differences to localize sound. Hear. Res. 265, 54–62 (2010).

16.

Grothe, B., Pecka, M. & McAlpine, D. Mechanisms of sound localization in mammals. Physiol. Rev. 90, 983–1012 (2010).

17.

Stellmack, M. A., Viemeister, N. F. & Byrne, A. J. Monaural and interaural intensity discrimination: level effects and the binaural advantage. J. Acoust. Soc. Am. 116, 1149–1159 (2004).

18.

Recanzone, G. H. & Beckerman, N. S. Effects of intensity and location on sound location discrimination in macaque monkeys. Hear. Res. 198, 116–124 (2004).

19.

Nodal, F. R., Bajo, V., Parsons, C. H., Schnupp, J. W. & King, A. J. Sound localization behavior in ferrets: comparison of acoustic orientation and approach-to-target responses. Neuroscience 154, 397–408 (2008).

20.

Mendonça, A. et al. The impact of learning on perceptual decisions and its implication for speed–accuracy tradeoffs. Preprint at biorXiv https://doi.org/10.1101/501858 (2018).

21.

Gillespie, D. T. Markov Processes: an Introduction for Physical Scientists (Elsevier, 1991).

22.

Ratcliff, R. & Rouder, J. N. Modeling response times for two-choice decisions. Psychol. Sci. 9, 347–356 (1998).

23.

Usher, M. & McClelland, J. L. The time course of perceptual choice: the leaky, competing accumulator model. Psychol. Rev. 108, 550–592 (2001).

24.

Bogacz, R., Brown, E., Moehlis, J., Holmes, P. & Cohen, J. D. The physics of optimal decision making: a formal analysis of models of performance in two-alternative forced-choice tasks. Psychol. Rev. 113, 700–765 (2006).

25.

Drugowitsch, J., Moreno-Bote, R., Churchland, A. K., Shadlen, M. N. & Pouget, A. The cost of accumulating evidence in perceptual decision making. J. Neurosci. 32, 3612–3628 (2012).

26.

Kiani, R., Hanks, T. D. & Shadlen, M. N. Bounded integration in parietal cortex underlies decisions even when viewing duration is dictated by the environment. J. Neurosci. 28, 3017–3029 (2008).

27.

Brunton, B. W., Botvinick, M. M. & Brody, C. D. Rats and humans can optimally accumulate evidence for decision-making. Science 340, 95–98 (2013).

28.

Hartmann, W. M. & Constan, Z. A. Interaural level differences and the level-meter model. J. Acoust. Soc. Am. 112, 1037–1045 (2002).

29.

Greene, N. T. et al. Spatial hearing ability of the pigmented guinea pig (Cavia porcellus): minimum audible angle and spatial release from masking in azimuth. Hear. Res. 365, 62–76 (2018).

30.

Matthews, W. J., Stewart, N. & Wearden, J. H. Stimulus intensity and the perception of duration. J. Exp. Psychol. Hum. Percept. Perform. 37, 303–313 (2011).

31.

Carandini, M. & Heeger, D. J. Normalization as a canonical neural computation. Nat. Rev. Neurosci. 13, 51–62 (2012).

32.

Tollin, D. J., Koka, K. & Tsai, J. J. Interaural level difference discrimination thresholds for single neurons in the lateral superior olive. J. Neurosci. 28, 4848–4860 (2008).

33.

Jones, H. G., Brown, A. D., Koka, K., Thornton, J. L. & Tollin, D. J. Sound frequency-invariant neural coding of a frequency-dependent cue to sound source location. J. Neurophysiol. 114, 531–539 (2015).

34.

Tsai, J. J., Koka, K. & Tollin, D. J. Varying overall sound intensity to the two ears impacts interaural level difference discrimination thresholds by single neurons in the lateral superior olive. J. Neurophysiol. 103, 875–886 (2009).

35.

Kyweriga, M., Stewart, W. & Wehr, M. Neuronal interaural level difference response shifts are level-dependent in the rat auditory cortex. J. Neurophysiol. 111, 930–938 (2013).

36.

Benichoux, V., Brown, A. D., Anbuhl, K. L. & Tollin, D. J. Representation of multidimensional stimuli: quantifying the most informative stimulus dimension from neural responses. J. Neurosci. 37, 7332–7346 (2017).

37.

Stecker, G. C., Harrington, I. A. & Middlebrooks, J. C. Location coding by opponent neural populations in the auditory cortex. PLoS Biol. 3, e78 (2005).

38.

Keating, P., Dahmen, J. C. & King, A. J. Complementary adaptive processes contribute to the developmental plasticity of spatial hearing. Nat. Neurosci. 18, 185–187 (2015).

39.

Gibbon, J. Scalar expectancy theory and Weber's law in animal timing. Psychol. Rev. 84, 279–325 (1977).

40.

Simen, P. et al. A model of interval timing by neural integration. J. Neurosci. 31, 9238–9253 (2011).

41.

Scott, B. B., Constantinople, C. M., Erlich, J. C., Tank, D. W. & Brody, C. D. Sources of noise during accumulation of evidence in unrestrained and voluntarily head-restrained rats. eLife 4, e11308 (2015).

42.

Tsetsos, K., Usher, M. & McClelland, J. L. Testing multi-alternative decision models with non-stationary evidence. Front. Neurosci. 5, 63 (2011).

43.

Wagenmakers, E.-J. & Brown, S. On the linear relation between the mean and the standard deviation of a response time distribution. Psychol. Rev. 114, 830–841 (2007).

44.

Zwislocki, J. J. in Sensation and Measurement (eds. Moskowitz, H. R., Scharf, B. & Stevens, J. C.) 185–197 (Springer, 1974).

45.

Martin, P. & Hudspeth, A. Compressive nonlinearity in the hair bundle's active response to mechanical stimulation. Proc. Natl Acad. Sci. USA 98, 14386–14391 (2001).

46.

Stevens, S. S. On the psychophysical law. Psychol. Rev. 64, 153–181 (1957).

47.

Dehaene, S. The neural basis of the Weber–Fechner law: a logarithmic mental number line. Trends Cogn. Sci. 7, 145–147 (2003).

48.

Uchida, N. & Mainen, Z. F. Speed and accuracy of olfactory discrimination in the rat. Nat. Neurosci. 6, 1224–1229 (2003).

49.

Brown, A. D., Benichoux, V., Jones, H. G., Anbuhl, K. L. & Tollin, D. J. Spatial variation in signal and sensory precision both constrain auditory acuity at high frequencies. Hear. Res. 370, 65–73 (2018).

50.

Uchida, N., Kepecs, A. & Mainen, Z. F. Seeing at a glance, smelling in a whiff: rapid forms of perceptual decision making. Nat. Rev. Neurosci. 7, 485–491 (2006).

51.

Loader, C. Local Regression and Likelihood (Springer Science & Business Media, 2006).

52.

Friedman, J, Hastie, T. & Tibshirani, R. The Elements of Statistical Learning: Data Mining, Inference, and Prediction (Springer, 2001).

53.

Friedman, J., Hastie, T. & Tibshirani, R. Regularization paths for generalized linear models via coordinate descent. J. Stat. Softw. 33, 1–22 (2010).

54.

Hastie, T., Tibshirani, R. & Wainwright, M. Statistical Learning with Sparsity: the Lasso and Generalizations (CRC Press, 2015).

55.

Ratcliff, R. & Tuerlinckx, F. Estimating parameters of the diffusion model: approaches to dealing with contaminant reaction times and parameter variability. Psychon. Bull. Rev. 9, 438–481 (2002).

56.

Blurton, S. P., Kesselmeier, M. & Gondan, M. Fast and accurate calculations for cumulative first-passage time distributions in wiener diffusion models. J. Math. Psychol. 56, 470–475 (2012).

57.

Gondan, M., Blurton, S. P. & Kesselmeier, M. Even faster and even more accurate first-passage time densities and distributions for the wiener diffusion model. J. Math. Psychol. 60, 20–22 (2014).

58.

Lagarias, J. C., Reeds, J. A., Wright, M. H. & Wright, P. E. Convergence properties of the Nelder–Mead simplex method in low dimensions. SIAM J. Optim. 9, 112–147 (1998).

59.

Heathcote, A. & Brown, S. Reply to Speckman and Rouder: a theoretical basis for QML. Psychon. Bull. Rev. 11, 577–578 (2004).
Acknowledgements
The authors thank D. Reato, J. de la Rocha, G. Agarwal, E. Lottem, A. Nevado, J. Paton and L. Petreanu for careful reading of the manuscript. They also thank P. Simen for pointing out relevant references, T. Stensola for help with behavioral boxes, the vivarium platform at Champalimaud Research for support, M. Bayonas for help with headphone prototyping and D. Kobak for reading the manuscript and advice on statistical analyses. J.L.P.-V. was supported by the HFSP postdoctoral scholarship LT 000442/2012, and J.R.C.-S., M.V., T.C., M.I.V. and A.G.M. were supported by doctoral fellowships from the Fundação para a Ciência e a Tecnologia. Z.F.M. was supported by the Champalimaud Foundation, the European Research Council (Advanced Investigator grant 250334), the Human Frontier Science Program (grant RGP0027/2010) and the Simons Foundation (grant 325057). A.R. was supported by the Champalimaud Foundation, a Marie Curie Career Integration grant (PCIG11-GA-2012-322339), the HFSP Young Investigator Award RGY0089 and the EU FP7 grant ICT-2011-9-600925 (NeuroSeeker).
Ethics declarations
Competing interests
The authors declare no competing interests.
Additional information
Publisher's note: Springer Nature remains neutral with regard to jurisdictional claims in published maps and institutional affiliations.
Integrated supplementary information