A new study by Owen et al. shows that widely used optogenetic light delivery can heat brain tissue and produce changes in neural activity and behavior in the absence of opsins. How will this finding influence experimental design in the optical age of neuroscience?
Access options
Subscribe to Journal
Get full journal access for 1 year
$209.00
only $17.42 per issue
All prices are NET prices.
VAT will be added later in the checkout.
Rent or Buy article
Get time limited or full article access on ReadCube.
from$8.99
All prices are NET prices.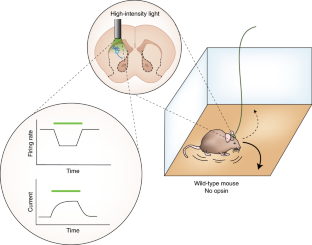 References
1.

Owen, S.F., Liu, M.H. & Kreitzer, A.C. Nat. Neurosci. https://doi.org/10.1038/s41562-0422-3 (2019)

2.

Yizhar, O., Fenno, L. E., Davidson, T. J., Mogri, M. & Deisseroth, K. Neuron 71, 9–34 (2011).

3.

Gysbrechts, B. et al. J. Biophotonics 9, 576–585 (2016).

4.

Arias-Gil, G., Ohl, F. W., Takagaki, K. & Lippert, M. T. Neurophotonics 3, 045007 (2016).

5.

Stujenske, J. M., Spellman, T. & Gordon, J. A. Cell Rep. 12, 525–534 (2015).

6.

Wiegert, J. S., Mahn, M., Prigge, M., Printz, Y. & Yizhar, O. Neuron 95, 504–529 (2017).

7.

Gradinaru, V. et al. Cell 141, 154–165 (2010).

8.

Chuong, A. S. et al. Nat. Neurosci. 17, 1123–1129 (2014).

9.

Govorunova, E. G., Sineshchekov, O. A., Janz, R., Liu, X. & Spudich, J. L. Science 349, 647–650 (2015).

10.

Berndt, A. et al. Proc. Natl Acad. Sci. USA 113, 822–829 (2016).

11.

Mahn, M., Prigge, M., Ron, S., Levy, R. & Yizhar, O. Nat. Neurosci. 19, 554–556 (2016).

12.

Wolff, S. B. & Ölveczky, B. P. Curr. Opin. Neurobiol. 49, 84–94 (2018).

13.

Song, A. J. & Palmiter, R. D. Trends Genet. 34, 333–340 (2018).

14.

Lammel, S. et al. Neuron 85, 429–438 (2015).

15.

Gomez, J. L. et al. Science 357, 503–507 (2017).
Acknowledgements
D.C.P. is supported by a Graduate Research Fellowship from the National Science Foundation. S.L. is supported by a John P. Stock Faculty Fellowship and Rita Allen Scholarship. This work was supported by grants from NIDA (R01-DA042889), NIMH (R01MH112721), TRDRP (26IP-0035), the Rita Allen Foundation, the Wayne and Gladys Valley Foundation and the Shurl and Kay Curci Foundation.
Ethics declarations
Competing interests
The authors declare no competing interests.
About this article
Cite this article
Cardozo Pinto, D.F., Lammel, S. Hot topic in optogenetics: new implications of in vivo tissue heating. Nat Neurosci 22, 1039–1041 (2019). https://doi.org/10.1038/s41593-019-0426-z
Further reading
Da Song

,

Deheng Wang

,

Qinghu Yang

,

Tianyi Yan

,

Zhe Wang

,

Yan Yan

,

Juan Zhao

,

Zhen Xie

,

Yuchen Liu

,

Zunji Ke

,

Talal Jamil Qazi

,

Yanhui Li

,

Yili Wu

,

Qing Shi

,

Yiran Lang

,

Heao Zhang

,

Tao Huang

,

Chunjian Wang

,

Zhenzhen Quan

&

Hong Qing

Nature Communications (2020)

Zhengrong Zhang

,

Taomei Deng

,

Manli Wu

,

Aisong Zhu

&

Guoqi Zhu

Chinese Medicine (2019)