Abstract
Mutations affecting the gene encoding the ubiquitin ligase UBE3A cause Angelman syndrome. Although most studies focus on the synaptic function of UBE3A, we show that UBE3A is highly enriched in the nucleus of mouse and human neurons. We found that the two major isoforms of UBE3A exhibit highly distinct nuclear versus cytoplasmic subcellular localization. Both isoforms undergo nuclear import through direct binding to PSMD4 (also known as S5A or RPN10), but the amino terminus of the cytoplasmic isoform prevents nuclear retention. Mice lacking the nuclear UBE3A isoform recapitulate the behavioral and electrophysiological phenotypes of Ube3am–/p+ mice, whereas mice harboring a targeted deletion of the cytosolic isoform are unaffected. Finally, we identified Angelman syndrome-associated UBE3A missense mutations that interfere with either nuclear targeting or nuclear retention of UBE3A. Taken together, our findings elucidate the mechanisms underlying the subcellular localization of UBE3A, and indicate that the nuclear UBE3A isoform is the most critical for the pathophysiology of Angelman syndrome.
Relevant articles
Open Access articles citing this article.
Nikhil J. Pandya

,

Sonja Meier

…

Ravi Jagasia

Molecular Psychiatry Open Access 09 March 2022

Kellan P. Weston

,

Xiaoyi Gao

…

Jason J. Yi

Nature Communications Open Access 23 November 2021

Gabrielle L. Sell

,

Wendy Xin

…

Seth S. Margolis

Scientific Reports Open Access 30 September 2021
Access options
Subscribe to Nature+
Get immediate online access to Nature and 55 other Nature journal
Subscribe to Journal
Get full journal access for 1 year
$79.00
only $6.58 per issue
All prices are NET prices.
VAT will be added later in the checkout.
Tax calculation will be finalised during checkout.
Buy article
Get time limited or full article access on ReadCube.
$32.00
All prices are NET prices.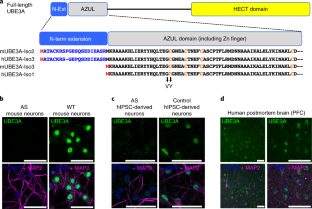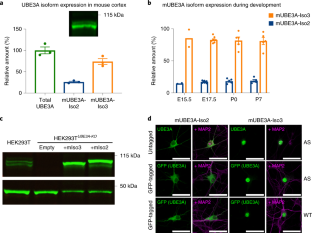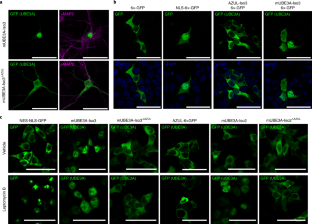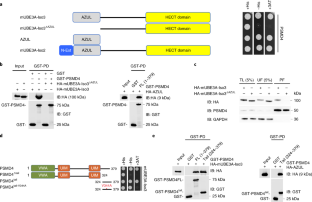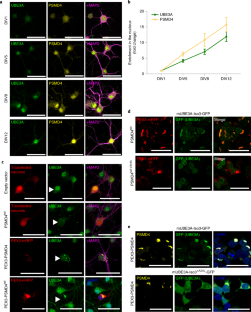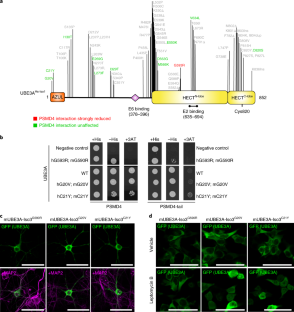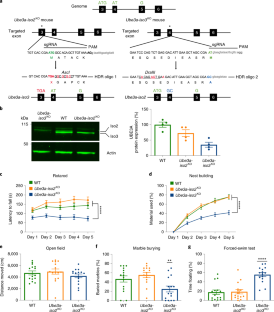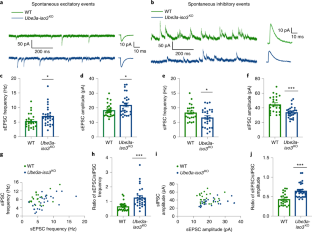 Data availability
The data that support the findings of this study are available from the corresponding authors upon reasonable request.
References
LaSalle, J. M., Reiter, L. T. & Chamberlain, S. J. Epigenetic regulation of UBE3A and roles in human neurodevelopmental disorders. Epigenomics 7, 1213–1228 (2015).

Sell, G. L. & Margolis, S. S. From UBE3A to Angelman syndrome: a substrate perspective. Front. Neurosci. 9, 322 (2015).

Scheffner, M. & Kumar, S. Mammalian HECT ubiquitin-protein ligases: biological and pathophysiological aspects. Biochim. Biophys. Acta 1843, 61–74 (2014).

Judson, M. C. et al. GABAergic neuron-specific loss of Ube3a causes Angelman syndrome-like EEG abnormalities and enhances seizure susceptibility. Neuron 90, 56–69 (2016).

Li, W. et al. Angelman syndrome protein Ube3a regulates synaptic growth and endocytosis by inhibiting BMP signaling in Drosophila. PLoS Genet. 12, e1006062 (2016).

Greer, P. L. et al. The Angelman syndrome protein Ube3A regulates synapse development by ubiquitinating Arc. Cell 140, 704–716 (2010).

Kuhnle, S., Mothes, B., Matentzoglu, K. & Scheffner, M. Role of the ubiquitin ligase E6AP/UBE3A in controlling levels of the synaptic protein Arc. Proc. Natl Acad. Sci. USA 110, 8888–8893 (2013).

Pignatelli, M. et al. Changes in mGlu5 receptor-dependent synaptic plasticity and coupling to homer proteins in the hippocampus of Ube3A hemizygous mice modeling angelman syndrome. J. Neurosci. 34, 4558–4566 (2014).

Dindot, S. V., Antalffy, B. A., Bhattacharjee, M. B. & Beaudet, A. L. The Angelman syndrome ubiquitin ligase localizes to the synapse and nucleus, and maternal deficiency results in abnormal dendritic spine morphology. Hum. Mol. Genet. 17, 111–118 (2008).

Gustin, R. M. et al. Tissue-specific variation of Ube3a protein expression in rodents and in a mouse model of Angelman syndrome. Neurobiol. Dis. 39, 283–291 (2010).

Miao, S. et al. The Angelman syndrome protein Ube3a is required for polarized dendrite morphogenesis in pyramidal neurons. J. Neurosci. 33, 327–333 (2013).

Burette, A. C. et al. Subcellular organization of UBE3A in neurons. J. Comp. Neurol. 525, 233–251 (2017).

Burette, A. C. et al. Subcellular organization of UBE3A in human cerebral cortex. Mol. Autism 9, 54 (2018).

Yamamoto, Y., Huibregtse, J. M. & Howley, P. M. The human E6-AP gene (UBE3A) encodes three potential protein isoforms generated by differential splicing. Genomics 41, 263–266 (1997).

Valluy, J. et al. A coding-independent function of an alternative Ube3a transcript during neuronal development. Nat. Neurosci. 18, 666–673 (2015).

Wang, R. & Brattain, M. G. The maximal size of protein to diffuse through the nuclear pore is larger than 60 kDa. FEBS Lett. 581, 3164–3170 (2007).

Ronchi, V. P., Klein, J. M., Edwards, D. J. & Haas, A. L. The active form of E6-associated protein (E6AP)/UBE3A ubiquitin ligase is an oligomer. J. Biol. Chem. 289, 1033–1048 (2014).

Lemak, A., Yee, A., Bezsonova, I., Dhe-Paganon, S. & Arrowsmith, C. H. Zn-binding AZUL domain of human ubiquitin protein ligase Ube3A. J. Biomol. NMR 51, 185–190 (2011).

Seibel, N. M., Eljouni, J., Nalaskowski, M. M. & Hampe, W. Nuclear localization of enhanced green fluorescent protein homomultimers. Anal. Biochem. 368, 95–99 (2007).

Kudo, N. et al. Leptomycin B inactivates CRM1/exportin 1 by covalent modification at a cysteine residue in the central conserved region. Proc. Natl Acad. Sci. USA 96, 9112–9117 (1999).

Ronchi, V. P., Klein, J. M. & Haas, A. L. E6AP/UBE3A ubiquitin ligase harbors two E2~ubiquitin binding sites. J. Biol. Chem. 288, 10349–10360 (2013).

Verma, R., Oania, R., Graumann, J. & Deshaies, R. J. Multiubiquitin chain receptors define a layer of substrate selectivity in the ubiquitin–proteasome system. Cell 118, 99–110 (2004).

Sakata, E. et al. Localization of the proteasomal ubiquitin receptors Rpn10 and Rpn13 by electron cryomicroscopy. Proc. Natl Acad. Sci. USA 109, 1479–1484 (2012).

Young, P., Deveraux, Q., Beal, R. E., Pickart, C. M. & Rechsteiner, M. Characterization of two polyubiquitin binding sites in the 26S protease subunit 5a. J. Biol. Chem. 273, 5461–5467 (1998).

Soukupova, M., Sprenger, C., Gorgas, K., Kunau, W. H. & Dodt, G. Identification and characterization of the human peroxin PEX3. Eur. J. Cell Biol. 78, 357–374 (1999).

Yi, J. J. et al. An Autism-linked mutation disables phosphorylation control of UBE3A. Cell 162, 795–807 (2015).

Mueller, O. T. & Coovadia, A. Gene symbol: UBE3A. Disease: Angelman syndrome. Hum. Genet. 123, 538 (2008).

Matsuura, T. et al. De novo truncating mutations in E6-AP ubiquitin-protein ligase gene (UBE3A) in Angelman syndrome. Nat. Genet. 15, 74–77 (1997).

Silva-Santos, S. et al. Ube3a reinstatement identifies distinct developmental windows in a murine Angelman syndrome model. J. Clin. Invest. 125, 2069–2076 (2015).

Sonzogni, M. et al. A behavioral test battery for mouse models of Angelman syndrome: a powerful tool for testing drugs and novel Ube3a mutants. Mol. Autism 9, 47 (2018).

Rotaru, D. C., van Woerden, G. M., Wallaard, I. & Elgersma, Y. Adult Ube3a gene reinstatement restores the electrophysiological deficits of prefrontal cortex layer 5 neurons in a mouse model of Angelman syndrome. J. Neurosci. 38, 8011–8030 (2018).

Sailer, C. et al. Structural dynamics of the E6AP/UBE3A–E6–p53 enzyme–substrate complex. Nat. Commun. 9, 4441 (2018).

Lee, S. Y. et al. Ube3a, the E3 ubiquitin ligase causing Angelman syndrome and linked to autism, regulates protein homeostasis through the proteasomal shuttle Rpn10. Cell. Mol. Life Sci. 71, 2747–2758 (2013).

Kosugi, S., Hasebe, M., Tomita, M. & Yanagawa, H. Systematic identification of cell cycle-dependent yeast nucleocytoplasmic shuttling proteins by prediction of composite motifs. Proc. Natl Acad. Sci. USA 106, 10171–10176 (2009).

Kawahara, H. et al. Developmentally regulated, alternative splicing of the Rpn10 gene generates multiple forms of 26S proteasomes. EMBO J. 19, 4144–4153 (2000).

Besche, H. C., Haas, W., Gygi, S. P. & Goldberg, A. L. Isolation of mammalian 26S proteasomes and p97/VCP complexes using the ubiquitin-like domain from HHR23B reveals novel proteasome-associated proteins. Biochemistry 48, 2538–2549 (2009).

Wang, X. et al. Mass spectrometric characterization of the affinity-purified human 26S proteasome complex. Biochemistry 46, 3553–3565 (2007).

Scanlon, T. C. et al. Isolation of human proteasomes and putative proteasome-interacting proteins using a novel affinity chromatography method. Exp. Cell Res. 315, 176–189 (2009).

Tai, H. C., Besche, H., Goldberg, A. L. & Schuman, E. M. Characterization of the brain 26S proteasome and its interacting proteins. Front. Mol. Neurosci. 3, 12 (2010).

Martinez-Noel, G. et al. Identification and proteomic analysis of distinct UBE3A/E6AP protein complexes. Mol. Cell. Biol. 32, 3095–3106 (2012).

Pack, C.-G. et al. Quantitative live-cell imaging reveals spatio-temporal dynamics and cytoplasmic assembly of the 26S proteasome. Nat. Commun. 5, 3396 (2014).

Kühnle, S. et al. Angelman syndrome-associated point mutations in the Zn2+-binding N-terminal (AZUL) domain of UBE3A ubiquitin ligase inhibit binding to the proteasome. J. Biol. Chem. 293, 18387–18399 (2018).

Jantz, D., Amann, B. T., Gatto, G. J. & Berg, J. M. The design of functional DNA-binding proteins based on zinc finger domains. Chem. Rev. 104, 789–799 (2004).

Ramamoorthy, S. & Nawaz, Z. E6-associated protein (E6-AP) is a dual function coactivator of steroid hormone receptors. Nucl. Recept. Sign. 6, e006 (2008).

Reid, G. et al. Cyclic, proteasome-mediated turnover of unliganded and liganded ERalpha on responsive promoters is an integral feature of estrogen signaling. Mol. Cell 11, 695–707 (2003).

Khan, O. Y. et al. Multifunction steroid receptor coactivator, E6-associated protein, is involved in development of the prostate gland. Mol. Endocrinol. 20, 544–559 (2006).

Sadhwani, A. et al. Two Angelman families with unusually advanced neurodevelopment carry a start codon variant in the most highly expressed UBE3A isoform. Am. J. Med. Genet. A 176, 1641–1647 (2018).

Nawaz, Z. et al. The Angelman syndrome-associated protein, E6-AP, is a coactivator for the nuclear hormone receptor superfamily. Mol. Cell. Biol. 19, 1182–1189 (1999).

Krishnan, V. et al. Autism gene Ube3a and seizures impair sociability by repressing VTA Cbln1. Nature 543, 507–512 (2017).

Hokayem, El,J. & Nawaz, Z. E6AP in the brain: one protein, dual function, multiple diseases. Mol. Neurobiol. 49, 827–839 (2013).

Loregger, A. et al. Haploid mammalian genetic screen identifies UBXD8 as a key determinant of HMGCR degradation and cholesterol biosynthesis. Arterioscler. Thromb. Vasc. Biol. 37, 2064–2074 (2017).

Warlich, E. et al. Lentiviral vector design and imaging approaches to visualize the early stages of cellular reprogramming. Mol. Ther. 19, 782–789 (2011).

Gunhanlar, N. et al. A simplified protocol for differentiation of electrophysiologically mature neuronal networks from human induced pluripotent stem cells. Mol. Psych. 23, 1336–1344 (2018).

Verschueren, E. et al. Evolution of the SH3 domain specificity landscape in yeasts. PLoS One 10, e0129229 (2015).

Huibregtse, J. M., Scheffner, M., Beaudenon, S. & Howley, P. M. A family of proteins structurally and functionally related to the E6-AP ubiquitin-protein ligase. Proc. Natl Acad. Sci. USA 92, 5249 (1995).

Nelson, J. K. et al. The deubiquitylase USP2 regulates the LDLR pathway by counteracting the E3-ubiquitin ligase IDOL. Circ. Res. 118, 410–419 (2016).

Amin, N. et al. A rare missense variant in RCL1 segregates with depression in extended families. Mol. Psych. 23, 1120–1126 (2018).

Ran, F. A. et al. Genome engineering using the CRISPR-Cas9 system. Nat. Protoc. 8, 2281–2308 (2013).
Acknowledgements
This work was funded by the following grants: a joint NWO-ZonMw TOP grant (no. 91216045) to Y.E., B.D. and S.A.K. (to study the mechanism of nuclear UBE3A targeting); grants from the Angelman Syndrome Foundation to Y.E. (to generate and characterize isoform-specific Ube3a mice) and B.D. (to identify novel targets and activators of UBE3A); an Erasmus MC grant to Y.E. and S.A.K. (to study UBE3A localization in IPS cells); a grant from the Angelman Syndrome Alliance to B.D., Y.E. and G.M.v.W. (to characterize UBE3A-interacting proteins); and a fellowship from the Associazione Angelman and FROM to M.S. The authors are grateful to the following individuals and groups: M. Elgersma, C. de Koning and M. A. Jolfaei for colony management and genotyping; the Erasmus MC iPS Core Facility for reprogramming and characterization of human iPSC lines; L. Huang for providing the HEK293RPN11-HTBH cells; C. Hoogenraad for providing the mRFP-PEX3 constructs; Y. van der Weegen and E. Hanemaaijer for construction of the plasmids; N. Zelcer for providing material and technical support; and B. Philpot, M. Judson and M. Elgersma for critical reading of the manuscript and valuable advice.
Ethics declarations
Competing interests
The authors declare no competing interests.
Additional information
Journal peer review information: Nature Neuroscience thanks Jon Huibregtse and the other, anonymous, reviewer(s) for their contribution to the peer review of this work.
Publisher's note: Springer Nature remains neutral with regard to jurisdictional claims in published maps and institutional affiliations.
Integrated supplementary information
Supplementary information
Supplementary Figures 1–10 and Supplementary Tables 1 and 2.
Oligo used in this study.
About this article
Cite this article
Avagliano Trezza, R., Sonzogni, M., Bossuyt, S.N.V. et al. Loss of nuclear UBE3A causes electrophysiological and behavioral deficits in mice and is associated with Angelman syndrome. Nat Neurosci 22, 1235–1247 (2019). https://doi.org/10.1038/s41593-019-0425-0
Received:

Accepted:

Published:

Issue Date:

DOI: https://doi.org/10.1038/s41593-019-0425-0