Abstract
A key assumption of optogenetics is that light only affects opsin-expressing neurons. However, illumination invariably heats tissue, and many physiological processes are temperature-sensitive. Commonly used illumination protocols increased the temperature by 0.2–2 °C and suppressed spiking in multiple brain regions. In the striatum, light delivery activated an inwardly rectifying potassium conductance and biased rotational behavior. Thus, careful consideration of light-delivery parameters is required, as even modest intracranial heating can confound interpretation of optogenetic experiments.
Access options
Subscribe to Journal
Get full journal access for 1 year
$225.00
only $18.75 per issue
All prices are NET prices.
VAT will be added later in the checkout.
Rent or Buy article
Get time limited or full article access on ReadCube.
from$8.99
All prices are NET prices.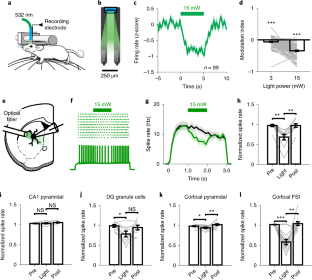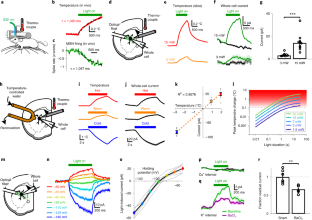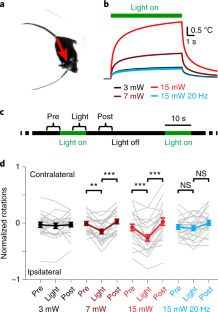 Data availability
The data that support the findings of this study are available from the corresponding author upon request.
Code availability
Modeling is based on previously a published code that is freely available1; all other analysis code is available upon reasonable request.
References
1.

Stujenske, J. M., Spellman, T. & Gordon, J. A. Cell Rep. 12, 525–534 (2015).

2.

Arias-Gil, G., Ohl, F. W., Takagaki, K. & Lippert, M. T. Neurophotonics 3, 045007 (2016).

3.

Yizhar, O., Fenno, L. E., Davidson, T. J., Mogri, M. & Deisseroth, K. Neuron 71, 9–34 (2011).

4.

Yang, F. & Zheng, J. eLife 3, e03255 (2014).

5.

Moser, E., Mathiesen, I. & Andersen, P. Science 259, 1324–1326 (1993).

6.

Sabatini, B. L. & Regehr, W. G. Nature 384, 170–172 (1996).

7.

Long, M. A. & Fee, M. S. Nature 456, 189–194 (2008).

8.

Ait Ouares, K., Beurrier, C., Canepari, M., Laverne, G. & Kuczewski, N. Eur. J. Neurosci. 49, 6–26 (2019).

9.

Podgorski, K. & Ranganathan, G. J. Neurophysiol. 116, 1012–1023 (2016).

10.

Yang, F., Cui, Y., Wang, K. & Zheng, J. Proc. Natl Acad. Sci. USA 107, 7083–7088 (2010).

11.

Prüss, H., Derst, C., Lommel, R. & Veh, R. W. Brain Res. Mol. Brain Res. 139, 63–79 (2005).

12.

Allen, B. D., Singer, A. C. & Boyden, E. S. Learn. Mem. 22, 232–238 (2015).

13.

Gradinaru, V. et al. Cell 141, 154–165 (2010).

14.

Pi, H.-J. et al. Nature 503, 521–524 (2013).

15.

Mattis, J. et al. Nat. Methods 9, 159–172 (2012).

16.

Owen, S. F., Berke, J. D. & Kreitzer, A. C. Cell 172, 683–695.e15 (2018).

17.

Lin, J. Y., Knutsen, P. M., Muller, A., Kleinfeld, D. & Tsien, R. Y. Nat. Neurosci. 16, 1499–1508 (2013).

18.

Berndt, A., Yizhar, O., Gunaydin, L. A., Hegemann, P. & Deisseroth, K. Nat. Neurosci. 12, 229–234 (2009).

19.

Pisanello, F. et al. Nat. Neurosci. 20, 1180–1188 (2017).

20.

Steude, A., Witts, E. C., Miles, G. B. & Gather, M. C. Sci. Adv. 2, e1600061 (2016).

21.

Mathis, A. et al. Nat. Neurosci. 21, 1281 (2018).
Acknowledgements
The authors thank B. Margolin for assistance with genotyping, histology, and microscopy, and members of A.C.K.'s laboratory for comments on the manuscript. This work was funded by NIH R01 NS078435 and RF1 AG047655 (to A.C.K.), a NARSAD Young Investigator Award (to S.F.O.), F32 NS083369 (to S.F.O.) and K99 MH110597 (to S.F.O.), and RR018928 (to the Gladstone Institutes).
Ethics declarations
Competing interests
The authors declare no competing interests.
Additional information
Publisher's note: Springer Nature remains neutral with regard to jurisdictional claims in published maps and institutional affiliations.
Integrated supplementary information
Supplementary information
About this article
Cite this article
Owen, S.F., Liu, M.H. & Kreitzer, A.C. Thermal constraints on in vivo optogenetic manipulations. Nat Neurosci 22, 1061–1065 (2019) doi:10.1038/s41593-019-0422-3
Received:

Accepted:

Published:

Issue Date: