Abstract
Disruption of the blood–brain barrier (BBB) is critical to initiation and perpetuation of disease in multiple sclerosis (MS). We report an interaction between oligodendroglia and vasculature in MS that distinguishes human white matter injury from normal rodent demyelinating injury. We find perivascular clustering of oligodendrocyte precursor cells (OPCs) in certain active MS lesions, representing an inability to properly detach from vessels following perivascular migration. Perivascular OPCs can themselves disrupt the BBB, interfering with astrocyte endfeet and endothelial tight junction integrity, resulting in altered vascular permeability and an associated CNS inflammation. Aberrant Wnt tone in OPCs mediates their dysfunctional vascular detachment and also leads to OPC secretion of Wif1, which interferes with Wnt ligand function on endothelial tight junction integrity. Evidence for this defective oligodendroglial–vascular interaction in MS suggests that aberrant OPC perivascular migration not only impairs their lesion recruitment but can also act as a disease perpetuator via disruption of the BBB.
Relevant articles
Open Access articles citing this article.
Xuelian Hu

,

Guangdan Yu

…

Lan Xiao

Neuroscience Bulletin Open Access 12 November 2022

Ying Zhao

,

Wusheng Zhu

…

Xinfeng Liu

Nature Communications Open Access 10 November 2022

Guangdan Yu

,

Yixun Su

…

Jianqin Niu

Molecular Psychiatry Open Access 21 September 2022
Access options
Subscribe to Nature+
Get immediate online access to Nature and 55 other Nature journal
Subscribe to Journal
Get full journal access for 1 year
$79.00
only $6.58 per issue
All prices are NET prices.
VAT will be added later in the checkout.
Tax calculation will be finalised during checkout.
Buy article
Get time limited or full article access on ReadCube.
$32.00
All prices are NET prices.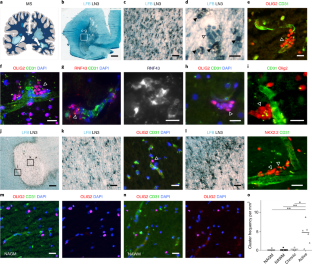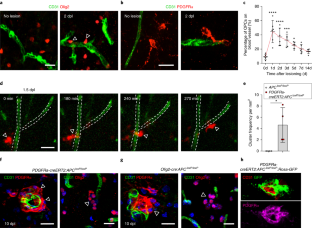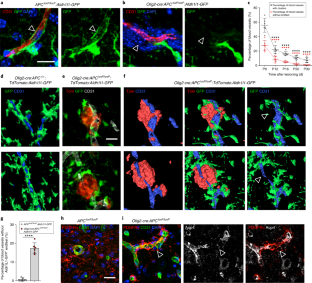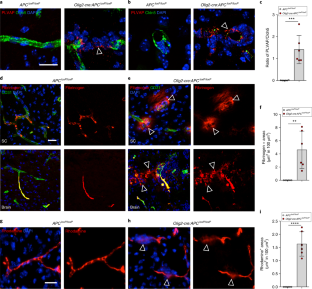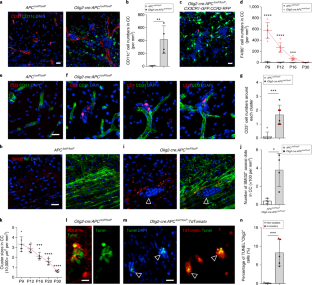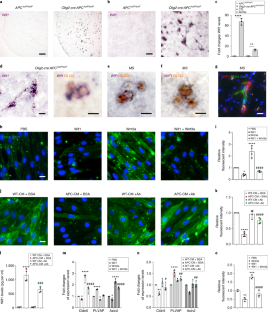 References
Compston, A. & Coles, A. Multiple sclerosis. Lancet 372, 1502–1517 (2008).

Maggi, P. et al. The formation of inflammatory demyelinated lesions in cerebral white matter. Ann. Neurol. 76, 594–608 (2014).

Alvarez, J. I., Cayrol, R. & Prat, A. Disruption of central nervous system barriers in multiple sclerosis. Biochim. Biophys. Acta 1812, 252–264 (2011).

Minagar, A. & Alexander, J. S. Blood–brain barrier disruption in multiple sclerosis. Mult. Scler. 9, 540–549 (2003).

Obermeier, B., Daneman, R. & Ransohoff, R. M. Development, maintenance and disruption of the blood–brain barrier. Nat. Med. 19, 1584–1596 (2013).

Franklin, R. J. M. & Ffrench-Constant, C. Regenerating CNS myelin - from mechanisms to experimental medicines. Nat. Rev. Neurosci. 18, 753–769 (2017).

Gallo, V. & Deneen, B. Glial development: the crossroads of regeneration and repair in the CNS. Neuron 83, 283–308 (2014).

Chang, A., Tourtellotte, W. W., Rudick, R. & Trapp, B. D. Premyelinating oligodendrocytes in chronic lesions of multiple sclerosis. N. Engl. J. Med. 346, 165–173 (2002).

Kuhlmann, T. et al. Differentiation block of oligodendroglial progenitor cells as a cause for remyelination failure in chronic multiple sclerosis. Brain 131, 1749–1758 (2008).

Boyd, A., Zhang, H. & Williams, A. Insufficient OPC migration into demyelinated lesions is a cause of poor remyelination in MS and mouse models. Acta Neuropathol. 125, 841–859 (2013).

Petersen, M. A. et al. Fibrinogen activates BMP signaling in oligodendrocyte progenitor cells and inhibits remyelination after vascular damage. Neuron 96, 1003–1012.e7 (2017).

Fancy, S. P. et al. Parallel states of pathological Wnt signaling in neonatal brain injury and colon cancer. Nat. Neurosci. 17, 506–512 (2014).

Tsai, H. H. et al. Oligodendrocyte precursors migrate along vasculature in the developing nervous system. Science 351, 379–384 (2016).

Hsieh, J. C. et al. A new secreted protein that binds to Wnt proteins and inhibits their activities. Nature 398, 431–436 (1999).

Liebner, S. et al. Wnt/beta-catenin signaling controls development of the blood–brain barrier. J. Cell Biol. 183, 409–417 (2008).

Daneman, R. et al. Wnt/beta-catenin signaling is required for CNS, but not non-CNS, angiogenesis. Proc. Natl Acad. Sci. USA 106, 641–646 (2009).

Zhou, Y. et al. Canonical WNT signaling components in vascular development and barrier formation. J. Clin. Invest. 124, 3825–3846 (2014).

Chang, J. et al. Gpr124 is essential for blood–brain barrier integrity in central nervous system disease. Nat. Med. 23, 450–460 (2017).

Daneman, R., Zhou, L., Kebede, A. A. & Barres, B. A. Pericytes are required for blood–brain barrier integrity during embryogenesis. Nature 468, 562–566 (2010).

De La Fuente, A. G. et al. Pericytes stimulate oligodendrocyte progenitor cell differentiation during CNS remyelination. Cell Rep. 20, 1755–1764 (2017).

Phoenix, T. N. et al. Medulloblastoma genotype dictates blood brain barrier phenotype. Cancer Cell 29, 508–522 (2016).

Lengfeld, J. E. et al. Endothelial Wnt/β-catenin signaling reduces immune cell infiltration in multiple sclerosis. Proc. Natl Acad. Sci. USA 114, E1168–E1177 (2017).

Zhu, X. et al. Age-dependent fate and lineage restriction of single NG2 cells. Development 138, 745–753 (2011).

Schüller, U. et al. Acquisition of granule neuron precursor identity is a critical determinant of progenitor cell competence to form Shh-induced medulloblastoma. Cancer Cell 14, 123–134 (2008).

Rivers, L. E. et al. PDGFRA/NG2 glia generate myelinating oligodendrocytes and piriform projection neurons in adult mice. Nat. Neurosci. 11, 1392–1401 (2008).

Robanus-Maandag, E. C. et al. A new conditional Apc-mutant mouse model for colorectal cancer. Carcinogenesis 31, 946–952 (2010).

Cahoy, J. D. et al. A transcriptome database for astrocytes, neurons, and oligodendrocytes: a new resource for understanding brain development and function. J. Neurosci. 28, 264–278 (2008).

Mizutani, M. et al. The fractalkine receptor but not CCR2 is present on microglia from embryonic development throughout adulthood. J. Immunol. 188, 29–36 (2012).

Arnett, H. A. et al. bHLH transcription factor Olig1 is required to repair demyelinated lesions in the CNS. Science 306, 2111–2115 (2004).

Lock, C. et al. Gene-microarray analysis of multiple sclerosis lesions yields new targets validated in autoimmune encephalomyelitis. Nat. Med. 8, 500–508 (2002).

Mei, F. et al. Micropillar arrays as a high-throughput screening platform for therapeutics in multiple sclerosis. Nat. Med. 20, 954–960 (2014).

Sauer, I., Dunay, I. R., Weisgraber, K., Bienert, M. & Dathe, M. An apolipoprotein E-derived peptide mediates uptake of sterically stabilized liposomes into brain capillary endothelial cells. Biochemistry 44, 2021–2029 (2005).
Acknowledgements
This work was supported by the National Natural Science Foundation of China (grant no. 31871045) and the National Science Foundation of Chongqing (grant no. cstc2018jcyjAX0702) to J.N., the US National Institutes of Health (grant no. R01-5R01NS088155) to S.E.B. (S.E.B. is the Heidrich Family and Friends Endowed Chair in Neurology at UCSF), and from the US National Institutes of Health (grant no. 1R01NS097551) to S.P.J.F. S.P.J.F. is a Harry Weaver Neuroscience Scholar of the National Multiple Sclerosis Society.
Ethics declarations
Competing interests
The authors declare no competing interests.
Additional information
Journal peer review information: Nature Neuroscience thanks Ken Arai, Sarah Kucenas, and other anonymous reviewer(s) for their contribution to the peer review of this work.
Publisher's note: Springer Nature remains neutral with regard to jurisdictional claims in published maps and institutional affiliations.
Integrated supplementary information
Supplementary information
About this article
Cite this article
Niu, J., Tsai, HH., Hoi, K.K. et al. Aberrant oligodendroglial–vascular interactions disrupt the blood–brain barrier, triggering CNS inflammation. Nat Neurosci 22, 709–718 (2019). https://doi.org/10.1038/s41593-019-0369-4
Received:

Accepted:

Published:

Issue Date:

DOI: https://doi.org/10.1038/s41593-019-0369-4