Abstract
Despite expanding knowledge regarding the role of astroglia in regulating neuronal function, little is known about regional or functional subgroups of brain astroglia and how they may interact with neurons. We use an astroglia-specific promoter fragment in transgenic mice to identify an anatomically defined subset of adult gray matter astroglia. Using transcriptomic and histological analyses, we generate a combinatorial profile for the in vivo identification and characterization of this astroglia subpopulation. These astroglia are enriched in mouse cortical layer V; express distinct molecular markers, including Norrin and leucine-rich repeat-containing G-protein-coupled receptor 6 (LGR6), with corresponding layer-specific neuronal ligands; are found in the human cortex; and modulate neuronal activity. Astrocytic Norrin appears to regulate dendrites and spines; its loss, as occurring in Norrie disease, contributes to cortical dendritic spine loss. These studies provide evidence that human and rodent astroglia subtypes are regionally and functionally distinct, can regulate local neuronal dendrite and synaptic spine development, and contribute to disease.
Relevant articles
Open Access articles citing this article.
Kouko Tatsumi

,

Kaoru Kinugawa

…

Akio Wanaka

Molecular Brain Open Access 08 November 2021

Wenjun Yan

,

Yi-Rong Peng

…

Joshua R. Sanes

Scientific Reports Open Access 17 June 2020

Mykhailo Y. Batiuk

,

Araks Martirosyan

…

Matthew G. Holt

Nature Communications Open Access 05 March 2020
Access options
Access Nature and 54 other Nature Portfolio journals
Get Nature+, our best-value online-access subscription
$29.99 / 30 days
cancel any time
Subscribe to this journal
Receive 12 print issues and online access
$209.00 per year
only $17.42 per issue
Rent or buy this article
Prices vary by article type
from$1.95
to$39.95
Prices may be subject to local taxes which are calculated during checkout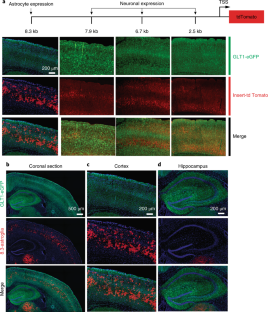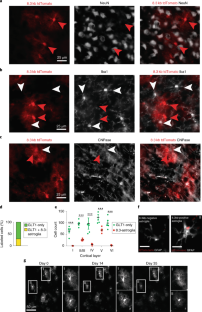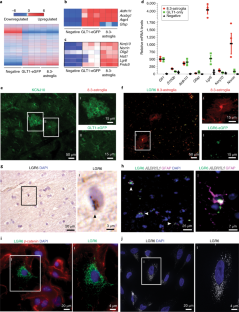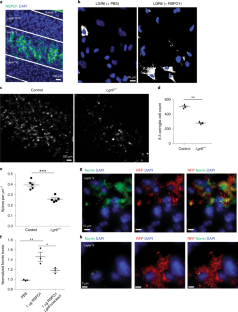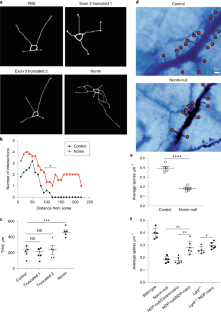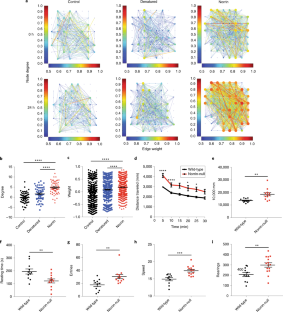 Data availability
The data supporting the findings of this study are available from the corresponding author upon reasonable request.
References
Zhang, Y. & Barres, B. A. Astrocyte heterogeneity: an underappreciated topic in neurobiology. Curr. Opin. Neurobiol. 20, 588–594 (2010).

Bruijn, L. I. et al. ALS-linked SOD1 mutant G85R mediates damage to astrocytes and promotes rapidly progressive disease with SOD1-containing inclusions. Neuron 18, 327–338 (1997).

Molofsky, A. V. et al. Astrocyte-encoded positional cues maintain sensorimotor circuit integrity. Nature 509, 189–194 (2014).

Tsai, H. H. et al. Regional astrocyte allocation regulates CNS synaptogenesis and repair. Science 337, 358–362 (2012).

Oberheim, N. A., Goldman, S. A. & Nedergaard, M. Heterogeneity of astrocytic form and function. Methods Mol. Biol. 814, 23–45 (2012).

Chaboub, L. S. & Deneen, B. Developmental origins of astrocyte heterogeneity: the final frontier of CNS development. Dev. Neurosci. 34, 379–388 (2012).

Miller, S. J. Astrocyte heterogeneity in the adult central nervous system. Front. Cell. Neurosci. 12, 401 (2018).

Zeisel, A. et al. Brain structure. Cell types in the mouse cortex and hippocampus revealed by single-cell RNA-seq. Science 347, 1138–1142 (2015).

Rothstein, J. D., Van Kammen, M., Levey, A. I., Martin, L. J. & Kuncl, R. W. Selective loss of glial glutamate transporter GLT-1 in amyotrophic lateral sclerosis. Ann. Neurol. 38, 73–84 (1995).

Rothstein, J. D. et al. Glutamate transporter subtypes: role in excitotoxicity and amyotrophic lateral sclerosis. Ann. Neurol. 36, abstr. 282 (1994).

Regan, M. R. et al. Variations in promoter activity reveal a differential expression and physiology of glutamate transporters by glia in the developing and mature CNS. J. Neurosci. 27, 6607–6619 (2007).

Tanaka, K. et al. Epilepsy and exacerbation of brain injury in mice lacking the glutamate transporter GLT-1. Science 276, 1699–1702 (1997).

Higashimori, H. et al. Astroglial FMRP-dependent translational down-regulation of mGluR5 underlies glutamate transporter GLT1 dysregulation in the fragile X mouse. Hum. Mol. Genet. 22, 2041–2054 (2013).

Swanson, R. A. et al. Neuronal regulation of glutamate transporter subtype expression in astrocytes. J. Neurosci. 17, 932–940 (1997).

Ellis, B. L., Hirsch, M. L., Porter, S. N., Samulski, R. J. & Porteus, M. H. Zinc-finger nuclease-mediated gene correction using single AAV vector transduction and enhancement by Food and Drug Administration-approved drugs. Gene Ther. 20, 35–42 (2013).

Parr-Brownlie, L. C. et al. Lentiviral vectors as tools to understand central nervous system biology in mammalian model organisms. Front. Mol. Neurosci. 8, 14 (2015).

Foo, L. C. Purification of astrocytes from transgenic rodents by fluorescence-activated cell sorting. Cold Spring Harb. Protoc. 2013, 551–560 (2013).

Cahoy, J. D. et al. A transcriptome database for astrocytes, neurons, and oligodendrocytes: a new resource for understanding brain development and function. J. Neurosci. 28, 264–278 (2008).

Nieweg, K., Schaller, H. & Pfrieger, F. W. Marked differences in cholesterol synthesis between neurons and glial cells from postnatal rats. J. Neurochem. 109, 125–134 (2009).

Snippert, H. J. et al. Lgr6 marks stem cells in the hair follicle that generate all cell lineages of the skin. Science 327, 1385–1389 (2010).

Jiang, P. et al. hESC-derived Olig2+ progenitors generate a subtype of astroglia with protective effects against ischaemic brain injury. Nat. Commun. 4, 2196 (2013).

Tatsumi, K. et al. Olig2-lineage astrocytes: a distinct subtype of astrocytes that differs from GFAP astrocytes. Front. Neuroanat. 12, 8 (2018).

Hrvatin, S. et al. Single-cell analysis of experience-dependent transcriptomic states in the mouse visual cortex. Nat. Neurosci. 21, 120–129 (2018).

Schaum, N. et al. Transcriptomic characterization of 20 organs and tissues from mouse at single cell resolution creates a Tabula Muris. Nature 562, 367–372 (2018).

Zhang, Y. et al. An RNA-sequencing transcriptome and splicing database of glia, neurons, and vascular cells of the cerebral cortex. J. Neurosci. 34, 11929–11947 (2014).

Li, J. Y. et al. LGR4 and its ligands, R-spondin 1 and R-spondin 3, regulate food intake in the hypothalamus of male rats. Endocrinology 155, 429–440 (2014).

Ye, X., Smallwood, P. & Nathans, J. Expression of the Norrie disease gene (Ndp) in developing and adult mouse eye, ear, and brain. Gene Expr. Patterns 11, 151–155 (2011)./5/5/20

Braunger, B. M. & Tamm, E. R. The different functions of Norrin. Adv. Exp. Med. Biol. 723, 679–683 (2012).

Seitz, R., Hackl, S., Seibuchner, T., Tamm, E. R. & Ohlmann, A. Norrin mediates neuroprotective effects on retinal ganglion cells via activation of the Wnt/β-catenin signaling pathway and the induction of neuroprotective growth factors in Muller cells. J. Neurosci. 30, 5998–6010 (2010).

Deng, C. et alMulti-functional norrin is a ligand for the LGR4 receptor. J. Cell Sci. 126, 2060–2068 (2013).

Ott, S., Patel, R. J., Appukuttan, B., Wang, X. & Stout, J. T. A novel mutation in the Norrie disease gene. J. AAPOS 4, 125–126 (2000).

Warburg, M. Norrie's disease. Birth Defects Orig. Artic. Ser. 7, 117–124 (1971).

Tong, X. et al. Astrocyte Kir4.1 ion channel deficits contribute to neuronal dysfunction in Huntington's disease model mice. Nat. Neurosci. 17, 694–703 (2014).

Liao, X. H. & Nguyen, H. Epidermal expression of Lgr6 is dependent on nerve endings and Schwann cells. Exp. Dermatol. 23, 195–198 (2014).

Yang, Y. et al. Presynaptic regulation of astroglial excitatory neurotransmitter transporter GLT1. Neuron 61, 880–894 (2009).

Swann, J. W., Al-Noori, S., Jiang, M. & Lee, C. L. Spine loss and other dendritic abnormalities in epilepsy. Hippocampus 10, 617–625 (2000).

Fogarty, M. J., Noakes, P. G. & Bellingham, M. C. Motor cortex layer V pyramidal neurons exhibit dendritic regression, spine loss, and increased synaptic excitation in the presymptomatic hSOD1G93A mouse model of amyotrophic lateral sclerosis. J. Neurosci. 35, 643–647 (2015).

Fiala, J. C. S. J., Spacek, J. & Harris, K. M. Dendritic spine pathology: cause or consequence of neurological disorders? Brain Res. Brain Res. Rev. 39, 29–54 (2002).

Orre, M. et al. Isolation of glia from Alzheimer's mice reveals inflammation and dysfunction. Neurobiol. Aging 35, 2746–2760 (2014).

Blanco-Suarez, E., Liu, T. F., Kopelevich, A. & Allen, N. J. Astrocyte-secreted chordin-like 1 drives synapse maturation and limits plasticity by increasing synaptic GluA2 AMPA receptors. Neuron 100, 1116–1132.e13 (2018).

Lanjakornsiripan, D. et al. Layer-specific morphological and molecular differences in neocortical astrocytes and their dependence on neuronal layers. Nat. Commun. 9, 1623 (2018).

Yang, Y. et al. Molecular comparison of GLT1+ and ALDH1L1+ astrocytes in vivo in astroglial reporter mice. Glia 59, 200–207 (2011).

Mastorakos, P. et al. Highly PEGylated DNA nanoparticles provide uniform and widespread gene transfer in the brain. Adv. Healthc. Mater. 4, 1023–1033 (2015).

Zhang, K. et al. The C9orf72 repeat expansion disrupts nucleocytoplasmic transport. Nature 525, 56–61 (2015).

Li, Y. et al. A comprehensive library of familial human amyotrophic lateral sclerosis induced pluripotent stem cells. PLoS One 10, e0118266 (2015).

Donnelly, C. J. et al. RNA toxicity from the ALS/FTD C9ORF72 expansion is mitigated by antisense intervention. Neuron 80, 415–428 (2013).

Miller, S. J. & Rothstein, J. D. Astroglia in thick tissue with super resolution and cellular reconstruction. PLoS One 11, e0160391 (2016).

Tomer, R., Ye, L., Hsueh, B. & Deisseroth, K. Advanced CLARITY for rapid and high-resolution imaging of intact tissues. Nat. Protoc. 9, 1682–1697 (2014).

Staudt, T., Lang, M. C., Medda, R., Engelhardt, J. & Hell, S. W. 2,2′-thiodiethanol: a new water soluble mounting medium for high resolution optical microscopy. Microsc. Res. Tech. 70, 1–9 (2007).

Paukert, M. et al. Norepinephrine controls astroglial responsiveness to local circuit activity. Neuron 82, 1263–1270 (2014).

Ferreira, T. A. et al.Neuronal morphometry directly from bitmap images. Nat. Methods 11, 982–984 (2014).

Salinas, E. & Sejnowski, T. J. Correlated neuronal activity and the flow of neural information. Nat. Rev. Neurosci. 2, 539–550 (2001).

Poli, D., Pastore, V. P. & Massobrio, P. Functional connectivity in in vitro neuronal assemblies. Front. Neural Circuits 9, 57 (2015).
Acknowledgements
We thank the Johns Hopkins Deep Sequencing and Microarray Core Facility and C. Conover Talbot Jr. for insight on microarray, and analyses using the Partek and Spotfire software suites, H. Zhang for assistance with FACS at the Johns Hopkins University School of Public Health FACS Center, the Johns Hopkins Medicine Microscopy Core for the use of the Zeiss LSM 700 laser scanning confocal microscope, J. Nathans for the Norrin mice, L. Ostrow for postmortem tissue, and members of the Rothstein laboratory for helpful discussions. This work was funded by grants from the National Science Foundation Graduate Fellowship Research Program (S.J.M.), grant no. R01NS092067 (J.D.R., M.B.R.), and NIH grant no. R01NS094239 (J.D.R.).
Ethics declarations
Competing interests
S.J.M. and J.D.R. have filed a patent on the use of Norrin. The remaining authors declare no competing interests.
Additional information
Journal peer review information: Nature Neuroscience thanks Matthew Holt, Baljit Khakh, and other anonymous reviewer(s) for their contribution to the peer review of this work.
Publisher's note: Springer Nature remains neutral with regard to jurisdictional claims in published maps and institutional affiliations.
Integrated supplementary information
Supplementary information
About this article
Cite this article
Miller, S.J., Philips, T., Kim, N. et al. Molecularly defined cortical astroglia subpopulation modulates neurons via secretion of Norrin. Nat Neurosci 22, 741–752 (2019). https://doi.org/10.1038/s41593-019-0366-7
Received:

Accepted:

Published:

Issue Date:

DOI: https://doi.org/10.1038/s41593-019-0366-7