Abstract
The local and long-range connectivity of cortical neurons are considered instrumental to the functional repertoire of the cortical region in which they reside. In cortical networks, distinct cell types build local circuit structures enabling computational operations. Computations in the medial prefrontal cortex (mPFC) are thought to be central to cognitive operation, including decision-making and memory. We used a retrograde trans-synaptic rabies virus system to generate brain-wide maps of the input to excitatory neurons as well as three inhibitory interneuron subtypes in the mPFC. On the global scale the input patterns were found to be mainly cell type independent, with quantitative differences in key brain regions, including the basal forebrain. Mapping of the local mPFC network revealed high connectivity between the different subtypes of interneurons. The connectivity mapping gives insight into the information that the mPFC processes and the structural architecture underlying the mPFC's unique functions.
Relevant articles
Open Access articles citing this article.
Daniela Calvigioni

,

Janos Fuzik

…

Konstantinos Meletis

Nature Neuroscience Open Access 22 June 2023

Michael Schirner

,

Gustavo Deco

&

Petra Ritter

Nature Communications Open Access 23 May 2023

Ximeng Yang

&

Chihiro Tohda

Molecular Psychiatry Open Access 22 April 2023
Access options
Access Nature and 54 other Nature Portfolio journals
Get Nature+, our best-value online-access subscription
$29.99 / 30 days
cancel any time
Subscribe to this journal
Receive 12 print issues and online access
$209.00 per year
only $17.42 per issue
Rent or buy this article
Prices vary by article type
from$1.95
to$39.95
Prices may be subject to local taxes which are calculated during checkout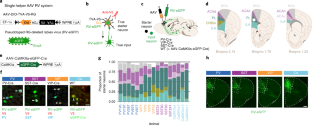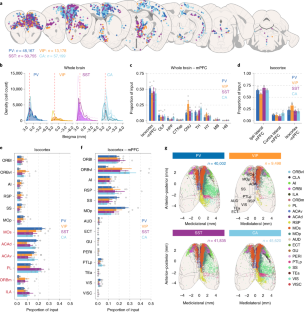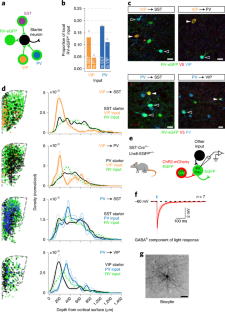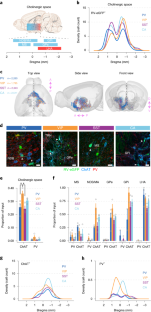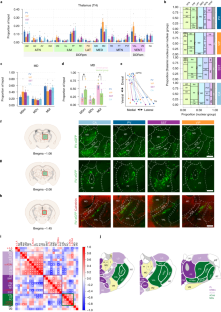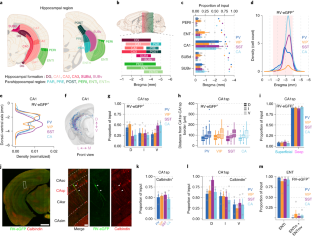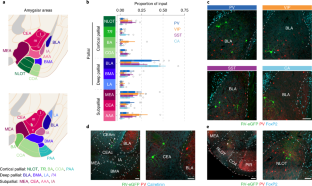 Data availability
The data that support the findings of this study are available in Supplementary table 1 and from the corresponding author upon reasonable request.
Code availability
Data were collected with previously published custom MatLab script8. The code written to visualize the data of this study is available from the corresponding author upon request.
References
Heidbreder, C. A. & Groenewegen, H. J. The medial prefrontal cortex in the rat: evidence for a dorso-ventral distinction based upon functional and anatomical characteristics. Neurosci. Biobehav. Rev. 27, 555–579 (2003).

Van De Werd, H. J. J. M., Rajkowska, G., Evers, P. & Uylings, H. B. M. Cytoarchitectonic and chemoarchitectonic characterization of the prefrontal cortical areas in the mouse. Brain Struct. Funct. 214, 339–353 (2010).

Euston, D. R., Gruber, A. J. & McNaughton, B. L. The role of medial prefrontal cortex in memory and decision making. Neuron 76, 1057–1070 (2012).

Kepecs, A. & Fishell, G. Interneuron cell types are fit to function. Nature 505, 318–326 (2014).

Kim, H., Ährlund-Richter, S., Wang, X., Deisseroth, K. & Carlén, M. Prefrontal parvalbumin neurons in control of attention. Cell 164, 208–218 (2016).

Harris, K. D. & Shepherd, G. M. The neocortical circuit: themes and variations. Nat. Neurosci. 18, 170–181 (2015).

Callaway, E. M. & Luo, L. Monosynaptic circuit tracing with glycoprotein-deleted rabies viruses. J. Neurosci. 35, 8979–8985 (2015).

Pollak Dorocic, I. et al. A whole-brain atlas of inputs to serotonergic neurons of the dorsal and median raphe nuclei. Neuron 83, 663–678 (2014).

Allen, W. E. et al. Global representations of goal-directed behavior in distinct cell types of mouse neocortex. Neuron 94, 891–907.e6 (2017).

Lein, E. S. et al. Genome-wide atlas of gene expression in the adult mouse brain. Nature 445, 168–176 (2007).

Paxinos, G. & Franklin, K. The Mouse Brain In Stereotaxic Coordinates 3rd edn. (Elsevier/Academic Press, Amsterdam, 2008).

DeNardo, L. A., Berns, D. S., DeLoach, K. & Luo, L. Connectivity of mouse somatosensory and prefrontal cortex examined with trans-synaptic tracing. Nat. Neurosci. 18, 1687–1697 (2015).

Zingg, B. et al. Neural networks of the mouse neocortex. Cell 156, 1096–1111 (2014).

Zhang, S. et al. Organization of long-range inputs and outputs of frontal cortex for top-down control. Nat. Neurosci. 19, 1733–1742 (2016).

Gerfen, C. R. & Bolam, J. P. in Handbook of Behavioral Neuroscience Vol. 20 (eds. Steiner, H. & Tseng, K. Y.) 3–28 (Elsevier, Amsterdam, 2010).

Kristt, D. A. Organization and development of the cingulum: laminar arrangement of acetylcholinesterase-rich components in rat. Brain Res. Bull. 26, 789–798 (1991).

Salgado, S. & Kaplitt, M. G. The nucleus accumbens: a comprehensive review. Stereotact. Funct. Neurosurg. 93, 75–93 (2015).

Tremblay, R., Lee, S. & Rudy, B. GABAergic interneurons in the neocortex: from cellular properties to circuits. Neuron 91, 260–292 (2016).

Pi, H. J. et al. Cortical interneurons that specialize in disinhibitory control. Nature 503, 521–524 (2013).

Pfeffer, C. K., Xue, M., He, M., Huang, Z. J. & Scanziani, M. Inhibition of inhibition in visual cortex: the logic of connections between molecularly distinct interneurons. Nat. Neurosci. 16, 1068–1076 (2013).

Albisetti, G. W. et al. Identification of two classes of somatosensory neurons that display resistance to retrograde infection by rabies virus. J. Neurosci. 37, 10358–10371 (2017).

Bloem, B., Poorthuis, R. B. & Mansvelder, H. D. Cholinergic modulation of the medial prefrontal cortex: the role of nicotinic receptors in attention and regulation of neuronal activity. Front. Neural Circuit 8, 17 (2014).

Zaborszky, L., van den Pol, A. & Gyengesi, E. in The Mouse Nervous System (eds. Watson, C., Paxinos, G. & Puelles, L.) 684–718 (Academic Press, San Diego, CA, USA, 2012).

Kim, T. et al. Cortically projecting basal forebrain parvalbumin neurons regulate cortical gamma band oscillations. Proc. Natl Acad. Sci. USA 112, 3535–3540 (2015).

Vertes, R. P., Linley, S. B. & Hoover, W. B. Limbic circuitry of the midline thalamus. Neurosci. Biobehav. Rev. 54, 89–107 (2015).

Hunnicutt, B. J. et al. A comprehensive thalamocortical projection map at the mesoscopic level. Nat. Neurosci. 17, 1276–1285 (2014).

Mitchell, A. S. The mediodorsal thalamus as a higher order thalamic relay nucleus important for learning and decision-making. Neurosci. Biobehav. Rev. 54, 76–88 (2015).

Collins, D. P., Anastasiades, P. G., Marlin, J. J. & Carter, A. G. Reciprocal circuits linking the prefrontal cortex with dorsal and ventral thalamic nuclei. Neuron 98, 366–379 e4 (2018).

Delevich, K., Tucciarone, J., Huang, Z. J. & Li, B. The mediodorsal thalamus drives feedforward inhibition in the anterior cingulate cortex via parvalbumin interneurons. J. Neurosci. 35, 5743–5753 (2015).

Bolkan, S. S. et al. Thalamic projections sustain prefrontal activity during working memory maintenance. Nat. Neurosci. 20, 987–996 (2017).

Vertes, R. P., Linley, S. B., Groenewegen, H. J. & Witter, M. P. in The Rat Nervous System 4th edn (ed. Paxinos, G.) 335–390 (Academic Press, San Diego, CA, USA, 2015).

Van der Werf, Y. D., Witter, M. P. & Groenewegen, H. J. The intralaminar and midline nuclei of the thalamus. Anatomical and functional evidence for participation in processes of arousal and awareness. Brain Res. Brain Res. Rev. 39, 107–140 (2002).

Oh, S. W. et al. A mesoscale connectome of the mouse brain. Nature 508, 207–214 (2014).

Eichenbaum, H. On the integration of space, time, and memory.Neuron 95, 1007–1018 (2017).

Eichenbaum, H. Prefrontal-hippocampal interactions in episodic memory. Nat. Rev. Neurosci. 18, 547–558 (2017).

Soltesz, I. & Losonczy, A. CA1 pyramidal cell diversity enabling parallel information processing in the hippocampus. Nat. Neurosci. 21, 484–493 (2018).

Kerr, K. M., Agster, K. L., Furtak, S. C. & Burwell, R. D. Functional neuroanatomy of the parahippocampal region: the lateral and medial entorhinal areas. Hippocampus 17, 697–708 (2007).

Kitamura, T. et al. Engrams and circuits crucial for systems consolidation of a memory. Science 356, 73–78 (2017).

Hoover, W. B. & Vertes, R. P. Anatomical analysis of afferent projections to the medial prefrontal cortex in the rat. Brain Struct. Funct. 212, 149–179 (2007).

Tsao, A. et al. Integrating time from experience in the lateral entorhinal cortex. Nature 561, 57–62 (2018).

Olucha-Bordonau, F. E., Fortes-Marco, L., Otero-García, M., Lanuza, E. & Martínez-García, F. in The Rat Nervous System 4th edn (ed. Paxinos, G.) 441–490 (Academic Press, San Diego, CA, USA, 2015).

Dilgen, J., Tejeda, H. A. & O'Donnell, P. Amygdala inputs drive feedforward inhibition in the medial prefrontal cortex. J. Neurophysiol. 110, 221–229 (2013).

McGarry, L. M. & Carter, A. G. Inhibitory gating of basolateral amygdala inputs to the prefrontal cortex. J. Neurosci. 36, 9391–9406 (2016).

Fadok, J. P., Markovic, M., Tovote, P. & Lüthi, A. New perspectives on central amygdala function. Curr. Opin. Neurobiol. 49, 141–147 (2018).

Seo, D. O. et al. A GABAergic projection from the centromedial nuclei of the amygdala to ventromedial prefrontal cortex modulates reward behavior. J. Neurosci. 36, 10831–10842 (2016).

Pardo-Bellver, C., Cádiz-Moretti, B., Novejarque, A., Martínez-García, F. & Lanuza, E. Differential efferent projections of the anterior, posteroventral, and posterodorsal subdivisions of the medial amygdala in mice. Front. Neuroanat. 6, 33 (2012).

Vaz, R. P., Cardoso, A., Sá, S. I., Pereira, P. A. & Madeira, M. D. The integrity of the nucleus of the lateral olfactory tract is essential for the normal functioning of the olfactory system. Brain Struct. Funct. 222, 3615–3637 (2017).

Wolff, S. B. et al. Amygdala interneuron subtypes control fear learning through disinhibition. Nature 509, 453–458 (2014).

Carlén, M. What constitutes the prefrontal cortex? Science 358, 478–482 (2017).

Wickersham, I. R. et al. Monosynaptic restriction of transsynaptic tracing from single, genetically targeted neurons. Neuron 53, 639–647 (2007).

Sena-Esteves, M., Tebbets, J. C., Steffens, S., Crombleholme, T. & Flake, A. W. Optimized large-scale production of high titer lentivirus vector pseudotypes. J. Virol. Methods 122, 131–139 (2004).

Glangetas, C. et al. NMDA-receptor-dependent plasticity in the bed nucleus of the stria terminalis triggers long-term anxiolysis. Nat. Commun. 8, 14456 (2017).

Yonehara, K. et al. The first stage of cardinal direction selectivity is localized to the dendrites of retinal ganglion cells. Neuron 79, 1078–1085 (2013).

Leinweber, M., Ward, D. R., Sobczak, J. M., Attinger, A. & Keller, G. B. A sensorimotor circuit in mouse cortex for visual flow predictions. Neuron 95, 1420–1432.e5 (2017).

Wall, N. R., Wickersham, I. R., Cetin, A., De La Parra, M. & Callaway, E. M. Monosynaptic circuit tracing in vivo through Cre-dependent targeting and complementation of modified rabies virus. Proc. Natl Acad. Sci. USA 107, 21848–21853 (2010).

Pringle, F. M. et al. A novel capsid expression strategy for Thosea asigna virus (Tetraviridae). J. Gen. Virol. 80, 1855–1863 (1999).

Southern, J. A., Young, D. F., Heaney, F., Baumgärtner, W. K. & Randall, R. E. Identification of an epitope on the P and V proteins of simian virus 5 that distinguishes between two isolates with different biological characteristics. J. Gen. Virol. 72, 1551–1557 (1991).

Wickersham, I. R., Sullivan, H. A. & Seung, H. S. Production of glycoprotein-deleted rabies viruses for monosynaptic tracing and high-level gene expression in neurons. Nat. Protoc. 5, 595–606 (2010).

Junyent, F. & Kremer, E. J. CAV-2—why a canine virus is a neurobiologist's best friend. Curr. Opin. Pharmacol. 24, 86–93 (2015).

Neve, R. L., Neve, K. A., Nestler, E. J. & Carlezon, W. A. Jr. Use of herpes virus amplicon vectors to study brain disorders. Biotechniques 39, 381–391 (2005).

Liu, Z. et al. Systematic comparison of 2A peptides for cloning multi-genes in a polycistronic vector. Sci. Rep. 7, 2193 (2017).

Wang, F. et al. RNAscope: a novel in situ RNA analysis platform for formalin-fixed, paraffin-embedded tissues. J. Mol. Diagn. 14, 22–29 (2012).

Lee, S.-H. et al. Parvalbumin-positive basket cells differentiate among hippocampal pyramidal cells. Neuron 82, 1129–1144 (2014).

Dong, H. W., Swanson, L. W., Chen, L., Fanselow, M. S. & Toga, A. W. Genomic-anatomic evidence for distinct functional domains in hippocampal field CA1. Proc. Natl Acad. Sci. USA 106, 11794–11799 (2009).

Cembrowski, M. S. et al. Spatial gene-expression gradients underlie prominent heterogeneity of CA1 pyramidal neurons. Neuron 89, 351–368 (2016).

Fürth, D. et al. An interactive framework for whole-brain maps at cellular resolution. Nat. Neurosci. 21, 139–149 (2018).
Acknowledgements
We thank F. Wahl, C. Henningson, and D. Fürth for technical assistance, and I. Wickersham, the McGovern Institutet for Brain Research, Massachusetts Institute of Technology, for generously sharing plasmids and cell lines. This research was supported by the Knut and Alice Wallenbergs Foundation (Wallenberg Academy Fellow grant no. KAW 2012.0208), Ragnar Söderbergs Stiftelse, and Karolinska Institutet.
Ethics declarations
Competing interests
The authors declare no competing interests.
Additional information
Journal peer review information: Nature Neuroscience thanks Ian Wickersham and other anonymous reviewer(s) for their contribution to the peer review of this work.
Publisher's note: Springer Nature remains neutral with regard to jurisdictional claims in published maps and institutional affiliations.
Integrated supplementary information
Supplementary information
About this article
Cite this article
Ährlund-Richter, S., Xuan, Y., van Lunteren, J.A. et al. A whole-brain atlas of monosynaptic input targeting four different cell types in the medial prefrontal cortex of the mouse. Nat Neurosci 22, 657–668 (2019). https://doi.org/10.1038/s41593-019-0354-y
Received:

Accepted:

Published:

Issue Date:

DOI: https://doi.org/10.1038/s41593-019-0354-y