Abstract
Humans exhibit considerable variation in how they value their own interest relative to the interests of others. Deciphering the neural codes representing potential rewards for self and others is crucial for understanding social decision-making. Here we integrate computational modeling with functional magnetic resonance imaging to investigate the neural representation of social value and the modulation by oxytocin, a nine-amino acid neuropeptide, in participants evaluating monetary allocations to self and other (self–other allocations). We found that an individual's preferred self–other allocation serves as a reference point for computing the value of potential self–other allocations. In more prosocial participants, amygdala activity encoded a social-value-distance signal; that is, the value dissimilarity between potential and preferred allocations. Intranasal oxytocin administration amplified this amygdala representation and increased prosocial behavior in more individualistic participants but not in more prosocial ones. Our results reveal a neurocomputational mechanism underlying social-value representations and suggest that oxytocin may promote prosociality by modulating social-value representations in the amygdala.
Relevant articles
Open Access articles citing this article.
Communications Biology Open Access 13 August 2020

Leopold Duerrauer

,

Edin Muratspahić

…

Christian W. Gruber

Scientific Reports Open Access 17 December 2019
Access options
Access Nature and 54 other Nature Portfolio journals
Get Nature+, our best-value online-access subscription
$29.99 / 30 days
cancel any time
Subscribe to this journal
Receive 12 print issues and online access
$209.00 per year
only $17.42 per issue
Rent or buy this article
Prices vary by article type
from$1.95
to$39.95
Prices may be subject to local taxes which are calculated during checkout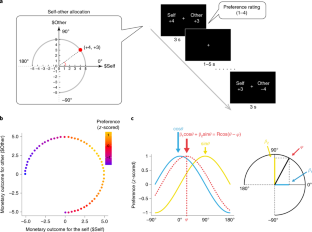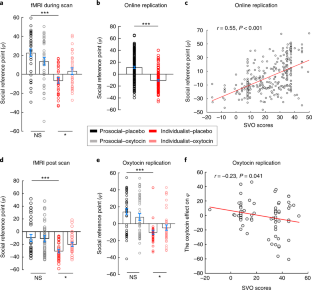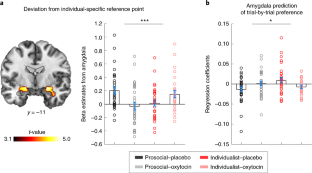 Code availability
Analysis code to model the social value representation based on preference rating data is provided in the Supplementary Software.
Data availability
The data that support the findings of this study and the analysis code are available from the corresponding author upon reasonable request.
References
Sanfey, A. G. Social decision-making: insights from game theory and neuroscience. Science 318, 598–602 (2007).

Rangel, A., Camerer, C. & Montague, P. R. A framework for studying the neurobiology of value-based decision making. Nat. Rev. Neurosci. 9, 545–556 (2008).

Haruno, M. & Frith, C. D. Activity in the amygdala elicited by unfair divisions predicts social value orientation. Nat. Neurosci. 13, 160–161 (2010).

Declerck, C. H., Boone, C. & Kiyonari, T. The effect of oxytocin on cooperation in a prisoner's dilemma depends on the social context and a person's social value orientation. Soc. Cogn. Affect. Neurosci. 9, 802–809 (2014).

Van Lange, P. A. M. The pursuit of joint outcomes and equality in outcomes: an integrative model of social value orientation. J. Pers. Soc. Psychol. 77, 337–349 (1999).

Chang, S. W. et al. Neuroethology of primate social behavior. Proc. Natl Acad. Sci. USA 110, 10387–10394 (2013).

Chang, S. W. et al. Neural mechanisms of social decision-making in the primate amygdala. Proc. Natl Acad. Sci. USA 112, 16012–16017 (2015).

Will, G.-J., Rutledge, R. B., Moutoussis, M. & Dolan, R. J. Neural and computational processes underlying dynamic changes in self-esteem. eLife 6, 6 (2017).

Gottfried, J. A., O'Doherty, J. & Dolan, R. J. Encoding predictive reward value in human amygdala and orbitofrontal cortex. Science 301, 1104–1107 (2003).

Schultz, W., Dayan, P. & Montague, P. R. A neural substrate of prediction and reward. Science 275, 1593–1599 (1997).

Boccia, M. L., Petrusz, P., Suzuki, K., Marson, L. & Pedersen, C. A. Immunohistochemical localization of oxytocin receptors in human brain. Neurosci. 253, 155–164 (2013).

Haber, S. N. & Knutson, B. The reward circuit: linking primate anatomy and human imaging. Neuropsychopharmacology 35, 4–26 (2010).

Bickart, K. C., Dickerson, B. C. & Barrett, L. F. The amygdala as a hub in brain networks that support social life. Neuropsychologia 63, 235–248 (2014).

Paton, J. J., Belova, M. A., Morrison, S. E. & Salzman, C. D. The primate amygdala represents the positive and negative value of visual stimuli during learning. Nature 439, 865–870 (2006).

De Martino, B., Camerer, C. F. & Adolphs, R. Amygdala damage eliminates monetary loss aversion. Proc. Natl Acad. Sci. USA 107, 3788–3792 (2010).

Garrett, N., Lazzaro, S. C., Ariely, D. & Sharot, T. The brain adapts to dishonesty. Nat. Neurosci. 19, 1727–1732 (2016).

Knoch, D. & Fehr, E. Resisting the power of temptations: the right prefrontal cortex and self-control. Ann. NY Acad. Sci. 1104, 123–134 (2007).

Spitzer, M., Fischbacher, U., Herrnberger, B., Grön, G. & Fehr, E. The neural signature of social norm compliance. Neuron 56, 185–196 (2007).

Rudebeck, P. H., Saunders, R. C., Prescott, A. T., Chau, L. S. & Murray, E. A. Prefrontal mechanisms of behavioral flexibility, emotion regulation and value updating. Nat. Neurosci. 16, 1140–1145 (2013).

Haruno, M., Kimura, M. & Frith, C. D. Activity in the nucleus accumbens and amygdala underlies individual differences in prosocial and individualistic economic choices. J. Cogn. Neurosci. 26, 1861–1870 (2014).

Ma, Y., Shamay-Tsoory, S., Han, S. & Zink, C. F. Oxytocin and social adaptation: Insights from neuroimaging studies of healthy and clinical populations. Trends Cogn. Sci. 20, 133–145 (2016).

Zink, C. F. & Meyer-Lindenberg, A. Human neuroimaging of oxytocin and vasopressin in social cognition. Horm. Behav. 61, 400–409 (2012).

Alvares, G. A., Hickie, I. B. & Guastella, A. J. Acute effects of intranasal oxytocin on subjective and behavioral responses to social rejection. Exp. Clin. Psychopharmacol. 18, 316–321 (2010).

Ma, Y., Liu, Y., Rand, D. G., Heatherton, T. F. & Han, S. Opposing oxytocin effects on intergroup cooperative behavior in intuitive and reflective minds. Neuropsychopharmacology 40, 2379–2387 (2015).

Scheele, D. et al. Oxytocin modulates social distance between males and females. J. Neurosci. 32, 16074–16079 (2012).

Chang, S. W., Barter, J. W., Ebitz, R. B., Watson, K. K. & Platt, M. L. Inhaled oxytocin amplifies both vicarious reinforcement and self reinforcement in rhesus macaques (Macaca mulatta). Proc. Natl Acad. Sci. USA 109, 959–964 (2012).

Lambert, B., Declerck, C. H., Boone, C. & Parizel, P. M. A functional MRI study on how oxytocin affects decision making in social dilemmas: Cooperate as long as it pays off, aggress only when you think you can win. Horm. Behav. 94, 145–152 (2017).

Murphy, R. O., Ackermann, K. A. & Handgraaf, M. Measuring social value orientation. Judgm. Decis. Mak. 6, 771–781 (2011).

Constantinescu, A. O., O'Reilly, J. X. & Behrens, T. E. J. Organizing conceptual knowledge in humans with a gridlike code. Science 352, 1464–1468 (2016).

Doeller, C. F., Barry, C. & Burgess, N. Evidence for grid cells in a human memory network. Nature 463, 657–661 (2010).

Evans, A. M. & Rand, D. G. Cooperation and decision time. Curr. Opin. Psychol. 26, 67–71 (2018).

Krajbich, I., Bartling, B., Hare, T. & Fehr, E. Rethinking fast and slow based on a critique of reaction-time reverse inference. Nat. Commun. 6, 7455 (2015).

Neubert, F. X., Mars, R. B., Thomas, A. G., Sallet, J. & Rushworth, M. F. Comparison of human ventral frontal cortex areas for cognitive control and language with areas in monkey frontal cortex. Neuron 81, 700–713 (2014).

Lim, S. L., O'Doherty, J. P. & Rangel, A. The decision value computations in the vmPFC and striatum use a relative value code that is guided by visual attention. J. Neurosci. 31, 13214–13223 (2011).

Jocham, G., Hunt, L. T., Near, J. & Behrens, T. E. A mechanism for value-guided choice based on the excitation-inhibition balance in prefrontal cortex. Nat. Neurosci. 15, 960–961 (2012).

Morishima, Y., Schunk, D., Bruhin, A., Ruff, C. C. & Fehr, E. Linking brain structure and activation in temporoparietal junction to explain the neurobiology of human altruism. Neuron 75, 73–79 (2012).

Hutcherson, C. A., Bushong, B. & Rangel, A. A neurocomputational model of altruistic choice and its implications. Neuron 87, 451–462 (2015).

Strombach, T. et al. Social discounting involves modulation of neural value signals by temporoparietal junction. Proc. Natl Acad. Sci. USA 112, 1619–1624 (2015).

Kringelbach, M. L. The human orbitofrontal cortex: linking reward to hedonic experience. Nat. Rev. Neurosci. 6, 691–702 (2005).

Ruff, C. C. & Fehr, E. The neurobiology of rewards and values in social decision making. Nat. Rev. Neurosci. 15, 549–562 (2014).

Telzer, E. H., Fuligni, A. J., Lieberman, M. D. & Galván, A. Neural sensitivity to eudaimonic and hedonic rewards differentially predict adolescent depressive symptoms over time. Proc. Natl Acad. Sci. USA 111, 6600–6605 (2014).

Mosher, C. P., Zimmerman, P. E. & Gothard, K. M. Neurons in the monkey amygdala detect eye contact during naturalistic social interactions. Curr. Biol. 24, 2459–2464 (2014).

Hein, G., Morishima, Y., Leiberg, S., Sul, S. & Fehr, E. The brain's functional network architecture reveals human motives. Science 351, 1074–1078 (2016).

Ariely, D., Bracha, A. & Meier, S. Doing good or doing well? Image motivation and monetary incentives in behaving prosocially. Am. Econ. Rev. 99, 544–555 (2009).

Bénabou, R. & Tirole, J. Incentives and prosocial behavior. Am. Econ. Rev. 96, 1652–1678 (2006).

Aydogan, G. et al. Oxytocin promotes altruistic punishment. Soc. Cogn. Affect. Neurosci. 12, 1740–1747 (2017).

Yan, X., Yong, X., Huang, W. & Ma, Y. Placebo treatment facilitates social trust and approach behavior. Proc. Natl Acad. Sci. USA 115, 5732–5737 (2018).

Ne'eman, R., Perach-Barzilay, N., Fischer-Shofty, M., Atias, A. & Shamay-Tsoory, S. G. Intranasal administration of oxytocin increases human aggressive behavior. Horm. Behav. 80, 125–131 (2016).

Radke, S. & de Bruijn, E. R. The other side of the coin: oxytocin decreases the adherence to fairness norms. Front. Hum. Neurosci. 6, 193 (2012).

Nave, G., Camerer, C. & McCullough, M. Does oxytocin increase trust in humans? A critical review of research. Perspect. Psychol. Sci. 10, 772–789 (2015).

Gao, S. et al. Oxytocin, the peptide that bonds the sexes also divides them. Proc. Natl Acad. Sci. USA 113, 7650–7654 (2016).

Zhang, H., Gross, J., De Dreu, C. & Ma, Y. Oxytocin promotes coordinated out-group attack during intergroup conflict in humans. eLife, 8, e40698 (2019).

Ma, Y., Li, S., Wang, C., Liu, Y., Li, W., Yan, X., Chen, Q. & Han, S. Distinct oxytocin effects on belief updating in response to desirable and undesirable feedback. Proc. Natl Acad. Sci. USA, 113, 9256–9261 (2016).

Faul, F., Erdfelder, E., Buchner, A. & Lang, A.-G. Statistical power analyses using G*Power 3.1: tests for correlation and regression analyses. Behav. Res. Method 41, 1149–1160 (2009).

Walum, H., Waldman, I. D. & Young, L. J. Statistical and methodological considerations for the interpretation of intranasal oxytocin studies. Biol. Psychiatry 79, 251–257 (2016).

Wang, D., Yan, X., Li, M. & Ma, Y. Neural substrates underlying the effects of oxytocin: a quantitative meta-analysis of pharmaco-imaging studies. Soc. Cogn. Affect. Neurosci. 12, 1565–1573 (2017).

Paloyelis, Y. et al. A spatiotemporal profile of in vivo cerebral blood flow changes following intranasal oxytocin in Humans. Biol. Psychiatry 79, 693–705 (2016).

Rand, D. G., Greene, J. D. & Nowak, M. A. Spontaneous giving and calculated greed. Nature 489, 427–430 (2012).

Fehr, E. & Fischbacher, U. The nature of human altruism. Nature 425, 785–791 (2003).

Harbaugh, W. T., Mayr, U. & Burghart, D. R. Neural responses to taxation and voluntary giving reveal motives for charitable donations. Science 316, 1622–1625 (2007).

Declerck, C. H., Boone, C. & Kiyonari, T. Oxytocin and cooperation under conditions of uncertainty: the modulating role of incentives and social information. Horm. Behav. 57, 368–374 (2010).

Andrade, A., Paradis, A.-L., Rouquette, S. & Poline, J.-B. Ambiguous results in functional neuroimaging data analysis due to covariate correlation. Neuroimage 10, 483–486 (1999).

Wilson, R. C. & Niv, Y. Is model fitting necessary for model-based fMRI? PLoS Comput. Biol. 11, e1004237 (2015).
Acknowledgements
We thank H. Zhang, D. Wang, X. Zou and H. Wang for their assistance in data collection. This work was supported by the National Natural Science Foundation of China (Project nos. 31722026, 91632118, 31771204 and 31661143039 to Y.M.), the Fundamental Research Funds for the Central Universities (grant nos. 2017XTCX04 and 2018EYT04 to Y.M.), the Open Research Fund of the State Key Laboratory of Cognitive Neuroscience, Beijing Normal University (to Y.M.), startup funding from the State Key Laboratory of Cognitive Neuroscience and Learning, the IDG/McGovern Institute for Brain Research, Beijing Normal University (to Y.M.), by the International Max Planck Research School on Computational Methods in Psychiatry and Ageing Research (IMPRS COMP2PSYCH to Y.L.), and by the Max Planck Society and a MRC Career Development Award (no. MR/N02401X/1 to R.B.R.)
Ethics declarations
Competing interests
The authors declare no competing interests.
Additional information
Journal peer review information: Nature Neuroscience thanks Bruno Averbeck, Andreas Meyer-Lindenberg, and the other anonymous reviewer(s) for their contribution to the peer review of this work.
Publisher's note: Springer Nature remains neutral with regard to jurisdictional claims in published maps and institutional affiliations.
Integrated supplementary information
About this article
Cite this article
Liu, Y., Li, S., Lin, W. et al. Oxytocin modulates social value representations in the amygdala. Nat Neurosci 22, 633–641 (2019). https://doi.org/10.1038/s41593-019-0351-1
Received:

Accepted:

Published:

Issue Date:

DOI: https://doi.org/10.1038/s41593-019-0351-1