Abstract
DNA modification is known to regulate experience-dependent gene expression. However, beyond cytosine methylation and its oxidated derivatives, very little is known about the functional importance of chemical modifications on other nucleobases in the brain. Here we report that in adult mice trained in fear extinction, the DNA modification N6-methyl-2'-deoxyadenosine (m6dA) accumulates along promoters and coding sequences in activated prefrontal cortical neurons. The deposition of m6dA is associated with increased genome-wide occupancy of the mammalian m6dA methyltransferase, N6amt1, and this correlates with extinction-induced gene expression. The accumulation of m6dA is associated with transcriptional activation at the brain-derived neurotrophic factor (Bdnf) P4 promoter, which is required for Bdnf exon IV messenger RNA expression and for the extinction of conditioned fear. These results expand the scope of DNA modifications in the adult brain and highlight changes in m6dA as an epigenetic mechanism associated with activity-induced gene expression and the formation of fear extinction memory.
Access options
Subscribe to Journal
Get full journal access for 1 year
$209.00
only $17.42 per issue
All prices are NET prices.
VAT will be added later in the checkout.
Rent or Buy article
Get time limited or full article access on ReadCube.
from$8.99
All prices are NET prices.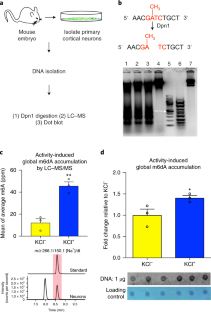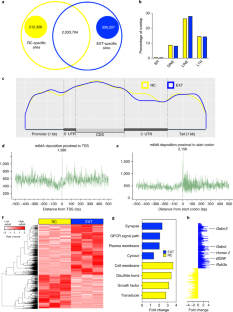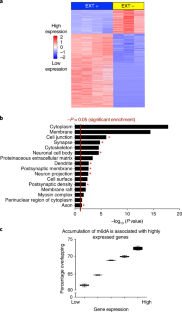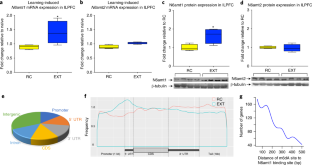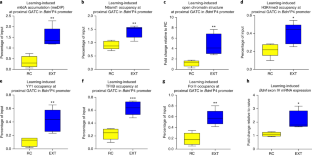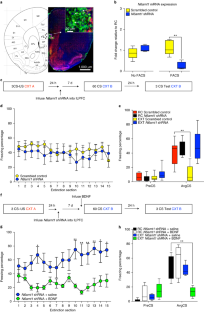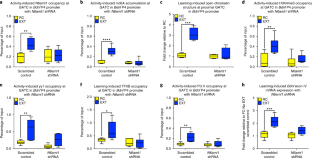 References
1.

Marshall, P. & Bredy, T. W. Cognitive neuroepigenetics: the next evolution in our understanding of the molecular mechanisms underlying learning and memory? NPJ Sci. Learn. 1, 16014 (2016).

2.

Li, X. et al. Neocortical Tet3-mediated accumulation of 5-hydroxymethylcytosine promotes rapid behavioral adaptation. Proc. Natl Acad. Sci. USA 111, 7120–7125 (2014).

3.

Wei, W. et al. p300/CBP-associated factor selectively regulates the extinction of conditioned fear. J. Neurosci. 32, 11930–11941 (2012).

4.

Miller, C. A., Campbell, S. L. & Sweatt, J. D. DNA methylation and histone acetylation work in concert to regulate memory formation and synaptic plasticity. Neurobiol. Learn. Mem. 89, 599–603 (2008).

5.

Baker-Andresen, D., Ratnu, V. S. & Bredy, T. W. Dynamic DNA methylation: a prime candidate for genomic metaplasticity and behavioral adaptation. Trends Neurosci. 36, 3–13 (2013).

6.

Gapp, K., Woldemichael, B. T., Bohacek, J. & Mansuy, I. M. Epigenetic regulation in neurodevelopment and neurodegenerative diseases. Neuroscience 264, 99–111 (2014).

7.

Korlach, J. & Turner, S. W. Going beyond five bases in DNA sequencing. Curr. Opin. Struct. Biol. 22, 251–261 (2012).

8.

Lister, R. et al. Global epigenomic reconfiguration during mammalian brain development. Science 341, 1237905 (2013).

9.

Guo, J. U., Su, Y., Zhong, C., Ming, G.-L. & Song, H. Hydroxylation of 5-methylcytosine by TET1 promotes active DNA demethylation in the adult brain. Cell 145, 423–434 (2011).

10.

Shen, L. et al. Tet3 and DNA replication mediate demethylation of both the maternal and paternal genomes in mouse zygotes. Cell Stem Cell 15, 459–471 (2014).

11.

Khare, T. et al. 5-hmC in the brain is abundant in synaptic genes and shows differences at the exon-intron boundary. Nat. Struct. Mol. Biol. 19, 1037–1043 (2012).

12.

Miller, C. A. et al. Cortical DNA methylation maintains remote memory. Nat. Neurosci. 13, 664–666 (2010).

13.

Vanyushin, B. F., Mazin, A. L., Vasilyev, V. K. & Belozersky, A. N. The content of 5-methylcytosine in animal DNA: the species and tissue specificity. Biochim. Biophys. Acta 299, 397–403 (1973).

14.

Iyer, L. M., Zhang, D. & Aravind, L. Adenine methylation in eukaryotes: apprehending the complex evolutionary history and functional potential of an epigenetic modification. Bioessays 38, 27–40 (2016).

15.

Hattman, S., Kenny, C., Berger, L. & Pratt, K. Comparative study of DNA methylation in three unicellular eucaryotes. J. Bacteriol. 135, 1156–1157 (1978).

16.

Hattman, S. DNA-[adenine] methylation in lower eukaryotes. Biochemistry 70, 550–558 (2005).

17.

Fu, Y. et al. N6-methyldeoxyadenosine marks active transcription start sites in Chlamydomonas. Cell 161, 879–892 (2015).

18.

Zhang, G. et al. N6-methyladenine DNA modification in Drosophila. Cell 161, 893–906 (2015).

19.

Ma, C. et al. N6-methyldeoxyadenine is a transgenerational epigenetic signal for mitochondrial stress adaptation. Nat. Cell Biol. https://doi.org/10.1038/s41556-018-0238-5 (2018).

20.

Yao, B. et al. DNA N6-methyladenine is dynamically regulated in the mouse brain following environmental stress. Nat. Commun. 8, 1122 (2017).

21.

Usheva, A. & Shenk, T. TATA-binding protein-independent initiation: YY1, TFIIB, and RNA polymerase II direct basal transcription on supercoiled template DNA. Cell 76, 1115–1121 (1994).

22.

Bredy, T. W. et al. Histone modifications around individual BDNF gene promoters in prefrontal cortex are associated with extinction of conditioned fear. Learn. Mem. 14, 268–276 (2007).

23.

Liu, J. et al. Abundant DNA 6 mA methylation during early embryogenesis of zebrafish and pig. Nat. Commun. 7, 13052 (2016).

24.

Wu, T. P. et al. DNA methylation on N(6)-adenine in mammalian embryonic stem cells. Nature 532, 329–333 (2016).

25.

Ataman, B. et al. Evolution of Osteocrin as an activity-regulated factor in the primate brain. Nature 539, 242–247 (2016).

26.

Xiao, C.-L. et al. N6-Methyladenine DNA Modification in the Human Genome. Mol. Cell 71, 306–318.e7 (2018).

27.

Xie, Q. et al. N6-methyladenine DNA Modification in Glioblastoma. Cell 175, 1228–1243.e20 (2018).

28.

Luo, G.-Z. et al. Characterization of eukaryotic DNA N(6)-methyladenine by a highly sensitive restriction enzyme-assisted sequencing. Nat. Commun. 7, 11301 (2016).

29.

Vovis, G. F. & Lacks, S. Complementary action of restriction enzymes endo R-DpnI and Endo R-DpnII on bacteriophage f1 DNA. J. Mol. Biol. 115, 525–538 (1977).

30.

Lacks, S. & Greenberg, B. A deoxyribonuclease of Diplococcus pneumoniae specific for methylated DNA. J. Biol. Chem. 250, 4060–4066 (1975).

31.

Birnboim, H. C., Sederoff, R. R. & Paterson, M. C. Distribution of polypyrimidine. Polypurine segments in DNA from diverse organisms. Eur. J. Biochem. 98, 301–307 (1979).

32.

Manor, H., Rao, B. S. & Martin, R. G. Abundance and degree of dispersion of genomic d(GA)n.d(TC)n sequences. J. Mol. Evol. 27, 96–101 (1988).

33.

Soeller, W. C., Poole, S. J. & Kornberg, T. In vitro transcription of the Drosophila engrailed gene. Genes Dev. 2, 68–81 (1988).

34.

Biggin, M. D. & Tjian, R. Transcription factors that activate the Ultrabithorax promoter in developmentally staged extracts. Cell 53, 699–711 (1988).

35.

Wallrath, L. L. & Elgin, S. C. Position effect variegation in Drosophila is associated with an altered chromatin structure. Genes Dev. 9, 1263–1277 (1995).

36.

Stephens, C., Reisenauer, A., Wright, R. & Shapiro, L. A cell cycle-regulated bacterial DNA methyltransferase is essential for viability. Proc. Natl Acad. Sci. USA 93, 1210–1214 (1996).

37.

Liu, P. et al. Deficiency in a glutamine-specific methyltransferase for release factor causes mouse embryonic lethality. Mol. Cell. Biol. 30, 4245–4253 (2010).

38.

Ghosh, A., Carnahan, J. & Greenberg, M. E. Requirement for BDNF in activity-dependent survival of cortical neurons. Science 263, 1618–1623 (1994).

39.

Peters, J., Kalivas, P. W. & Quirk, G. J. Extinction circuits for fear and addiction overlap in prefrontal cortex. Learn. Mem. 16, 279–288 (2009).

40.

Lubin, F. D., Roth, T. L. & Sweatt, J. D. Epigenetic regulation of BDNF gene transcription in the consolidation of fear memory. J. Neurosci. 28, 10576–10586 (2008).

41.

West, A. E. Biological functions of activity-dependent transcription revealed. Neuron 60, 523–525 (2008).

42.

Sakata, K. et al. Role of activity-dependent BDNF expression in hippocampal-prefrontal cortical regulation of behavioral perseverance. Proc. Natl Acad. Sci. USA 110, 15103–15108 (2013).

43.

Simon, J. M., Giresi, P. G., Davis, I. J. & Lieb, J. D. Using formaldehyde-assisted isolation of regulatory elements (FAIRE) to isolate active regulatory DNA. Nat. Protoc. 7, 256–267 (2012).

44.

Ratel, D., Ravanat, J.-L., Berger, F. & Wion, D. N6-methyladenine: the other methylated base of DNA. Bioessays 28, 309–315 (2006).

45.

Low, D. A., Weyand, N. J. & Mahan, M. J. Roles of DNA adenine methylation in regulating bacterial gene expression and virulence. Infect. Immun. 69, 7197–7204 (2001).

46.

Wang, Y., Chen, X., Sheng, Y., Liu, Y. & Gao, S. N6-adenine DNA methylation is associated with the linker DNA of H2A.Z-containing well-positioned nucleosomes in Pol II-transcribed genes in Tetrahymena. Nucleic Acids Res. 45, 11594–11606 (2017).

47.

Kigar, S. L. et al. N6-methyladenine is an epigenetic marker of mammalian early life stress. Sci. Rep. 7, 18078 (2017).

48.

Li, X., Baker-Andresen, D., Zhao, Q., Marshall, V. & Bredy, T. W. Methyl CpG binding domain ultra-sequencing: a novel method for identifying inter-individual and cell-type-specific variation in DNA methylation. Genes Brain Behav. 13, 721–731 (2014).

49.

Jung, M. et al. Longitudinal epigenetic and gene expression profiles analyzed by three-component analysis reveal down-regulation of genes involved in protein translation in human aging. Nucleic Acids Res. 43, e100 (2015).

50.

Song, G. & Wang, L. Nuclear receptor SHP activates miR-206 expression via a cascade dual inhibitory mechanism. PLoS One 4, e6880 (2009).

51.

Pan, H. et al. Negative elongation factor controls energy homeostasis in cardiomyocytes. Cell Rep. 7, 79–85 (2014).

52.

Chaudhary, P. et al. HSP70 binding protein 1 (HspBP1) suppresses HIV-1 replication by inhibiting NF-κB mediated activation of viral gene expression. Nucleic Acids Res. 44, 1613–1629 (2016).

53.

Li, H. & Durbin, R. Fast and accurate short read alignment with Burrows–Wheeler transform. Bioinformatics 25, 1754–1760 (2009).

54.

Li, H. et al. The Sequence Alignment/Map format and SAMtools. Bioinformatics 25, 2078–2079 (2009).

55.

Dunham, I. et al. An integrated encyclopedia of DNA elements in the human genome. Nature 489, 57–74 (2012). ENCODE Project Consortium.

56.

Huang, W., Sherman, B. T. & Lempicki, R. A. Bioinformatics enrichment tools: paths toward the comprehensive functional analysis of large gene lists. Nucleic Acids Res. 37, 1–13 (2009).

57.

Huang, W., Sherman, B. T. & Lempicki, R. A. Systematic and integrative analysis of large gene lists using DAVID bioinformatics resources. Nat. Protoc. 4, 44–57 (2009).
Acknowledgements
The authors gratefully acknowledge grant support from the NIH (no. 5R01MH105398 to T.W.B. and P.B.; no. 5R01MH109588 to R.C.S. and T.W.B., no. 1R01GM123558 to P.B., no.1DP2GM119164 to R.C.S.; R.C.S. receives support from a Pew Scholar award), the NHMRC (nos. GNT1033127 and GNT1160823 to T.W.B.), the Conselho Nacional de Desenvolvimento Científico e Tecnológico (no. CNPq-CsF-400850/2014-1 to R.G.-O.), the Coordenação de Aperfeiçoamento de Pessoal de Nivel Superior – Brasil (CAPES-Finance Code 001 to R.G.O.) and the Research Council of Norway (FRIMEDBIO grant 32222 to M.B.). X.L. has been supported by postgraduate scholarships from the University of Queensland and the ANZ Trustees Queensland, The University of Queensland developmental fellowship and the ARC Discovery Early Career Researcher Award (no. DE190101078). PROMEC is funded by the Faculty of Medicine and Health Sciences at NTNU and the Central Norway Regional Health Authority. The authors also thank R. Tweedale for helpful editing of the manuscript and S. Gandhi for comments and lively discussion.
Ethics declarations
Competing interests
The authors declare no competing interests.
Additional information
Journal peer review information Nature Neuroscience thanks Ian Maze and other anonymous reviewer(s) for their contribution to the peer review of this work.
Publisher's note: Springer Nature remains neutral with regard to jurisdictional claims in published maps and institutional affiliations.
Integrated supplementary information
Supplementary information
Supplementary Figs. 1–15, Supplementary Tables 1 and 2, and Supplementary Note.
About this article
Cite this article
Li, X., Zhao, Q., Wei, W. et al. The DNA modification N6-methyl-2'-deoxyadenosine (m6dA) drives activity-induced gene expression and is required for fear extinction. Nat Neurosci 22, 534–544 (2019). https://doi.org/10.1038/s41593-019-0339-x
Received:

Accepted:

Published:

Issue Date: