Abstract
Cerebral blood flow (CBF) reductions in Alzheimer's disease patients and related mouse models have been recognized for decades, but the underlying mechanisms and resulting consequences for Alzheimer's disease pathogenesis remain poorly understood. In APP/PS1 and 5xFAD mice we found that an increased number of cortical capillaries had stalled blood flow as compared to in wild-type animals, largely due to neutrophils that had adhered in capillary segments and blocked blood flow. Administration of antibodies against the neutrophil marker Ly6G reduced the number of stalled capillaries, leading to both an immediate increase in CBF and rapidly improved performance in spatial and working memory tasks. This study identified a previously uncharacterized cellular mechanism that explains the majority of the CBF reduction seen in two mouse models of Alzheimer's disease and demonstrated that improving CBF rapidly enhanced short-term memory function. Restoring cerebral perfusion by preventing neutrophil adhesion may provide a strategy for improving cognition in Alzheimer's disease patients.
Access options
Access Nature and 54 other Nature Portfolio journals
Get Nature+, our best-value online-access subscription
$29.99 / 30 days
cancel any time
Subscribe to this journal
Receive 12 print issues and online access
$209.00 per year
only $17.42 per issue
Rent or buy this article
Prices vary by article type
from$1.95
to$39.95
Prices may be subject to local taxes which are calculated during checkout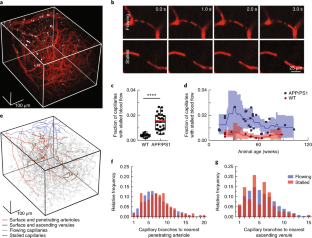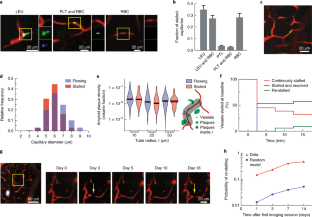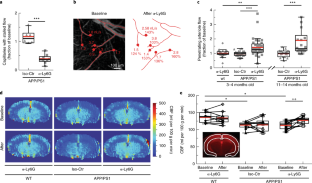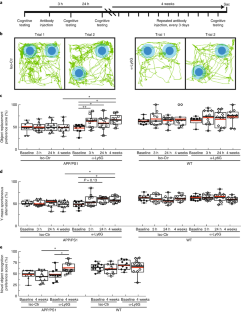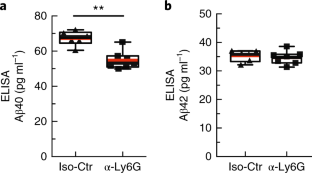 Similar content being viewed by others
Code availability
Code for 3D tracing, vessel segmentation, analysis of linescan data and determination of amyloid density around capillaries can be obtained by contacting N.N. or C.B.S. Code for simulation of blood flow in vascular networks can be obtained by contacting S.L.
References
Wang, J., Gu, B. J., Masters, C. L. & Wang, Y. J. A systemic view of Alzheimer disease - insights from amyloid-β metabolism beyond the brain. Nat. Rev. Neurol. 13, 612–623 (2017).

Santos, C. Y. et al. Pathophysiologic relationship between Alzheimer's disease, cerebrovascular disease, and cardiovascular risk: a review and synthesis. Alzheimers Dement. 7, 69–87 (2017).

Iturria-Medina, Y., Sotero, R. C., Toussaint, P. J., Mateos-Pérez, J. M. & Evans, A. C. Early role of vascular dysregulation on late-onset Alzheimer's disease based on multifactorial data-driven analysis. Nat. Commun. 7, 11934 (2016).

Dai, W. et al. Mild cognitive impairment and Alzheimer disease: patterns of altered cerebral blood flow at MR imaging. Radiology 250, 856–866 (2009).

Wolters, F. J. et al. Cerebral perfusion and the risk of dementia: a population-based study. Circulation 136, 719–728 (2017).

Wiesmann, M. et al. Hypertension, cerebrovascular impairment, and cognitive decline in aged AβPP/PS1 mice. Theranostics 7, 1277–1289 (2017).

Li, H. et al. Vascular and parenchymal amyloid pathology in an Alzheimer disease knock-in mouse model: interplay with cerebral blood flow. Mol. Neurodegener. 9, 28 (2014).

Niwa, K., Kazama, K., Younkin, S. G., Carlson, G. A. & Iadecola, C. Alterations in cerebral blood flow and glucose utilization in mice overexpressing the amyloid precursor protein. Neurobiol. Dis. 9, 61–68 (2002).

Niwa, K. et al. A beta-peptides enhance vasoconstriction in cerebral circulation. Am. J. Physiol. Heart Circ. Physiol. 281, H2417–H2424 (2001).

Farkas, E. & Luiten, P. G. Cerebral microvascular pathology in aging and Alzheimer's disease. Prog. Neurobiol. 64, 575–611 (2001).

Chen, Y. et al. Voxel-level comparison of arterial spin-labeled perfusion MRI and FDG-PET in Alzheimer disease. Neurology 77, 1977–1985 (2011).

Royea, J., Zhang, L., Tong, X. K. & Hamel, E. Angiotensin IV receptors mediate the cognitive and cerebrovascular benefits of losartan in a mouse model of Alzheimer's disease. J. Neurosci. 37, 5562–5573 (2017).

Marshall, R. S. et al. Recovery of brain function during induced cerebral hypoperfusion. Brain 124, 1208–1217 (2001).

Wang, L. et al. Chronic cerebral hypoperfusion induces memory deficits and facilitates Aβ generation in C57BL/6J mice. Exp. Neurol. 283(Pt A), 353–364 (2016).

Hattori, Y. et al. Gradual carotid artery stenosis in mice closely replicates hypoperfusive vascular dementia in humans. J. Am. Heart Assoc. 5, e002757 (2016).

Radde, R. et al. Abeta42-driven cerebral amyloidosis in transgenic mice reveals early and robust pathology. EMBO Rep. 7, 940–946 (2006).

Chishti, M. A. et al. Early-onset amyloid deposition and cognitive deficits in transgenic mice expressing a double mutant form of amyloid precursor protein 695. J. Biol. Chem. 276, 21562–21570 (2001).

Hasenberg, A. et al. Catchup: a mouse model for imaging-based tracking and modulation of neutrophil granulocytes. Nat. Methods 12, 445–452 (2015).

Deane, R., Bell, R. D., Sagare, A. & Zlokovic, B. V. Clearance of amyloid-beta peptide across the blood-brain barrier: implication for therapies in Alzheimer's disease. CNS Neurol. Disord. Drug Targets 8, 16–30 (2009).

Nishimura, N. et al. Targeted insult to subsurface cortical blood vessels using ultrashort laser pulses: three models of stroke. Nat. Methods 3, 99–108 (2006).

Tsai, P. S. et al. Correlations of neuronal and microvascular densities in murine cortex revealed by direct counting and colocalization of nuclei and vessels. J. Neurosci. 29, 14553–14570 (2009).

Lauwers, F., Cassot, F., Lauwers-Cances, V., Puwanarajah, P. & Duvernoy, H. Morphometry of the human cerebral cortex microcirculation: general characteristics and space-related profiles. Neuroimage 39, 936–948 (2008).

Lorthois, S., Cassot, F. & Lauwers, F. Simulation study of brain blood flow regulation by intra-cortical arterioles in an anatomically accurate large human vascular network. Part II: flow variations induced by global or localized modifications of arteriolar diameters. Neuroimage 54, 2840–2853 (2011).

Roher, A. E. et al. Cerebral blood flow in Alzheimer's disease. Vasc. Health Risk Manag. 8, 599–611 (2012).

Iadecola, C. The neurovascular unit coming of age: a journey through neurovascular coupling in health and disease. Neuron 96, 17–42 (2017).

Park, L. et al. Nox2-derived radicals contribute to neurovascular and behavioral dysfunction in mice overexpressing the amyloid precursor protein. Proc. Natl Acad. Sci. USA 105, 1347–1352 (2008).

Park, L. et al. Innate immunity receptor CD36 promotes cerebral amyloid angiopathy. Proc. Natl Acad. Sci. USA 110, 3089–3094 (2013).

Wang, J. X. et al. Ly6G ligation blocks recruitment of neutrophils via a β2-integrin-dependent mechanism. Blood 120, 1489–1498 (2012).

Daley, J. M., Thomay, A. A., Connolly, M. D., Reichner, J. S. & Albina, J. E. Use of Ly6G-specific monoclonal antibody to deplete neutrophils in mice. J. Leukoc. Biol. 83, 64–70 (2008).

Lavkan, A. H., Astiz, M. E. & Rackow, E. C. Effects of proinflammatory cytokines and bacterial toxins on neutrophil rheologic properties. Crit. Care Med. 26, 1677–1682 (1998).

Bennett, R. E. et al. Tau induces blood vessel abnormalities and angiogenesis-related gene expression in P301L transgenic mice and human Alzheimer's disease. Proc. Natl Acad. Sci. USA 115, E1289–E1298 (2018).

Haft-Javaherian, M. et al. Deep convolutional neural networks for segmenting 3D in vivo multiphoton images of vasculature in Alzheimer disease mouse models. Preprint at arXiv https://arxiv.org/abs/1801.00880 (2018).

Villringer, A. et al. Imaging of leukocytes within the rat brain cortex in vivo. Microvasc. Res. 42, 305–315 (1991).

Ishikawa, M. et al. Leukocyte plugging and cortical capillary flow after subarachnoid hemorrhage. Acta Neurochir. 158, 1057–1067 (2016).

Kloner, R. A. No-reflow phenomenon: maintaining vascular integrity. J. Cardiovasc. Pharmacol. Ther. 16, 244–250 (2011).

Engler, R. L., Schmid-Schönbein, G. W. & Pavelec, R. S. Leukocyte capillary plugging in myocardial ischemia and reperfusion in the dog. Am. J. Pathol. 111, 98–111 (1983).

Chibber, R., Ben-Mahmud, B. M., Chibber, S. & Kohner, E. M. Leukocytes in diabetic retinopathy. Curr. Diabetes. Rev. 3, 3–14 (2007).

Santisakultarm, T. P. et al. Stalled cerebral capillary blood flow in mouse models of essential thrombocythemia and polycythemia vera revealed by in vivo two-photon imaging. J. Thromb. Haemost. 12, 2120–2130 (2014).

Ilesanmi, O. O. Pathological basis of symptoms and crises in sickle cell disorder: implications for counseling and psychotherapy. Hematol. Rep. 2, e2 (2010).

Zuliani, G. et al. Markers of endothelial dysfunction in older subjects with late onset Alzheimer's disease or vascular dementia. J. Neurol. Sci. 272, 164–170 (2008).

Iadecola, C. Vascular and metabolic factors in Alzheimer's disease and related dementias: introduction. Cell. Mol. Neurobiol. 36, 151–154 (2016).

Zenaro, E. et al. Neutrophils promote Alzheimer's disease-like pathology and cognitive decline via LFA-1 integrin. Nat. Med. 21, 880–886 (2015).

Goldsmith, H. S. Alzheimer's disease can be treated: why the delay? Surg. Neurol. Int. 8, 133 (2017).

Blinder, P. et al. The cortical angiome: an interconnected vascular network with noncolumnar patterns of blood flow. Nat. Neurosci. 16, 889–897 (2013).

Jankowsky, J. L. et al. Mutant presenilins specifically elevate the levels of the 42 residue beta-amyloid peptide in vivo: evidence for augmentation of a 42-specific gamma secretase. Hum. Mol. Genet. 13, 159–170 (2004).

Oakley, H. et al. Intraneuronal beta-amyloid aggregates, neurodegeneration, and neuron loss in transgenic mice with five familial Alzheimer's disease mutations: potential factors in amyloid plaque formation. J. Neurosci. 26, 10129–10140 (2006).

Klunk, W. E. et al. Imaging Abeta plaques in living transgenic mice with multiphoton microscopy and methoxy-X04, a systemically administered Congo red derivative. J. Neuropathol. Exp. Neurol. 61, 797–805 (2002).

Pologruto, T. A., Sabatini, B. L. & Svoboda, K. ScanImage: flexible software for operating laser scanning microscopes. Biomed. Eng. Online 2, 13 (2003).

Dijkstra, E. W. A note on two problems in connexion with graphs. Numer. Math. 1, 269–271 (1959).

Otsu, N. A threshold selection method from gray-level histogram. IEEE Trans. Syst. Man. Cybern. 9, 62–66 (1979).
Acknowledgements
This work was supported by the National Institutes of Health grants Nos. AG049952 (C.B.S.), NS37853 (C.I.), NS097805 (L.P.) and AG031620 (N.N.), the Alzheimer's Drug Discovery Foundation (C.B.S.), the Alzheimer's Art Quilt Initiative (C.B.S.), the BrightFocus Foundation (C.B.S.), European Research Council grant No. 615102 (S.L.), the DFG German Research Foundation (O.B.), a National Science Foundation Graduate Research Fellowship (J.C.H.), the L'Oréal Fellowship for Women in Science (N.N.) and used computing resources at CALMIP (S.L.). We thank F. Lauwers for the human vascular data, P. Tsai, P. Blinder and D. Kleinfeld for the mouse vascular data and M. Gulinello for guidance on behavior experiments. Finally, we thank J.R. Fetcho, J.H. Goldberg and M.I. Kotlikoff for commenting on the manuscript.
Ethics declarations
Competing interests
The authors declare no competing interests.
Additional information
Publisher's note: Springer Nature remains neutral with regard to jurisdictional claims in published maps and institutional affiliations.
Integrated supplementary information
Supplementary information
About this article
Cite this article
Cruz Hernández, J.C., Bracko, O., Kersbergen, C.J. et al. Neutrophil adhesion in brain capillaries reduces cortical blood flow and impairs memory function in Alzheimer's disease mouse models. Nat Neurosci 22, 413–420 (2019). https://doi.org/10.1038/s41593-018-0329-4
Received:

Accepted:

Published:

Issue Date:

DOI: https://doi.org/10.1038/s41593-018-0329-4