Abstract
Functionally and anatomically distinct cortical substructures, such as areas or layers, contain different principal neuron (PN) subtypes that generate output signals representing particular information. Various types of cortical inhibitory interneurons (INs) differentially but coordinately regulate PN activity. Despite a potential determinant for functional specialization of PN subtypes, the spatial organization of IN subtypes that innervate defined PN subtypes remains unknown. Here we develop a genetic strategy combining a recombinase-based intersectional labeling method and rabies viral monosynaptic tracing, which enables subtype-specific visualization of cortical IN ensembles sending inputs to defined PN subtypes. Our approach reveals not only cardinal but also underrepresented connections between broad, non-overlapping IN subtypes and PNs. Furthermore, we demonstrate that distinct PN subtypes defined by areal or laminar positions display different organization of input IN subtypes. Our genetic strategy will facilitate understanding of the wiring and developmental principles of cortical inhibitory circuits at unparalleled levels.
Relevant articles
Open Access articles citing this article.
Tristan G. Heintz

,

Antonio J. Hinojosa

…

Leon Lagnado

Nature Communications Open Access 24 February 2022

Agnieszka Lukomska

,

Grzegorz Dobrzanski

…

Malgorzata Kossut

Brain Structure and Function Open Access 23 December 2019

Johanna Burgold

,

Elena Katharina Schulz-Trieglaff

…

Irina Dudanova

Scientific Reports Open Access 29 April 2019
Access options
Subscribe to Nature+
Get immediate online access to Nature and 55 other Nature journal
Subscribe to Journal
Get full journal access for 1 year
$79.00
only $6.58 per issue
All prices are NET prices.
VAT will be added later in the checkout.
Tax calculation will be finalised during checkout.
Buy article
Get time limited or full article access on ReadCube.
$32.00
All prices are NET prices.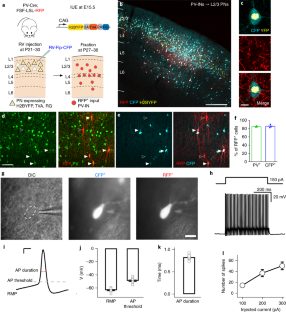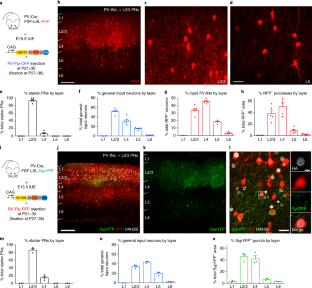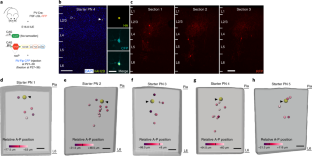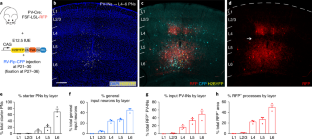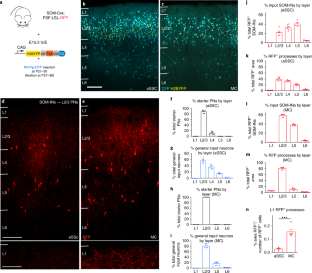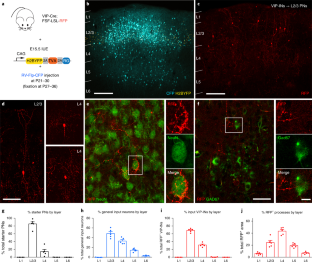 Data Availability
The data that support the findings of this study are available from the corresponding author upon reasonable request.
References
Tremblay, R., Lee, S. & Rudy, B. GABAergic interneurons in the neocortex: from cellular properties to circuits. Neuron 91, 260–292 (2016).

Huang, Z. J. Toward a genetic dissection of cortical circuits in the mouse. Neuron 83, 1284–1302 (2014).

Kepecs, A. & Fishell, G. Interneuron cell types are fit to function. Nature 505, 318–326 (2014).

Greig, L. C., Woodworth, M. B., Galazo, M. J., Padmanabhan, H. & Macklis, J. D. Molecular logic of neocortical projection neuron specification, development and diversity. Nat. Rev. Neurosci. 14, 755–769 (2013).

Harris, K. D. & Shepherd, G. M. The neocortical circuit: themes and variations. Nat. Neurosci. 18, 170–181 (2015).

Krook-Magnuson, E., Varga, C., Lee, S. H. & Soltesz, I. New dimensions of interneuronal specialization unmasked by principal cell heterogeneity. Trends Neurosci. 35, 175–184 (2012).

Martin, K. A., Somogyi, P. & Whitteridge, D. Physiological and morphological properties of identified basket cells in the cat's visual cortex. Exp. Brain Res. 50, 193–200 (1983).

Kawaguchi, Y. & Kubota, Y. Physiological and morphological identification of somatostatin- or vasoactive intestinal polypeptide-containing cells among GABAergic cell subtypes in rat frontal cortex. J. Neurosci. 16, 2701–2715 (1996).

Kawaguchi, Y. & Kubota, Y. GABAergic cell subtypes and their synaptic connections in rat frontal cortex. Cereb. Cortex 7, 476–486 (1997).

Jiang, X. et al. Principles of connectivity among morphologically defined cell types in adult neocortex. Science 350, aac9462 (2015).

Wickersham, I. R. et al. Monosynaptic restriction of transsynaptic tracing from single, genetically targeted neurons. Neuron 53, 639–647 (2007).

Miyamichi, K. et al. Cortical representations of olfactory input by trans-synaptic tracing. Nature 472, 191–196 (2011).

Watabe-Uchida, M., Zhu, L., Ogawa, S. K., Vamanrao, A. & Uchida, N. Whole-brain mapping of direct inputs to midbrain dopamine neurons. Neuron 74, 858–873 (2012).

Kim, E. J., Juavinett, A. L., Kyubwa, E. M., Jacobs, M. W. & Callaway, E. M. Three types of cortical layer 5 neurons that differ in brain-wide connectivity and function. Neuron 88, 1253–1267 (2015).

DeNardo, L. A., Berns, D. S., DeLoach, K. & Luo, L. Connectivity of mouse somatosensory and prefrontal cortex examined with trans-synaptic tracing. Nat. Neurosci. 18, 1687–1697 (2015).

Di Cristo, G. et al. Subcellular domain-restricted GABAergic innervation in primary visual cortex in the absence of sensory and thalamic inputs. Nat. Neurosci. 7, 1184–1186 (2004).

Fu, Y. et al. A cortical circuit for gain control by behavioral state. Cell 156, 1139–1152 (2014).

Pi, H. J. et al. Cortical interneurons that specialize in disinhibitory control. Nature 503, 521–524 (2013).

Pfeffer, C. K., Xue, M., He, M., Huang, Z. J. & Scanziani, M. Inhibition of inhibition in visual cortex: the logic of connections between molecularly distinct interneurons. Nat. Neurosci. 16, 1068–1076 10 (2013).

Zhou, X., Rickmann, M., Hafner, G. & Staiger, J. F. Subcellular targeting of vip boutons in mouse barrel cortex is layer-dependent and not restricted to interneurons. Cereb. Cortex 27, 5353–5368 (2017).

Garcia-Junco-Clemente, P. et al. An inhibitory pull-push circuit in frontal cortex. Nat. Neurosci. 20, 389–392 (2017).

Muñoz, W., Tremblay, R., Levenstein, D. & Rudy, B. Layer-specific modulation of neocortical dendritic inhibition during active wakefulness. Science 355, 954–959 (2017).

Kvitsiani, D. et al. Distinct behavioural and network correlates of two interneuron types in prefrontal cortex. Nature 498, 363–366 (2013).

Taniguchi, H. et al. A resource of Cre driver lines for genetic targeting of GABAergic neurons in cerebral cortex. Neuron 71, 995–1013 (2011).

Madisen, L. et al. Transgenic mice for intersectional targeting of neural sensors and effectors with high specificity and performance. Neuron 85, 942–958 (2015).

Hippenmeyer, S. et al. A developmental switch in the response of DRG neurons to ETS transcription factor signaling. PLoS Biol. 3, e159 (2005).

Saito, T. In vivo electroporation in the embryonic mouse central nervous system. Nat. Protoc. 1, 1552–1558 (2006).

Marshel, J. H., Mori, T., Nielsen, K. J. & Callaway, E. M. Targeting single neuronal networks for gene expression and cell labeling in vivo. Neuron 67, 562–574 (2010).

Rudy, B., Fishell, G., Lee, S. & Hjerling-Leffler, J. Three groups of interneurons account for nearly 100% of neocortical GABAergic neurons. Dev. Neurobiol. 71, 45–61 (2011).

Lazarus, M. S. & Huang, Z. J. Distinct maturation profiles of perisomatic and dendritic targeting GABAergic interneurons in the mouse primary visual cortex during the critical period of ocular dominance plasticity. J. Neurophysiol. 106, 775–787 (2011).

Packer, A. M. & Yuste, R. Dense, unspecific connectivity of neocortical parvalbumin-positive interneurons: a canonical microcircuit for inhibition? J. Neurosci. 31, 13260–13271 (2011).

Xu, X., Roby, K. D. & Callaway, E. M. Immunochemical characterization of inhibitory mouse cortical neurons: three chemically distinct classes of inhibitory cells. J. Comp. Neurol. 518, 389–404 (2010).

Wang, Y. et al. Anatomical, physiological and molecular properties of Martinotti cells in the somatosensory cortex of the juvenile rat. J. Physiol. (Lond.) 561, 65–90 (2004).

Chen, S. X., Kim, A. N., Peters, A. J. & Komiyama, T. Subtype-specific plasticity of inhibitory circuits in motor cortex during motor learning. Nat. Neurosci. 18, 1109–1115 (2015).

Reardon, T. R. et al. Rabies Virus cvs-n2c(Δg) strain enhances retrograde synaptic transfer and neuronal viability. Neuron 89, 711–724 (2016).

Ciabatti, E., González-Rueda, A., Mariotti, L., Morgese, F. & Tripodi, M. Life-long genetic and functional access to neural circuits using self-inactivating rabies virus. Cell 170, 382–392.e14 (2017).

Brecht, M. Barrel cortex and whisker-mediated behaviors. Curr. Opin. Neurobiol. 17, 408–416 (2007).

Feldmeyer, D. Excitatory neuronal connectivity in the barrel cortex. Front. Neuroanat. 6, 24 (2012).

Lindwall, C., Fothergill, T. & Richards, L. J. Commissure formation in the mammalian forebrain. Curr. Opin. Neurobiol. 17, 3–14 (2007).

Molyneaux, B. J., Arlotta, P., Menezes, J. R. & Macklis, J. D. Neuronal subtype specification in the cerebral cortex. Nat. Rev. Neurosci. 8, 427–437 (2007).

Tervo, D. G. et al. A designer aav variant permits efficient retrograde access to projection neurons. Neuron 92, 372–382 (2016).

Madisen, L. et al. A robust and high-throughput Cre reporting and characterization system for the whole mouse brain. Nat. Neurosci. 13, 133–140 (2010).

Miyoshi, G. et al. Genetic fate mapping reveals that the caudal ganglionic eminence produces a large and diverse population of superficial cortical interneurons. J. Neurosci. 30, 1582–1594 (2010).

Lakso, M. et al. Efficient in vivo manipulation of mouse genomic sequences at the zygote stage. Proc. Natl Acad. Sci. USA 93, 5860–5865 (1996).

Osakada, F. & Callaway, E. M. Design and generation of recombinant rabies virus vectors. Nat. Protoc. 8, 1583–1601 (2013).

Wickersham, I. R., Sullivan, H. A. & Seung, H. S. Production of glycoprotein-deleted rabies viruses for monosynaptic tracing and high-level gene expression in neurons. Nat. Protoc. 5, 595–606 (2010).

Watakabe, A., Komatsu, Y., Ohsawa, S. & Yamamori, T. Fluorescent in situ hybridization technique for cell type identification and characterization in the central nervous system. Methods 52, 367–374 (2010).

Zack, G. W., Rogers, W. E. & Latt, S. A. Automatic measurement of sister chromatid exchange frequency. J. Histochem. Cytochem. 25, 741–753 (1977).
Acknowledgements
We thank I. Wickersham for providing us with cell lines necessary for rabies virus production, E. Gomez and S. Laborde for spatial binning analysis, and Taniguchi lab members for careful reading of the manuscript and comments. Chi-square statistical analysis was performed by G. Crynen of The Scripps Research Institute, Florida Campus. This work was supported by Max Planck Florida Institute for Neuroscience (to H.-B.K. and H.T.), the National Institutes of Health Grants MH107460 (to H.-B.K.), DP1MH119428 (to H.-B.K.), MH115917 (to H.T.), and a grant from Japan Science and Technology Agency (PRESTO) (to H.T.).
Ethics declarations
Competing Interests
The authors declare no competing interests.
Additional information
Publisher's note: Springer Nature remains neutral with regard to jurisdictional claims in published maps and institutional affiliations.
Integrated supplementary information
About this article
Cite this article
Yetman, M.J., Washburn, E., Hyun, J.H. et al. Intersectional monosynaptic tracing for dissecting subtype-specific organization of GABAergic interneuron inputs. Nat Neurosci 22, 492–502 (2019). https://doi.org/10.1038/s41593-018-0322-y
Received:

Accepted:

Published:

Issue Date:

DOI: https://doi.org/10.1038/s41593-018-0322-y