Abstract
Analysis of entire transparent rodent bodies after clearing could provide holistic biological information in health and disease, but reliable imaging and quantification of fluorescent protein signals deep inside the tissues has remained a challenge. Here, we developed vDISCO, a pressure-driven, nanobody-based whole-body immunolabeling technology to enhance the signal of fluorescent proteins by up to two orders of magnitude. This allowed us to image and quantify subcellular details through bones, skin and highly autofluorescent tissues of intact transparent mice. For the first time, we visualized whole-body neuronal projections in adult mice. We assessed CNS trauma effects in the whole body and found degeneration of peripheral nerve terminals in the torso. Furthermore, vDISCO revealed short vascular connections between skull marrow and brain meninges, which were filled with immune cells upon stroke. Thus, our new approach enables unbiased comprehensive studies of the interactions between the nervous system and the rest of the body.
Access options
Subscribe to Journal
Get full journal access for 1 year
$59.00
only $4.92 per issue
All prices are NET prices.
VAT will be added later in the checkout.
Tax calculation will be finalised during checkout.
Rent or Buy article
Get time limited or full article access on ReadCube.
from$8.99
All prices are NET prices.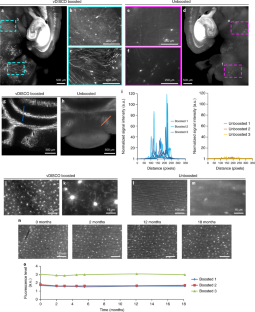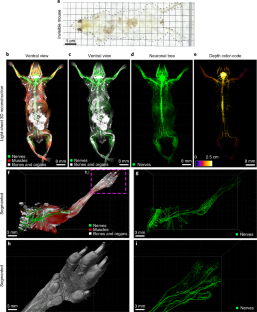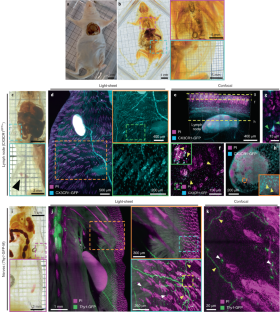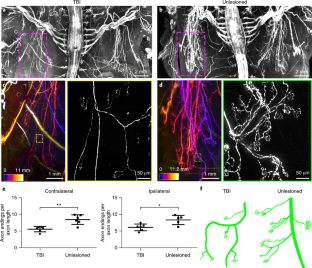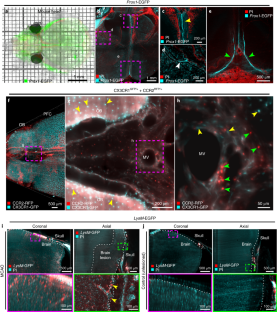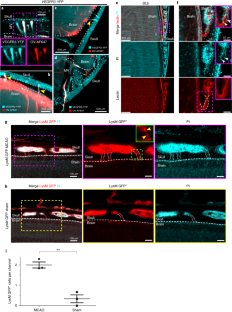 Data availability
The data that support the findings of this study are available from the corresponding author upon reasonable request.
References
1.

Tuchin, V. V. & Tuchin, V. Tissue Optics: Light Scattering Methods and Instruments for Medical Diagnosis (SPIE Press, Bellingham, 2007).

2.

Chung, K. et al. Structural and molecular interrogation of intact biological systems. Nature 497, 332–337 (2013).

3.

Yang, B. et al. Single-cell phenotyping within transparent intact tissue through whole-body clearing. Cell 158, 945–958 (2014).

4.

Renier, N. et al. iDISCO: a simple, rapid method to immunolabel large tissue samples for volume imaging. Cell 159, 896–910 (2014).

5.

Susaki, E. A. et al. Whole-brain imaging with single-cell resolution using chemical cocktails and computational analysis. Cell 157, 726–739 (2014).

6.

Erturk, A. et al. Three-dimensional imaging of solvent-cleared organs using 3DISCO. Nat. Protoc. 7, 1983–1995 (2012).

7.

Erturk, A. et al. Three-dimensional imaging of the unsectioned adult spinal cord to assess axon regeneration and glial responses after injury. Nat. Med. 18, 166–171 (2011).

8.

Belle, M. et al. A simple method for 3D analysis of immunolabeled axonal tracts in a transparent nervous system. Cell Rep. 9, 1191–1201 (2014).

9.

Costantini, I. et al. A versatile clearing agent for multi-modal brain imaging. Sci. Rep. 5, 9808 (2015).

10.

Ke, M. T., Fujimoto, S. & Imai, T. SeeDB: a simple and morphology-preserving optical clearing agent for neuronal circuit reconstruction. Nat. Neurosci. 16, 1154–1161 (2013).

11.

Dodt, H. U. et al. Ultramicroscopy: three-dimensional visualization of neuronal networks in the whole mouse brain. Nat. Methods 4, 331–336 (2007).

12.

Hama, H. et al. ScaleS: an optical clearing palette for biological imaging. Nat. Neurosci. 18, 1518–1529 (2015).

13.

Belle, M. et al. Tridimensional visualization and analysis of early human development. Cell 169, 161–173 (2017).

14.

Murray, E. et al. Simple, scalable proteomic imaging for high-dimensional profiling of intact systems. Cell 163, 1500–1514 (2015).

15.

Tainaka, K. et al. Whole-body imaging with single-cell resolution by tissue decolorization. Cell 159, 911–924 (2014).

16.

Jing, D. et al. Tissue clearing of both hard and soft tissue organs with the PEGASOS method. Cell Res. 28, 803–818 (2018).

17.

Pan, C. et al. Shrinkage-mediated imaging of entire organs and organisms using uDISCO. Nat. Methods 13, 859–867 (2016).

18.

Kubota, S. I. et al. Whole-body profiling of cancer metastasis with single-cell resolution. Cell Rep. 20, 236–250 (2017).

19.

Tuchin, V. V. Optical Methods for Biomedical Diagnosis (SPIE Press, Bellingham, WA, USA, 2016).

20.

Muyldermans, S. Nanobodies: natural single-domain antibodies. Annu. Rev. Biochem. 82, 775–797 (2013).

21.

Feng, G. et al. Imaging neuronal subsets in transgenic mice expressing multiple spectral variants of GFP. Neuron 28, 41–51 (2000).

22.

Quan, T. et al. NeuroGPS-Tree: automatic reconstruction of large-scale neuronal populations with dense neurites. Nat. Methods 13, 51–54 (2016).

23.

Renier, N. et al. Mapping of brain activity by automated volume analysis of immediate early genes. Cell 165, 1789–1802 (2016).

24.

GageG. J., KipkeD. R. & ShainW. Whole animal perfusion fixation for rodents. J. Vis. Exp. 65, e3564 (2012).

25.

Greenbaum, A. et al. Bone CLARITY: clearing, imaging, and computational analysis of osteoprogenitors within intact bone marrow. Sci. Transl. Med. 9, eaah6518 (2017).

26.

Leijnse, J. N. & D'Herde, K. Revisiting the segmental organization of the human spinal cord. J. Anat. 229, 384–393 (2016).

27.

Gimenez-Arnau, A. Standards for the protection of skin barrier function. Curr. Probl. Dermatol. 49, 123–134 (2016).

28.

Haeryfar, S. M. & Hoskin, D. W. Thy-1: more than a mouse pan-T cell marker. J. Immunol. 173, 3581–3588 (2004).

29.

Smith, D. H., Johnson, V. E. & Stewart, W. Chronic neuropathologies of single and repetitive TBI: substrates of dementia? Nature Rev. Neurol. 9, 211–221 (2013).

30.

Frei, K. Posttraumatic dystonia. J. Neurol. Sci. 379, 183–191 (2017).

31.

Williams, G., Schache, A. & Morris, M. E. Running abnormalities after traumatic brain injury. Brain Inj. 27, 434–443 (2013).

32.

Chen, Y., Constantini, S., Trembovler, V., Weinstock, M. & Shohami, E. An experimental model of closed head injury in mice: pathophysiology, histopathology, and cognitive deficits. J. Neurotrauma 13, 557–568 (1996).

33.

Erturk, A. et al. Interfering with the chronic immune response rescues chronic degeneration after traumatic brain injury. J. Neurosci. 36, 9962–9975 (2016).

34.

Evans, T. M. et al. The effect of mild traumatic brain injury on peripheral nervous system pathology in wild-type mice and the G93A mutant mouse model of motor neuron disease. Neuroscience 298, 410–423 (2015).

35.

Louveau, A. et al. Structural and functional features of central nervous system lymphatic vessels. Nature 523, 337–341 (2015).

36.

Nedergaard, M. Neuroscience. Garbage truck of the brain. Science 340, 1529–1530 (2013).

37.

Da Mesquita, S. et al. Functional aspects of meningeal lymphatics in ageing and Alzheimer's disease. Nature 560, 185–181 (2018).

38.

Andres, K. H., von During, M., Muszynski, K. & Schmidt, R. F. Nerve fibres and their terminals of the dura mater encephali of the rat. Anat. Embryol. 175, 289–301 (1987).

39.

Louveau, A. et al. Understanding the functions and relationships of the glymphatic system and meningeal lymphatics. J. Clin. Investig. 127, 3210–3219 (2017).

40.

Choi, I. et al. Visualization of lymphatic vessels by Prox1-promoter directed GFP reporter in a bacterial artificial chromosome-based transgenic mouse. Blood 117, 362–365 (2011).

41.

Faust, N., Varas, F., Kelly, L. M., Heck, S. & Graf, T. Insertion of enhanced green fluorescent protein into the lysozyme gene creates mice with green fluorescent granulocytes and macrophages. Blood 96, 719–726 (2000).

42.

Llovera, G. et al. The choroid plexus is a key cerebral invasion route for T cells after stroke. Acta Neuropathol. 134, 851–868 (2017).

43.

Iqbal, A. J. et al. Human CD68 promoter GFP transgenic mice allow analysis of monocyte to macrophage differentiation in vivo. Blood 124, e33–e44 (2014).

44.

Hong, G., Antaris, A. L. & Dai, H. Near-infrared fluorophores for biomedical imaging. Nat. Biomed. Eng. 1, 0010 (2017).

45.

Noristani, H. N. et al. RNA-Seq analysis of microglia reveals time-dependent activation of specific genetic programs following spinal cord injury. Front. Mol. Neurosci. 10, 90 (2017).

46.

Villapol, S., Byrnes, K. R. & Symes, A. J. Temporal dynamics of cerebral blood flow, cortical damage, apoptosis, astrocyte-vasculature interaction and astrogliosis in the pericontusional region after traumatic brain injury. Front. Neurol. 5, 82 (2014).

47.

Leslie, M. Small but mighty. Science 360, 594–597 (2018).

48.

Deverman, B. E. et al. Cre-dependent selection yields AAV variants for widespread gene transfer to the adult brain. Nat. Biotechnol. 34, 204–209 (2016).

49.

Hellal, F. et al. Microtubule stabilization reduces scarring and causes axon regeneration after spinal cord injury. Science 331, 928–931 (2011).

50.

Herisson, F. et al. Direct vascular channels connect skull bone marrow and the brain surface enabling myeloid cell migration. Nat. Neurosci. 21, 1209–1217 (2018).

51.

Niess, J. H. et al. CX3CR1-mediated dendritic cell access to the intestinal lumen and bacterial clearance. Science 307, 254–258 (2005).

52.

Nikic, I. et al. A reversible form of axon damage in experimental autoimmune encephalomyelitis and multiple sclerosis. Nat. Med. 17, 495–499 (2011).

53.

Treweek, J. B. et al. Whole-body tissue stabilization and selective extractions via tissue-hydrogel hybrids for high-resolution intact circuit mapping and phenotyping. Nat. Protoc. 10, 1860–1896 (2015).
Acknowledgements
This work was supported by the Vascular Dementia Research Foundation, Synergy Excellence Cluster Munich (SyNergy; EXC 1010), ERA-Net Neuron (01EW1501A; A.E.), Fritz Thyssen Stiftung (reference 10.17.1.019MN; A.E.), DFG (reference ER 810/2-1; A.E.), National Institutes of Health (A.E. and M.N.), Helmholtz ICEMED Alliance (A.E.), the Novo Nordisk Foundation (M.N.), the Howard Hughes Medical Institute (B.T.K.) and the Lundbeck Foundation (A.L.R.X. and M.N.). We thank A. Weingart for illustrations, F. Hellal for technical advice and critical reading of the manuscript, and F. P. Quacquarelli and G. Locatelli for help during initial optimization. A.E, C.P., R.C., A.L. and M.I.T. are members of the Graduate School of Systemic Neurosciences at the Ludwig Maximilian University of Munich.
Ethics declarations
Competing interests
A.E. filed a patent on some of the technologies presented in this work.
Additional information
Publisher's note: Springer Nature remains neutral with regard to jurisdictional claims in published maps and institutional affiliations.
Supplementary information
About this article
Cite this article
Cai, R., Pan, C., Ghasemigharagoz, A. et al. Panoptic imaging of transparent mice reveals whole-body neuronal projections and skull–meninges connections. Nat Neurosci 22, 317–327 (2019). https://doi.org/10.1038/s41593-018-0301-3
Received:

Accepted:

Published:

Issue Date: