Abstract
The coexistence of amyloid-β (Aβ) plaques and tau neurofibrillary tangles in the neocortex is linked to neural system failure and cognitive decline in Alzheimer's disease. However, the underlying neuronal mechanisms are unknown. By employing in vivo two-photon Ca2+ imaging of layer 2/3 cortical neurons in mice expressing human Aβ and tau, we reveal a dramatic tau-dependent suppression of activity and silencing of many neurons, which dominates over Aβ-dependent neuronal hyperactivity. We show that neurofibrillary tangles are neither sufficient nor required for the silencing, which instead is dependent on soluble tau. Surprisingly, although rapidly effective in tau mice, suppression of tau gene expression was much less effective in rescuing neuronal impairments in mice containing both Aβ and tau. Together, our results reveal how Aβ and tau synergize to impair the functional integrity of neural circuits in vivo and suggest a possible cellular explanation contributing to disappointing results from anti-Aβ therapeutic trials.
Relevant articles
Open Access articles citing this article.
Lukas Frontzkowski

,

Michael Ewers

…

Nicolai Franzmeier

Nature Communications Open Access 20 August 2022

Pengcheng Xia

,

Jing Chen

…

Zhiming Lu

Journal of Neuroinflammation Open Access 12 July 2022

S. Tok

,

H. Maurin

…

W. H. I. M. Drinkenburg

Acta Neuropathologica Communications Open Access 23 June 2022
Access options
Subscribe to Nature+
Get immediate online access to the entire Nature family of 50+ journals
Subscribe to Journal
Get full journal access for 1 year
$99.00
only $8.25 per issue
All prices are NET prices.
VAT will be added later in the checkout.
Tax calculation will be finalised during checkout.
Buy article
Get time limited or full article access on ReadCube.
$32.00
All prices are NET prices.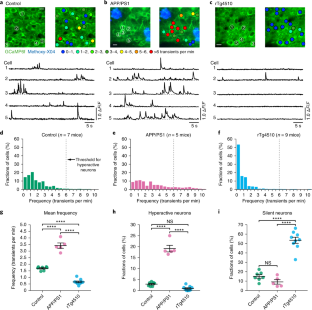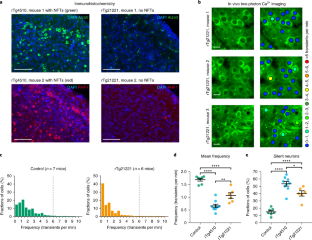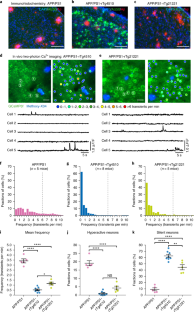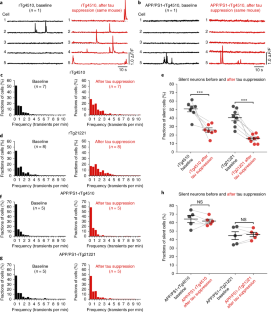 Data availability
All data are reported in the main text and supplementary materials, stored at the Massachusetts General Hospital, and are available from the corresponding authors upon reasonable request.
References
Hyman, B. T. et al. National Institute on Aging-Alzheimer's Association guidelines for the neuropathologic assessment of Alzheimer's disease. Alzheimers Dement. 8, 1–13 (2012).

Braak, H. & Braak, E. Neuropathological stageing of Alzheimer-related changes. Acta Neuropathol. 82, 239–259 (1991).

Arnold, S. E., Hyman, B. T., Flory, J., Damasio, A. R. & Van Hoesen, G. W. The topographical and neuroanatomical distribution of neurofibrillary tangles and neuritic plaques in the cerebral cortex of patients with Alzheimer's disease. Cereb. Cortex 1, 103–116 (1991).

Schöll, M. et al. PET imaging of tau deposition in the aging human brain. Neuron 89, 971–982 (2016).

Delacourte, A. et al. The biochemical pathway of neurofibrillary degeneration in aging and Alzheimer's disease. Neurology 52, 1158–1165 (1999).

Wang, L. et al. Evaluation of tau imaging in staging Alzheimer disease and revealing interactions between β-amyloid and tauopathy. JAMA Neurol. 73, 1070–1077 (2016).

Pontecorvo, M. J. et al. Relationships between flortaucipir PET tau binding and amyloid burden, clinical diagnosis, age and cognition. Brain 140, 748–763 (2017).

Lewis, J. et al. Enhanced neurofibrillary degeneration in transgenic mice expressing mutant tau and APP. Science 293, 1487–1491 (2001).

Götz, J., Chen, F., van Dorpe, J. & Nitsch, R. M. Formation of neurofibrillary tangles in P301l tau transgenic mice induced by Aβ42 fibrils. Science 293, 1491–1495 (2001).

Hurtado, D. E. et al. Aβ accelerates the spatiotemporal progression of tau pathology and augments tau amyloidosis in an Alzheimer mouse model. Am. J. Pathol. 177, 1977–1988 (2010).

Bennett, R. E. et al. Enhanced tau aggregation in the presence of amyloid β. Am. J. Pathol. 187, 1601–1612 (2017).

Jacobs, H. I. L. et al. Structural tract alterations predict downstream tau accumulation in amyloid-positive older individuals. Nat. Neurosci. 21, 424–431 (2018).

Quiroz, Y. T. et al. Association between amyloid and tau accumulation in young adults with autosomal dominant Alzheimer disease. JAMA Neurol. 75, 548–556 (2018).

He, Z. et al. Amyloid-β plaques enhance Alzheimer's brain tau-seeded pathologies by facilitating neuritic plaque tau aggregation. Nat. Med. 24, 29–38 (2018).

Kerr, J. N., Greenberg, D. & Helmchen, F. Imaging input and output of neocortical networks in vivo. Proc. Natl. Acad. Sci. USA 102, 14063–14068 (2005).

Chen, T. W. et al. Ultrasensitive fluorescent proteins for imaging neuronal activity. Nature 499, 295–300 (2013).

Busche, M. A. et al. Clusters of hyperactive neurons near amyloid plaques in a mouse model of Alzheimer's disease. Science 321, 1686–1689 (2008).

Grienberger, C. et al. Staged decline of neuronal function in vivo in an animal model of Alzheimer's disease. Nat. Commun. 3, 774 (2012).

Busche, M. A. et al. Decreased amyloid-β and increased neuronal hyperactivity by immunotherapy in Alzheimer's models. Nat. Neurosci. 18, 1725–1727 (2015).

Keskin, A. D. et al. BACE inhibition-dependent repair of Alzheimer's pathophysiology. Proc. Natl. Acad. Sci. USA 114, 8631–8636 (2017).

Jackson, R. J. et al. Human tau increases amyloid β plaque size but not amyloid β-mediated synapse loss in a novel mouse model of Alzheimer's disease. Eur. J. Neurosci. 44, 3056–3066 (2016).

Santacruz, K. et al. Tau suppression in a neurodegenerative mouse model improves memory function. Science 309, 476–481 (2005).

Berger, Z. et al. Accumulation of pathological tau species and memory loss in a conditional model of tauopathy. J. Neurosci. 27, 3650–3662 (2007).

de Calignon, A. et al. Caspase activation precedes and leads to tangles. Nature 464, 1201–1204 (2010).

Angulo, S. L. et al. Tau and amyloid-related pathologies in the entorhinal cortex have divergent effects in the hippocampal circuit. Neurobiol. Dis. 108, 261–276 (2017).

Roberson, E. D. et al. Reducing endogenous tau ameliorates amyloid β-induced deficits in an Alzheimer's disease mouse model. Science 316, 750–754 (2007).

Ittner, L. M. et al. Dendritic function of tau mediates amyloid-β toxicity in Alzheimer's disease mouse models. Cell 142, 387–397 (2010).

DeVos, S. L. et al. Antisense reduction of tau in adult mice protects against seizures. J. Neurosci. 33, 12887–12897 (2013).

Zott, B., Busche, M. A., Sperling, R. A. & Konnerth, A. What happens with the circuit in Alzheimer's disease in mice and humans? Annu. Rev. Neurosci. 41, 277–297 (2018).

Silverman, D. H. et al. Positron emission tomography in evaluation of dementia: regional brain metabolism and long-term outcome. JAMA 286, 2120–2127 (2001).

Alexander, G. E., Chen, K., Pietrini, P., Rapoport, S. I. & Reiman, E. M. Longitudinal PET evaluation of cerebral metabolic decline in dementia: a potential outcome measure in Alzheimer's disease treatment studies. Am. J. Psychiatry 159, 738–745 (2002).

Greicius, M. D., Srivastava, G., Reiss, A. L. & Menon, V. et al. Default-mode network activity distinguishes Alzheimer's disease from healthy aging: evidence from functional MRI. Proc. Natl. Acad. Sci. USA 101, 4637–4642 (2004).

Bradley, K. M. et al. Cerebral perfusion SPET correlated with Braak pathological stage in Alzheimer's disease. Brain 125, 1772–1781 (2002).

Jelic, V. et al. Apolipoprotein E epsilon4 allele decreases functional connectivity in Alzheimer's disease as measured by EEG coherence. J. Neurol. Neurosurg. Psychiatry 63, 59–65 (1997).

Arriagada, P. V., Growdon, J. H., Hedley-Whyte, E. T. & Hyman, B. T. Neurofibrillary tangles but not senile plaques parallel duration and severity of Alzheimer's disease. Neurology 42, 631–639 (1992).

Nelson, P. T. et al. Correlation of Alzheimer disease neuropathologic changes with cognitive status: a review of the literature. J. Neuropathol. Exp. Neurol. 71, 362–381 (2012).

Palop, J. J. & Mucke, L. Network abnormalities and interneuron dysfunction in Alzheimer disease. Nat. Rev. Neurosci. 17, 777–792 (2016).

Dickerson, B. C. et al. Increased hippocampal activation in mild cognitive impairment compared to normal aging and AD. Neurology 65, 404–411 (2005).

Bakker, A. et al. Reduction of hippocampal hyperactivity improves cognition in amnestic mild cognitive impairment. Neuron 74, 467–474 (2012).

Khan, U. A. et al. Molecular drivers and cortical spread of lateral entorhinal cortex dysfunction in preclinical Alzheimer's disease. Nat. Neurosci. 17, 304–311 (2014).

Hoover, B. R. et al. Tau mislocalization to dendritic spines mediates synaptic dysfunction independently of neurodegeneration. Neuron 68, 1067–1081 (2010).

Menkes-Caspi, N. et al. Pathological tau disrupts ongoing network activity. Neuron 85, 959–966 (2015).

Hatch, R. J., Wei, Y., Xia, D. & Götz, J. Hyperphosphorylated tau causes reduced hippocampal CA1 excitability by relocating the axon initial segment. Acta Neuropathol. 133, 717–730 (2017).

Oddo, S. et al. Reduction of soluble Aβ and tau, but not soluble Aβ alone, ameliorates cognitive decline in transgenic mice with plaques and tangles. J. Biol. Chem. 281, 39413–39423 (2006).

Sydow, A. et al. Tau-induced defects in synaptic plasticity, learning, and memory are reversible in transgenic mice after switching off the toxic Tau mutant. J. Neurosci. 31, 2511–2525 (2011).

Lasagna-Reeves, C. A. et al. Tau oligomers impair memory and induce synaptic and mitochondrial dysfunction in wild-type mice. Mol. Neurodegener. 6, 39 (2011).

Van der Jeugd, A. et al. Cognitive defects are reversible in inducible mice expressing pro-aggregant full-length human Tau. Acta Neuropathol. 123, 787–805 (2012).

Castillo-Carranza, D. L. et al. Passive immunization with Tau oligomer monoclonal antibody reverses tauopathy phenotypes without affecting hyperphosphorylated neurofibrillary tangles. J. Neurosci. 34, 4260–4272 (2014).

Rudinskiy, N. et al. Tau pathology does not affect experience-driven single-neuron and network-wide Arc/Arg3.1 responses. Acta Neuropathol. Commun. 2, 63 (2014).

Kuchibhotla, K. V. et al. Neurofibrillary tangle-bearing neurons are functionally integrated in cortical circuits in vivo. Proc. Natl. Acad. Sci. USA 111, 510–514 (2014).

Jankowsky, J. L. et al. Mutant presenilins specifically elevate the levels of the 42 residue β-amyloid peptide in vivo: evidence for augmentation of a 42-specific gamma secretase. Hum. Mol. Genet. 13, 159–170 (2004).

Mayford, M. et al. Control of memory formation through regulated expression of a CaMKII transgene. Science 274, 1678–1683 (1996).

Froudarakis, E. et al. Population code in mouse V1 facilitates readout of natural scenes through increased sparseness. Nat. Neurosci. 17, 851–857 (2014).
Acknowledgements
We thank A.B. Robbins, D.L. Corjuc, A.D. Roe, and E. Hudry for their excellent technical support, and all members of the Hyman laboratory for providing comments and advice throughout the project. We thank Matthias Staufenbiel for helpful discussions and experimental suggestions. We acknowledge the Genetically-Encoded Neuronal Indicator and Effector (GENIE) project and the Janelia Research Campus of the Howard Hughes Medical Institute and specifically V. Jayaraman, R.A. Kerr, D.S. Kim, L.L. Looger, and K. Svoboda from the GENIE Project, Janelia Research Campus, Howard Hughes Medical Institute for making AAV.Syn.GCaMP6f publicly available. We thank Dr P. Davies for kindly providing the PHF1 and Alz50 antibodies. We thank the following funding agencies for their support: M.A.B. was supported by an EMBO Long-Term Fellowship (grant no. ALTF 590-2016), the Alzheimer Forschung Initiative, and the UK Dementia Research Institute. I.N. was supported by an advanced ERC grant (project RATLAND; grant no. 340063). B.T.H. received support from the Massachusetts Alzheimer's Disease Research Center (grant no. P50AG005134), the JPB foundation, the National Institutes of Health (grant no. 1R01AG0586741), and the Tau Consortium.
Ethics declarations
Competing interests
The authors declare no competing interests.
Additional information
Publisher's note: Springer Nature remains neutral with regard to jurisdictional claims in published maps and institutional affiliations.
Integrated supplementary information
Supplementary information
About this article
Cite this article
Busche, M.A., Wegmann, S., Dujardin, S. et al. Tau impairs neural circuits, dominating amyloid-β effects, in Alzheimer models in vivo. Nat Neurosci 22, 57–64 (2019). https://doi.org/10.1038/s41593-018-0289-8
Received:

Accepted:

Published:

Issue Date:

DOI: https://doi.org/10.1038/s41593-018-0289-8