Abstract
Motor cortex (M1) exhibits a rich repertoire of neuronal activities to support the generation of complex movements. Although recent neuronal-network models capture many qualitative aspects of M1 dynamics, they can generate only a few distinct movements. Additionally, it is unclear how M1 efficiently controls movements over a wide range of shapes and speeds. We demonstrate that modulation of neuronal input–output gains in recurrent neuronal-network models with a fixed architecture can dramatically reorganize neuronal activity and thus downstream muscle outputs. Consistent with the observation of diffuse neuromodulatory projections to M1, a relatively small number of modulatory control units provide sufficient flexibility to adjust high-dimensional network activity using a simple reward-based learning rule. Furthermore, it is possible to assemble novel movements from previously learned primitives, and one can separately change movement speed while preserving movement shape. Our results provide a new perspective on the role of modulatory systems in controlling recurrent cortical activity.
Relevant articles
Open Access articles citing this article.
Barbara Feulner

,

Matthew G. Perich

…

Claudia Clopath

Nature Communications Open Access 02 September 2022

Tianwei Wang

,

Yun Chen

&

He Cui

Neuroscience Bulletin Open Access 17 March 2022
Access options
Subscribe to Nature+
Get immediate online access to Nature and 55 other Nature journal
Subscribe to Journal
Get full journal access for 1 year
$79.00
only $6.58 per issue
All prices are NET prices.
VAT will be added later in the checkout.
Tax calculation will be finalised during checkout.
Buy article
Get time limited or full article access on ReadCube.
$32.00
All prices are NET prices.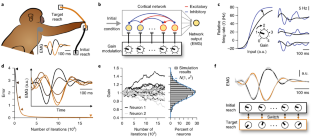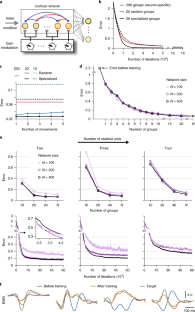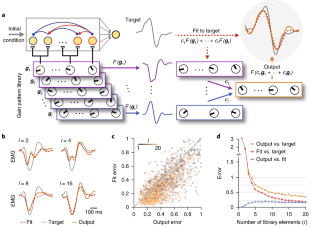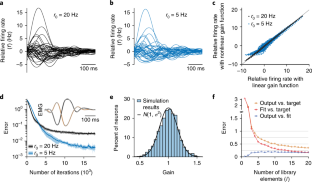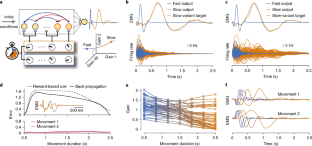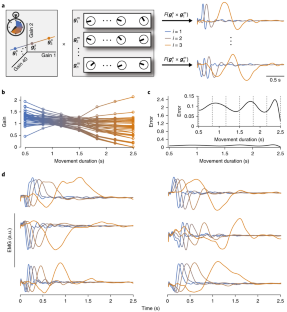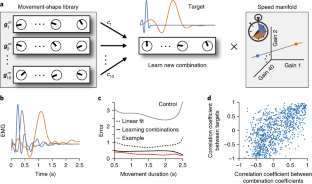 References
Rathelot, J.-A. & Strick, P. L. Subdivisions of primary motor cortex based on cortico-motoneuronal cells. Proc. Natl. Acad. Sci. USA 106, 918–923 (2009).

Rosenbaum, D. A. Human Motor Control. (Academic Press, Cambridge, MA,USA, 2009).

Sanes, J. N. & Donoghue, J. P. Plasticity and primary motor cortex. Annu. Rev. Neurosci. 23, 393–415 (2000).

Churchland, M. M. et al. Neural population dynamics during reaching. Nature 487, 51–56 (2012).

Shenoy, K. V., Sahani, M. & Churchland, M. M. Cortical control of arm movements: a dynamical systems perspective. Annu. Rev. Neurosci. 36, 337–359 (2013).

Afshar, A. et al. Single-trial neural correlates of arm movement preparation. Neuron 71, 555–564 (2011).

Churchland, M. M., Cunningham, J. P., Kaufman, M. T., Ryu, S. I. & Shenoy, K. V. Cortical preparatory activity: representation of movement or first cog in a dynamical machine? Neuron 68, 387–400 (2010).

Russo, A. A. et al. Motor cortex embeds muscle-like commands in an untangled population response. Neuron 97, 953–966.e8 (2018).

Churchland, M. M. & Cunningham, J. P. A dynamical basis set for generating reaches. Cold Spring Harb. Symp. Quant. Biol. 79, 67–80 (2014).

Sussillo, D., Churchland, M. M., Kaufman, M. T. & Shenoy, K. V. A neural network that finds a naturalistic solution for the production of muscle activity. Nat. Neurosci. 18, 1025–1033 (2015).

Hennequin, G., Vogels, T. P. & Gerstner, W. Optimal control of transient dynamics in balanced networks supports generation of complex movements. Neuron 82, 1394–1406 (2014).

Sehgal, M., Song, C., Ehlers, V. L. & Moyer, J. R. Jr. Learning to learn - intrinsic plasticity as a metaplasticity mechanism for memory formation. Neurobiol. Learn. Mem. 105, 186–199 (2013).

Kida, H. & Mitsushima, D. Mechanisms of motor learning mediated by synaptic plasticity in rat primary motor cortex. Neurosci. Res. 128, 14–18 (2018).

Chance, F. S., Abbott, L. F. & Reyes, A. D. Gain modulation from background synaptic input. Neuron 35, 773–782 (2002).

Swinehart, C. D., Bouchard, K., Partensky, P. & Abbott, L. F. Control of network activity through neuronal response modulation. Neurocomputing 58–60, 327–335 (2004).

Zhang, J. & Abbott, L. F. Gain modulation of recurrent networks. Neurocomputing 32–33, 623–628 (2000).

Marder, E. Neuromodulation of neuronal circuits: back to the future. Neuron 76, 1–11 (2012).

Salinas, E. & Thier, P. Gain modulation: a major computational principle of the central nervous system. Neuron 27, 15–21 (2000).

Molina-Luna, K. et al. Dopamine in motor cortex is necessary for skill learning and synaptic plasticity. PLoS One 4, e7082 (2009).

Thurley, K., Senn, W. & Lüscher, H.-R. Dopamine increases the gain of the input-output response of rat prefrontal pyramidal neurons. J. Neurophysiol. 99, 2985–2997 (2008).

Vestergaard, M. & Berg, R. W. Divisive gain modulation of motoneurons by inhibition optimizes muscular control. J. Neurosci. 35, 3711–3723 (2015).

Wei, K. et al. Serotonin affects movement gain control in the spinal cord. J. Neurosci. 34, 12690–12700 (2014).

Hosp, J. A., Pekanovic, A., Rioult-Pedotti, M. S. & Luft, A. R. Dopaminergic projections from midbrain to primary motor cortex mediate motor skill learning. J. Neurosci. 31, 2481–2487 (2011).

Huntley, G. W., Morrison, J. H., Prikhozhan, A. & Sealfon, S. C. Localization of multiple dopamine receptor subtype mRNAs in human and monkey motor cortex and striatum. Brain Res. Mol. Brain Res. 15, 181–188 (1992).

Thoroughman, K. A. & Shadmehr, R. Learning of action through adaptive combination of motor primitives. Nature 407, 742–747 (2000).

Giszter, S. F. Motor primitives--new data and future questions. Curr. Opin. Neurobiol. 33, 156–165 (2015).

Lara, A. H., Cunningham, J. P. & Churchland, M. M. Different population dynamics in the supplementary motor area and motor cortex during reaching. Nat. Commun. 9, 2754 (2018).

Rajan, K., Abbott, L. F. & Sompolinsky, H. Stimulus-dependent suppression of chaos in recurrent neural networks. Phys. Rev. E 82, 011903 (2010).

Mazzoni, P., Andersen, R. A. & Jordan, M. I. A more biologically plausible learning rule for neural networks. Proc. Natl. Acad. Sci. USA 88, 4433–4437 (1991).

Legenstein, R., Chase, S. M., Schwartz, A. B. & Maass, W. A reward-modulated hebbian learning rule can explain experimentally observed network reorganization in a brain control task. J. Neurosci. 30, 8400–8410 (2010).

Hoerzer, G. M., Legenstein, R. & Maass, W. Emergence of complex computational structures from chaotic neural networks through reward-modulated Hebbian learning. Cereb. Cortex 24, 677–690 (2014).

Miconi, T. Biologically plausible learning in recurrent neural networks reproduces neural dynamics observed during cognitive tasks. eLife 6, e20899 (2017).

Li, N., Chen, T.-W., Guo, Z. V., Gerfen, C. R. & Svoboda, K. A motor cortex circuit for motor planning and movement. Nature 519, 51–56 (2015).

Sussillo, D. & Abbott, L. F. Generating coherent patterns of activity from chaotic neural networks. Neuron 63, 544–557 (2009).

Spampinato, D. A., Block, H. J. & Celnik, P. A. Cerebellar–M1 connectivity changes associated with motor learning are somatotopic specific. J. Neurosci. 37, 2377–2386 (2017).

Kao, J. C. et al. Single-trial dynamics of motor cortex and their applications to brain-machine interfaces. Nat. Commun. 6, 7759 (2015).

Wang, J., Narain, D., Hosseini, E. A. & Jazayeri, M. Flexible timing by temporal scaling of cortical responses. Nat. Neurosci. 21, 102–110 (2018).

Soares, S., Atallah, B. V. & Paton, J. J. Midbrain dopamine neurons control judgment of time. Science 354, 1273–1277 (2016).

Hardy, N. F., Goudar, V., Romero-Sosa, J. L. & Buonomano, D. V. A model of temporal scaling correctly predicts that motor timing improves with speed. Nat. Commun. 9, 4732 (2018).

Collier, G. L. & Wright, C. E. Temporal rescaling of simple and complex ratios in rhythmic tapping. J. Exp. Psychol. Hum. Percept. Perform. 21, 602–627 (1995).

Gallego, J. A., Perich, M. G., Miller, L. E. & Solla, S. A. Neural manifolds for the control of movement. Neuron 94, 978–984 (2017).

Friston, K. J. Functional and effective connectivity: a review. Brain Connect. 1, 13–36 (2011).

Sussillo, D. & Barak, O. Opening the black box: low-dimensional dynamics in high-dimensional recurrent neural networks. Neural Comput. 25, 626–649 (2013).

Kambara, H., Shin, D. & Koike, Y. A computational model for optimal muscle activity considering muscle viscoelasticity in wrist movements. J. Neurophysiol. 109, 2145–2160 (2013).

Martins, A. R. O. & Froemke, R. C. Coordinated forms of noradrenergic plasticity in the locus coeruleus and primary auditory cortex. Nat. Neurosci. 18, 1483–1492 (2015).

Swinehart, C. D. & Abbott, L. F. Supervised learning through neuronal response modulation. Neural Comput. 17, 609–631 (2005).

Breakspear, M. Dynamic models of large-scale brain activity. Nat. Neurosci. 20, 340–352 (2017).

Mante, V., Sussillo, D., Shenoy, K. V. & Newsome, W. T. Context-dependent computation by recurrent dynamics in prefrontal cortex. Nature 503, 78–84 (2013).

Bargmann, C. I. Beyond the connectome: how neuromodulators shape neural circuits. BioEssays 34, 458–465 (2012).

Bassett, D. S. & Sporns, O. Network neuroscience. Nat. Neurosci. 20, 353–364 (2017).

Sompolinsky, H., Crisanti, A. & Sommers, H. J. Chaos in random neural networks. Phys. Rev. Lett. 61, 259–262 (1988).

Saito, H., Katahira, K., Okanoya, K. & Okada, M. Statistical mechanics of structural and temporal credit assignment effects on learning in neural networks. Phys. Rev. E 83, 051125 (2011).

Frémaux, N. & Gerstner, W. Neuromodulated spike-timing-dependent plasticity, and theory of three-factor learning rules. Front. Neural Circuits 9, 85 (2016).

Rumelhart, D. E., Hinton, G. E. & Williams, R. J. Learning representations by back-propagating errors. Nature 323, 533–536 (1986).
Acknowledgements
We thank the members of the Vogels lab (particularly E. J. Agnes, R. P. Costa, W. F. Podlaski, and F. Zenke) for their insightful comments and Y. T. Kimura for creating the monkey illustration. We also thank O. Barak, T. E. J. Behrens, R. Bogacz, M. Jazayeri, and L. Susman for their helpful comments. Our work was supported by grants from the Wellcome Trust (T.P.V. and J.P.S. through WT100000, and G.H. through 202111/Z/16/Z) and the Engineering and Physical Sciences Research Council through the Life Sciences Interface Doctoral Training Centre at the University of Oxford (EP/F500394/1 to J.P.S.).
Ethics declarations
Competing interests
The authors declare no competing interests.
Additional information
Publisher's note: Springer Nature remains neutral with regard to jurisdictional claims in published maps and institutional affiliations.
Integrated supplementary information
Supplementary information
About this article
Cite this article
Stroud, J.P., Porter, M.A., Hennequin, G. et al. Motor primitives in space and time via targeted gain modulation in cortical networks. Nat Neurosci 21, 1774–1783 (2018). https://doi.org/10.1038/s41593-018-0276-0
Received:

Accepted:

Published:

Issue Date:

DOI: https://doi.org/10.1038/s41593-018-0276-0