Abstract
MicroRNAs (miRNAs) regulate many cellular events during brain development by interacting with hundreds of mRNA transcripts. However, miRNAs operate nonuniformly upon the transcriptional profile with an as yet unknown logic. Shortcomings in defining miRNA–mRNA networks include limited knowledge of in vivo miRNA targets and their abundance in single cells. By combining multiple complementary approaches, high-throughput sequencing of RNA isolated by cross-linking immunoprecipitation with an antibody to AGO2 (AGO2-HITS-CLIP), single-cell profiling and computational analyses using bipartite and coexpression networks, we show that miRNA-mRNA interactions operate as functional modules that often correspond to cell-type identities and undergo dynamic transitions during brain development. These networks are highly dynamic during development and over the course of evolution. One such interaction is between radial-glia-enriched ORC4 and miR-2115, a great-ape-specific miRNA, which appears to control radial glia proliferation rates during human brain development.
Relevant articles
Open Access articles citing this article.
Yu-Han Hung

,

Meghan Capeling

…

Praveen Sethupathy

BMC Genomics Open Access 26 October 2023

Li Zhu

,

Feifei Wu

…

Teng Chen

Molecular Psychiatry Open Access 17 June 2022

Luiz F. Almeida Silva

,

Cristina R. Reschke

…

David C. Henshall

Molecular Brain Open Access 21 August 2020
Access options
Access Nature and 54 other Nature Portfolio journals
Get Nature+, our best-value online-access subscription
$29.99 / 30 days
cancel any time
Subscribe to this journal
Receive 12 print issues and online access
$209.00 per year
only $17.42 per issue
Rent or buy this article
Prices vary by article type
from$1.95
to$39.95
Prices may be subject to local taxes which are calculated during checkout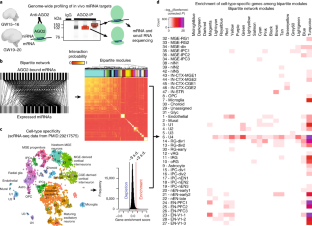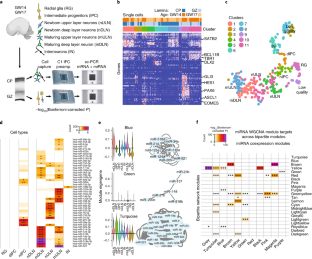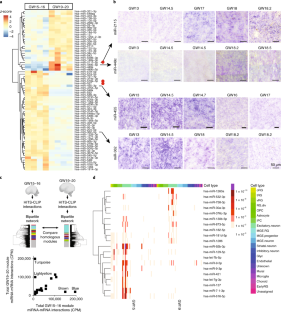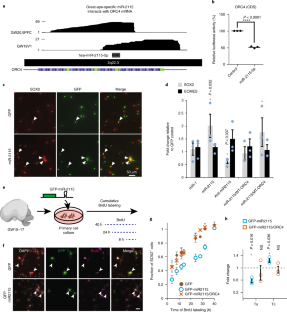 Data availability
The data used in this study are available as part of the publicly available Gene Expression Omnibus database under accession number GSE107468.
References
Tasic, B. Single cell transcriptomics in neuroscience: cell classification and beyond. Curr. Opin. Neurobiol. 50, 242–249 (2018).

Griffiths, J. A., Scialdone, A. & Marioni, J. C. Using single-cell genomics to understand developmental processes and cell fate decisions. Mol. Syst. Biol. 14, e8046 (2018).

Tanay, A. & Regev, A. Scaling single-cell genomics from phenomenology to mechanism. Nature 541, 331–338 (2017).

Zeng, H. & Sanes, J. R. Neuronal cell-type classification: challenges, opportunities and the path forward. Nat. Rev. Neurosci. 18, 530–546 (2017).

Kosik, K. S. MicroRNAs and cellular phenotypy. Cell 143, 21–26 (2010).

Monticelli, S. et al. MicroRNA profiling of the murine hematopoietic system. Genome Biol. 6, R71 (2005).

Fineberg, S. K., Kosik, K. S. & Davidson, B. L. MicroRNAs potentiate neural development. Neuron 64, 303–309 (2009).

Volvert, M. L., Rogister, F., Moonen, G., Malgrange, B. & Nguyen, L. MicroRNAs tune cerebral cortical neurogenesis. Cell Death Differ. 19, 1573–1581 (2012).

Berezikov, E. et al. Phylogenetic shadowing and computational identification of human microRNA genes. Cell 120, 21–24 (2005).

Kapsimali, M. et al. MicroRNAs show a wide diversity of expression profiles in the developing and mature central nervous system. Genome Biol. 8, R173 (2007).

Baudet, M. L. et al. miR-124 acts through CoREST to control onset of Sema3A sensitivity in navigating retinal growth cones. Nat. Neurosci. 15, 29–38 (2011).

Bernstein, E. et al. Dicer is essential for mouse development. Nat. Genet. 35, 215–217 (2003).

Jonsson, M. E. et al. Comprehensive analysis of microRNA expression in regionalized human neural progenitor cells reveals microRNA-10 as a caudalizing factor. Development 142, 3166–3177 (2015).

Moore, M. J. et al. Mapping Argonaute and conventional RNA-binding protein interactions with RNA at single-nucleotide resolution using HITS-CLIP and CIMS analysis. Nat. Protoc. 9, 263–293 (2014).

Pollen, A. A. et al. Molecular identity of human outer radial glia during cortical development. Cell 163, 55–67 (2015).

Camp, J. G. et al. Human cerebral organoids recapitulate gene expression programs of fetal neocortex development. Proc. Natl. Acad. Sci. USA 112, 15672–15677 (2015).

Miller, J. A. et al. Transcriptional landscape of the prenatal human brain. Nature 508, 199–206 (2014).

Liu, X. & Murata, T. Community detection in large-scale bipartite networks. Information and Media Technologies 5, 184–192 (2010).

Florio, M. et al. Human-specific gene ARHGAP11B promotes basal progenitor amplification and neocortex expansion. Science 347, 1465–1470 (2015).

Yu, B. et al. miR-221 and miR-222 promote Schwann cell proliferation and migration by targeting LASS2 after sciatic nerve injury. J. Cell. Sci. 125, 2675–2683 (2012).

Maiorano, N. A. & Mallamaci, A. Promotion of embryonic cortico-cerebral neuronogenesis by miR-124. Neural Develop. 4, 40 (2009).

Boumil, R. M. et al. A missense mutation in a highly conserved alternate exon of dynamin-1 causes epilepsy in fitful mice. PLoS Genet. 6, https://doi.org/10.1371/journal.pgen.1001046 (2010).

Buckanovich, R. J., Yang, Y. Y. & Darnell, R. B. The onconeural antigen Nova-1 is a neuron-specific RNA-binding protein, the activity of which is inhibited by paraneoplastic antibodies. J. Neurosci. 16, 1114–1122 (1996).

Nowakowski, T. J. et al. MicroRNA-92b regulates the development of intermediate cortical progenitors in embryonic mouse brain. Proc. Natl. Acad. Sci. USA 110, 7056–7061 (2013).

Magri, L. et al. c-Myc-dependent transcriptional regulation of cell cycle and nucleosomal histones during oligodendrocyte differentiation. Neuroscience 276, 72–86 (2014).

Kawakami, Y. et al. Impaired neurogenesis in embryonic spinal cord of Phgdh knockout mice, a serine deficiency disorder model. Neurosci. Res. 63, 184–193 (2009).

Nowakowski, T. J. et al. Spatiotemporal gene expression trajectories reveal developmental hierarchies of the human cortex. Science 358, 1318–1323 (2017).

Hadjighassem, M. R. et al. Human Freud-2/CC2D1B: a novel repressor of postsynaptic serotonin-1A receptor expression. Biol. Psychiatry 66, 214–222 (2009).

Deshar, R., Cho, E. B., Yoon, S. K. & Yoon, J. B. CC2D1A and CC2D1B regulate degradation and signaling of EGFR and TLR4. Biochem. Biophys. Res. Commun. 480, 280–287 (2016).

Fededa, J. P. et al. MicroRNA-34/449 controls mitotic spindle orientation during mammalian cortex development. EMBO J. 35, 2386–2398 (2016).

Wu, J. et al. Two miRNA clusters, miR-34b/c and miR-449, are essential for normal brain development, motile ciliogenesis, and spermatogenesis. Proc. Natl. Acad. Sci. USA 111, E2851–E2857 (2014).

Sousa, A. M. M. et al. Molecular and cellular reorganization of neural circuits in the human lineage. Science 358, 1027–1032 (2017).

Boudreau, R. L. et al. Transcriptome-wide discovery of microRNA binding sites in human brain. Neuron 81, 294–305 (2014).

Wu, Y. E., Parikshak, N. N., Belgard, T. G. & Geschwind, D. H. Genome-wide, integrative analysis implicates microRNA dysregulation in autism spectrum disorder. Nat. Neurosci. 19, 1463–1476 (2016).

Abu-Elneel, K. et al. Heterogeneous dysregulation of microRNAs across the autism spectrum. Neurogenetics 9, 153–161 (2008).

He, M. et al. Cell-type-based analysis of microRNA profiles in the mouse brain. Neuron 73, 35–48 (2012).

Liu, J. et al. A reciprocal antagonism between miR-376c and TGF-beta signaling regulates neural differentiation of human pluripotent stem cells. FASEB J. 28, 4642–4656 (2014).

Nowakowski, T. J., Pollen, A. A., Sandoval-Espinosa, C. & Kriegstein, A. R. Transformation of the radial glia scaffold demarcates two stages of human cerebral cortex development. Neuron 91, 1219–1227 (2016).

Guernsey, D. L. et al. Mutations in origin recognition complex gene ORC4 cause Meier-Gorlin syndrome. Nat. Genet. 43, 360–364 (2011).

de Munnik, S. A. et al. Meier-Gorlin syndrome: growth and secondary sexual development of a microcephalic primordial dwarfism disorder. Am. J. Med. Genet. A 158A, 2733–2742 (2012).

Marin, R. M., Sulc, M. & Vanicek, J. Searching the coding region for microRNA targets. RNA 19, 467–474 (2013).

Ramachandran Iyer, E. P. et al. Barcoded oligonucleotides ligated on RNA amplified for multiplex and parallel in-situ analyses. Preprint at bioRxiv https://doi.org/10.1101/281121 (2018).

Faridani, O. R. et al. Single-cell sequencing of the small-RNA transcriptome. Nat. Biotechnol. 34, 1264–1266 (2016).

Srinivasan, K. et al. A network of genetic repression and derepression specifies projection fates in the developing neocortex. Proc. Natl. Acad. Sci. USA 109, 19071–19078 (2012).

Hevner, R. F. et al. Tbr1 regulates differentiation of the preplate and layer 6. Neuron 29, 353–366 (2001).

Marin, O., Anderson, S. A. & Rubenstein, J. L. Origin and molecular specification of striatal interneurons. J. Neurosci. 20, 6063–6076 (2000).

Forman, J. J., Legesse-Miller, A. & Coller, H. A. A search for conserved sequences in coding regions reveals that the let-7 microRNA targets Dicer within its coding sequence. Proc. Natl. Acad. Sci. USA 105, 14879–14884 (2008).

Hafner, M. et al. Transcriptome-wide identification of RNA-binding protein and microRNA target sites by PAR-CLIP. Cell 141, 129–141 (2010).

Schnall-Levin, M., Zhao, Y., Perrimon, N. & Berger, B. Conserved microRNA targeting in Drosophila is as widespread in coding regions as in 3′ UTRs. Proc. Natl. Acad. Sci. USA 107, 15751–15756 (2010).

Schnall-Levin, M. et al. Unusually effective microRNA targeting within repeat-rich coding regions of mammalian mRNAs. Genome Res. 21, 1395–1403 (2011).

Saito, T. In vivo electroporation in the embryonic mouse central nervous system. Nat. Protoc. 1, 1552–1558 (2006).

Rani, N. et al. A primate lncRNA mediates notch signaling during neuronal development by sequestering miRNA. Neuron 90, 1174–1188 (2016).

Pollen, A. A. et al. Low-coverage single-cell mRNA sequencing reveals cellular heterogeneity and activated signaling pathways in developing cerebral cortex. Nat. Biotechnol. 32, 1053–1058 (2014).

Hansen, D. V. et al. Non-epithelial stem cells and cortical interneuron production in the human ganglionic eminences. Nat. Neurosci. 16, 1576–1587 (2013).

Takahashi, T., Nowakowski, R. S. & Caviness, V. S. Jr. The cell cycle of the pseudostratified ventricular epithelium of the embryonic murine cerebral wall. J. Neurosci. 15, 6046–6057 (1995).

Meister, G. et al. Human Argonaute2 mediates RNA cleavage targeted by miRNAs and siRNAs. Mol. Cell 15, 185–197 (2004).

Liu, J. et al. Argonaute2 is the catalytic engine of mammalian RNAi. Science 305, 1437–1441 (2004).

Moreau, M. P., Bruse, S. E., Jornsten, R., Liu, Y. & Brzustowicz, L. M. Chronological changes in microRNA expression in the developing human brain. PLoS One 8, e60480 (2013).

Berezikov, E. et al. Diversity of microRNAs in human and chimpanzee brain. Nat. Genet. 38, 1375–1377 (2006).

Somel, M. et al. MicroRNA-driven developmental remodeling in the brain distinguishes humans from other primates. PLoS Biol. 9, e1001214 (2011).

Arcila, M. L. et al. Novel primate miRNAs coevolved with ancient target genes in germinal zone-specific expression patterns. Neuron 81, 1255–1262 (2014).

Shekhar, K. et al. Comprehensive classification of retinal bipolar neurons by single-cell transcriptomics. Cell 166, 1308–1323 e1330 (2016).

Martin, M. Cutadapt removes adapter sequences from high-throughput sequencing reads. EMBnet J. 17, 10–12 (2011).

Friedländer, M. R., Mackowiak, S. D., Li, N., Chen, W. & Rajewsky, N. miRDeep2 accurately identifies known and hundreds of novel microRNA genes in seven animal clades. Nucleic Acids Res. 40, 37–52 (2011).

Love, M. I., Huber, W. & Anders, S. Moderated estimation of fold change and dispersion for RNA-seq data with DESeq2. Genome Biol. 15, 550 (2014).

Uren, P. J. et al. Site identification in high-throughput RNA–protein interaction data. Bioinformatics 28, 3013–3020 (2012).

Chi, S. W., Zang, J. B., Mele, A. & Darnell, R. B. Ago HITS-CLIP decodes miRNA-mRNA interaction maps. Nature 460, 479 (2009).

Lewis, B. P., Burge, C. B. & Bartel, D. P. Conserved seed pairing, often flanked by adenosines, indicates that thousands of human genes are microRNA targets. Cell 120, 15–20 (2005).

Langfelder, P. & Horvath, S. WGCNA: an R package for weighted correlation network analysis. BMC Bioinformatics 9, 559 (2008).

Liu, S. J. et al. Single-cell analysis of long non-coding RNAs in the developing human neocortex. Genome Biol. 17, 67 (2016).

Banerjee-Basu, S. & Packer, A. SFARIGene: an evolving database for the autism research community. Dis. Models Mech. 3, 133–135 (2010).

Barber, M. J. Modularity and community detection in bipartite networks. Phys. Rev. E 76, 066102 (2007).

Dormann, C. F., Gruber, B. & Fründ, J. Introducing the bipartite package: analysing ecological networks. Interaction 1, 0.2413793 (2008).

Seal, A. & Wild, D. J. Netpredictor: R and Shiny package to perform drug-target network analysis and prediction of missing links. BMC Bioinformatics 19, 265 (2018).
Acknowledgements
The authors thank S. Wang, C. Sandoval-Espinosa, E. Guzman, A. Bhaduri and N. Li for providing research resources, technical help and helpful comments during manuscript preparation. N.R. acknowledges support (Ramanujan Fellowship SB/S2/RJN-030/2017) from Science and Engineering Research Board, Department of Science & Technology, India. This research was supported by the Dr. Miriam and Sheldon G. Adelson Medical Research Foundation (K.S.K.) and National Institutes of Health (NIH) awards U54NS100717 (K.S.K.), MH105989 (A.R.K.) and R01NS075998 (A.R.K). This work was supported by a grant from the Simons Foundation (SFARI 491371; T.J.N).
Ethics declarations
Competing interests
The authors declare no competing interests.
Additional information
Publisher's note: Springer Nature remains neutral with regard to jurisdictional claims in published maps and institutional affiliations.
Integrated supplementary information
Supplementary information
Supplementary Figures 1–13
Supplementary Tables 1–12
About this article
Cite this article
Nowakowski, T.J., Rani, N., Golkaram, M. et al. Regulation of cell-type-specific transcriptomes by microRNA networks during human brain development. Nat Neurosci 21, 1784–1792 (2018). https://doi.org/10.1038/s41593-018-0265-3
Received:

Accepted:

Published:

Issue Date:

DOI: https://doi.org/10.1038/s41593-018-0265-3