Abstract
Genetic analyses have linked microRNA-137 (MIR137) to neuropsychiatric disorders, including schizophrenia and autism spectrum disorder. miR-137 plays important roles in neurogenesis and neuronal maturation, but the impact of miR-137 loss-of-function in vivo remains unclear. Here we show the complete loss of miR-137 in the mouse germline knockout or nervous system knockout (cKO) leads to postnatal lethality, while heterozygous germline knockout and cKO mice remain viable. Partial loss of miR-137 in heterozygous cKO mice results in dysregulated synaptic plasticity, repetitive behavior, and impaired learning and social behavior. Transcriptomic and proteomic analyses revealed that the miR-137 mRNA target, phosphodiesterase 10a (Pde10a), is elevated in heterozygous knockout mice. Treatment with the Pde10a inhibitor papaverine or knockdown of Pde10a ameliorates the deficits observed in the heterozygous cKO mice. Collectively, our results suggest that MIR137 plays essential roles in postnatal neurodevelopment and that dysregulation of miR-137 potentially contributes to neuropsychiatric disorders in humans.
Relevant articles
Open Access articles citing this article.
Yi-Fan Luo

,

Lu Lu

…

Ying-Mei Lu

Molecular Psychiatry Open Access 23 January 2023

Liangkun Guo

,

Zhaojun Ni

…

Weihua Yue

Translational Psychiatry Open Access 07 November 2022

Chen-Chen Jiang

,

Li-Shan Lin

…

Feng Han

Signal Transduction and Targeted Therapy Open Access 11 July 2022
Access options
Access Nature and 54 other Nature Portfolio journals
Get Nature+, our best-value online-access subscription
$29.99 / 30 days
cancel any time
Subscribe to this journal
Receive 12 print issues and online access
$209.00 per year
only $17.42 per issue
Rent or buy this article
Prices vary by article type
from$1.95
to$39.95
Prices may be subject to local taxes which are calculated during checkout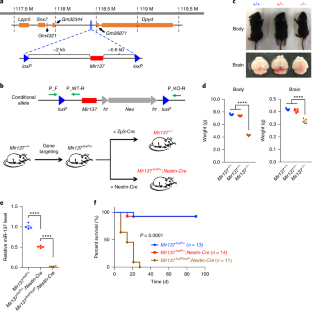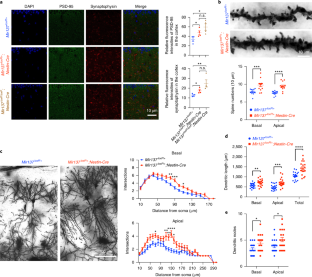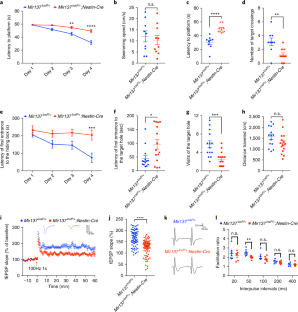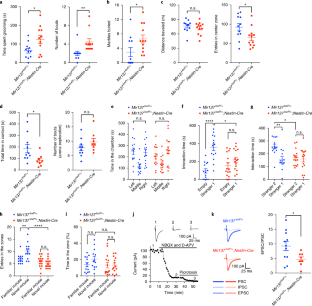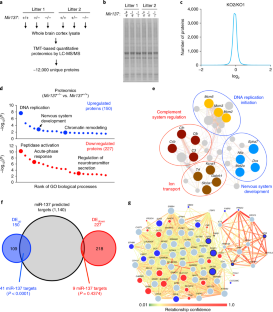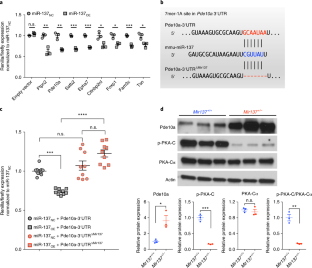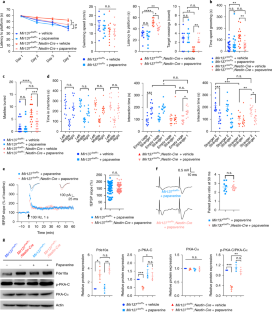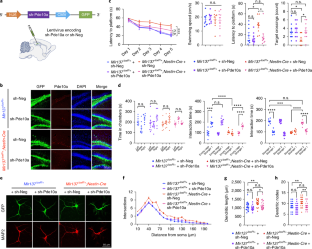 Data availability
Genome-wide datasets are deposited at GEO under accession number GSE79661 (RNA-seq) and at the ProteomeXchange database under accession number PXD003874 (proteomics).
References
Pasquinelli, A. E. MicroRNAs and their targets: recognition, regulation and an emerging reciprocal relationship. Nat. Rev. Genet. 13, 271–282 (2012).

Ha, M. & Kim, V. N. Regulation of microRNA biogenesis. Nat. Rev. Mol. Cell Biol. 15, 509–524 (2014).

He, L. & Hannon, G. J. MicroRNAs: small RNAs with a big role in gene regulation. Nat. Rev. Genet. 5, 522–531 (2004).

Li, X. & Jin, P. Roles of small regulatory RNAs in determining neuronal identity. Nat. Rev. Neurosci. 11, 329–338 (2010).

Issler, O. & Chen, A. Determining the role of microRNAs in psychiatric disorders. Nat. Rev. Neurosci. 16, 201–212 (2015).

Schratt, G. microRNAs at the synapse. Nat. Rev. Neurosci. 10, 842–849 (2009).

Cross-Disorder Group of the Psychiatric Genomics Consortium. Identification of risk loci with shared effects on five major psychiatric disorders: a genome-wide analysis. Lancet 381, 1371–1379 (2013).

Ripke, S. et al. Genome-wide association analysis identifies 13 new risk loci for schizophrenia. Nat. Genet. 45, 1150–1159 (2013).

Schizophrenia Working Group of the Psychiatric Genomics Consortium. Biological insights from 108 schizophrenia-associated genetic loci. Nature 511, 421–427 (2014).

Schizophrenia Psychiatric Genome-Wide Association Study (GWAS) Consortium. Genome-wide association study identifies five new schizophrenia loci. Nat. Genet. 43, 969–976 (2011).

Pinto, D. et al. Convergence of genes and cellular pathways dysregulated in autism spectrum disorders. Am. J. Hum. Genet. 94, 677–694 (2014).

Duan, J. et al. A rare functional noncoding variant at the GWAS-implicated MIR137/MIR2682 locus might confer risk to schizophrenia and bipolar disorder. Am. J. Hum. Genet. 95, 744–753 (2014).

Szulwach, K. E. et al. Cross talk between microRNA and epigenetic regulation in adult neurogenesis. J. Cell. Biol. 189, 127–141 (2010).

Smrt, R. D. et al. MicroRNA miR-137 regulates neuronal maturation by targeting ubiquitin ligase mind bomb-1. Stem Cells 28, 1060–1070 (2010).

Siegert, S. et al. The schizophrenia risk gene product miR-137 alters presynaptic plasticity. Nat. Neurosci. 18, 1008–1016 (2015).

Guan, F. et al. MIR137 gene and target gene CACNA1C of miR-137 contribute to schizophrenia susceptibility in Han Chinese. Schizophr. Res. 152, 97–104 (2014).

Carter, M. T. et al. Hemizygous deletions on chromosome 1p21.3 involving the DPYD gene in individuals with autism spectrum disorder. Clin. Genet. 80, 435–443 (2011).

Willemsen, M. H. et al. Chromosome 1p21.3 microdeletions comprising DPYD and MIR137 are associated with intellectual disability. J. Med. Genet. 48, 810–818 (2011).

D'Angelo, C. S., Moller Dos Santos, M. F., Alonso, L. G. & Koiffmann, C. P. Two new cases of 1p21.3 deletions and an unbalanced translocation t(8;12) among individuals with syndromic obesity. Mol. Syndromol. 6, 63–70 (2015).

Tucci, A., Ciaccio, C., Scuvera, G., Esposito, S. & Milani, D. MIR137 is the key gene mediator of the syndromic obesity phenotype of patients with 1p21.3 microdeletions. Mol. Cytogenet. 9, 80 (2016).

Pinkham, A. E., Hopfinger, J. B., Pelphrey, K. A., Piven, J. & Penn, D. L. Neural bases for impaired social cognition in schizophrenia and autism spectrum disorders. Schizophr. Res. 99, 164–175 (2008).

Dykens, E. M. Psychopathology in children with intellectual disability. J. Child Psychol. Psychiatry 41, 407–417 (2000).

Macbeth, A. H., Edds, J. S. & Young, W. S. III. Housing conditions and stimulus females: a robust social discrimination task for studying male rodent social recognition. Nat. Protoc. 4, 1574–1581 (2009).

Kleschevnikov, A. M. et al. Deficits in cognition and synaptic plasticity in a mouse model of Down syndrome ameliorated by GABAB receptor antagonists. J. Neurosci. 32, 9217–9227 (2012).

Marín, O. Interneuron dysfunction in psychiatric disorders. Nat. Rev. Neurosci. 13, 107–120 (2012).

Yizhar, O. et al. Neocortical excitation/inhibition balance in information processing and social dysfunction. Nature 477, 171–178 (2011).

Eichler, S. A. & Meier, J. C. E-I balance and human diseases - from molecules to networking. Front. Mol. Neurosci. 1, 2 (2008).

van Dongen, S., Abreu-Goodger, C. & Enright, A. J. Detecting microRNA binding and siRNA off-target effects from expression data. Nat. Methods 5, 1023–1025 (2008).

Warren, R. P. et al. Increased frequency of the null allele at the complement C4b locus in autism. Clin. Exp. Immunol. 83, 438–440 (1991).

Odell, D. et al. Confirmation of the association of the C4B null allelle in autism. Hum. Immunol. 66, 140–145 (2005).

Sekar, A. et al. Schizophrenia risk from complex variation of complement component 4. Nature 530, 177–183 (2016).

Fatemi, S. H., Reutiman, T. J., Folsom, T. D. & Thuras, P. D. GABA(A) receptor downregulation in brains of subjects with autism. J. Autism. Dev. Disord. 39, 223–230 (2009).

Fatemi, S. H., Folsom, T. D., Reutiman, T. J. & Thuras, P. D. Expression of GABA(B) receptors is altered in brains of subjects with autism. Cerebellum 8, 64–69 (2009).

Ramanathan, S. et al. A case of autism with an interstitial deletion on 4q leading to hemizygosity for genes encoding for glutamine and glycine neurotransmitter receptor sub-units (AMPA2, GLRA3, GLRB) and neuropeptide receptors NPY1R, NPY5R. BMC. Med. Genet. 5, 10 (2004).

Fernández, E. et al. Targeted tandem affinity purification of PSD-95 recovers core postsynaptic complexes and schizophrenia susceptibility proteins. Mol. Syst. Biol. 5, 269 (2009).

Beavo, J. A. & Brunton, L. L. Cyclic nucleotide research -- still expanding after half a century. Nat. Rev. Mol. Cell Biol. 3, 710–718 (2002).

Talkowski, M. E. et al. Sequencing chromosomal abnormalities reveals neurodevelopmental loci that confer risk across diagnostic boundaries. Cell 149, 525–537 (2012).

Grauer, S. M. et al. Phosphodiesterase 10A inhibitor activity in preclinical models of the positive, cognitive, and negative symptoms of schizophrenia. J. Pharmacol. Exp. Ther. 331, 574–590 (2009).

Wellcome Trust Case Control, C.; Wellcome Trust Case Control Consortium. Genome-wide association study of 14,000 cases of seven common diseases and 3,000 shared controls. Nature 447, 661–678 (2007).

Ripke, S. et al. Major Depressive Disorder Working Group of the Psychiatric. A mega-analysis of genome-wide association studies for major depressive disorder. Mol. Psychiatry 18, 497–511 (2013).

Siuciak, J. A. et al. Inhibition of the striatum-enriched phosphodiesterase PDE10A: a novel approach to the treatment of psychosis. Neuropharmacology 51, 386–396 (2006).

Wilson, L. S. & Brandon, N. J. Emerging biology of PDE10A. Curr. Pharm. Des. 21, 378–388 (2015).

Tang, G. B. et al. The histone H3K27 demethylase UTX regulates synaptic plasticity and cognitive behaviors in mice. Front. Mol. Neurosci. 10, 267 (2017).

Silverman, J. L., Yang, M., Lord, C. & Crawley, J. N. Behavioural phenotyping assays for mouse models of autism. Nat. Rev. Neurosci. 11, 490–502 (2010).

Peça, J. et al. Shank3 mutant mice display autistic-like behaviours and striatal dysfunction. Nature 472, 437–442 (2011).

Vicario-Abejón, C. Long-term culture of hippocampal neurons. Curr. Protoc. Neurosci. Chapter 3, 2 (2004).

Terashima, A. et al. An essential role for PICK1 in NMDA receptor-dependent bidirectional synaptic plasticity. Neuron 57, 872–882 (2008).

Xia, S. et al. p21-activated kinase 1 restricts tonic endocannabinoid signaling in the hippocampus. eLife 5, e14653 (2016).

Pagala, V. R. et al. Quantitative protein analysis by mass spectrometry. Methods Mol. Biol. 1278, 281–305 (2015).

Wang, H. et al. Systematic optimization of long gradient chromatography mass spectrometry for deep analysis of brain proteome. J. Proteome. Res. 14, 829–838 (2015).

Wang, X. et al. JUMP: a tag-based database search tool for peptide identification with high sensitivity and accuracy. Mol. Cell. Proteomics. 13, 3663–3673 (2014).

Peng, J., Elias, J. E., Thoreen, C. C., Licklider, L. J. & Gygi, S. P. Evaluation of multidimensional chromatography coupled with tandem mass spectrometry (LC/LC-MS/MS) for large-scale protein analysis: the yeast proteome. J. Proteome. Res. 2, 43–50 (2003).

Mertz, J. et al. Sequential elution interactome analysis of the mind bomb 1 ubiquitin ligase reveals a novel role in dendritic spine outgrowth. Mol. Cell. Proteomics. 14, 1898–1910 (2015).

Elias, J. E. & Gygi, S. P. Target-decoy search strategy for increased confidence in large-scale protein identifications by mass spectrometry. Nat. Methods 4, 207–214 (2007).

Huang, W., Sherman, B. T. & Lempicki, R. A. Systematic and integrative analysis of large gene lists using DAVID bioinformatics resources. Nat. Protoc. 4, 44–57 (2009).

Wang, J., Duncan, D., Shi, Z. & Zhang, B. WEB-based GEne SeT AnaLysis Toolkit (WebGestalt): update 2013. Nucleic Acids Res. 41, W77–W83 (2013).

Warde-Farley, D. et al. The GeneMANIA prediction server: biological network integration for gene prioritization and predicting gene function. Nucleic Acids Res. 38, W214–W220 (2010).

Cerami, E. G. et al. Pathway Commons, a web resource for biological pathway data. Nucleic Acids Res. 39, D685–D690 (2011).

Jourquin, J., Duncan, D., Shi, Z. & Zhang, B. GLAD4U: deriving and prioritizing gene lists from PubMed literature. BMC Genomics 13(Suppl 8), S20 (2012).

Goecks, J., Nekrutenko, A. & Taylor, J. Galaxy: a comprehensive approach for supporting accessible, reproducible, and transparent computational research in the life sciences. Genome. Biol. 11, R86 (2010).

Lie, D. C. et al. Wnt signalling regulates adult hippocampal neurogenesis. Nature 437, 1370–1375 (2005).

Liu, C. et al. Epigenetic regulation of miR-184 by MBD1 governs neural stem cell proliferation and differentiation. Cell Stem Cell 6, 433–444 (2010).

Liu, P. P. et al. MiR-203 interplays with polycomb repressive complexes to regulate the proliferation of neural stem/progenitor cells. Stem Cell Rep. 9, 190–202 (2017).
Acknowledgements
We thank S. Warren and D. Cook for critical reading of the manuscript. This work was supported by the National Key R&D Program of China (2018YFA0108001 to Z.T.), Natural Science Foundation of China (31590831 and 91640204 to D.C. and 81571212 to Z.T.), Strategic Priority Research Program of Chinese Academy of Science (Grant XDB 19000000), National Institutes of Health (NS051630, NS079625, and MH102690 to P.J. and AG047928 to J.P.), Simons Foundation Autism Research Initiative (239320 to P.J.), and Hundred Talents Program of Chinese Academy of Science to Z.T. P.J. recieves support from the NARSAD Independent Investigator Award-Suzanne and John Golden Investigator sponsorship.
Ethics declarations
Competing interests
The authors declare no competing interests.
Additional information
Publisher's note: Springer Nature remains neutral with regard to jurisdictional claims in published maps and institutional affiliations.
Integrated supplementary information
Supplementary information
About this article
Cite this article
Cheng, Y., Wang, ZM., Tan, W. et al. Partial loss of psychiatric risk gene Mir137 in mice causes repetitive behavior and impairs sociability and learning via increased Pde10a. Nat Neurosci 21, 1689–1703 (2018). https://doi.org/10.1038/s41593-018-0261-7
Received:

Accepted:

Published:

Issue Date:

DOI: https://doi.org/10.1038/s41593-018-0261-7