Abstract
The formation and retrieval of conditioned fear memories critically depend on the amygdala. Here we identify an inhibitory projection from somatostatin-positive neurons in the central amygdala to parvalbumin-positive neurons in the zona incerta that is required for both recent and remote fear memories. Thus, the amygdala inhibitory input to parvalbumin-positive neurons in the zona incerta, a nucleus not previously implicated in fear memory, is an essential component of the fear memory circuitry.
Relevant articles
Open Access articles citing this article.
Yang Yang

,

Tao Jiang

…

Hui Gong

Neuroscience Bulletin Open Access 19 August 2022

Markus Wöhr

,

Wendy M. Fong

…

Marius Wernig

Molecular Autism Open Access 10 May 2022

Archana Venkataraman

,

Sarah C. Hunter

…

Brian George Dias

Neuropsychopharmacology Open Access 16 April 2021
Access options
Subscribe to Nature+
Get immediate online access to the entire Nature family of 50+ journals
Subscribe to Journal
Get full journal access for 1 year
$99.00
only $8.25 per issue
All prices are NET prices.
VAT will be added later in the checkout.
Tax calculation will be finalised during checkout.
Buy article
Get time limited or full article access on ReadCube.
$32.00
All prices are NET prices.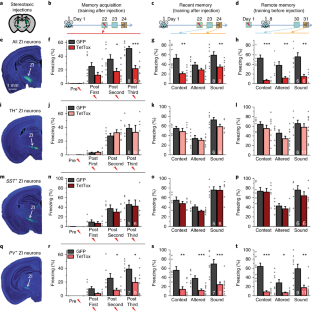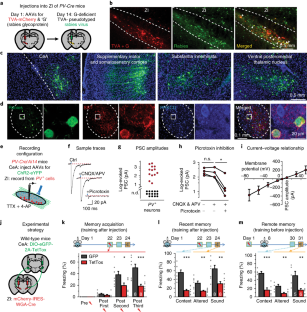 Data availability
The DNA sequence of the DIO-SynaptoTag plasmid has been deposited in GenBank under accession code MH883617. The data that support the findings of this study are available from the corresponding authors upon reasonable request.
References
Maren, S. Neurobiology of Pavlovian fear conditioning. Annu. Rev. Neurosci. 24, 897–931 (2001).

Fanselow, M. S. & Poulos, A. M. The neuroscience of mammalian associative learning. Annu. Rev. Psychol. 56, 207–234 (2005).

Xu, W. & Südhof, T. C. A neural circuit for memory specificity and generalization. Science 339, 1290–1295 (2013).

Do-Monte, F. H., Quiñones-Laracuente, K. & Quirk, G. J. A temporal shift in the circuits mediating retrieval of fear memory. Nature 519, 460–463 (2015).

Penzo, M. A. et al. The paraventricular thalamus controls a central amygdala fear circuit. Nature 519, 455–459 (2015).

Vetere, G. et al. Chemogenetic interrogation of a brain-wide fear memory network in mice. Neuron 94, 363–374.e4 (2017).

Frankland, P. W. & Bontempi, B. The organization of recent and remote memories. Nat. Rev. Neurosci. 6, 119–130 (2005).

Mitrofanis, J. Some certainty for the "zone of uncertainty"? Exploring the function of the zona incerta. Neuroscience 130, 1–15 (2005).

Liu, K. et al. Lhx6-positive GABA-releasing neurons of the zona incerta promote sleep. Nature 548, 582–587 (2017).

Zhang, X. & van den Pol, A. N. Rapid binge-like eating and body weight gain driven by zona incerta GABA neuron activation. Science 356, 853–859 (2017).

Chou, X. L. et al. Inhibitory gain modulation of defense behaviors by zona incerta. Nat. Commun. 9, 1151 (2018).

Xu, W. et al. Distinct neuronal coding schemes in memory revealed by selective erasure of fast synchronous synaptic transmission. Neuron 73, 990–1001 (2012).

Wheeler, A. L. et al. Identification of a functional connectome for long-term fear memory in mice. PLoS Comput. Biol. 9, e1002853 (2013).

Biseul, I. et al. Fear recognition is impaired by subthalamic nucleus stimulation in Parkinson's disease. Neuropsychologia 43, 1054–1059 (2005).

Okun, M. S. et al. Pseudobulbar crying induced by stimulation in the region of the subthalamic nucleus. J. Neurol. Neurosurg. Psychiatry 75, 921–923 (2004).

Essig, J. & Felsen, G. Warning! Dopaminergic modulation of the superior colliculus. Trends Neurosci. 39, 2–4 (2016).

Chen, J. & Kriegstein, A. R. A GABAergic projection from the zona incerta to cortex promotes cortical neuron development. Science 350, 554–558 (2015).

Li, H. et al. Experience-dependent modification of a central amygdala fear circuit. Nat. Neurosci. 16, 332–339 (2013).

Haubensak, W. et al. Genetic dissection of an amygdala microcircuit that gates conditioned fear. Nature 468, 270–276 (2010).

Wilensky, A. E. et al. Rethinking the fear circuit: the central nucleus of the amygdala is required for the acquisition, consolidation, and expression of Pavlovian fear conditioning. J. Neurosci. 26, 12387–12396 (2006).

Zolotukhin, S. et al. Recombinant adeno-associated virus purification using novel methods improves infectious titer and yield. Gene Ther. 6, 973–985 (1999).

Beier, K. T. et al. Circuit architecture of VTA dopamine neurons revealed by systematic input-output mapping. Cell 162, 622–634 (2015).

De Franceschi, G., Vivattanasarn, T., Saleem, A. B. & Solomon, S. G. Vision guides selection of freeze or flight defense strategies in mice. Curr. Biol. 26, 2150–2154 (2016).

Otsuka, S. et al. Roles of Cbln1 in non-motor functions of mice. J. Neurosci. 36, 11801–11816 (2016).

Stephenson-Jones, M. et al. A basal ganglia circuit for evaluating action outcomes. Nature 539, 289–293 (2016).
Acknowledgements
We thank K. Beier for help with the rabies tracing experiments; F. Luo for help with the visually induced freezing behavior; J. Liang, S. Lu, and R. Land for assistance; and L. Chen for feedback on the manuscript. This study was supported by a National Institutes of Health (NIH)/National Institutes of Mental Health grant (no. MH052804 to T.C.S.) and a NIH/National Institute of Neurological Disorders and Stroke grant (no. 1K01NS105155 to M.Z.).
Ethics declarations
Competing interests
The authors declare no competing interests.
Additional information
Publisher's note: Springer Nature remains neutral with regard to jurisdictional claims in published maps and institutional affiliations.
Integrated supplementary information
Supplementary information
Supplementary Figures 1–12
About this article
Cite this article
Zhou, M., Liu, Z., Melin, M.D. et al. A central amygdala to zona incerta projection is required for acquisition and remote recall of conditioned fear memory. Nat Neurosci 21, 1515–1519 (2018). https://doi.org/10.1038/s41593-018-0248-4
Received:

Accepted:

Published:

Issue Date:

DOI: https://doi.org/10.1038/s41593-018-0248-4