Abstract
Understanding the organization of the hippocampus is fundamental to understanding brain function related to learning, memory, emotions, and diseases such as Alzheimer's disease. Physiological studies in humans and rodents have suggested that there is both structural and functional heterogeneity along the longitudinal axis of the hippocampus. However, the recent discovery of discrete gene expression domains in the mouse hippocampus has provided the opportunity to re-evaluate hippocampal connectivity. To integrate mouse hippocampal gene expression and connectivity, we mapped the distribution of distinct gene expression patterns in mouse hippocampus and subiculum to create the Hippocampus Gene Expression Atlas (HGEA). Notably, previously unknown subiculum gene expression patterns revealed a hidden laminar organization. Guided by the HGEA, we constructed the most detailed hippocampal connectome available using Mouse Connectome Project (http://www.mouseconnectome.org) tract tracing data. Our results define the hippocampus' multiscale network organization and elucidate each subnetwork's unique brain-wide connectivity patterns.
Relevant articles
Open Access articles citing this article.
Wei Zhao

,

Kevin G. Johnston

…

Qing Nie

Nature Communications Open Access 28 February 2023

Kazuki Okamoto

,

Yuji Kamikubo

…

Hiroyuki Hioki

Scientific Reports Open Access 06 January 2023

Tyler Ard

,

Michael S. Bienkowski

…

Arthur W. Toga

Scientific Data Open Access 14 June 2022
Access options
Access Nature and 54 other Nature Portfolio journals
Get Nature+, our best-value online-access subscription
$29.99 per month
cancel any time
Subscribe to this journal
Receive 12 print issues and online access
$189.00 per year
only $15.75 per issue
Rent or buy this article
Get just this article for as long as you need it
$39.95
Prices may be subject to local taxes which are calculated during checkout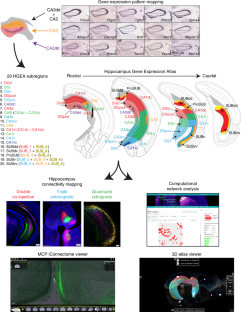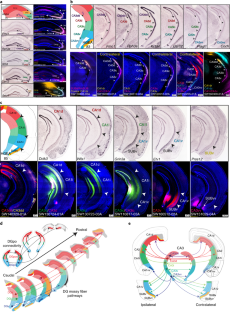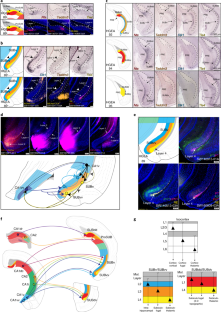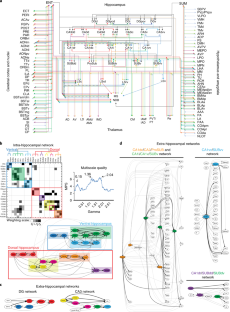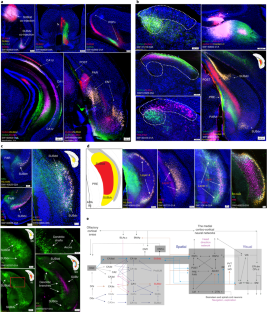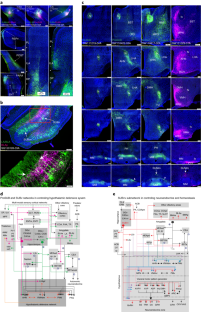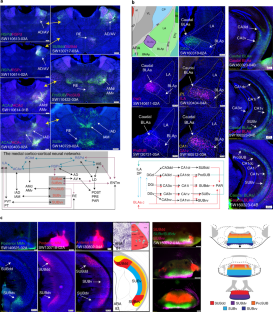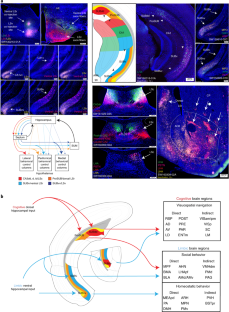 References
Fanselow, M. S. & Dong, H.-W. Are the dorsal and ventral hippocampus functionally distinct structures? Neuron 65, 7–19 (2010).

Maruszak, A. & Thuret, S. Why looking at the whole hippocampus is not enough-a critical role for anteroposterior axis, subfield and activation analyses to enhance predictive value of hippocampal changes for Alzheimer's disease diagnosis. Front. Cell. Neurosci 8, 95 (2014).

Moser, M. B. & Moser, E. I. Functional differentiation in the hippocampus. Hippocampus 8, 608–619 (1998).

Poppenk, J., Evensmoen, H. R., Moscovitch, M. & Nadel, L. Long-axis specialization of the human hippocampus. Trends Cogn. Sci. 17, 230–240 (2013).

Risold, P. Y. & Swanson, L. W. Structural evidence for functional domains in the rat hippocampus. Science 272, 1484–1486 (1996).

Swanson, L. W. & Cowan, W. M. An autoradiographic study of the organization of the efferent connections of the hippocampal formation in the rat. J. Comp. Neurol. 172, 49–84 (1977).

Strange, B. A., Witter, M. P., Lein, E. S. & Moser, E. I. Functional organization of the hippocampal longitudinal axis. Nat. Rev. Neurosci. 15, 655–669 (2014).

Amaral, D. G. Emerging principles of intrinsic hippocampal organization. Curr. Opin. Neurobiol. 3, 225–229 (1993).

Dong, H.-W., Swanson, L. W., Chen, L., Fanselow, M. S. & Toga, A. W. Genomic-anatomic evidence for distinct functional domains in hippocampal field CA1. Proc. Natl. Acad. Sci. USA 106, 11794–11799 (2009).

Thompson, C. L. et al. Genomic anatomy of the hippocampus. Neuron 60, 1010–1021 (2008).

Zeisel, A. et al. Brain structure. Cell types in the mouse cortex and hippocampus revealed by single-cell RNA-seq. Science 347, 1138–1142 (2015).

Cembrowski, M. S., Wang, L., Sugino, K., Shields, B. C. & Spruston, N. Hipposeq: a comprehensive RNA-seq database of gene expression in hippocampal principal neurons. eLife 5, e14997 (2016).

Habib, N. et al. Div-Seq: Single-nucleus RNA-Seq reveals dynamics of rare adult newborn neurons. Science 353, 925–928 (2016).

Lein, E. S., Callaway, E. M., Albright, T. D. & Gage, F. H. Redefining the boundaries of the hippocampal CA2 subfield in the mouse using gene expression and 3-dimensional reconstruction. J. Comp. Neurol. 485, 1–10 (2005).

Cembrowski, M. S. & Spruston, N. Integrating results across methodologies is essential for producing robust neuronal taxonomies. Neuron 94, 747–751.e1 (2017).

Shah, S., Lubeck, E., Zhou, W. & Cai, L. In situ transcription profiling of single cells reveals spatial organization of cells in the mouse hippocampus. Neuron 92, 342–357 (2016).

Shah, S., Lubeck, E., Zhou, W. & Cai, L. seqFISH accurately detects transcripts in single cells and reveals robust spatial organization in the hippocampus. Neuron 94, 752–758.e1 (2017).

Zingg, B. et al. Neural networks of the mouse neocortex. Cell 156, 1096–1111 (2014).

Oh, S. W. et al. A mesoscale connectome of the mouse brain. Nature 508, 207–214 (2014).

Dong, H. W. The Allen Reference Atlas: A Digital Color Brain Atlas of the C57Bl/6J Male Mouse. (John Wiley & Sons Inc, Hoboken, NJ, 2008).

Saunders, A. et al. Molecular diversity and specializations among the cells of the adult mouse brain. Cell 174, 1015–1030 (2018).

Scharfman, H. E. The enigmatic mossy cell of the dentate gyrus. Nat. Rev. Neurosci. 17, 562–575 (2016).

Lorente de Nó, R. Studies on the structure of the cerebral cortex. II. Continuation of the study of the ammonic system. J. Psychol. Neurol. 46, 113–177 (1934).

Cui, Z., Gerfen, C. R. & Young, W. S. III Hypothalamic and other connections with dorsal CA2 area of the mouse hippocampus. J. Comp. Neurol. 521, 1844–1866 (2013).

Dudek, S. M., Alexander, G. M. & Farris, S. Rediscovering area CA2: unique properties and functions. Nat. Rev. Neurosci. 17, 89–102 (2016).

Kohara, K. et al. Cell type-specific genetic and optogenetic tools reveal hippocampal CA2 circuits. Nat. Neurosci. 17, 269–279 (2014).

Sik, A., Penttonen, M., Ylinen, A. & Buzsáki, G. Hippocampal CA1 interneurons: an in vivo intracellular labeling study. J. Neurosci. 15, 6651–6665 (1995).

Ding, S. L. Comparative anatomy of the prosubiculum, subiculum, presubiculum, postsubiculum, and parasubiculum in human, monkey, and rodent. J. Comp. Neurol. 521, 4145–4162 (2013).

Vann, S. D., Aggleton, J. P. & Maguire, E. A. What does the retrosplenial cortex do? Nat. Rev. Neurosci. 10, 792–802 (2009).

Weible, A. P. Remembering to attend: the anterior cingulate cortex and remote memory. Behav. Brain Res. 245, 63–75 (2013).

Kitamura, T. et al. Engrams and circuits crucial for systems consolidation of a memory. Science 356, 73–78 (2017).

Risold, P. Y. & Swanson, L. W. Connections of the rat lateral septal complex. Brain Res. Brain Res. Rev. 24, 115–195 (1997).

Cembrowski, M. S. et al. Dissociable structural and functional hippocampal outputs via distinct subiculum cell classes. Cell 173, 1280–1292.e18 (2018).

Gauthier, J. L. & Tank, D. W. A dedicated population for reward coding in the hippocampus. Neuron 99, 179–193.e7 (2018).

O'Keefe, J. & Dostrovsky, J. The hippocampus as a spatial map: preliminary evidence from unit activity in the freely-moving rat. Brain Res. 34, 171–175 (1971).

Lever, C., Burton, S., Jeewajee, A., O'Keefe, J. & Burgess, N. Boundary vector cells in the subiculum of the hippocampal formation. J. Neurosci. 29, 9771–9777 (2009).

Hafting, T., Fyhn, M., Molden, S., Moser, M.-B. & Moser, E. I. Microstructure of a spatial map in the entorhinal cortex. Nature 436, 801–806 (2005).

Sargolini, F. et al. Conjunctive representation of position, direction, and velocity in entorhinal cortex. Science 312, 758–762 (2006).

Taube, J. S. The head direction signal: origins and sensory-motor integration. Annu. Rev. Neurosci. 30, 181–207 (2007).

Okuyama, T., Kitamura, T., Roy, D. S., Itohara, S. & Tonegawa, S. Ventral CA1 neurons store social memory. Science 353, 1536–1541 (2016).

Hitti, F. L. & Siegelbaum, S. A. The hippocampal CA2 region is essential for social memory. Nature 508, 88–92 (2014).

Fanselow, M. S. & Poulos, A. M. The neuroscience of mammalian associative learning. Annu. Rev. Psychol. 56, 207–234 (2005).

Tovote, P., Fadok, J. P. & Lüthi, A. Neuronal circuits for fear and anxiety. Nat. Rev. Neurosci. 16, 317–331 (2015).

Swanson, L. W. Cerebral hemisphere regulation of motivated behavior. Brain Res. 886, 113–164 (2000).

Canteras, N. S., Pavesi, E. & Carobrez, A. P. Olfactory instruction for fear: neural system analysis. Front. Neurosci. 9, 276 (2015).

Gross, C. T. & Canteras, N. S. The many paths to fear. Nat. Rev. Neurosci. 13, 651–658 (2012).

de Lima, M. A. X., Baldo, M. V. C. & Canteras, N. S. A role for the anteromedial thalamic nucleus in the acquisition of contextual fear memory to predatory threats. Brain Struct. Funct. 222, 113–129 (2017).

Biag, J. et al. Cyto- and chemoarchitecture of the hypothalamic paraventricular nucleus in the C57BL/6J male mouse: a study of immunostaining and multiple fluorescent tract tracing. J. Comp. Neurol. 520, 6–33 (2012).

Thompson, R. H. & Swanson, L. W. Structural characterization of a hypothalamic visceromotor pattern generator network. Brain Res. Brain Res. Rev. 41, 153–202 (2003).

Li, S. & Kirouac, G. J. Sources of inputs to the anterior and posterior aspects of the paraventricular nucleus of the thalamus. Brain Struct. Funct. 217, 257–273 (2012).

Lein, E. S. et al. Genome-wide atlas of gene expression in the adult mouse brain. Nature 445, 168–176 (2007).

Hintiryan, H. et al. The mouse cortico-striatal projectome. Nat. Neurosci. 19, 1100–1114 (2016).

Hintiryan, H. et al. Comprehensive connectivity of the mouse main olfactory bulb: analysis and online digital atlas. Front. Neuroanat. 6, 30 (2012).

Betzel, R. F. & Bassett, D. S. Multi-scale brain networks. Neuroimage 160, 73–83 (2017).

Blondel, V. D., Guillaume, J.-L., Lambiotte, R. & Lefebvre, E. Fast unfolding of communities in large networks. J. Stat. Mech. 2008, P10008 (2008).

Gu, S. et al. Controllability of structural brain networks. Nat. Commun. 6, 8414 (2015).

Lancichinetti, A. & Fortunato, S. Consensus clustering in complex networks. Sci. Rep. 2, 336 (2012).

Droettboom, M. et al. Matplotlib/Matplotlib: V2. 0.0. https://doi.org/10.5281/zenodo.248351 (2017).
Acknowledgements
This manuscript is dedicated to the memory of Sigmund J. Bienkowski. The authors would like to thank A.W. Toga, L.W. Swanson, and H. Karten for advising the Mouse Connectome Project. This work was supported by NIH/NIMH R01 MH094360-01A1 (H.-W.D), NIH/NCI U01 CA198932-01 (H.-W.D), NIH/NIMH RF1 MH114112-01 (H.-W.D), NIH/NIMH U01 MH114829-01 (H.-W.D), NIH/NIMH F32 MH107071-01-A1 (M.S.B), and a Pilot fund (H.-W.D.) of ADRC center grant P50-AG05142.
Ethics declarations
Competing interests
The authors declare no competing interests.
Additional information
Publisher's note: Springer Nature remains neutral with regard to jurisdictional claims in published maps and institutional affiliations.
Integrated supplementary information
Supplementary information
About this article
Cite this article
Bienkowski, M.S., Bowman, I., Song, M.Y. et al. Integration of gene expression and brain-wide connectivity reveals the multiscale organization of mouse hippocampal networks. Nat Neurosci 21, 1628–1643 (2018). https://doi.org/10.1038/s41593-018-0241-y
Received:

Accepted:

Published:

Issue Date:

DOI: https://doi.org/10.1038/s41593-018-0241-y