Abstract
Behaviors are influenced by rewards to both oneself and others, but the neurons and neural connections that monitor and evaluate rewards in social contexts are unknown. To address this issue, we devised a social Pavlovian conditioning procedure for pairs of monkeys. Despite being constant in amount and probability, the subjective value of forthcoming self-rewards, as indexed by licking and choice behaviors, decreased as partner-reward probability increased. This value modulation was absent when the conspecific partner was replaced by a physical object. Medial prefrontal cortex neurons selectively monitored self-reward and partner-reward information, whereas midbrain dopaminergic neurons integrated this information into a subjective value. Recordings of local field potentials revealed that responses to reward-predictive stimuli in medial prefrontal cortex started before those in dopaminergic midbrain nuclei and that neural information flowed predominantly in a medial prefrontal cortex-to-midbrain direction. These findings delineate a dedicated pathway for subjective reward evaluation in social environments.
Relevant articles
Open Access articles citing this article.
Taihei Ninomiya

,

Atsushi Noritake

…

Masaki Isoda

Scientific Reports Open Access 03 October 2022

Elisabeth A. Murray

&

Lesley K. Fellows

Neuropsychopharmacology Open Access 26 August 2021

Yoonseo Zoh

,

Steve W. C. Chang

&

Molly J. Crockett

Neuropsychopharmacology Open Access 19 August 2021
Access options
Subscribe to Nature+
Get immediate online access to Nature and 55 other Nature journal
Subscribe to Journal
Get full journal access for 1 year
$79.00
only $6.58 per issue
All prices are NET prices.
VAT will be added later in the checkout.
Tax calculation will be finalised during checkout.
Buy article
Get time limited or full article access on ReadCube.
$32.00
All prices are NET prices.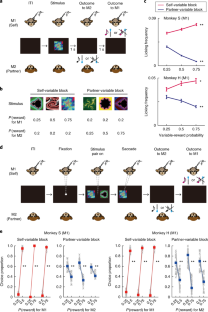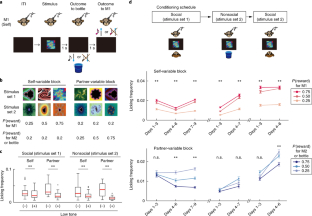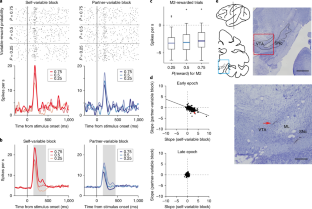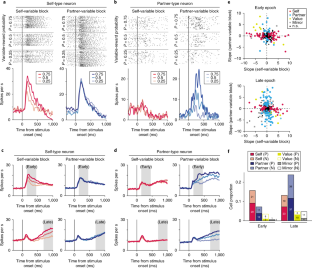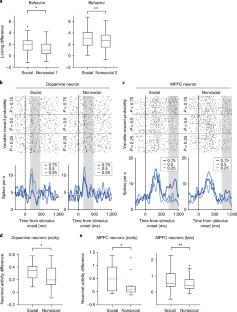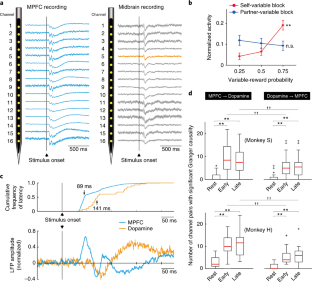 Data availability:
The data that support the findings of this study are available from the corresponding author upon reasonable request.
References
Parrott, W. G. & Smith, R. H. Distinguishing the experiences of envy and jealousy. J. Pers. Soc. Psychol. 64, 906–920 (1993).

Takahashi, H. et al. When your gain is my pain and your pain is my gain: neural correlates of envy and schadenfreude. Science 323, 937–939 (2009).

Hume, D. A Treatise of Human Nature (Oxford Univ. Press, Oxford, 1978).

Festinger, L. A theory of social comparison processes. Hum. Relat. 7, 117–140 (1954).

West-Eberhard, M. J. Sexual selection, social competition and evolution. Proc. Am. Philos. Soc. 123, 222–234 (1979).

Hamilton, W. D. Geometry for the selfish herd. J. Theor. Biol. 31, 295–311 (1971).

Clark, A. B. Sex ratio and local resource competition in a prosimian primate. Science 201, 163–165 (1978).

Fiorillo, C. D., Tobler, P. N. & Schultz, W. Discrete coding of reward probability and uncertainty by dopamine neurons. Science 299, 1898–1902 (2003).

Tobler, P. N., Fiorillo, C. D. & Schultz, W. Adaptive coding of reward value by dopamine neurons. Science 307, 1642–1645 (2005).

Matsumoto, M. & Hikosaka, O. Two types of dopamine neuron distinctly convey positive and negative motivational signals. Nature 459, 837–841 (2009).

Schultz, W. Neuronal reward and decision signals: from theories to data. Physiol. Rev. 95, 853–951 (2015).

Amodio, D. M. & Frith, C. D. Meeting of minds: the medial frontal cortex and social cognition. Nat. Rev. Neurosci. 7, 268–277 (2006).

Azzi, J. C., Sirigu, A. & Duhamel, J. R. Modulation of value representation by social context in the primate orbitofrontal cortex. Proc. Natl. Acad. Sci. USA 109, 2126–2131 (2012).

Lak, A., Stauffer, W. R. & Schultz, W. Dopamine prediction error responses integrate subjective value from different reward dimensions. Proc. Natl. Acad. Sci. USA. 111, 2343–2348 (2014).

Kashtelyan, V., Lichtenberg, N. T., Chen, M. L., Cheer, J. F. & Roesch, M. R. Observation of reward delivery to a conspecific modulates dopamine release in ventral striatum. Curr. Biol. 24, 2564–2568 (2014).

Schultz, W. & Romo, R. Responses of nigrostriatal dopamine neurons to high-intensity somatosensory stimulation in the anesthetized monkey. J. Neurophysiol. 57, 201–217 (1987).

Ullsperger, M., Danielmeier, C. & Jocham, G. Neurophysiology of performance monitoring and adaptive behavior. Physiol. Rev. 94, 35–79 (2014).

Fukushima, H. & Hiraki, K. Whose loss is it? Human electrophysiological correlates of non-self reward processing. Soc. Neurosci. 4, 261–275 (2009).

van Schie, H. T., Mars, R. B., Coles, M. G. & Bekkering, H. Modulation of activity in medial frontal and motor cortices during error observation. Nat. Neurosci. 7, 549–554 (2004).

Yoshida, K., Saito, N., Iriki, A. & Isoda, M. Representation of others' action by neurons in monkey medial frontal cortex. Curr. Biol. 21, 249–253 (2011).

Yoshida, K., Saito, N., Iriki, A. & Isoda, M. Social error monitoring in macaque frontal cortex. Nat. Neurosci. 15, 1307–1312 (2012).

Yoshida, K. et al. Single-neuron and genetic correlates of autistic behavior in macaque. Sci. Adv. 2, e1600558 (2016).

Chang, S. W., Gariépy, J. F. & Platt, M. L. Neuronal reference frames for social decisions in primate frontal cortex. Nat. Neurosci. 16, 243–250 (2013).

Chang, S. W. et al. Neural mechanisms of social decision-making in the primate amygdala. Proc. Natl. Acad. Sci. USA 112, 16012–16017 (2015).

Rudebeck, P. H., Buckley, M. J., Walton, M. E. & Rushworth, M. F. A role for the macaque anterior cingulate gyrus in social valuation. Science 313, 1310–1312 (2006).

Lockwood, P. L., Apps, M. A., Roiser, J. P. & Viding, E. Encoding of vicarious reward prediction in anterior cingulate cortex and relationship with trait empathy. J. Neurosci. 35, 13720–13727 (2015).

Haroush, K. & Williams, Z. M. Neuronal prediction of opponent's behavior during cooperative social interchange in primates. Cell 160, 1233–1245 (2015).

Falcone, R., Cirillo, R., Ferraina, S. & Genovesio, A. Neural activity in macaque medial frontal cortex represents others' choices. Sci. Rep. 7, 12663 (2017).

Isoda, M. & Noritake, A. What makes the dorsomedial frontal cortex active during reading the mental states of others? Front. Neurosci. 7, 232 (2013).

Holroyd, C. B. & Coles, M. G. H. The neural basis of human error processing: reinforcement learning, dopamine, and the error-related negativity. Psychol. Rev. 109, 679–709 (2002).

Williams, S. M. & Goldman-Rakic, P. S. Characterization of the dopaminergic innervation of the primate frontal cortex using a dopamine-specific antibody. Cereb. Cortex 3, 199–222 (1993).

Matsumoto, M., Matsumoto, K., Abe, H. & Tanaka, K. Medial prefrontal cell activity signaling prediction errors of action values. Nat. Neurosci. 10, 647–656 (2007).

Lodge, D. J. The medial prefrontal and orbitofrontal cortices differentially regulate dopamine system function. Neuropsychopharmacology 36, 1227–1236 (2011).

Wiener, N. The Theory of Prediction (McGraw-Hill, New York, NY, 1956).

Monakow, K. H., Akert, K. & Künzle, H. Projections of precentral and premotor cortex to the red nucleus and other midbrain areas in Macaca fascicularis. Exp. Brain Res. 34, 91–105 (1979).

Chiba, T., Kayahara, T. & Nakano, K. Efferent projections of infralimbic and prelimbic areas of the medial prefrontal cortex in the Japanese monkey, Macaca fuscata. Brain Res. 888, 83–101 (2001).

Young, A. B., Penney, J. B., Dauth, G. W., Bromberg, M. B. & Gilman, S. Glutamate or aspartate as a possible neurotransmitter of cerebral corticofugal fibers in the monkey. Neurology 33, 1513–1516 (1983).

Ongür, D., An, X. & Price, J. L. Prefrontal cortical projections to the hypothalamus in macaque monkeys. J. Comp. Neurol. 401, 480–505 (1998).

Schultz, W. Predictive reward signal of dopamine neurons. J. Neurophysiol. 80, 1–27 (1998).

Hong, S., Jhou, T. C., Smith, M., Saleem, K. S. & Hikosaka, O. Negative reward signals from the lateral habenula to dopamine neurons are mediated by rostromedial tegmental nucleus in primates. J. Neurosci. 31, 11457–11471 (2011).

Apps, M. A. J. & Ramnani, N. Contributions of the medial prefrontal cortex to social influence in economic decision-making. Cereb. Cortex 27, 4635–4648 (2017).

Asaad, W. F. & Eskandar, E. N. A flexible software tool for temporally-precise behavioral control in Matlab. J. Neurosci. Methods 174, 245–258 (2008).

Matsuzaka, Y., Aizawa, H. & Tanji, J. A motor area rostral to the supplementary motor area (presupplementary motor area) in the monkey: neuronal activity during a learned motor task. J. Neurophysiol. 68, 653–662 (1992).

Matelli, M., Luppino, G. & Rizzolatti, G. Architecture of superior and mesial area 6 and the adjacent cingulate cortex in the macaque monkey. J. Comp. Neurol. 311, 445–462 (1991).

Hikosaka, O. & Wurtz, R. H. Visual and oculomotor functions of monkey substantia nigra pars reticulata. I. Relation of visual and auditory responses to saccades. J. Neurophysiol. 49, 1230–1253 (1983).

Granger, C. W. J. Investigating causal relations by econometric models and cross- spectral methods. Econometrica 37, 424–438 (1969).

Hamilton, J. D. Time Series Analysis (Princeton University Press, Princeton, NJ, USA, 1994).

Barnett, L. & Seth, A. K. The MVGC multivariate Granger causality toolbox: a new approach to Granger-causal inference. J. Neurosci. Methods 223, 50–68 (2014).
Acknowledgements
The authors thank M. Ullsperger, A. Fischer, R. Burnside, M. Yoshida, and Y. Kobayashi for their helpful discussions; M. Matsumoto for physiological identification of dopaminergic neurons; and M. Togawa, Y. Yamanishi, and A. Shibata for technical assistance. Japanese monkeys used in this study were provided by the National BioResource Project 'Japanese Macaques' of Japan Agency for Medical Research and Development, AMED. This research was supported in part by a Grant-in-Aid for Japan Society for the Promotion of Science KAKENHI (15H04262), the Strategic International Research Cooperative Program from AMED (JP17jm0310011), and the Strategic Research Program for Brain Sciences from AMED (JP18dm0107145) to M.I.
Ethics declarations
Competing interests
The authors declare no competing interests.
Additional information
Publisher's note: Springer Nature remains neutral with regard to jurisdictional claims in published maps and institutional affiliations.
Integrated supplementary information
Supplementary information
Supplementary Figures 1–10
About this article
Cite this article
Noritake, A., Ninomiya, T. & Isoda, M. Social reward monitoring and valuation in the macaque brain. Nat Neurosci 21, 1452–1462 (2018). https://doi.org/10.1038/s41593-018-0229-7
Received:

Accepted:

Published:

Issue Date:

DOI: https://doi.org/10.1038/s41593-018-0229-7