Abstract
The prevailing model of cerebellar learning states that climbing fibers (CFs) are both driven by, and serve to correct, erroneous motor output. However, this model is grounded largely in studies of behaviors that utilize hardwired neural pathways to link sensory input to motor output. To test whether this model applies to more flexible learning regimes that require arbitrary sensorimotor associations, we developed a cerebellar-dependent motor learning task that is compatible with both mesoscale and single-dendrite-resolution calcium imaging in mice. We found that CFs were preferentially driven by and more time-locked to correctly executed movements and other task parameters that predict reward outcome, exhibiting widespread correlated activity in parasagittal processing zones that was governed by these predictions. Together, our data suggest that such CF activity patterns are well-suited to drive learning by providing predictive instructional input that is consistent with an unsigned reinforcement learning signal but does not rely exclusively on motor errors.
Relevant articles
Open Access articles citing this article.
Xiaolu Wang

,

Zhiqiang Liu

…

Zhenyu Gao

Nature Neuroscience Open Access 20 July 2023

Cristiana I. Iosif

,

Zafar I. Bashir

…

Jasmine Pickford

The Cerebellum Open Access 19 September 2022

Daniil A. Markov

,

Luigi Petrucco

…

Ruben Portugues

Nature Communications Open Access 18 November 2021
Access options
Access Nature and 54 other Nature Portfolio journals
Get Nature+, our best-value online-access subscription
$29.99 / 30 days
cancel any time
Subscribe to this journal
Receive 12 print issues and online access
$209.00 per year
only $17.42 per issue
Rent or buy this article
Prices vary by article type
from$1.95
to$39.95
Prices may be subject to local taxes which are calculated during checkout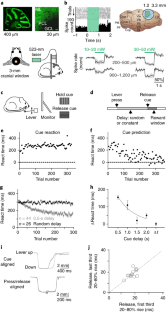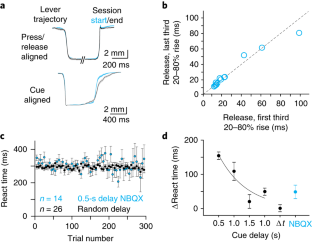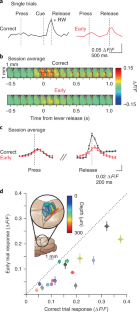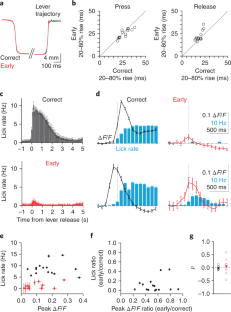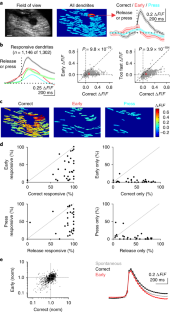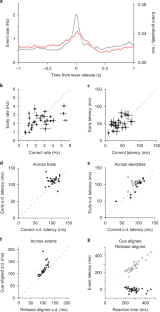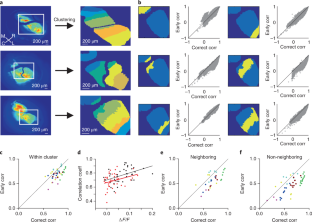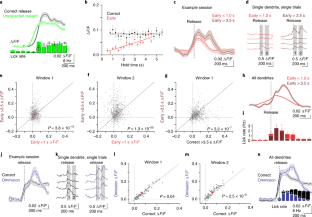 Data availability
The data that support the findings of this study are available from the corresponding author upon reasonable request.
References
Albus, J. S. A theory of cerebellar function. Math. Biosci. 10, 25–61 (1971).

Ito, M. Neural design of the cerebellar motor control system. Brain Res. 40, 81–84 (1972).

Marr, D. A theory of cerebellar cortex. J. Physiol. (Lond.) 202, 437–470 (1969).

Ito, M., Sakurai, M. & Tongroach, P. Climbing fibre induced depression of both mossy fibre responsiveness and glutamate sensitivity of cerebellar Purkinje cells. J. Physiol. (Lond.) 324, 113–134 (1982).

Ekerot, C. F. & Kano, M. Long-term depression of parallel fibre synapses following stimulation of climbing fibres. Brain Res. 342, 357–360 (1985).

Tank, D. W., Sugimori, M., Connor, J. A. & Llinás, R. R. Spatially resolved calcium dynamics of mammalian Purkinje cells in cerebellar slice. Science 242, 773–777 (1988).

Llinás, R. & Sugimori, M. Electrophysiological properties of in vitro Purkinje cell somata in mammalian cerebellar slices. J. Physiol. (Lond.) 305, 171–195 (1980).

Medina, J. F., Nores, W. L., Ohyama, T. & Mauk, M. D. Mechanisms of cerebellar learning suggested by eyelid conditioning. Curr. Opin. Neurobiol. 10, 717–724 (2000).

Ohyama, T., Nores, W. L., Murphy, M. & Mauk, M. D. What the cerebellum computes. Trends Neurosci. 26, 222–227 (2003).

Raymond, J. L., Lisberger, S. G. & Mauk, M. D. The cerebellum: a neuronal learning machine? Science 272, 1126–1131 (1996).

Schultz, S. R., Kitamura, K., Post-Uiterweer, A., Krupic, J. & Häusser, M. Spatial pattern coding of sensory information by climbing fiber-evoked calcium signals in networks of neighboring cerebellar Purkinje cells. J. Neurosci. 29, 8005–8015 (2009).

Tsutsumi, S. et al. Structure-function relationships between aldolase C/zebrin II expression and complex spike synchrony in the cerebellum. J. Neurosci. 35, 843–852 (2015).

Ozden, I., Dombeck, D. A., Hoogland, T. M., Tank, D. W. & Wang, S. S. Widespread state-dependent shifts in cerebellar activity in locomoting mice. PLoS One 7, e42650 (2012).

De Gruijl, J. R., Hoogland, T. M. & De Zeeuw, C. I. Behavioral correlates of complex spike synchrony in cerebellar microzones. J. Neurosci. 34, 8937–8947 (2014).

Tang, T., Suh, C. Y., Blenkinsop, T. A. & Lang, E. J. Synchrony is key: complex spike inhibition of the deep cerebellar nuclei. Cerebellum 15, 10–13 (2016).

Lee, K. H. et al. Circuit mechanisms underlying motor memory formation in the cerebellum. Neuron 86, 529–540 (2015).

Histed, M. H., Carvalho, L. A. & Maunsell, J. H. Psychophysical measurement of contrast sensitivity in the behaving mouse. J. Neurophysiol. 107, 758–765 (2012).

Chettih, S. N., McDougle, S. D., Ruffolo, L. I. & Medina, J. F. Adaptive timing of motor output in the mouse: the role of movement oscillations in eyelid conditioning. Front. Integr. Neurosci. 5, 72 (2011).

Gaffield, M. A., Amat, S. B., Bito, H. & Christie, J. M. Chronic imaging of movement-related Purkinje cell calcium activity in awake behaving mice. J. Neurophysiol. 115, 413–422 (2016).

Mukamel, E. A., Nimmerjahn, A. & Schnitzer, M. J. Automated analysis of cellular signals from large-scale calcium imaging data. Neuron 63, 747–760 (2009).

Najafi, F., Giovannucci, A., Wang, S. S. & Medina, J. F. Coding of stimulus strength via analog calcium signals in Purkinje cell dendrites of awake mice. eLife 3, e03663 (2014).

Ozden, I., Lee, H. M., Sullivan, M. R. & Wang, S. S. Identification and clustering of event patterns from in vivo multiphoton optical recordings of neuronal ensembles. J. Neurophysiol. 100, 495–503 (2008).

Ozden, I., Sullivan, M. R., Lee, H. M. & Wang, S. S. Reliable coding emerges from coactivation of climbing fibers in microbands of cerebellar Purkinje neurons. J. Neurosci. 29, 10463–10473 (2009).

Najafi, F., Giovannucci, A., Wang, S. S. & Medina, J. F. Sensory-driven enhancement of calcium signals in individual Purkinje cell dendrites of awake mice. Cell Rep. 6, 792–798 (2014).

Najafi, F. & Medina, J. F. Beyond "all-or-nothing" climbing fibers: graded representation of teaching signals in Purkinje cells. Front. Neural Circuits 7, 115 (2013).

Yang, Y. & Lisberger, S. G. Purkinje-cell plasticity and cerebellar motor learning are graded by complex-spike duration. Nature 510, 529–532 (2014).

Kitamura, K. & Häusser, M. Dendritic calcium signaling triggered by spontaneous and sensory-evoked climbing fiber input to cerebellar Purkinje cells in vivo. J. Neurosci. 31, 10847–10858 (2011).

Konnerth, A., Dreessen, J. & Augustine, G. J. Brief dendritic calcium signals initiate long-lasting synaptic depression in cerebellar Purkinje cells. Proc. Natl. Acad. Sci. USA 89, 7051–7055 (1992).

Miyakawa, H., Lev-Ram, V., Lasser-Ross, N. & Ross, W. N. Calcium transients evoked by climbing fiber and parallel fiber synaptic inputs in guinea pig cerebellar Purkinje neurons. J. Neurophysiol. 68, 1178–1189 (1992).

Eilers, J., Augustine, G. J. & Konnerth, A. Subthreshold synaptic Ca2+ signalling in fine dendrites and spines of cerebellar Purkinje neurons. Nature 373, 155–158 (1995).

Hartell, N. A. Strong activation of parallel fibers produces localized calcium transients and a form of LTD that spreads to distant synapses. Neuron 16, 601–610 (1996).

Apps, R. & Garwicz, M. Anatomical and physiological foundations of cerebellar information processing. Nat. Rev. Neurosci. 6, 297–311 (2005).

Ohmae, S. & Medina, J. F. Climbing fibers encode a temporal-difference prediction error during cerebellar learning in mice. Nat. Neurosci. 18, 1798–1803 (2015).

Ackerley, R., Pardoe, J. & Apps, R. A novel site of synaptic relay for climbing fibre pathways relaying signals from the motor cortex to the cerebellar cortical C1 zone. J. Physiol. (Lond.) 576, 503–518 (2006).

Kitazawa, S., Kimura, T. & Yin, P. B. Cerebellar complex spikes encode both destinations and errors in arm movements. Nature 392, 494–497 (1998).

Zhou, H. et al. Cerebellar modules operate at different frequencies. eLife 3, e02536 (2014).

Paukert, M., Huang, Y. H., Tanaka, K., Rothstein, J. D. & Bergles, D. E. Zones of enhanced glutamate release from climbing fibers in the mammalian cerebellum. J. Neurosci. 30, 7290–7299 (2010).

Blenkinsop, T. A. & Lang, E. J. Synaptic action of the olivocerebellar system on cerebellar nuclear spike activity. J. Neurosci. 31, 14708–14720 (2011).

Bengtsson, F., Ekerot, C. F. & Jörntell, H. In vivo analysis of inhibitory synaptic inputs and rebounds in deep cerebellar nuclear neurons. PLoS One 6, e18822 (2011).

Person, A. L. & Raman, I. M. Purkinje neuron synchrony elicits time-locked spiking in the cerebellar nuclei. Nature 481, 502–505 (2011).

McElvain, L. E., Bagnall, M. W., Sakatos, A. & du Lac, S. Bidirectional plasticity gated by hyperpolarization controls the gain of postsynaptic firing responses at central vestibular nerve synapses. Neuron 68, 763–775 (2010).

Pugh, J. R. & Raman, I. M. Potentiation of mossy fiber EPSCs in the cerebellar nuclei by NMDA receptor activation followed by postinhibitory rebound current. Neuron 51, 113–123 (2006).

Miles, F. A. & Lisberger, S. G. Plasticity in the vestibulo-ocular reflex: a new hypothesis. Annu. Rev. Neurosci. 4, 273–299 (1981).

Matias, S., Lottem, E., Dugué, G. P. & Mainen, Z. F. Activity patterns of serotonin neurons underlying cognitive flexibility. eLife 6, e20552 (2017).

Belova, M. A., Paton, J. J., Morrison, S. E. & Salzman, C. D. Expectation modulates neural responses to pleasant and aversive stimuli in primate amygdala. Neuron 55, 970–984 (2007).

Hayden, B. Y., Heilbronner, S. R., Pearson, J. M. & Platt, M. L. Surprise signals in anterior cingulate cortex: neuronal encoding of unsigned reward prediction errors driving adjustment in behavior. J. Neurosci. 31, 4178–4187 (2011).

Pearce, J. M. & Hall, G. A model for Pavlovian learning: variations in the effectiveness of conditioned but not of unconditioned stimuli. Psychol. Rev. 87, 532–552 (1980).

Roesch, M. R., Esber, G. R., Li, J., Daw, N. D. & Schoenbaum, G. Surprise! Neural correlates of Pearce-Hall and Rescorla-Wagner coexist within the brain. Eur. J. Neurosci. 35, 1190–1200 (2012).

Raymond, J. L. & Medina, J. F. Computational principles of supervised learning in the cerebellum. Annu. Rev. Neurosci. 41, 233–253 (2018).

de Solages, C. et al. High-frequency organization and synchrony of activity in the Purkinje cell layer of the cerebellum. Neuron 58, 775–788 (2008).
Acknowledgements
We thank L. Glickfeld for helpful discussions and input on calcium-imaging approaches and analyses, S. Lisberger, G. Field, K. Franks, and F. Wang for feedback on early versions of this manuscript, and members of the Hull and Glickfeld labs for input and technical assistance throughout the project. This work was supported by grants from the NIH NINDS (5R01NS096289-02, C.H.) and (F31NS103425, W.H.), the Sloan Foundation (C.H.), and the Whitehall Foundation (C.H.).
Ethics declarations
Competing interests
The authors declare no competing interests.
Additional information
Publisher's note: Springer Nature remains neutral with regard to jurisdictional claims in published maps and institutional affiliations.
Integrated supplementary information
Supplementary information
About this article
Cite this article
Heffley, W., Song, E.Y., Xu, Z. et al. Coordinated cerebellar climbing fiber activity signals learned sensorimotor predictions. Nat Neurosci 21, 1431–1441 (2018). https://doi.org/10.1038/s41593-018-0228-8
Received:

Accepted:

Published:

Issue Date:

DOI: https://doi.org/10.1038/s41593-018-0228-8