Abstract
Enhancers function as DNA logic gates and may control specialized functions of billions of neurons. Here we show a tailored program of noncoding genome elements active in situ in physiologically distinct dopamine neurons of the human brain. We found 71,022 transcribed noncoding elements, many of which were consistent with active enhancers and with regulatory mechanisms in zebrafish and mouse brains. Genetic variants associated with schizophrenia, addiction, and Parkinson's disease were enriched in these elements. Expression quantitative trait locus analysis revealed that Parkinson's disease-associated variants on chromosome 17q21 cis-regulate the expression of an enhancer RNA in dopamine neurons. This study shows that enhancers in dopamine neurons link genetic variation to neuropsychiatric traits.
Relevant articles
Open Access articles citing this article.
Heather J. Zhou

,

Lei Li

…

Jingyi Jessica Li

Genome Biology Open Access 11 October 2022

Artemis Iatrou

,

Eric M. Clark

&

Yanling Wang

Molecular Neurodegeneration Open Access 17 September 2021

Tao Wang

,

Yongzhuang Liu

…

Jiajie Peng

BMC Bioinformatics Open Access 25 August 2021
Access options
Access Nature and 54 other Nature Portfolio journals
Get Nature+, our best-value online-access subscription
$29.99 per month
cancel any time
Subscribe to this journal
Receive 12 print issues and online access
$189.00 per year
only $15.75 per issue
Rent or buy this article
Get just this article for as long as you need it
$39.95
Prices may be subject to local taxes which are calculated during checkout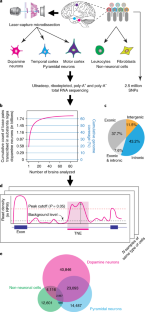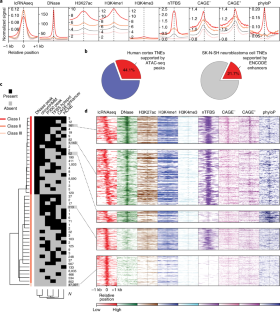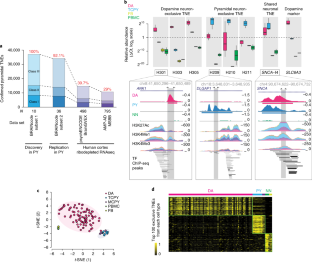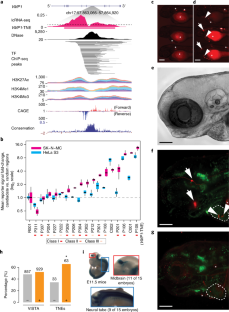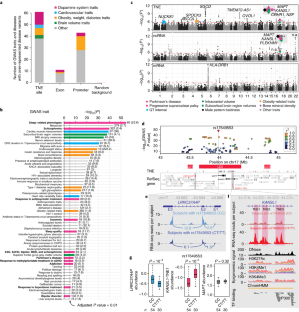 Data availability
RNA-seq and genotyping raw data have been deposited in dbGAP under accession number phs001556.v1.p1. The supporting data and eQTL results for the BRAINcode project can be queried at http://www.humanbraincode.org through a user-friendly interface. Other data supporting the findings of this study are available upon reasonable request.
References
Cookson, W., Liang, L., Abecasis, G., Moffatt, M. & Lathrop, M. Mapping complex disease traits with global gene expression. Nat. Rev. Genet. 10, 184–194 (2009).

Birney, E. et al. Identification and analysis of functional elements in 1% of the human genome by the ENCODE pilot project. Nature 447, 799–816 (2007). ENCODE Project Consortium et al..

Heintzman, N. D. et al. Histone modifications at human enhancers reflect global cell-type-specific gene expression. Nature 459, 108–112 (2009).

Kowal, S. L., Dall, T. M., Chakrabarti, R., Storm, M. V. & Jain, A. The current and projected economic burden of Parkinson's disease in the United States. Mov. Disord. 28, 311–318 (2013).

Cloutier, M. et al. The economic burden of schizophrenia in the United States in 2013. J. Clin. Psychiatry 77, 764–771 (2016).

National Institute of Drug Abuse. Treatment Statistics. DrugAbuse.gov https://www.drugabuse.gov/sites/default/files/drugfacts_treatmentstats.pdf (2011).

Hassan, A. & Benarroch, E. E. Heterogeneity of the midbrain dopamine system. Neurology 85, 1795–1805 (2015).

Zheng, B. et al. PGC-1α, a potential therapeutic target for early intervention in Parkinson's disease. Sci. Transl. Med. 2, 52ra73 (2010).

Liang, W. S. et al. Neuronal gene expression in non-demented individuals with intermediate Alzheimer's disease neuropathology. Neurobiol. Aging. 31, 549–566 (2010).

Elstner, M. et al. Neuromelanin, neurotransmitter status and brainstem location determine the differential vulnerability of catecholaminergic neurons to mitochondrial DNA deletions. Mol. Brain 4, 43 (2011).

Djebali, S. et al. Landscape of transcription in human cells. Nature 489, 101–108 (2012).

Kim, T.-K. et al. Widespread transcription at neuronal activity-regulated enhancers. Nature 465, 182–187 (2010).

Andersson, R. et al. An atlas of active enhancers across human cell types and tissues. Nature 507, 455–461 (2014).

Core, L. J. et al. Analysis of nascent RNA identifies a unified architecture of initiation regions at mammalian promoters and enhancers. Nat. Genet. 46, 1311–1320 (2014).

Thurman, R. E. et al. The accessible chromatin landscape of the human genome. Nature 489, 75–82 (2012).

Heintzman, N. D. et al. Distinct and predictive chromatin signatures of transcriptional promoters and enhancers in the human genome. Nat. Genet. 39, 311–318 (2007).

Visel, A. et al. ChIP-seq accurately predicts tissue-specific activity of enhancers. Nature 457, 854–858 (2009).

Yip, K. Y. et al. Classification of human genomic regions based on experimentally determined binding sites of more than 100 transcription-related factors. Genome. Biol. 13, R48 (2012).

Engström, P. G., Fredman, D. & Lenhard, B. Ancora: a web resource for exploring highly conserved noncoding elements and their association with developmental regulatory genes. Genome. Biol. 9, R34 (2008).

Kundaje, A. et al. Integrative analysis of 111 reference human epigenomes. Nature 518, 317–330 (2015).

Akbarian, S. et al. The PsychENCODE project. Nat. Neurosci. 18, 1707–1712 (2015).

Buenrostro, J. D., Wu, B., Chang, H. Y. & Greenleaf, W. J. ATAC-seq: A method for assaying chromatin accessibility genome-wide. Curr. Protoc. Mol. Biol. 109, 1–9 (2015).

Mittal, S. et al. β2-Adrenoreceptor is a regulator of the α-synuclein gene driving risk of Parkinson's disease. Science 357, 891–898 (2017).

Scherzer, C. R. et al. GATA transcription factors directly regulate the Parkinson's disease-linked gene alpha-synuclein. Proc. Natl. Acad. Sci. USA. 105, 10907–10912 (2008).

ENCODE Project Consortium. An integrated encyclopedia of DNA elements in the human genome. Nature 489, 57–74 (2012).

Ernst, J. & Kellis, M. ChromHMM: automating chromatin-state discovery and characterization. Nat. Methods 9, 215–216 (2012).

Ellingsen, S. et al. Large-scale enhancer detection in the zebrafish genome. Development 132, 3799–3811 (2005).

Visel, A., Minovitsky, S., Dubchak, I. & Pennacchio, L. A. VISTA Enhancer Browser–a database of tissue-specific human enhancers. Nucleic Acids Res. 35, D88–D92 (2007).

Welter, D. et al. The NHGRI GWAS catalog, a curated resource of SNP-trait associations. Nucleic Acids Res. 42, D1001–D1006 (2014).

Jiang, Y. et al. A genetic screen to assess dopamine receptor (DopR1) dependent sleep regulation in Drosophila. G3 (Bethesda) 6, 4217–4226 (2016).

González, S. et al. Circadian-related heteromerization of adrenergic and dopamine D4 receptors modulates melatonin synthesis and release in the pineal gland. PLoS Biol. 10, e1001347 (2012).

Breen, D. P. et al. Sleep and circadian rhythm regulation in early Parkinson disease. JAMA Neurol. 71, 589–595 (2014).

Shabalin, A. A. Matrix eQTL: ultra fast eQTL analysis via large matrix operations. Bioinformatics 28, 1353–1358 (2012).

Nica, A. C. et al. Candidate causal regulatory effects by integration of expression QTLs with complex trait genetic associations. PLoS Genet. 6, e1000895 (2010).

Nalls, M. A. et al. Large-scale meta-analysis of genome-wide association data identifies six new risk loci for Parkinson's disease. Nat. Genet. 46, 989–993 (2014).

Wu, H. et al. Tissue-specific RNA expression marks distant-acting developmental enhancers. PLoS Genet. 10, e1004610 (2014).

Mercer, E. M. et al. Multilineage priming of enhancer repertoires precedes commitment to the B and myeloid cell lineages in hematopoietic progenitors. Immunity 35, 413–425 (2011).

Ostuni, R. et al. Latent enhancers activated by stimulation in differentiated cells. Cell 152, 157–171 (2013).

Koolen, D. A. et al. Mutations in the chromatin modifier gene KANSL1 cause the 17q21.31 microdeletion syndrome. Nat. Genet. 44, 639–641 (2012).

Li, R. et al. Six novel susceptibility loci for early-onset androgenetic alopecia and their unexpected association with common diseases. PLoS Genet. 8, e1002746 (2012).

Adams, H. H. H. et al. Novel genetic loci underlying human intracranial volume identified through genome-wide association. Nat. Neurosci. 19, 1569–1582 (2016).

Torsney, K. M. et al. Bone health in Parkinson's disease: a systematic review and meta-analysis. J. Neurol. Neurosurg. Psychiatry 85, 1159–1166 (2014).

Ding, H. et al. Unrecognized vitamin D3 deficiency is common in Parkinson disease: Harvard Biomarker Study. Neurology 81, 1531–1537 (2013).

Saliba, A. E., Westermann, A. J., Gorski, S. A. & Vogel, J. Single-cell RNA-seq: advances and future challenges. Nucleic Acids Res. 42, 8845–8860 (2014).

Lake, B. B. et al. Neuronal subtypes and diversity revealed by single-nucleus RNA sequencing of the human brain. Science 352, 1586–1590 (2016).

Lee, J. H. et al. Fluorescent in situ sequencing (FISSEQ) of RNA for gene expression profiling in intact cells and tissues. Nat. Protoc. 10, 442–458 (2015).

Hughes, A. J., Daniel, S. E., Kilford, L. & Lees, A. J. Accuracy of clinical diagnosis of idiopathic Parkinson's disease: a clinico-pathological study of 100 cases. J. Neurol. Neurosurg. Psychiatry 55, 181–184 (1992).

The National Institute on Aging and Reagan Institute Working Group on Diagnostic Criteria for the Neuropathological Assessment of Alzheimer's Disease. Consensus recommendations for the postmortem diagnosis of Alzheimer's disease. Neurobiol. Aging. 18 Suppl, S1–S2 (1997).

Bonanni, L., Thomas, A., Onofrj, M. & McKeith, I. G. Diagnosis and management of dementia with Lewy bodies: third report of the DLB Consortium. Neurology 66, 1455 (2006). author reply 1455.

Schroeder, A. et al. The RIN: an RNA integrity number for assigning integrity values to RNA measurements. BMC Mol. Biol. 7, 3 (2006).

Unni, V. K., Ebrahimi-Fakhari, D., Vanderburg, C. R., McLean, P. J. & Hyman, B. T. Studying protein degradation pathways in vivo using a cranial window-based approach. Methods 53, 194–200 (2011).

Ingelsson, M. et al. No alteration in tau exon 10 alternative splicing in tangle-bearing neurons of the Alzheimer's disease brain. Acta Neuropathol. 112, 439–449 (2006).

Liu, G. et al. Metal exposure and Alzheimer's pathogenesis. J. Struct. Biol. 155, 45–51 (2006).

Kurn, N. et al. Novel isothermal, linear nucleic acid amplification systems for highly multiplexed applications. Clin. Chem. 51, 1973–1981 (2005).

Faherty, S. L., Campbell, C. R., Larsen, P. A. & Yoder, A. D. Evaluating whole transcriptome amplification for gene profiling experiments using RNA-seq. BMC Biotechnol. 15, 65 (2015).

Chang, C. C. et al. Second-generation PLINK: rising to the challenge of larger and richer datasets. Gigascience 4, 7 (2015).

Delaneau, O., Zagury, J.-F. & Marchini, J. Improved whole-chromosome phasing for disease and population genetic studies. Nat. Methods 10, 5–6 (2013).

Marchini, J. & Howie, B. Genotype imputation for genome-wide association studies. Nat. Rev. Genet. 11, 499–511 (2010).

Anvar, S. Y. et al. Determining the quality and complexity of next-generation sequencing data without a reference genome. Genome. Biol. 15, 555 (2014).

Trapnell, C., Pachter, L. & Salzberg, S. L. TopHat: discovering splice junctions with RNA-Seq. Bioinformatics 25, 1105–1111 (2009).

Trapnell, C. et al. Differential gene and transcript expression analysis of RNA-seq experiments with TopHat and Cufflinks. Nat. Protoc. 7, 562–578 (2012).

't Hoen, P. A. C. et al. Reproducibility of high-throughput mRNA and small RNA sequencing across laboratories. Nat. Biotechnol. 31, 1015–1022 (2013).

Leek, J. T. & Storey, J. D. Capturing heterogeneity in gene expression studies by surrogate variable analysis. PLoS Genet. 3, 1724–1735 (2007).

Johnson, W. E., Li, C. & Rabinovic, A. Adjusting batch effects in microarray expression data using empirical Bayes methods. Biostatistics 8, 118–127 (2007).

Harrow, J. et al. GENCODE: the reference human genome annotation for The ENCODE Project. Genome Res. 22, 1760–1774 (2012).

Zhao, Y. et al. NONCODE 2016: an informative and valuable data source of long non-coding RNAs. Nucleic Acids Res. 44 D1, D203–D208 (2016).

Micallef, L. & Rodgers, P. eulerAPE: drawing area-proportional 3-Venn diagrams using ellipses. PLoS One 9, e101717 (2014).

Wang, J. et al. Factorbook. org: a Wiki-based database for transcription factor-binding data generated by the ENCODE consortium. Nucleic Acids Res. 41, (D171–D176 (2013).

Pollard, K. S., Hubisz, M. J., Rosenbloom, K. R. & Siepel, A. Detection of nonneutral substitution rates on mammalian phylogenies. Genome Res. 20, 110–121 (2010).

MacArthur, J. et al. The new NHGRI-EBI Catalog of published genome-wide association studies (GWAS Catalog). Nucleic Acids Res. 45 D1, D896–D901 (2017).

Johnson, A. D. et al. SNAP: a web-based tool for identification and annotation of proxy SNPs using HapMap. Bioinformatics 24, 2938–2939 (2008).

Untergasser, A. et al. Primer3–new capabilities and interfaces. Nucleic Acids Res. 40, e115 (2012).

Meng, A., Tang, H., Ong, B. A., Farrell, M. J. & Lin, S. Promoter analysis in living zebrafish embryos identifies a cis-acting motif required for neuronal expression of GATA-2. Proc. Natl. Acad. Sci. USA. 94, 6267–6272 (1997).

Wen, L. et al. Visualization of monoaminergic neurons and neurotoxicity of MPTP in live transgenic zebrafish. Dev. Biol. 314, 84–92 (2008).

Piñero, J. et al. DisGeNET: a comprehensive platform integrating information on human disease-associated genes and variants. Nucleic Acids Res. 45 D1, D833–D839 (2017).

Mathelier, A. et al. JASPAR 2016: a major expansion and update of the open-access database of transcription factor binding profiles. Nucleic Acids Res. 44 D1, D110–D115 (2016).

Grant, C. E., Bailey, T. L. & Noble, W. S. FIMO: scanning for occurrences of a given motif. Bioinformatics 27, 1017–1018 (2011).

Takahashi, H., Lassmann, T., Murata, M. & Carninci, P. 5′ end-centered expression profiling using cap-analysis gene expression and next-generation sequencing. Nat. Protoc. 7, 542–561 (2012).

Lassmann, T., Hayashizaki, Y. & Daub, C. O. TagDust–a program to eliminate artifacts from next generation sequencing data. Bioinformatics 25, 2839–2840 (2009).

Aguet, F. et al. Genetic effects on gene expression across human tissues. Nature 550, 204–213 (2017).
Acknowledgements
We thank H. Suzuki and T. Suzuki of RIKEN for providing the modified pGL4.10_mod3_EF1α vector and consultation. We are grateful to C. Vanderburg of the Advanced Tissue Resource Center, Massachusetts General Hospital, for his expertise and support. We thank Z. Weng at the University of Massachusetts Medical School for sharing additional data from the ENCODE consortium. We thank A. Sandelin and R. Andersson, both from Copenhagen University; A. Regev, Broad Institute; and M. Feany, Brigham & Women's Hospital, for insightful comments and guidance. We thank C. Liu, A. Shieh, and T. Goodman for assisting in extracting the RNA-seq and ATAC-seq data in the BrainGVEX dataset. We gratefully acknowledge the Banner Sun Health Institute, Massachusetts Alzheimer's Disease Research Center at Massachusetts General Hospital, Harvard Brain Tissue Resource Center at McLean Hospital, University of Kentucky ADC Tissue Bank, University of Maryland Brain and Tissue Bank, Pacific Northwest Dementia and Aging Neuropathology Group at University of Washington Medicine Center, and Neurological Foundation of New Zealand for providing human brain tissue. This study was funded in part by NIH grant U01 NS082157 and the US Department of Defense (to C.R.S.); NIH R01AG057331 (to C.R.S.) funded RNA-seq of pyramidal neurons; with additional support from the Michael J. Fox Foundation (MJFF) (to C.R.S. and C.H.A., respectively); the Australia NHMRC GNT1067350 (to A.A.C. and J.S.M.); NIA P30 AG028383 (to P.T.N.); UK Wellcome Trust Investigator award (to F.M.); NINDS U24 NS072026 National Brain and Tissue Resource for Parkinson's Disease and Related Disorders (to T.G.B. and C.H.A.); NIA P50 AG005134 (to M.P.F.). The MSBB data were generated as part of the AMP-AD Consortium from postmortem brain tissue collected through the Mount Sinai VA Medical Center Brain Bank and were provided by E. Schadt from Mount Sinai School of Medicine. PsychENCODE data were generated as part of the PsychENCODE Consortium, supported by grants U01MH103339, U01MH103365, U01MH103392, U01MH103340, U01MH103346, R01MH105472, R01MH094714, R01MH105898, R21MH102791, R21MH105881, R21MH103877, and P50MH106934 awarded to S. Akbarian (Icahn School of Medicine at Mount Sinai), G. Crawford (Duke), S. Dracheva (Icahn School of Medicine at Mount Sinai), P. Farnham (USC), M. Gerstein (Yale), D. Geschwind (UCLA), T.M. Hyde (LIBD), A. Jaffe (LIBD), J.A. Knowles (USC), C. Liu (UIC), D. Pinto (Icahn School of Medicine at Mount Sinai), N. Sestan (Yale), P. Sklar (Icahn School of Medicine at Mount Sinai), M. State (UCSF), P. Sullivan (UNC), F. Vaccarino (Yale), S. Weissman (Yale), K. White (U Chicago), and P. Zandi (JHU).
Ethics declarations
Competing interests
C.R.S. has collaborated with Pfizer and Sanofi; has consulted for Sanofi; has served as Advisor to the Michael J. Fox Foundation, NIH, and Department of Defense; is on the Scientific Advisory Board of the American Parkinson Disease Association; received funding from the NIH, the US Department of Defense, the Michael J. Fox Foundation, and the American Parkinson Disease Association; and is named as co-inventor on two US patent applications on biomarkers for PD held in part by Brigham & Women's Hospital. B.G. is the founder of Pacific Analytics PTY LTD, Australia and is a founding member of the International Cerebral Palsy Genetics Consortium, a member of the Australian Genomics Health Alliance, and is on the Scientific Advisory Board of Iggy Get Out!, Australia. T.G.B. provides consultancies to Prothena and GSK; is on the Advisory Board of Vivid Genomics; and has contracted research with Avid Radiopharmaceuticals, Navidea Biopharmaceuticals, and Aprinoia Therapeutics. The other authors declare no competing financial interests.
Additional information
Publisher's note: Springer Nature remains neutral with regard to jurisdictional claims in published maps and institutional affiliations.
Integrated supplementary information
Supplementary information
About this article
Cite this article
Dong, X., Liao, Z., Gritsch, D. et al. Enhancers active in dopamine neurons are a primary link between genetic variation and neuropsychiatric disease. Nat Neurosci 21, 1482–1492 (2018). https://doi.org/10.1038/s41593-018-0223-0
Received:

Accepted:

Published:

Issue Date:

DOI: https://doi.org/10.1038/s41593-018-0223-0