Abstract
In vivo calcium imaging from axons provides direct interrogation of afferent neural activity, informing the neural representations that a local circuit receives. Unlike in somata and dendrites, axonal recording of neural activity—both electrically and optically—has been difficult to achieve, thus preventing comprehensive understanding of neuronal circuit function. Here we developed an active transportation strategy to enrich GCaMP6, a genetically encoded calcium indicator, uniformly in axons with sufficient brightness, signal-to-noise ratio, and photostability to allow robust, structure-specific imaging of presynaptic activity in awake mice. Axon-targeted GCaMP6 enables frame-to-frame correlation for motion correction in axons and permits subcellular-resolution recording of axonal activity in previously inaccessible deep-brain areas. We used axon-targeted GCaMP6 to record layer-specific local afferents without contamination from somata or from intermingled dendrites in the cortex. We expect that axon-targeted GCaMP6 will facilitate new applications in investigating afferent signals relayed by genetically defined neuronal populations within and across specific brain regions.
This is a preview of subscription content
Access options
Subscribe to Journal
Get full journal access for 1 year
$59.00
only $4.92 per issue
All prices are NET prices.
VAT will be added later in the checkout.
Tax calculation will be finalised during checkout.
Rent or Buy article
Get time limited or full article access on ReadCube.
from$8.99
All prices are NET prices.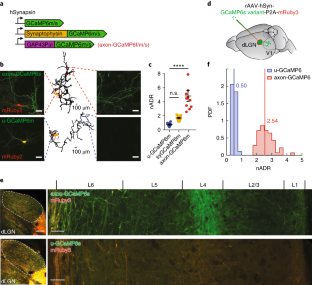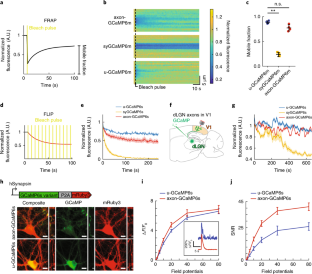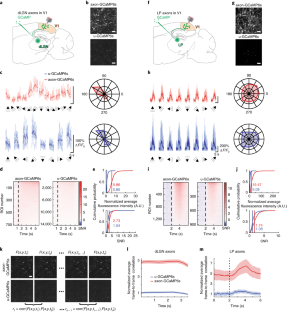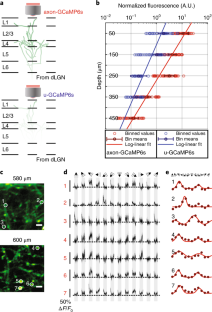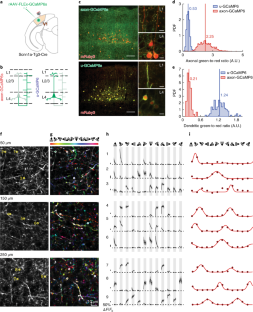 References
1.

Lin, M. Z. & Schnitzer, M. J. Genetically encoded indicators of neuronal activity. Nat. Neurosci. 19, 1142–1153 (2016).

2.

Nakai, J., Ohkura, M. & Imoto, K. A high signal-to-noise Ca(2+) probe composed of a single green fluorescent protein. Nat. Biotechnol. 19, 137–141 (2001).

3.

Tian, L. et al. Imaging neural activity in worms, flies and mice with improved GCaMP calcium indicators. Nat. Methods 6, 875–881 (2009).

4.

Akerboom, J. et al. Optimization of a GCaMP calcium indicator for neural activity imaging. J. Neurosci. 32, 13819–13840 (2012).

5.

Chen, T.-W. et al. Ultrasensitive fluorescent proteins for imaging neuronal activity. Nature 499, 295–300 (2013).

6.

Petreanu, L. et al. Activity in motor-sensory projections reveals distributed coding in somatosensation. Nature 489, 299–303 (2012).

7.

Glickfeld, L. L., Andermann, M. L., Bonin, V. & Reid, R. C. Cortico-cortical projections in mouse visual cortex are functionally target specific. Nat. Neurosci. 16, 219–226 (2013).

8.

Kaifosh, P., Lovett-Barron, M., Turi, G. F., Reardon, T. R. & Losonczy, A. Septo-hippocampal GABAergic signaling across multiple modalities in awake mice. Nat. Neurosci. 16, 1182–1184 (2013).

9.

Gambino, F. et al. Sensory-evoked LTP driven by dendritic plateau potentials in vivo. Nature 515, 116–119 (2014).

10.

Rothermel, M. & Wachowiak, M. Functional imaging of cortical feedback projections to the olfactory bulb. Front. Neural Circuits 8, 73 (2014).

11.

Sun, W., Tan, Z., Mensh, B. D. & Ji, N. Thalamus provides layer 4 of primary visual cortex with orientation- and direction-tuned inputs. Nat. Neurosci. 19, 308–315 (2016).

12.

Roth, M. M. et al. Thalamic nuclei convey diverse contextual information to layer 1 of visual cortex. Nat. Neurosci. 19, 299–307 (2016).

13.

Kwon, S. E., Yang, H., Minamisawa, G. & O'Connor, D. H. Sensory and decision-related activity propagate in a cortical feedback loop during touch perception. Nat. Neurosci. 19, 1243–1249 (2016).

14.

Marques, T., Nguyen, J., Fioreze, G. & Petreanu, L. The functional organization of cortical feedback inputs to primary visual cortex. Nat. Neurosci. 21, 757–764 (2018).

15.

Dreosti, E., Odermatt, B., Dorostkar, M. M. & Lagnado, L. A genetically encoded reporter of synaptic activity in vivo. Nat. Methods 6, 883–889 (2009).

16.

Walker, A. S., Burrone, J. & Meyer, M. P. Functional imaging in the zebrafish retinotectal system using RGECO. Front. Neural Circuits 7, 34 (2013).

17.

El-Husseini, Ael-D., Craven, S. E., Brock, S. C. & Bredt, D. S. Polarized targeting of peripheral membrane proteins in neurons. J. Biol. Chem. 276, 44984–44992 (2001).

18.

Padmanabhan, S., Kareva, T., Kholodilov, N. & Burke, R. E. Quantitative morphological comparison of axon-targeting strategies for gene therapies directed to the nigro-striatal projection. Gene Ther. 21, 115–122 (2014).

19.

Kline, C. F., Scott, J., Curran, J., Hund, T. J. & Mohler, P. J. Ankyrin-B regulates Cav2.1 and Cav2.2 channel expression and targeting. J. Biol. Chem. 289, 5285–5295 (2014).

20.

Aronov, S., Aranda, G., Behar, L. & Ginzburg, I. Axonal tau mRNA localization coincides with tau protein in living neuronal cells and depends on axonal targeting signal. J. Neurosci. 21, 6577–6587 (2001).

21.

Zlatkine, P., Mehul, B. & Magee, A. I. Retargeting of cytosolic proteins to the plasma membrane by the Lck protein tyrosine kinase dual acylation motif. J. Cell Sci. 110, 673–679 (1997).

22.

Shigetomi, E., Kracun, S., Sofroniew, M. V. & Khakh, B. S. A genetically targeted optical sensor to monitor calcium signals in astrocyte processes. Nat. Neurosci. 13, 759–766 (2010).

23.

Lewis, T. L. Jr., Mao, T. & Arnold, D. B. A role for myosin VI in the localization of axonal proteins. PLoS Biol. 9, e1001021 (2011).

24.

Kutzleb, C. et al. Paralemmin, a prenyl-palmitoyl-anchored phosphoprotein abundant in neurons and implicated in plasma membrane dynamics and cell process formation. J. Cell Biol. 143, 795–813 (1998).

25.

Lewis, T. L. Jr, Mao, T., Svoboda, K. & Arnold, D. B. Myosin-dependent targeting of transmembrane proteins to neuronal dendrites. Nat. Neurosci. 12, 568–576 (2009).

26.

Bajar, B. T. et al. Improving brightness and photostability of green and red fluorescent proteins for live cell imaging and FRET reporting. Sci. Rep. 6, 20889 (2016).

27.

Hammond, G. R. V., Sim, Y., Lagnado, L. & Irvine, R. F. Reversible binding and rapid diffusion of proteins in complex with inositol lipids serves to coordinate free movement with spatial information. J. Cell Biol. 184, 297–308 (2009).

28.

de Chaumont, F. et al. Icy: an open bioimage informatics platform for extended reproducible research. Nat. Methods 9, 690–696 (2012).

29.

Koester, H. J. & Sakmann, B. Calcium dynamics associated with action potentials in single nerve terminals of pyramidal cells in layer 2/3 of the young rat neocortex. J. Physiol. (Lond.) 529, 625–646 (2000).

30.

Hires, S. A., Tian, L. & Looger, L. L. Reporting neural activity with genetically encoded calcium indicators. Brain Cell Biol. 36, 69–86 (2008).

31.

Guizar-Sicairos, M., Thurman, S. T. & Fienup, J. R. Efficient subpixel image registration algorithms. Opt. Lett. 33, 156–158 (2008).

32.

Constantinople, C. M. & Bruno, R. M. Deep cortical layers are activated directly by thalamus. Science 340, 1591–1594 (2013).

33.

Petreanu, L., Mao, T., Sternson, S. M. & Svoboda, K. The subcellular organization of neocortical excitatory connections. Nature 457, 1142–1145 (2009).

34.

Beierlein, M. & Connors, B. W. Short-term dynamics of thalamocortical and intracortical synapses onto layer 6 neurons in neocortex. J. Neurophysiol. 88, 1924–1932 (2002).

35.

Zhao, Y. et al. An expanded palette of genetically encoded Ca2+ indicators. Science 333, 1888–1891 (2011).

36.

Dana, H. et al. Sensitive red protein calcium indicators for imaging neural activity. eLife 5, e12727 (2016).

37.

Nagai, T., Yamada, S., Tominaga, T., Ichikawa, M. & Miyawaki, A. Expanded dynamic range of fluorescent indicators for Ca(2+) by circularly permuted yellow fluorescent proteins. Proc. Natl Acad. Sci. USA 101, 10554–10559 (2004).

38.

Palmer, A. E. et al. Ca2+ indicators based on computationally redesigned calmodulin-peptide pairs. Chem. Biol. 13, 521–530 (2006).

39.

Horikawa, K. et al. Spontaneous network activity visualized by ultrasensitive Ca(2+) indicators, yellow Cameleon-Nano. Nat. Methods 7, 729–732 (2010).

40.

Mank, M. et al. A genetically encoded calcium indicator for chronic in vivo two-photon imaging. Nat. Methods 5, 805–811 (2008).

41.

Thestrup, T. et al. Optimized ratiometric calcium sensors for functional in vivo imaging of neurons and T lymphocytes. Nat. Methods 11, 175–182 (2014).

42.

Marvin, J. S. et al. An optimized fluorescent probe for visualizing glutamate neurotransmission. Nat. Methods 10, 162–170 (2013).

43.

Zhang, F., Wang, L. P., Boyden, E. S. & Deisseroth, K. Channelrhodopsin-2 and optical control of excitable cells. Nat. Methods 3, 785–792 (2006).

44.

Li, H. et al. Concurrent imaging of synaptic vesicle recycling and calcium dynamics. Front. Mol. Neurosci. 4, 34 (2011).

45.

Jackson, R. E. & Burrone, J. Visualizing presynaptic calcium dynamics and vesicle fusion with a single genetically encoded reporter at individual synapses. Front. Synaptic Neurosci. 8, 21 (2016).

46.

Pech, U., Revelo, N. H., Seitz, K. J., Rizzoli, S. O. & Fiala, A. Optical dissection of experience-dependent pre- and postsynaptic plasticity in the Drosophila brain. Cell Rep. 10, 2083–2095 (2018).

47.

Baden, T. et al. A synaptic mechanism for temporal filtering of visual signals. PLoS Biol. 12, e1001972 (2014).

48.

Dreosti, E., Esposti, F., Baden, T. & Lagnado, L. In vivo evidence that retinal bipolar cells generate spikes modulated by light. Nat. Neurosci. 14, 951–952 (2011).

49.

Johnston, J., Ding, H., Seibel, S. H., Esposti, F. & Lagnado, L. Rapid mapping of visual receptive fields by filtered back projection: application to multi-neuronal electrophysiology and imaging. J. Physiol. (Lond.) 592, 4839–4854 (2014).

50.

Cox, C. L., Denk, W., Tank, D. W. & Svoboda, K. Action potentials reliably invade axonal arbors of rat neocortical neurons. Proc. Natl Acad. Sci. USA 97, 9724–9728 (2000).

51.

Kim, J. H. et al. High cleavage efficiency of a 2A peptide derived from porcine teschovirus-1 in human cell lines, zebrafish and mice. PLoS One 6, e18556 (2011).

52.

Kang, M., Day, C. A., Kenworthy, A. K. & DiBenedetto, E. Simplified equation to extract diffusion coefficients from confocal FRAP data. Traffic 13, 1589–1600 (2012).

53.

Pologruto, T. A., Sabatini, B. L. & Svoboda, K. ScanImage: flexible software for operating laser scanning microscopes. Biomed. Eng. Online 2, 13 (2003).

54.

Kalatsky, V. A. & Stryker, M. P. New paradigm for optical imaging: temporally encoded maps of intrinsic signal. Neuron 38, 529–545 (2003).

55.

Marshel, J. H., Garrett, M. E., Nauhaus, I. & Callaway, E. M. Functional specialization of seven mouse visual cortical areas. Neuron 72, 1040–1054 (2011).

56.

Anderson, J. S., Carandini, M. & Ferster, D. Orientation tuning of input conductance, excitation, and inhibition in cat primary visual cortex. J. Neurophysiol. 84, 909–926 (2000).

57.

Theer, P. & Denk, W. On the fundamental imaging-depth limit in two-photon microscopy. J. Opt. Soc. Am. A Opt. Image Sci. Vis. 23, 3139–3149 (2006).
Acknowledgements
We thank H. Chen at the vector core of vision center at UCD for virus production and L. Looger and B. Mensh for insightful comments on the manuscript. This work was supported by funding to L.T. (DP2MH107056, U01NS090604, and U01NS099714 from the National Institutes of Health and Rita Allen Foundation), to L.P. (Marie Curie PCIG12-GA-2012-334353, the European Union's Seventh Framework Program FP7/2007-2013 under grant agreement No. 600925, and the Champalimaud Foundation), to N.J. (Howard Hughes Medical Institute and grants U01 NS103573 and U01 NS103489 from the National Institutes of Health), and a Human Frontiers Research Grant to L.T. and L.P. (RGY0085/2013).
Ethics declarations
Competing interests
The authors declare no competing interests.
Additional information
Publisher's note: Springer Nature remains neutral with regard to jurisdictional claims in published maps and institutional affiliations.
Integrated supplementary information
Supplementary information
Supplementary Figures 1–15
Left panel shows a representative recording session from axons in superficial V1 of an animal injected with virus axon-GCaMP6s in dLGN during presentation of visual stimuli. Right panel is the same, but the virus used encoded u-GCaMP6s.
About this article
Cite this article
Broussard, G.J., Liang, Y., Fridman, M. et al. In vivo measurement of afferent activity with axon-specific calcium imaging. Nat Neurosci 21, 1272–1280 (2018). https://doi.org/10.1038/s41593-018-0211-4
Received:

Accepted:

Published:

Issue Date: