Abstract
Multiple sclerosis (MS) patients exhibit neuropsychological symptoms in early disease despite the immune attack occurring predominantly in white matter and spinal cord. It is unclear why neurodegeneration may start early in the disease and is prominent in later stages. We assessed cortical microcircuit activity by employing spiking-specific two-photon Ca2+ imaging in proteolipid protein-immunized relapsing-remitting SJL/J mice in vivo. We identified the emergence of hyperactive cortical neurons in remission only, independent of direct immune-mediated damage and paralleled by elevated anxiety. High levels of neuronal activity were accompanied by increased caspase-3 expression. Cortical TNFα expression was mainly increased by excitatory neurons in remission; blockade with intraventricular infliximab restored AMPA spontaneous excitatory postsynaptic current frequencies, completely recovered normal neuronal network activity patterns and alleviated elevated anxiety. This suggests a dysregulation of cortical networks attempting to achieve functional compensation by synaptic plasticity mechanisms, indicating a link between immune attack and early start of neurodegeneration.
Access options
Subscribe to Journal
Get full journal access for 1 year
$209.00
only $17.42 per issue
All prices are NET prices.
VAT will be added later in the checkout.
Rent or Buy article
Get time limited or full article access on ReadCube.
from$8.99
All prices are NET prices.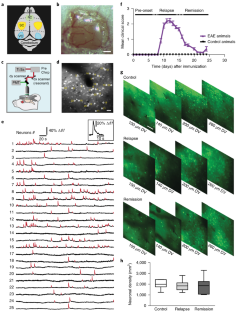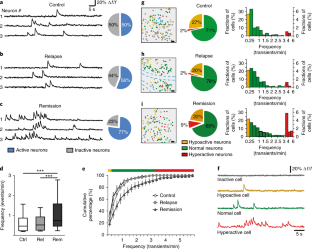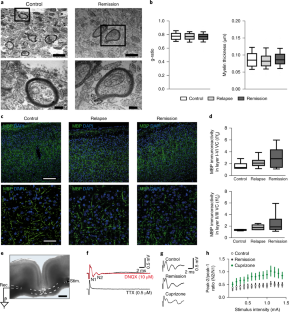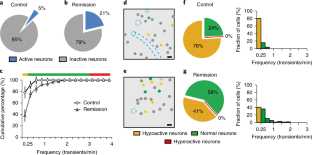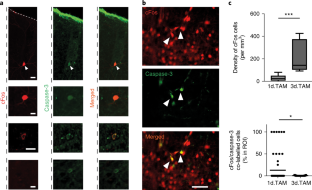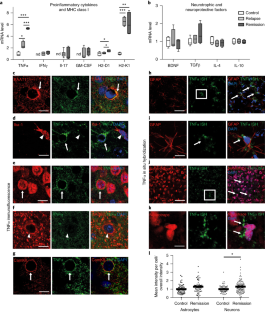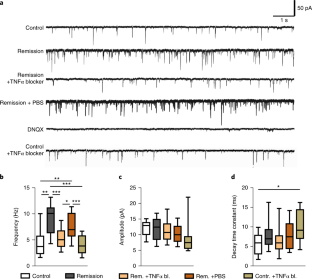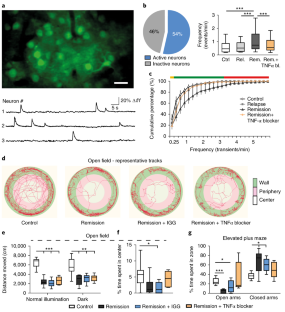 Data availability
The data that support the findings of this study are available from the corresponding authors upon request.
References
1.

Steinman, L. Immunology of relapse and remission in multiple sclerosis. Annu. Rev. Immunol. 32, 257–281 (2014).

2.

Trapp, B. D. & Nave, K. A. Multiple sclerosis: an immune or neurodegenerative disorder? Annu. Rev. Neurosci. 31, 247–269 (2008).

3.

Keegan, B. M. & Noseworthy, J. H. Multiple sclerosis. Annu. Rev. Med. 53, 285–302 (2002).

4.

Peterson, J. W., Bö, L., Mörk, S., Chang, A. & Trapp, B. D. Transected neurites, apoptotic neurons, and reduced inflammation in cortical multiple sclerosis lesions. Ann. Neurol. 50, 389–400 (2001).

5.

De Stefano, N. et al. Evidence of early cortical atrophy in MS: relevance to white matter changes and disability. Neurology 60, 1157–1162 (2003).

6.

Feinstein, A., Magalhaes, S., Richard, J. F., Audet, B. & Moore, C. The link between multiple sclerosis and depression. Nat. Rev. Neurol. 10, 507–517 (2014).

7.

Gold, R., Linington, C. & Lassmann, H. Understanding pathogenesis and therapy of multiple sclerosis via animal models: 70 years of merits and culprits in experimental autoimmune encephalomyelitis research. Brain 129, 1953–1971 (2006).

8.

Ben-Nun, A. et al. From classic to spontaneous and humanized models of multiple sclerosis: impact on understanding pathogenesis and drug development. J. Autoimmun. 54, 33–50 (2014).

9.

MacKenzie-Graham, A. et al. Cortical atrophy in experimental autoimmune encephalomyelitis: in vivo imaging. Neuroimage 60, 95–104 (2012).

10.

Busche, M. A. et al. Clusters of hyperactive neurons near amyloid plaques in a mouse model of Alzheimer's disease. Science 321, 1686–1689 (2008).

11.

Grienberger, C. et al. Staged decline of neuronal function in vivo in an animal model of Alzheimer's disease. Nat. Commun. 3, 774 (2012).

12.

Kajikawa, Y. & Schroeder, C. E. How local is the local field potential? Neuron 72, 847–858 (2011).

13.

Rochefort, N. L. et al. Sparsification of neuronal activity in the visual cortex at eye-opening. Proc. Natl. Acad. Sci. USA 106, 15049–15054 (2009).

14.

Stroh, A. et al. Making waves: initiation and propagation of corticothalamic Ca2+ waves in vivo. Neuron 77, 1136–1150 (2013).

15.

Svoboda, K., Denk, W., Kleinfeld, D. & Tank, D. W. In vivo dendritic calcium dynamics in neocortical pyramidal neurons. Nature 385, 161–165 (1997).

16.

Beattie, E. C. et al. Control of synaptic strength by glial TNFα. Science 295, 2282–2285 (2002).

17.

Mc Guire, C., Beyaert, R. & van Loo, G. Death receptor signalling in central nervous system inflammation and demyelination. Trends Neurosci. 34, 619–628 (2011).

18.

Stosiek, C., Garaschuk, O., Holthoff, K. & Konnerth, A. In vivo two-photon calcium imaging of neuronal networks. Proc. Natl. Acad. Sci. USA 100, 7319–7324 (2003).

19.

Vogt, J. et al. Lower motor neuron loss in multiple sclerosis and experimental autoimmune encephalomyelitis. Ann. Neurol. 66, 310–322 (2009).

20.

Crawford, D. K., Mangiardi, M. & Tiwari-Woodruff, S. K. Assaying the functional effects of demyelination and remyelination: revisiting field potential recordings. J. Neurosci. Methods 182, 25–33 (2009).

21.

Jolivel, V. et al. Modulation of dendritic cell properties by laquinimod as a mechanism for modulating multiple sclerosis. Brain 136, 1048–1066 (2013).

22.

Aktas, O. et al. Neuronal damage in autoimmune neuroinflammation mediated by the death ligand TRAIL. Neuron 46, 421–432 (2005).

23.

Aktas, O. et al. Treatment of relapsing paralysis in experimental encephalomyelitis by targeting Th1 cells through atorvastatin. J. Exp. Med. 197, 725–733 (2003).

24.

Wong, A. A. & Brown, R. E. Visual detection, pattern discrimination and visual acuity in 14 strains of mice. Genes Brain Behav. 5, 389–403 (2006).

25.

Chang, B. et al. Retinal degeneration mutants in the mouse. Vision. Res. 42, 517–525 (2002).

26.

Guenthner, C. J., Miyamichi, K., Yang, H. H., Heller, H. C. & Luo, L. Permanent genetic access to transiently active neurons via TRAP: targeted recombination in active populations. Neuron 78, 773–784 (2013).

27.

Black, R. A. et al. A metalloproteinase disintegrin that releases tumour-necrosis factor-alpha from cells. Nature 385, 729–733 (1997).

28.

Mbebi, C. et al. Antibody-bound beta-amyloid precursor protein stimulates the production of tumor necrosis factor-alpha and monocyte chemoattractant protein-1 by cortical neurons. Neurobiol. Dis. 19, 129–141 (2005).

29.

Liu, T. et al. Tumor necrosis factor-alpha expression in ischemic neurons. Stroke 25, 1481–1488 (1994).

30.

Stellwagen, D. & Malenka, R. C. Synaptic scaling mediated by glial TNF-alpha. Nature 440, 1054–1059 (2006).

31.

Neumann, H., Schmidt, H., Cavalié, A., Jenne, D. & Wekerle, H. Major histocompatibility complex (MHC) class I gene expression in single neurons of the central nervous system: differential regulation by interferon (IFN)-gamma and tumor necrosis factor (TNF)-alpha. J. Exp. Med. 185, 305–316 (1997).

32.

Hallermalm, K. et al. Tumor necrosis factor-α induces coordinated changes in major histocompatibility class I presentation pathway, resulting in increased stability of class I complexes at the cell surface. Blood 98, 1108–1115 (2001).

33.

Höftberger, R. et al. Expression of major histocompatibility complex class I molecules on the different cell types in multiple sclerosis lesions. Brain Pathol. 14, 43–50 (2004).

34.

Huh, G. S. et al. Functional requirement for class I MHC in CNS development and plasticity. Science 290, 2155–2159 (2000).

35.

Glynn, M. W. et al. MHCI negatively regulates synapse density during the establishment of cortical connections. Nat. Neurosci. 14, 442–451 (2011).

36.

Methner, A. & Zipp, F. Multiple sclerosis in 2012: novel therapeutic options and drug targets in MS. Nat. Rev. Neurol. 9, 72–73 (2013).

37.

Busche, M. A. et al. Rescue of long-range circuit dysfunction in Alzheimer's disease models. Nat. Neurosci. 18, 1623–1630 (2015).

38.

Busche, M. A. & Konnerth, A. Neuronal hyperactivity–A key defect in Alzheimer's disease? BioEssays 37, 624–632 (2015).

39.

Putcha, D. et al. Hippocampal hyperactivation associated with cortical thinning in Alzheimer's disease signature regions in non-demented elderly adults. J. Neurosci. 31, 17680–17688 (2011).

40.

Zhang, L., Yang, H., Zhao, H. & Zhao, C. Calcium-related signaling pathways contributed to dopamine-induced cortical neuron apoptosis. Neurochem. Int. 58, 281–294 (2011).

41.

Sakry, D. et al. Oligodendrocyte precursor cells modulate the neuronal network by activity-dependent ectodomain cleavage of glial NG2. PLoS Biol. 12, e1001993 (2014).

42.

Korostil, M. & Feinstein, A. Anxiety disorders and their clinical correlates in multiple sclerosis patients. Mult. Scler. 13, 67–72 (2007).

43.

Ribbons, K., Lea, R., Schofield, P. W. & Lechner-Scott, J. Anxiety levels are independently associated with cognitive performance in an australian multiple sclerosis patient cohort. J. Neuropsychiatry Clin. Neurosci. 29, 128–134 (2017).

44.

Paxinos, G. & Franklin, K.B.J. Paxinos and Franklin's the Mouse Brain in Stereotaxic Coordinates (Elsevier Academic Press, 2012).

45.

Schwalm, M. et al. Cortex-wide BOLD fMRI activity reflects locally-recorded slow oscillation-associated calcium waves. eLife 6, e27602 (2017).

46.

Garaschuk, O. Imaging microcircuit function in healthy and diseased brain. Exp. Neurol. 242, 41–49 (2013).

47.

Nimmerjahn, A., Kirchhoff, F., Kerr, J. N. & Helmchen, F. Sulforhodamine 101 as a specific marker of astroglia in the neocortex in vivo. Nat. Methods 1, 31–37 (2004).

48.

Baker, A. J. et al. Attenuation of the electrophysiological function of the corpus callosum after fluid percussion injury in the rat. J. Neurotrauma 19, 587–599 (2002).

49.

Patel, R. et al. Attenuation of corpus callosum axon myelination and remyelination in the absence of circulating sex hormones. Brain Pathol. 23, 462–475 (2013).

50.

Reeves, T. M., Phillips, L. L. & Povlishock, J. T. Myelinated and unmyelinated axons of the corpus callosum differ in vulnerability and functional recovery following traumatic brain injury. Exp. Neurol. 196, 126–137 (2005).

51.

Siffrin, V. et al. In vivo imaging of partially reversible th17 cell-induced neuronal dysfunction in the course of encephalomyelitis. Immunity 33, 424–436 (2010).

52.

Paterka, M. et al. Gatekeeper role of brain antigen-presenting CD11c+ cells in neuroinflammation. EMBO J. 35, 89–101 (2016).

53.

Spiwoks-Becker, I., Lamberti, R., Tom Dieck, S. & Spessert, R. Evidence for synergistic and complementary roles of Bassoon and darkness in organizing the ribbon synapse. Neuroscience 236, 149–159 (2013).

54.

Luchtman, D. et al. In vivo and in vitro effects of multiple sclerosis immunomodulatory therapeutics on glutamatergic excitotoxicity. J. Neurochem. 136, 971–980 (2016).

55.

Becker, D., Zahn, N., Deller, T. & Vlachos, A. Tumor necrosis factor alpha maintains denervation-induced homeostatic synaptic plasticity of mouse dentate granule cells. Front. Cell. Neurosci. 7, 257 (2013).

56.

Bussey, T. J. et al. The touchscreen cognitive testing method for rodents: how to get the best out of your rat. Learn. Mem. 15, 516–523 (2008).

57.

Rowland, N. E. Food or fluid restriction in common laboratory animals: balancing welfare considerations with scientific inquiry. Comp. Med. 57, 149–160 (2007).
Acknowledgements
This study was supported by the German Research Council (DFG, CRC-TR-128 (to F.Z., S.B., T.K. and A.S.) and CRC-1080 (to A.S., T.M. and F.Z.)). We thank C. Fois, J. Doering, P.-H. Prouvot, M. Schwalm, E. Witsch, F. Aedo-Jury, K. Radyushkin and K. Robohm for support. We would like to thank A. Zymny, C. Liefländer, H. Ehrengard, O. Levai and I. Gravenitz for excellent technical assistance and D. O'Neill, C. Ernest and S. Stroh for proofreading the manuscript.
Ethics declarations
Competing interests
The authors declare no competing interests.
Additional information
Publisher's note: Springer Nature remains neutral with regard to jurisdictional claims in published maps and institutional affiliations.
Integrated supplementary information
Supplementary information
About this article
Cite this article
Ellwardt, E., Pramanik, G., Luchtman, D. et al. Maladaptive cortical hyperactivity upon recovery from experimental autoimmune encephalomyelitis. Nat Neurosci 21, 1392–1403 (2018). https://doi.org/10.1038/s41593-018-0193-2
Received:

Accepted:

Published:

Issue Date: