Abstract
Functional neuroanatomy of Pavlovian fear has identified neuronal circuits and synapses associating conditioned stimuli with aversive events. Hebbian plasticity within these networks requires additional reinforcement to store particularly salient experiences into long-term memory. Here we have identified a circuit that reciprocally connects the ventral periaqueductal gray and dorsal raphe region with the central amygdala and that gates fear learning. We found that ventral periaqueductal gray and dorsal raphe dopaminergic (vPdRD) neurons encode a positive prediction error in response to unpredicted shocks and may reshape intra-amygdala connectivity via a dopamine-dependent form of long-term potentiation. Negative feedback from the central amygdala to vPdRD neurons might limit reinforcement to events that have not been predicted. These findings add a new module to the midbrain dopaminergic circuit architecture underlying associative reinforcement learning and identify vPdRD neurons as a critical component of Pavlovian fear conditioning. We propose that dysregulation of vPdRD neuronal activity may contribute to fear-related psychiatric disorders.
Access options
Subscribe to Journal
Get full journal access for 1 year
$59.00
only $4.92 per issue
All prices are NET prices.
VAT will be added later in the checkout.
Tax calculation will be finalised during checkout.
Rent or Buy article
Get time limited or full article access on ReadCube.
from$8.99
All prices are NET prices.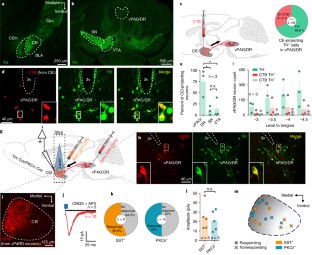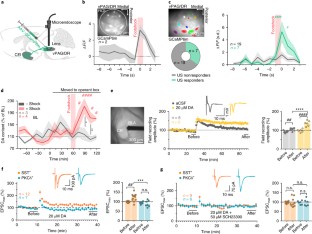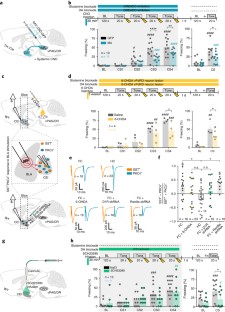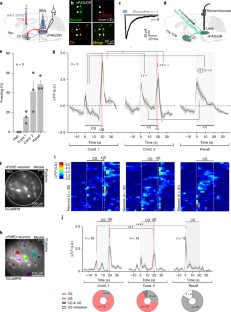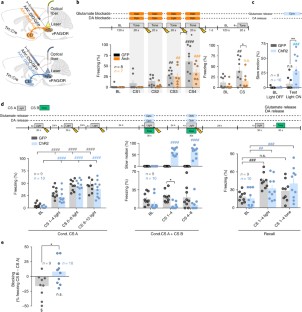 References
1.

LeDoux, J. The amygdala. Curr. Biol. 17, R868–R874 (2007).

2.

Gallistel, C. R. & Matzel, L. D. The neuroscience of learning: beyond the Hebbian synapse. Annu. Rev. Psychol. 64, 169–200 (2013).

3.

Ciocchi, S. et al. Encoding of conditioned fear in central amygdala inhibitory circuits. Nature 468, 277–282 (2010).

4.

Haubensak, W. et al. Genetic dissection of an amygdala microcircuit that gates conditioned fear. Nature 468, 270–276 (2010).

5.

Li, H. et al. Experience-dependent modification of a central amygdala fear circuit. Nat. Neurosci. 16, 332–339 (2013).

6.

Cui, Y. et al. A central amygdala-substantia innominata neural circuitry encodes aversive reinforcement signals. Cell. Rep. 21, 1770–1782 (2017).

7.

Cassenaer, S. & Laurent, G. Conditional modulation of spike-timing-dependent plasticity for olfactory learning. Nature 482, 47–52 (2012).

8.

Schultz, W. Behavioral dopamine signals. Trends Neurosci. 30, 203–210 (2007).

9.

Fiorillo, C. D. Two dimensions of value: dopamine neurons represent reward but not aversiveness. Science 341, 546–549 (2013).

10.

Cohen, J. Y., Haesler, S., Vong, L., Lowell, B. B. & Uchida, N. Neuron-type-specific signals for reward and punishment in the ventral tegmental area. Nature 482, 85–88 (2012).

11.

Hart, A. S., Rutledge, R. B., Glimcher, P. W. & Phillips, P. E. Phasic dopamine release in the rat nucleus accumbens symmetrically encodes a reward prediction error term. J. Neurosci. 34, 698–704 (2014).

12.

Bromberg-Martin, E. S., Matsumoto, M. & Hikosaka, O. Dopamine in motivational control: rewarding, aversive, and alerting. Neuron 68, 815–834 (2010).

13.

Silberman, Y. & Winder, D. G. Corticotropin releasing factor and catecholamines enhance glutamatergic neurotransmission in the lateral subdivision of the central amygdala. Neuropharmacology 70, 316–323 (2013).

14.

Naylor, J. C. et al. Dopamine attenuates evoked inhibitory synaptic currents in central amygdala neurons. Eur. J. Neurosci. 32, 1836–1842 (2010).

15.

Brischoux, F., Chakraborty, S., Brierley, D. I. & Ungless, M. A. Phasic excitation of dopamine neurons in ventral VTA by noxious stimuli. Proc. Natl Acad. Sci. USA 106, 4894–4899 (2009).

16.

Ungless, M. A., Magill, P. J. & Bolam, J. P. Uniform inhibition of dopamine neurons in the ventral tegmental area by aversive stimuli. Science 303, 2040–2042 (2004).

17.

Tan, K. R. et al. GABA neurons of the VTA drive conditioned place aversion. Neuron 73, 1173–1183 (2012).

18.

Mileykovskiy, B. & Morales, M. Duration of inhibition of ventral tegmental area dopamine neurons encodes a level of conditioned fear. J. Neurosci. 31, 7471–7476 (2011).

19.

Schultz, W. Neuronal reward and decision signals: from theories to data. Physiol. Rev. 95, 853–951 (2015).

20.

Dougalis, A. G. et al. Functional properties of dopamine neurons and co-expression of vasoactive intestinal polypeptide in the dorsal raphe nucleus and ventro-lateral periaqueductal grey. Eur. J. Neurosci. 36, 3322–3332 (2012).

21.

Matthews, G. A. et al. Dorsal raphe dopamine neurons represent the experience of social isolation. Cell 164, 617–631 (2016).

22.

Lu, J., Jhou, T. C. & Saper, C. B. Identification of wake-active dopaminergic neurons in the ventral periaqueductal gray matter. J. Neurosci. 26, 193–202 (2006).

23.

McDevitt, R. A. et al. Serotonergic versus nonserotonergic dorsal raphe projection neurons: differential participation in reward circuitry. Cell. Rep. 8, 1857–1869 (2014).

24.

Fibiger, H. C., LePiane, F. G., Jakubovic, A. & Phillips, A. G. The role of dopamine in intracranial self-stimulation of the ventral tegmental area. J. Neurosci. 7, 3888–3896 (1987).

25.

McNally, G. P. & Cole, S. Opioid receptors in the midbrain periaqueductal gray regulate prediction errors during Pavlovian fear conditioning. Behav. Neurosci. 120, 313–323 (2006).

26.

Johansen, J. P., Tarpley, J. W., LeDoux, J. E. & Blair, H. T. Neural substrates for expectation-modulated fear learning in the amygdala and periaqueductal gray. Nat. Neurosci. 13, 979–986 (2010).

27.

de la Mora, M. P., Gallegos-Cari, A., Arizmendi-García, Y., Marcellino, D. & Fuxe, K. Role of dopamine receptor mechanisms in the amygdaloid modulation of fear and anxiety: structural and functional analysis. Prog. Neurobiol. 90, 198–216 (2010).

28.

Swanson, L. W. The projections of the ventral tegmental area and adjacent regions: a combined fluorescent retrograde tracer and immunofluorescence study in the rat. Brain Res. Bull. 9, 321–353 (1982).

29.

Lee, H. J., Wheeler, D. S. & Holland, P. C. Interactions between amygdala central nucleus and the ventral tegmental area in the acquisition of conditioned cue-directed behavior in rats. Eur. J. Neurosci. 33, 1876–1884 (2011).

30.

Rescorla, R.A. & Wagner, A.R. A Theory of Pavlovian Conditioning: Variations in the Effectiveness of Reinforcement and Nonreinforcement (eds. Black, A.H. & Prokasy, W.F.) 64–99 (Appleton-Century-Crofts, New York, NY, 1972).

31.

Edelmann, E. & Lessmann, V. Dopamine regulates intrinsic excitability thereby gating successful induction of spike timing-dependent plasticity in CA1 of the hippocampus. Front. Neurosci. 7, 25 (2013).

32.

Yu, K., Garcia da Silva, P., Albeanu, D. F. & Li, B. Central amygdala somatostatin neurons gate passive and active defensive behaviors. J. Neurosci. 36, 6488–6496 (2016).

33.

Nagatsu, I., Karasawa, N., Kondo, Y. & Inagaki, S. Immunocytochemical localization of tyrosine hydroxylase, dopamine-beta-hydroxylase and phenylethanolamine-N-methyltransferase in the adrenal glands of the frog and rat by a peroxidase-antiperoxidase method. Histochemistry 64, 131–144 (1979).

34.

Roy, M. et al. Representation of aversive prediction errors in the human periaqueductal gray. Nat. Neurosci. 17, 1607–1612 (2014).

35.

Correia, P. A. et al. Transient inhibition and long-term facilitation of locomotion by phasic optogenetic activation of serotonin neurons. eLife 6, e20975 (2017).

36.

Kamin, L.J. in Punishment and Aversive Behavior (eds. Campbell, B.A. & Church, R.M.) 279–296 (Appleton-Century-Crofts, New York, NY, 1969).

37.

Di Scala, G., Mana, M. J., Jacobs, W. J. & Phillips, A. G. Evidence of Pavlovian conditioned fear following electrical stimulation of the periaqueductal grey in the rat. Physiol. Behav. 40, 55–63 (1987).

38.

McNally, G. P., Johansen, J. P. & Blair, H. T. Placing prediction into the fear circuit. Trends Neurosci. 34, 283–292 (2011).

39.

Ozawa, T. et al. A feedback neural circuit for calibrating aversive memory strength. Nat. Neurosci. 20, 90–97 (2017).

40.

Pearce, J. M. & Hall, G. A model for Pavlovian learning: variations in the effectiveness of conditioned but not of unconditioned stimuli. Psychol. Rev. 87, 532–552 (1980).

41.

Venniro, M. et al. The anterior insular cortex→central amygdala glutamatergic pathway is critical to relapse after contingency management. Neuron 96, 414–427.e8 (2017).

42.

Fadok, J. P., Dickerson, T. M. & Palmiter, R. D. Dopamine is necessary for cue-dependent fear conditioning. J. Neurosci. 29, 11089–11097 (2009).

43.

De Bundel, D. et al. Dopamine D2 receptors gate generalization of conditioned threat responses through mTORC1 signaling in the extended amygdala. Mol. Psychiatry 21, 1545–1553 (2016).

44.

Kim, J., Zhang, X., Muralidhar, S., LeBlanc, S. A. & Tonegawa, S. Basolateral to central amygdala neural circuits for appetitive behaviors. Neuron 93, 1464–1479.e5 (2017).

45.

Tsai, H.-C. et al. Phasic firing in dopaminergic neurons is sufficient for behavioral conditioning. Science 324, 1080–1084 (2009).

46.

Han, S., Soleiman, M. T., Soden, M. E., Zweifel, L. S. & Palmiter, R. D. Elucidating an affective pain circuit that creates a threat memory. Cell 162, 363–374 (2015).

47.

Tritsch, N. X., Granger, A. J. & Sabatini, B. L. Mechanisms and functions of GABA co-release. Nat. Rev. Neurosci. 17, 139–145 (2016).

48.

Gozzi, A. et al. A neural switch for active and passive fear. Neuron 67, 656–666 (2010).

49.

Yu, K. et al. The central amygdala controls learning in the lateral amygdala. Nat. Neurosci. 20, 1680–1685 (2017).

50.

Asmundson, G. J., Bonin, M. F., Frombach, I. K. & Norton, G. R. Evidence of a disposition toward fearfulness and vulnerability to posttraumatic stress in dysfunctional pain patients. Behav. Res. Ther. 38, 801–812 (2000).

51.

Franklin, K. B. J. & Paxinos, G. The Mouse Brain in Stereotaxic Coordinates. 3rd ed. (Academic Press, San Diego, CA, USA, 2007).

52.

Bi, L. L. et al. Amygdala NRG1-ErbB4 is critical for the modulation of anxiety-like behaviors. Neuropsychopharmacology 40, 974–986 (2015).

53.

Grippo, R. M., Purohit, A. M., Zhang, Q., Zweifel, L. S. & Güler, A. D. Direct midbrain dopamine input to the suprachiasmatic nucleus accelerates circadian entrainment. Curr. Biol. 27, 2465–2475.e3 (2017).

54.

Fellmann, C. et al. An optimized microRNA backbone for effective single-copy RNAi. Cell. Rep. 5, 1704–1713 (2013).

55.

Meis, S., Endres, T. & Lessmann, V. Postsynaptic BDNF signalling regulates long-term potentiation at thalamo-amygdala afferents. J. Physiol. (Lond.) 590, 193–208 (2012).

56.

Dobin, A. et al. STAR: ultrafast universal RNA-seq aligner. Bioinformatics 29, 15–21 (2013).

57.

Kim, D. et al. TopHat2: accurate alignment of transcriptomes in the presence of insertions, deletions and gene fusions. Genome Biol. 14, R36 (2013).

58.

Anders, S., Pyl, P. T. & Huber, W. HTSeq–a Python framework to work with high-throughput sequencing data. Bioinformatics 31, 166–169 (2015).

59.

Tovote, P. et al. Midbrain circuits for defensive behaviour. Nature 534, 206–212 (2016).

60.

Cho, J. R. et al. Dorsal raphe dopamine neurons modulate arousal and promote wakefulness by salient stimuli. Neuron 94, 1205–1219.e8 (2017).
Acknowledgements
We thank B. Werner, N. Kaouane, and the Next Generation Sequencing (NGS) Core at Vienna Biocenter Core Facilities GmbH (VBCF) for neuronal population sequencing and S. Rumpel for scientific discussion and advice. We thank M. Pasieka of the Scientific Computing Unit at the Vienna Bio Campus (VBC), the Facility for Advanced Microscopy at the Vienna Bio Campus (VBC), and in particular, P. Pasierbek and T. Lendl for help with confocal microscopy. We further thank the Facility for Preclinical Phenotyping at the Vienna Biocenter Core Facilities GmbH (VBCF), M. al Banchaabouchi, the IMP animal facility, and A. Stepanek for help with behavioral assays and animal research. We thank HistoPathology at the VBCF for expertise and histological services. B. Ferger (Boehringer Ingelheim, Germany) and G. Filk (Brains On-Line LLC, San Francisco, USA) provided valuable discussions and microdialysis data, and L. Piszczek set up and analyzed FACS control experiments for D1R knockdown. We thank M. Roth and J. Jude for advice in RNAi experiments. W.H. was supported by a grant from the European Community's Seventh Framework Programme (FP/2007-2013)/ERC grant agreement no. 311701, the Research Institute of Molecular Pathology (IMP), Boehringer Ingelheim, and the Austrian Research Promotion Agency (FFG). S.M., T.M., and V.L. were supported by the DFG (TP B06 of SFB 779). The Vienna Biocenter Core Facilities GmgH (VBCF) Preclinical Phenotyping Facility acknowledges funding from the Austrian Federal Ministry of Science, Research & Economy and from the City of Vienna.
Ethics declarations
Competing interests
The authors declare no competing interests.
Additional information
Publisher's note: Springer Nature remains neutral with regard to jurisdictional claims in published maps and institutional affiliations.
Integrated supplementary information
Supplementary information
About this article
Cite this article
Groessl, F., Munsch, T., Meis, S. et al. Dorsal tegmental dopamine neurons gate associative learning of fear. Nat Neurosci 21, 952–962 (2018). https://doi.org/10.1038/s41593-018-0174-5
Received:

Accepted:

Published:

Issue Date: