Abstract
Previous studies suggested that MeCP2 competes with linker histone H1, but this hypothesis has never been tested in vivo. Here, we performed chromatin immunoprecipitation followed by sequencing (ChIP-seq) of Flag-tagged-H1.0 in mouse forebrain excitatory neurons. Unexpectedly, Flag-H1.0 and MeCP2 occupied similar genomic regions and the Flag-H1.0 binding was not changed upon MeCP2 depletion. Furthermore, mild overexpression of H1.0 did not alter MeCP2 binding, suggesting that the functional binding of MeCP2 and H1.0 are largely independent.
This is a preview of subscription content
Access options
Subscribe to Nature+
Get immediate online access to the entire Nature family of 50+ journals
Subscribe to Journal
Get full journal access for 1 year
$59.00
only $4.92 per issue
All prices are NET prices.
VAT will be added later in the checkout.
Tax calculation will be finalised during checkout.
Buy article
Get time limited or full article access on ReadCube.
$32.00
All prices are NET prices.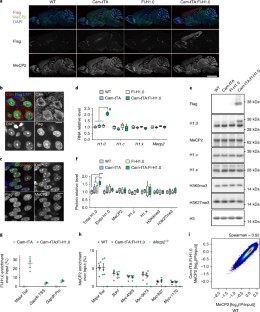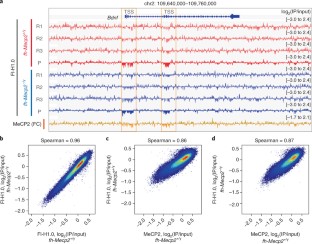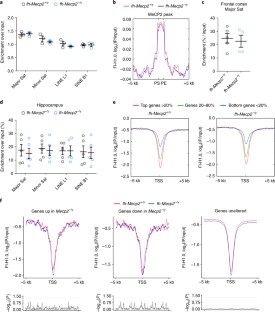 References
Amir, R. E. et al. Nat. Genet. 23, 185–188 (1999).

Lombardi, L. M., Baker, S. A. & Zoghbi, H. Y. J. Clin. Invest. 125, 2914–2923 (2015).

Nan, X., Campoy, F. J. & Bird, A. Cell 88, 471–481 (1997).

Lewis, J. D. et al. Cell 69, 905–914 (1992).

Chahrour, M. et al. Science 320, 1224–1229 (2008).

Skene, P. J. et al. Mol. Cell 37, 457–468 (2010).

Chen, L. et al. Proc. Natl. Acad. Sci. USA 112, 5509–5514 (2015).

Nikitina, T. et al. J. Biol. Chem. 282, 28237–28245 (2007).

Ghosh, R. P., Horowitz-Scherer, R. A., Nikitina, T., Shlyakhtenko, L. S. & Woodcock, C. L. Mol. Cell. Biol. 30, 4656–4670 (2010).

Baker, S. A. et al. Cell 152, 984–996 (2013).

Kishi, Y., Fujii, Y., Hirabayashi, Y. & Gotoh, Y. Nat. Neurosci. 15, 1127–1133 (2012).

Catez, F. et al. Mol. Cell. Biol. 24, 4321–4328 (2004).

Gemelli, T. et al. Biol. Psychiatry 59, 468–476 (2006).

Lu, X. et al. Science 340, 78–81 (2013).

Cao, K. et al. PLoS Genet. 9, e1003417 (2013).

Cohen, S. et al. Neuron 72, 72–85 (2011).

Lagger, S. et al. PLoS Genet. 13, e1006793 (2017).

Gabel, H. W. et al. Nature 522, 89–93 (2015).

Lister, R. et al. Science 341, 1237905 (2013).

Sugino, K. et al. J. Neurosci. 34, 12877–12883 (2014).

Mayford, M. et al. Science 274, 1678–1683 (1996).

Collins, A. L. et al. Hum. Mol. Genet. 13, 2679–2689 (2004).

Guy, J., Gan, J., Selfridge, J., Cobb, S. & Bird, A. Science 315, 1143–1147 (2007).

Ramocki, M. B. Autism and other neuropsychiatric symptoms are prevalent in individuals with duplication syndrome. Ann. Neurol. 66, 771–782 (2009).

Swiech, L. et al. Nat. Biotechnol. 33, 102–106 (2015).

Martens, J. H. et al. EMBO J. 24, 800–812 (2005).

Quinlan, A. R. & Hall, I. M. Bioinformatics 26, 841–842 (2010).

Ramírez, F., Dündar, F., Diehl, S., Grüning, B. A. & Manke, T. Nucleic Acids Res. 42, W187–W191 (2014).

Zhao, H. et al. Bioinformatics 30, 1006–1007 (2014).

Zhang, Y. et al. Genome Biol. 9, R137 (2008).

Patro, R., Duggal, G. & Kingsford, C. Preprint at https://www.biorxiv.org/content/early/2015/06/27/021592 (2015).

Ito-Ishida, A., Ure, K., Chen, H., Swann, J. W. & Zoghbi, H. Y. Neuron 88, 651–658 (2015).
Acknowledgements
This research was supported by NIH/NINDS 5R01NS057819 (H.Y.Z.), the Japan Society for the Promotion of Science (A.I.-I.), Genetically Engineered Mouse Core and Genomic and RNA Profiling Core at BCM, Neurovisualization Core at the BCM Intellectual and Developmental Disabilities Research Center (NIH/1U54HD083092), and NSF DMS#1263932 and CPRIT RP170387 (Z.L.). H.Y.Z. is an investigator with the Howard Hughes Medical Institute.
Ethics declarations
Competing interests
The authors declare no competing interests.
Additional information
Publisher's note: Springer Nature remains neutral with regard to jurisdictional claims in published maps and institutional affiliations.
Integrated Supplementary Information
Supplementary information
Supplementary Figures 1–5
About this article
Cite this article
Ito-Ishida, A., Yamalanchili, H.K., Shao, Y. et al. Genome-wide distribution of linker histone H1.0 is independent of MeCP2. Nat Neurosci 21, 794–798 (2018). https://doi.org/10.1038/s41593-018-0155-8
Received:

Accepted:

Published:

Issue Date:

DOI: https://doi.org/10.1038/s41593-018-0155-8
Further reading
Wooje Lee
Jeeho Kim
Qizhi Gong

Nature Communications (2020)

Kai Ni
Jianke Ren
Kathrin Muegge

Nature Communications (2020)