Abstract
Intermale aggression is used to establish social rank. Several neuronal populations have been implicated in aggression, but the circuit mechanisms that shape this innate behavior and coordinate its different components (including attack execution and reward) remain elusive. We show that dopamine transporter-expressing neurons in the hypothalamic ventral premammillary nucleus (PMvDAT neurons) organize goal-oriented aggression in male mice. Activation of PMvDAT neurons triggers attack behavior; silencing these neurons interrupts attacks. Regenerative PMvDAT membrane conductances interacting with recurrent and reciprocal excitation explain how a brief trigger can elicit a long-lasting response (hysteresis). PMvDAT projections to the ventrolateral part of the ventromedial hypothalamic and the supramammillary nuclei control attack execution and aggression reward, respectively. Brief manipulation of PMvDAT activity switched the dominance relationship between males, an effect persisting for weeks. These results identify a network structure anchored in PMvDAT neurons that organizes aggressive behavior and, as a consequence, determines intermale hierarchy.
Access options
Subscribe to Journal
Get full journal access for 1 year
$209.00
only $17.42 per issue
All prices are NET prices.
VAT will be added later in the checkout.
Rent or Buy article
Get time limited or full article access on ReadCube.
from$8.99
All prices are NET prices.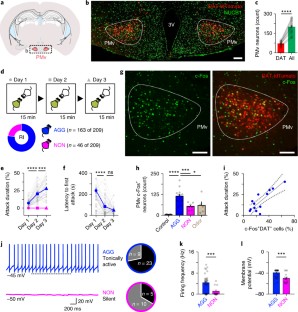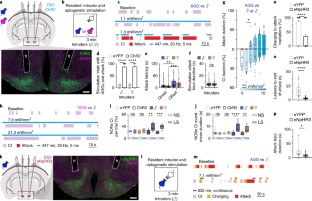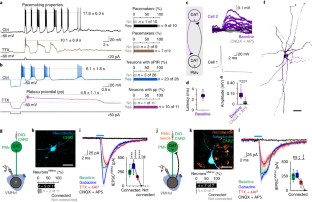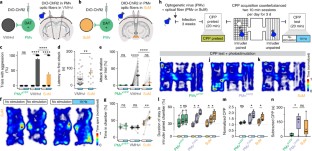 References
1.

Moyer, K. E. Kinds of aggression and their physiological basis. Commun. Behav. Biol. 2, 65–87 (1968).

2.

Yang, T. & Shah, N. M. Molecular and neural control of sexually dimorphic social behaviors. Curr. Opin. Neurobiol. 38, 89–95 (2016).

3.

Fernandez-Espejo, E. & Mir, D. Ethological analysis of the male rat's socioagonistic behavior in a resident-intruder paradigm. Aggress. Behav. 16, 41–55 (1990).

4.

Natarajan, D., de Vries, H., Saaltink, D. J., de Boer, S. F. & Koolhaas, J. M. Delineation of violence from functional aggression in mice: an ethological approach. Behav. Genet. 39, 73–90 (2009).

5.

Hess, W. R. & Brügger, M. Das subkortikale Zentrum der affektiven Abwehrreaktion. (The subcortical center for affective defense reactions.). Helv. Physiol. Pharmacol. Acta 1, 33–52 (1943).

6.

Kruk, M. R. et al. Discriminant analysis of the localization of aggression-inducing electrode placements in the hypothalamus of male rats. Brain Res. 260, 61–79 (1983).

7.

Lammers, J. H., Kruk, M. R., Meelis, W. & van der Poel, A. M. Hypothalamic substrates for brain stimulation-induced attack, teeth-chattering and social grooming in the rat. Brain Res. 449, 311–327 (1988).

8.

Olivier, B. & Wiepkema, P. R. Behaviour changes in mice following electrolytic lesions in the median hypothalamus. Brain Res. 65, 521–524 (1974).

9.

Levinson, D. M., Reeves, D. L. & Buchanan, D. R. Reductions in aggression and dominance status in guinea pigs following bilateral lesions in the basolateral amygdala or lateral septum. Physiol. Behav. 25, 963–971 (1980).

10.

Golden, S. A. et al. Basal forebrain projections to the lateral habenula modulate aggression reward. Nature 534, 688–692 (2016).

11.

Unger, E. K. et al. Medial amygdalar aromatase neurons regulate aggression in both sexes. Cell Rep. 10, 453–462 (2015).

12.

Ulrich, R. E. & Craine, W. H. Behavior: persistence of shock-induced aggression. Science 143, 971–973 (1964).

13.

Lee, H. et al. Scalable control of mounting and attack by Esr1+ neurons in the ventromedial hypothalamus. Nature 509, 627–632 (2014).

14.

Donato, J. Jr. et al. Leptin's effect on puberty in mice is relayed by the ventral premammillary nucleus and does not require signaling in Kiss1 neurons. J. Clin. Invest. 121, 355–368 (2011).

15.

Motta, S. C. et al. Ventral premammillary nucleus as a critical sensory relay to the maternal aggression network. Proc. Natl. Acad. Sci. USA 110, 14438–14443 (2013).

16.

Lin, D. et al. Functional identification of an aggression locus in the mouse hypothalamus. Nature 470, 221–226 (2011).

17.

Kollack-Walker, S. & Newman, S. W. Mating and agonistic behavior produce different patterns of Fos immunolabeling in the male Syrian hamster brain. Neuroscience 66, 721–736 (1995).

18.

Soden, M. E. et al. Genetic isolation of hypothalamic neurons that regulate context-specific male social behavior. Cell Rep. 16, 304–313 (2016).

19.

Van den Berg, M. J., Ter Horst, G. J. & Koolhaas, J. M. The Nucleus premammillaris ventralis (Pmv) and aggressive-behavior in the rat. Aggress. Behav. 9, 41–47 (1983).

20.

Canteras, N. S., Simerly, R. B. & Swanson, L. W. Projections of the ventral premammillary nucleus. J. Comp. Neurol. 324, 195–212 (1992).

21.

Cavalcante, J. C., Bittencourt, J. C. & Elias, C. F. Distribution of the neuronal inputs to the ventral premammillary nucleus of male and female rats. Brain Res. 1582, 77–90 (2014).

22.

Ziegler, D. R., Cullinan, W. E. & Herman, J. P. Distribution of vesicular glutamate transporter mRNA in rat hypothalamus. J. Comp. Neurol. 448, 217–229 (2002).

23.

Meister, B. & Elde, R. Dopamine transporter mRNA in neurons of the rat hypothalamus. Neuroendocrinology 58, 388–395 (1993).

24.

Blanchard, D. C. & Blanchard, R. J. Ethoexperimental approaches to the biology of emotion. Annu. Rev. Psychol. 39, 43–68 (1988).

25.

Curran, T. & Morgan, J. I. Fos: an immediate-early transcription factor in neurons. J. Neurobiol. 26, 403–412 (1995).

26.

Polston, E. K. & Erskine, M. S. Patterns of induction of the immediate-early genes c-fos and egr-1 in the female rat brain following differential amounts of mating stimulation. Neuroendocrinology 62, 370–384 (1995).

27.

Barbosa, F. et al. Hysteresis effect in the processing of facial expressions of emotion and its neurophysiological correlates. Psychophysiology 50, S132 (2013).

28.

McCormick, D. A. & Pape, H. C. Properties of a hyperpolarization-activated cation current and its role in rhythmic oscillation in thalamic relay neurones. J. Physiol. (Lond.) 431, 291–318 (1990).

29.

Falkner, A. L., Dollar, P., Perona, P., Anderson, D. J. & Lin, D. Decoding ventromedial hypothalamic neural activity during male mouse aggression. J. Neurosci. 34, 5971–5984 (2014).

30.

Yang, T. et al. Social control of hypothalamus-mediated male aggression. Neuron 95, 955–970.e4 (2017).

31.

Tong, Q. et al. Synaptic glutamate release by ventromedial hypothalamic neurons is part of the neurocircuitry that prevents hypoglycemia. Cell Metab. 5, 383–393 (2007).

32.

Fish, E. W., DeBold, J. F. & Miczek, K. A. Escalated aggression as a reward: corticosterone and GABA(A) receptor positive modulators in mice. Psychopharmacology (Berl.) 182, 116–127 (2005).

33.

Burgdorf, J. et al. Ultrasonic vocalizations of rats (Rattus norvegicus) during mating, play, and aggression: behavioral concomitants, relationship to reward, and self-administration of playback. J. Comp. Psychol. 122, 357–367 (2008).

34.

Ikemoto, S., Witkin, B. M., Zangen, A. & Wise, R. A. Rewarding effects of AMPA administration into the supramammillary or posterior hypothalamic nuclei but not the ventral tegmental area. J. Neurosci. 24, 5758–5765 (2004).

35.

Ikemoto, S. & Bonci, A. Neurocircuitry of drug reward. Neuropharmacology 76 Pt B, 329–341 (2014).

36.

Spiteri, T. et al. The role of the estrogen receptor alpha in the medial amygdala and ventromedial nucleus of the hypothalamus in social recognition, anxiety and aggression. Behav. Brain Res. 210, 211–220 (2010).

37.

Desjardins, C., Maruniak, J. A. & Bronson, F. H. Social rank in house mice: differentiation revealed by ultraviolet visualization of urinary marking patterns. Science 182, 939–941 (1973).

38.

Wong, M. & Balshine, S. Fight for your breeding right: hierarchy re-establishment predicts aggression in a social queue. Biol. Lett. 7, 190–193 (2011).

39.

Bernstein, I. S., Rose, R. M., Gordon, T. P. & Grady, C. L. Agonistic rank, aggression, social-context, and testosterone in male pigtail monkeys. Aggress. Behav. 5, 329–339 (1979).

40.

Young, C., Majolo, B., Schulke, O. & Ostner, J. Male social bonds and rank predict supporter selection in cooperative aggression in wild Barbary macaques. Anim. Behav. 95, 23–32 (2014).

41.

van den Berg, W. E., Lamballais, S. & Kushner, S. A. Sex-specific mechanism of social hierarchy in mice. Neuropsychopharmacology 40, 1364–1372 (2015).

42.

Lindzey, G., Winston, H. & Manosevitz, M. Social dominance in inbred mouse strains. Nature 191, 474–476 (1961).

43.

Zhou, T. et al. History of winning remodels thalamo-PFC circuit to reinforce social dominance. Science 357, 162–168 (2017).

44.

Südhof, T. C. Reproducibility: Experimental mismatch in neural circuits. Nature 528, 338–339 (2015).

45.

Hoebel, B. G. The neural and chemical basis of reward - new discoveries and theories in brain control of feeding, mating, aggression, self-stimulation and self-injection. J. Soc. Biol. Struct. 5, 397–408 (1982).

46.

Gil, M., Nguyen, N. T., McDonald, M. & Albers, H. E. Social reward: interactions with social status, social communication, aggression, and associated neural activation in the ventral tegmental area. Eur. J. Neurosci. 38, 2308–2318 (2013).

47.

Anderson, P. K. Density, social structure, and nonsocial environment in house-mouse populations and the implications for regulation of numbers. Trans. N. Y. Acad. Sci. 23, 447–451 (1961).

48.

Singleton, G. R. The social and genetic-structure of a natural colony of house mice, Mus musculus, at Healesville Wildlife Sanctuary. Aust. J. Zool. 31, 155–166 (1983).

49.

Chambers, L. K., Singleton, G. R. & Krebs, C. J. Movements and social organization of wild house mice (Mus domesticus) in the wheatlands of northwestern Victoria, Australia. J. Mamm. 81, 59–69 (2000).

50.

Ekstrand, M. I. et al. Progressive Parkinsonism in mice with respiratory-chain-deficient dopamine neurons. Proc. Natl. Acad. Sci. USA 104, 1325–1330 (2007).

51.

Russo, S. J. et al. Nuclear factor kappa B signaling regulates neuronal morphology and cocaine reward. J. Neurosci. 29, 3529–3537 (2009).

52.

Petersson, U. et al. Nucleobindin is produced by bone cells and secreted into the osteoid, with a potential role as a modulator of matrix maturation. Bone 34, 949–960 (2004).

53.

Tulke, S. et al. Nucleobindin 1 (NUCB1) is a Golgi-resident marker of neurons. Neuroscience 314, 179–188 (2016).

54.

Franklin, K.B.J. & Paxinos, G. The Mouse Brain in Stereotactic Coordinates, 3rd ed. (Academic Press, Cambridge, MA, 2008).
Acknowledgements
The authors thank I. Lazaridis for advice on optogenetics; C. Bellardita and V. Caggiano for advice on hardware, software coding, and experiments; and K. Ampatzis for advice on illustrations. We thank members of the Broberger laboratory for discussion during the preparation of this manuscript; N.G. Larsson and O. Kiehn for sharing the DAT-Cre and loxP-flanked tdTomato mice, respectively; and K. Fuxe for sharing reagents. We thank M. Wendel (Dept. of Dental Medicine, Karolinska Institutet) for generously sharing primary NUCB-1 antiserum. The authors acknowledge I. Lazaridis, C. Bellardita, and A. El Manira for providing insightful suggestions on the manuscript. This study was supported by a European Research Council starting grant (261286), the Swedish Research Council (2014-3906), the Strategic Research Program in Diabetes at Karolinska Institutet, Hjärnfonden (the Swedish Brain Foundation), Novo Nordisk Fonden, and internal funds from Karolinska Institutet.
Ethics declarations
Competing interests
The authors declare no competing interests.
Additional information
Publisher's note: Springer Nature remains neutral with regard to jurisdictional claims in published maps and institutional affiliations.
Integrated Supplementary Information
Supplementary information
About this article
Cite this article
Stagkourakis, S., Spigolon, G., Williams, P. et al. A neural network for intermale aggression to establish social hierarchy. Nat Neurosci 21, 834–842 (2018). https://doi.org/10.1038/s41593-018-0153-x
Received:

Accepted:

Published:

Issue Date: