Abstract
Over the past 20 years, neuroscience research on reward-based learning has converged on a canonical model, under which the neurotransmitter dopamine 'stamps in' associations between situations, actions and rewards by modulating the strength of synaptic connections between neurons. However, a growing number of recent findings have placed this standard model under strain. We now draw on recent advances in artificial intelligence to introduce a new theory of reward-based learning. Here, the dopamine system trains another part of the brain, the prefrontal cortex, to operate as its own free-standing learning system. This new perspective accommodates the findings that motivated the standard model, but also deals gracefully with a wider range of observations, providing a fresh foundation for future research.
This is a preview of subscription content
Access options
Subscribe to Journal
Get full journal access for 1 year
$59.00
only $4.92 per issue
All prices are NET prices.
VAT will be added later in the checkout.
Tax calculation will be finalised during checkout.
Rent or Buy article
Get time limited or full article access on ReadCube.
from$8.99
All prices are NET prices.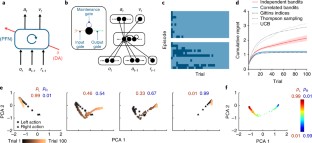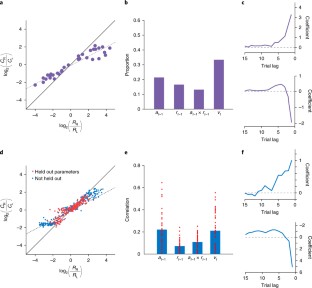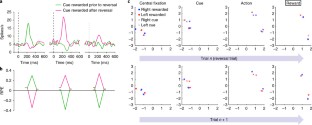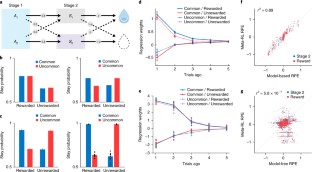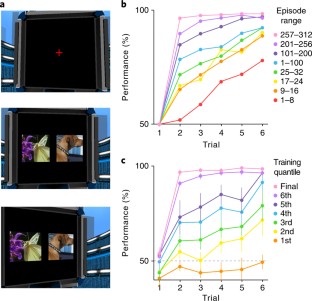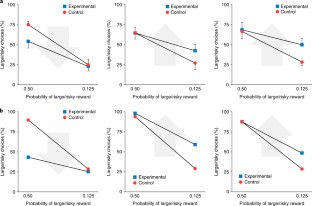 References
1.

Sutton, R. S. & Barto, A. G. Reinforcement Learning: An Introduction (MIT Press, Cambridge, MA, USA, 1998).

2.

Montague, P. R., Dayan, P. & Sejnowski, T. J. A framework for mesencephalic dopamine systems based on predictive Hebbian learning. J. Neurosci. 16, 1936–1947 (1996).

3.

Daw, N. D. & Tobler, P. N. Value learning through reinforcement: the basics of dopamine and reinforcement learning. Neuroeconomics: Decision Making and the Brain 2nd edn. (eds. Glimcher, P. W. & Fehr, E) 283–298 (Academic, New York, 2014).

4.

Rushworth, M. F. & Behrens, T. E. Choice, uncertainty and value in prefrontal and cingulate cortex. Nat. Neurosci. 11, 389–397 (2008).

5.

Seo, H. & Lee, D. Cortical mechanisms for reinforcement learning in competitive games. Phil. Trans. R. Soc. Lond. B 363, 3845–3857 (2008).

6.

Padoa-Schioppa, C. & Assad, J. A. Neurons in the orbitofrontal cortex encode economic value. Nature 441, 223–226 (2006).

7.

Tsutsui, K., Grabenhorst, F., Kobayashi, S. & Schultz, W. A dynamic code for economic object valuation in prefrontal cortex neurons. Nat. Commun. 7, 12554 (2016).

8.

Kim, J.-N. & Shadlen, M. N. Neural correlates of a decision in the dorsolateral prefrontal cortex of the macaque. Nat. Neurosci. 2, 176–185 (1999).

9.

Seo, M., Lee, E. & Averbeck, B. B. Action selection and action value in frontal-striatal circuits. Neuron 74, 947–960 (2012).

10.

Barraclough, D. J., Conroy, M. L. & Lee, D. Prefrontal cortex and decision making in a mixed-strategy game. Nat. Neurosci. 7, 404–410 (2004).

11.

Daw, N. D., Niv, Y. & Dayan, P. Uncertainty-based competition between prefrontal and dorsolateral striatal systems for behavioral control. Nat. Neurosci. 8, 1704–1711 (2005).

12.

Bromberg-Martin, E. S., Matsumoto, M., Hong, S. & Hikosaka, O. A pallidus-habenula-dopamine pathway signals inferred stimulus values. J. Neurophysiol. 104, 1068–1076 (2010).

13.

Nakahara, H. & Hikosaka, O. Learning to represent reward structure: a key to adapting to complex environments. Neurosci. Res. 74, 177–183 (2012).

14.

Sadacca, B. F., Jones, J. L. & Schoenbaum, G. Midbrain dopamine neurons compute inferred and cached value prediction errors in a common framework. Elife 5, e13665 (2016).

15.

Daw, N. D., Gershman, S. J., Seymour, B., Dayan, P. & Dolan, R. J. Model-based influences on humans' choices and striatal prediction errors. Neuron 69, 1204–1215 (2011).

16.

Mante, V., Sussillo, D., Shenoy, K. V. & Newsome, W. T. Context-dependent computation by recurrent dynamics in prefrontal cortex. Nature 503, 78–84 (2013).

17.

O'Reilly, R. C. & Frank, M. J. Making working memory work: a computational model of learning in the prefrontal cortex and basal ganglia. Neural Comput. 18, 283–328 (2006).

18.

Song, H. F., Yang, G. R. & Wang, X.-J. Reward-based training of recurrent neural networks for cognitive and value-based tasks. Elife 6, e21492 (2017).

19.

Redish, A. D., Jensen, S., Johnson, A. & Kurth-Nelson, Z. Reconciling reinforcement learning models with behavioral extinction and renewal: implications for addiction, relapse, and problem gambling. Psychol. Rev. 114, 784–805 (2007).

20.

Haber, S. N. The place of dopamine in the cortico-basal ganglia circuit. Neuroscience 282, 248–257 (2014).

21.

Frank, M. J., Seeberger, L. C. & O'Reilly, R. C. By carrot or by stick: cognitive reinforcement learning in parkinsonism. Science 306, 1940–1943 (2004).

22.

Houk, J. C., Adams, C. M. & Barto, A. G. A model of how the basal ganglia generate and use neural signals that predict reinforcement. in Models of Information Processing in the Basal Ganglia (eds. Houk, J.C. & Davis, D.G.) 249–270 (MIT Press, Cambridge, MA, USA, 1995).

23.

Rougier, N. P., Noelle, D. C., Braver, T. S., Cohen, J. D. & O'Reilly, R. C. Prefrontal cortex and flexible cognitive control: rules without symbols. Proc. Natl. Acad. Sci. USA 102, 7338–7343 (2005).

24.

Acuna, D. E. & Schrater, P. Structure learning in human sequential decision-making. PLoS Comput. Biol. 6, e1001003 (2010).

25.

Collins, A. G. & Frank, M. J. How much of reinforcement learning is working memory, not reinforcement learning? A behavioral, computational, and neurogenetic analysis. Eur. J. Neurosci. 35, 1024–1035 (2012).

26.

Thrun, S. & Pratt, L. Learning to Learn (Springer Science & Business Media, New York, 2012).

27.

Khamassi, M., Enel, P., Dominey, P. F. & Procyk, E. Medial prefrontal cortex and the adaptive regulation of reinforcement learning parameters. Prog. Brain Res. 202, 441–464 (2013).

28.

Ishii, S., Yoshida, W. & Yoshimoto, J. Control of exploitation-exploration meta-parameter in reinforcement learning. Neural Netw. 15, 665–687 (2002).

29.

Schweighofer, N. & Doya, K. Meta-learning in reinforcement learning. Neural Netw. 16, 5–9 (2003).

30.

Schmidhuber, J., Zhao, J. & Wiering, M. Simple principles of metalearning. IDSIA (Istituto Dalle Molle Di Studi Sull Intelligenza Artificiale) Technical Report 69-96, 1–23 (1996).

31.

Wang, J.X. et al. Learning to reinforcement learn. Preprint at https://arxiv.org/abs/1611.05763 (2016).

32.

Duan, Y. et al. RL2: fast reinforcement learning via slow reinforcement learning. Preprint at https://arxiv.org/abs/1611.02779 (2016).

33.

Lau, B. & Glimcher, P. W. Dynamic response-by-response models of matching behavior in rhesus monkeys. J. Exp. Anal. Behav. 84, 555–579 (2005).

34.

Behrens, T. E. J., Woolrich, M. W., Walton, M. E. & Rushworth, M. F. S. Learning the value of information in an uncertain world. Nat. Neurosci. 10, 1214–1221 (2007).

35.

Iigaya, K. Adaptive learning and decision-making under uncertainty by metaplastic synapses guided by a surprise detection system. Elife 5, e18073 (2016).

36.

Schuck, N. W., Cai, M. B., Wilson, R. C. & Niv, Y. Human orbitofrontal cortex represents a cognitive map of state space. Neuron 91, 1402–1412 (2016).

37.

Chan, S. C., Niv, Y. & Norman, K. A. A probability distribution over latent causes, in the orbitofrontal cortex. J. Neurosci. 36, 7817–7828 (2016).

38.

Hampton, A. N., Bossaerts, P. & O'Doherty, J. P. The role of the ventromedial prefrontal cortex in abstract state-based inference during decision making in humans. J. Neurosci. 26, 8360–8367 (2006).

39.

Miller, K. J., Botvinick, M. M. & Brody, C. D. Dorsal hippocampus contributes to model-based planning. Nat. Neurosci. 20, 1269–1276 (2017).

40.

Harlow, H. F. The formation of learning sets. Psychol. Rev. 56, 51–65 (1949).

41.

Trujillo-Pisanty, I., Solis, P., Conover, K., Dayan, P. & Shizgal, P. On the forms of learning supported by rewarding optical stimulation of dopamine neurons. Soc. Neurosci. Annu. Meet. 66.06, http://www.abstractsonline.com/pp8/#!/4071/presentation/29633 (2016).

42.

Kim, K. M. et al. Optogenetic mimicry of the transient activation of dopamine neurons by natural reward is sufficient for operant reinforcement. PLoS One 7, e33612 (2012).

43.

Chang, C. Y. et al. Brief optogenetic inhibition of dopamine neurons mimics endogenous negative reward prediction errors. Nat. Neurosci. 19, 111–116 (2016).

44.

Stopper, C. M., Tse, M. T. L., Montes, D. R., Wiedman, C. R. & Floresco, S. B. Overriding phasic dopamine signals redirects action selection during risk/reward decision making. Neuron 84, 177–189 (2014).

45.

Wang, X.-J. Synaptic reverberation underlying mnemonic persistent activity. Trends Neurosci. 24, 455–463 (2001).

46.

Chatham, C. H. & Badre, D. Multiple gates on working memory. Curr. Opin. Behav. Sci. 1, 23–31 (2015).

47.

Kim, H., Lee, D. & Jung, M. W. Signals for previous goal choice persist in the dorsomedial, but not dorsolateral striatum of rats. J. Neurosci. 33, 52–63 (2013).

48.

Takahashi, Y. K. et al. Expectancy-related changes in firing of dopamine neurons depend on orbitofrontal cortex. Nat. Neurosci. 14, 1590–1597 (2011).

49.

Collins, A. G. E. & Frank, M. J. Neural signature of hierarchically structured expectations predicts clustering and transfer of rule sets in reinforcement learning. Cognition 152, 160–169 (2016).

50.

Gershman, S. J. & Daw, N. D. Reinforcement learning and episodic memory in humans and animals: An integrative framework. Annu. Rev. Psychol. 68, 101–128 (2017).

51.

Hochreiter, S. & Schmidhuber, J. Long short-term memory. Neural Comput. 9, 1735–1780 (1997).

52.

Mnih, V. et al. Asynchronous methods for deep reinforcement learning. in Proc. 33rd Intl. Conf. Machine Learning 48, 1928–1937 (JMLR, New York, 2016).

53.

Graves, A., Jaitly, N. & Mohamed, A.-r. Hybrid speech recognition with deep bidirectional LSTM. in IEEE Workshop on Automatic Speech Recognition and Understanding (ASRU) 2013 273–278 (IEEE, 2013).

54.

Leibo, J. Z. et al. Psychlab: a psychology laboratory for deep reinforcement learning agents. Preprint at https://arxiv.org/abs/1801.08116 (2018).

55.

Deng, J. et al. ImageNet: a large-scale hierarchical image database. in IEEE Conference on Computer Vision and Pattern Recognition, CVPR 2009 248–255 (IEEE, 2009).
Acknowledgements
We are grateful to K. Miller, F. Grabenhorst, T. Behrens, E. Bromberg-Martin, S. Floresco and P. Glimcher for graciously providing help with and permission for adapting their data. We thank C. Blundell and R. Munos for discussions and comments on an earlier draft.
Ethics declarations
Competing interests
The authors are employed by DeepMind Technologies Limited.
Additional information
Publisher's note: Springer Nature remains neutral with regard to jurisdictional claims in published maps and institutional affiliations.
Integrated supplementary information
Supplementary information
Supplementary Figures 1–9
– Video illustrating performance in simulation 5.Four consecutive trial blocks are shown. In the first and second blocks, the rewarded image first appears on the left; in the third and fourth, on the right. Images are shown in full resolution. See Methods for details concerning simulation methods
About this article
Cite this article
Wang, J.X., Kurth-Nelson, Z., Kumaran, D. et al. Prefrontal cortex as a meta-reinforcement learning system. Nat Neurosci 21, 860–868 (2018). https://doi.org/10.1038/s41593-018-0147-8
Received:

Accepted:

Published:

Issue Date: