Abstract
The dorsal horn of the spinal cord is critical to processing distinct modalities of noxious and innocuous sensation, but little is known of the neuronal subtypes involved, hampering efforts to deduce principles governing somatic sensation. Here we used single-cell RNA sequencing to classify sensory neurons in the mouse dorsal horn. We identified 15 inhibitory and 15 excitatory molecular subtypes of neurons, equaling the complexity in cerebral cortex. Validating our classification scheme in vivo and matching cell types to anatomy of the dorsal horn by spatial transcriptomics reveals laminar enrichment for each of the cell types. Neuron types, when combined, define a multilayered organization with like neurons layered together. Employing our scheme, we find that heat and cold stimuli activate discrete sets of both excitatory and inhibitory neuron types. This work provides a systematic and comprehensive molecular classification of spinal cord sensory neurons, enabling functional interrogation of sensory processing.
Relevant articles
Open Access articles citing this article.
Yongheng Fan

,

Xianming Wu

…

Jianwu Dai

Nature Communications Open Access 09 August 2023

Olivia C. Davis

,

Allen C. Dickie

…

David I. Hughes

Scientific Reports Open Access 18 July 2023

Florian Olde Heuvel

,

Najwa Ouali Alami

…

Francesco Roselli

Molecular Autism Open Access 14 June 2023
Access options
Access Nature and 54 other Nature Portfolio journals
Get Nature+, our best-value online-access subscription
$29.99 / 30 days
cancel any time
Subscribe to this journal
Receive 12 print issues and online access
$209.00 per year
only $17.42 per issue
Rent or buy this article
Prices vary by article type
from$1.95
to$39.95
Prices may be subject to local taxes which are calculated during checkout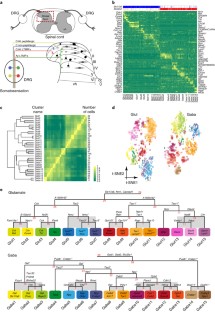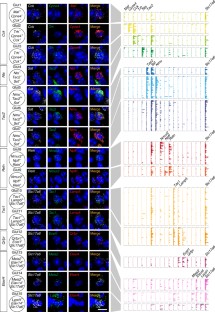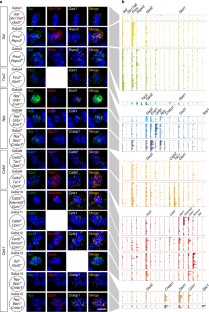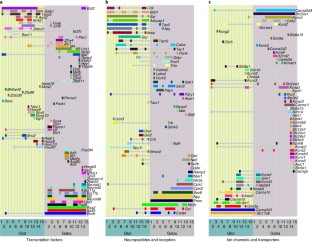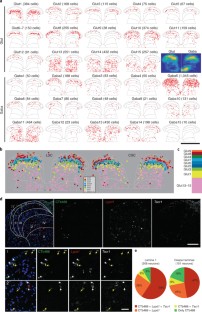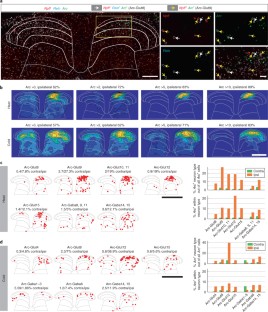 References
Lewin, G. R. & Moshourab, R. Mechanosensation and pain. J. Neurobiol. 61, 30–44 (2004).

Ma, Q. Population coding of somatic sensations. Neurosci. Bull. 28, 91–99 (2012).

Abraira, V. E. & Ginty, D. D. The sensory neurons of touch. Neuron 79, 618–639 (2013).

Lallemend, F. & Ernfors, P. Molecular interactions underlying the specification of sensory neurons. Trends Neurosci. 35, 373–381 (2012).

Li, C. L. et al. Somatosensory neuron types identified by high-coverage single-cell RNA-sequencing and functional heterogeneity. Cell Res. 26, 83–102 (2016).

Liu, Y. & Ma, Q. Generation of somatic sensory neuron diversity and implications on sensory coding. Curr. Opin. Neurobiol. 21, 52–60 (2011).

Prescott, S. A., Ma, Q. & De Koninck, Y. Normal and abnormal coding of somatosensory stimuli causing pain. Nat. Neurosci. 17, 183–191 (2014).

Usoskin, D. et al. Unbiased classification of sensory neuron types by large-scale single-cell RNA sequencing. Nat. Neurosci. 18, 145–153 (2015).

Duan, B., Cheng, L. & Ma, Q. Spinal circuits transmitting mechanical pain and itch. Neurosci. Bull. 34, 186–193 (2018).

Graham, B. A., Brichta, A. M. & Callister, R. J. Moving from an averaged to specific view of spinal cord pain processing circuits. J. Neurophysiol. 98, 1057–1063 (2007).

Peirs, C. & Seal, R. P. Neural circuits for pain: recent advances and current views. Science 354, 578–584 (2016).

Polgár, E., Fowler, J. H., McGill, M. M. & Todd, A. J. The types of neuron which contain protein kinase C gamma in rat spinal cord. Brain Res. 833, 71–80 (1999).

Todd, A. J. Identifying functional populations among the interneurons in laminae I-III of the spinal dorsal horn. Mol. Pain 13, 1744806917693003 (2017).

Bourane, S. et al. Gate control of mechanical itch by a subpopulation of spinal cord interneurons. Science 350, 550–554 (2015).

Bourane, S. et al. Identification of a spinal circuit for light touch and fine motor control. Cell 160, 503–515 (2015).

Duan, B. et al. Identification of spinal circuits transmitting and gating mechanical pain. Cell 159, 1417–1432 (2014).

Foster, E. et al. Targeted ablation, silencing, and activation establish glycinergic dorsal horn neurons as key components of a spinal gate for pain and itch. Neuron 85, 1289–1304 (2015).

Petitjean, H. et al. Dorsal horn parvalbumin neurons are gate-keepers of touch-evoked pain after nerve injury. Cell Rep. 13, 1246–1257 (2015).

Ross, S. E. et al. Loss of inhibitory interneurons in the dorsal spinal cord and elevated itch in Bhlhb5 mutant mice. Neuron 65, 886–898 (2010).

Ross, S. E. et al. Bhlhb5 and Prdm8 form a repressor complex involved in neuronal circuit assembly. Neuron 73, 292–303 (2012).

Sun, Y. G. et al. Cellular basis of itch sensation. Science 325, 1531–1534 (2009).

Todd, A. J. Neuronal circuitry for pain processing in the dorsal horn. Nat. Rev. Neurosci. 11, 823–836 (2010).

Abraira, V. E. et al. The cellular and synaptic architecture of the mechanosensory dorsal horn. Cell 168, 295–310.e219 (2017).

Rexed, B. The cytoarchitectonic organization of the spinal cord in the cat. J. Comp. Neurol. 96, 414–495 (1952).

Rexed, B. A cytoarchitectonic atlas of the spinal cord in the cat. J. Comp. Neurol. 100, 297–379 (1954).

Islam, S. et al. Quantitative single-cell RNA-seq with unique molecular identifiers. Nat. Methods 11, 163–166 (2014).

Zeisel, A. et al. Cell types in the mouse cortex and hippocampus revealed by single-cell RNA-seq. Science 347, 1138–1142 (2015).

Caldeira, V., Dougherty, K. J., Borgius, L. & Kiehn, O. Spinal Hb9:Cre-derived excitatory interneurons contribute to rhythm generation in the mouse. Sci. Rep. 7, 41369 (2017).

Marques, S. et al. Oligodendrocyte heterogeneity in the mouse juvenile and adult central nervous system. Science 352, 1326–1329 (2016).

van der Maaten, L. & Hinton, G. E. Visualizing high-dimensional data using t-SNE. J. Mach. Learn. Res. 9, 2579–2605 (2008).

Christensen, A. J. et al. In vivo interrogation of spinal mechanosensory circuits. Cell Rep. 17, 1699–1710 (2016).

Malmberg, A. B., Chen, C., Tonegawa, S. & Basbaum, A. I. Preserved acute pain and reduced neuropathic pain in mice lacking PKCγ. Science 278, 279–283 (1997).

Peirs, C. et al. Dorsal horn circuits for persistent mechanical pain. Neuron 87, 797–812 (2015).

Sun, Y. G. & Chen, Z. F. A gastrin-releasing peptide receptor mediates the itch sensation in the spinal cord. Nature 448, 700–703 (2007).

Lai, H. C., Seal, R. P. & Johnson, J. E. Making sense out of spinal cord somatosensory development. Development 143, 3434–3448 (2016).

Cameron, D. et al. The organisation of spinoparabrachial neurons in the mouse. Pain 156, 2061–2071 (2015).

Todd, A. J., McGill, M. M. & Shehab, S. A. Neurokinin 1 receptor expression by neurons in laminae I, III and IV of the rat spinal dorsal horn that project to the brainstem. Eur. J. Neurosci. 12, 689–700 (2000).

Al-Khater, K. M. & Todd, A. J. Collateral projections of neurons in laminae I, III, and IV of rat spinal cord to thalamus, periaqueductal gray matter, and lateral parabrachial area. J. Comp. Neurol. 515, 629–646 (2009).

Coggeshall, R. E. Fos, nociception and the dorsal horn. Prog. Neurobiol. 77, 299–352 (2005).

Sathyamurthy, A. et al. Massively parallel single nucleus transcriptional profiling defines spinal cord neurons and their activity during behavior. Cell Rep. 22, 2216–2225 (2018).

Tasic, B. et al. Adult mouse cortical cell taxonomy revealed by single cell transcriptomics. Nat. Neurosci. 19, 335–346 (2016).

Aresh, B. et al. Spinal cord interneurons expressing the gastrin-releasing peptide receptor convey itch through VGLUT2-mediated signaling. Pain 158, 945–961 (2017).

Kardon, A. P. et al. Dynorphin acts as a neuromodulator to inhibit itch in the dorsal horn of the spinal cord. Neuron 82, 573–586 (2014).

Cui, L. et al. Identification of early RET+ deep dorsal spinal cord interneurons in gating pain. Neuron 91, 1413 (2016).

Huang, H. Y. et al. Expression of A-type K channel alpha subunits Kv 4.2 and Kv 4.3 in rat spinal lamina II excitatory interneurons and colocalization with pain-modulating molecules. Eur. J. Neurosci. 22, 1149–1157 (2005).

Hu, H. J. et al. The kv4.2 potassium channel subunit is required for pain plasticity. Neuron 50, 89–100 (2006).

Hunt, S. P., Pini, A. & Evan, G. Induction of c-fos-like protein in spinal cord neurons following sensory stimulation. Nature 328, 632–634 (1987).

Plath, N. et al. Arc/Arg3.1 is essential for the consolidation of synaptic plasticity and memories. Neuron 52, 437–444 (2006).

Zheng, J., Lu, Y. & Perl, E. R. Inhibitory neurones of the spinal substantia gelatinosa mediate interaction of signals from primary afferents. J. Physiol. (Lond.) 588, 2065–2075 (2010).

Borgius, L., Restrepo, C. E., Leao, R. N., Saleh, N. & Kiehn, O. A transgenic mouse line for molecular genetic analysis of excitatory glutamatergic neurons. Mol. Cell. Neurosci. 45, 245–257 (2010).

Romanov, R. A. et al. Molecular interrogation of hypothalamic organization reveals distinct dopamine neuronal subtypes. Nat. Neurosci. 20, 176–188 (2017).

La Manno, G. et al. Molecular diversity of midbrain development in mouse, human, and stem cells. Cell 167, 566–580.e519 (2016).

Wang, F. et al. RNAscope: a novel in situ RNA analysis platform for formalin-fixed, paraffin-embedded tissues. J. Mol. Diagn. 14, 22–29 (2012).

Lin, D. et al. Functional identification of an aggression locus in the mouse hypothalamus. Nature 470, 221–226 (2011).
Acknowledgements
We thank Science for Life Laboratory, the National Genomics Infrastructure funded by the Swedish Research Council, and Uppsala Multidisciplinary Center for Advanced Computational Science for providing assistance in massively parallel sequencing and access to the UPPMAX computational infrastructure. This work was supported by the Swedish Medical Research Council, Knut and Alice Wallenbergs Foundation (Wallenberg Scholar and Wallenberg project grant), SFO grant (StratNeuro), Wellcome Trust (Pain Consortium), European Research Council advanced grant (PainCells 740491) and Karolinska Institutet (to P.E.); Swedish Foundation for Strategic Research, Knut and Alice Wallenberg Foundation (2015.0041) (to S.L.); Ragnar Söderberg Foundation and the Brain Foundation (to M.C.L.). A.Z. was supported by the Human Frontier Science Program.
Ethics declarations
Competing interests
The authors declare no competing financial interests.
Additional information
Publisher's note: Springer Nature remains neutral with regard to jurisdictional claims in published maps and institutional affiliations.
Integrated supplementary information
Supplementary information
About this article
Cite this article
Häring, M., Zeisel, A., Hochgerner, H. et al. Neuronal atlas of the dorsal horn defines its architecture and links sensory input to transcriptional cell types. Nat Neurosci 21, 869–880 (2018). https://doi.org/10.1038/s41593-018-0141-1
Received:

Accepted:

Published:

Issue Date:

DOI: https://doi.org/10.1038/s41593-018-0141-1