A key component of learning involves updating existing motor plans in response to altered sensory feedback. By using a brain–computer interface, Golub et al. show how such learning changes the activity of neural populations in primary motor cortex—and how it does not.
Access options
Subscribe to Journal
Get full journal access for 1 year
$59.00
only $4.92 per issue
All prices are NET prices.
VAT will be added later in the checkout.
Tax calculation will be finalised during checkout.
Rent or Buy article
Get time limited or full article access on ReadCube.
from$8.99
All prices are NET prices.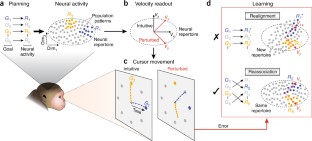 References
1.

Fetz, E. E. J. Physiol. (Lond.) 579, 571–579 (2007).

2.

Golub, M. D. et al. Nat. Neurosci. https://doi.org/10.1038/s41593-018-0095-3 (2018).

3.

Sadtler, P. T. et al. Nature 512, 423–426 (2014).

4.

Shenoy, K. V., Sahani, M. & Churchland, M. M. Annu. Rev. Neurosci. 36, 337–359 (2013).

5.

Sussillo, D., Churchland, M. M., Kaufman, M. T. & Shenoy, K. V. Nat. Neurosci. 18, 1025–1033 (2015).

6.

Bengio, Y., Simard, P. & Frasconi, P. IEEE Trans. Neural Netw. 5, 157–166 (1994).

7.

Athalye, V. R., Ganguly, K., Costa, R. M. & Carmena, J. M. Neuron 93, 955–970.e5 (2017).

8.

Paz, R., Boraud, T., Natan, C., Bergman, H. & Vaadia, E. Nat. Neurosci. 6, 882–890 (2003).

9.

Jarosiewicz, B. et al. Proc. Natl. Acad. Sci. USA 105, 19486–19491 (2008).

10.

Ganguly, K. & Carmena, J. M. PLoS Biol. 7, e1000153 (2009).
Ethics declarations
Competing interests
The authors declare no competing financial interests.
About this article
Cite this article
Galgali, A.R., Mante, V. Set in one's thoughts. Nat Neurosci 21, 459–460 (2018). https://doi.org/10.1038/s41593-018-0105-5