Abstract
Neuroinflammation and neurodegeneration may represent two poles of brain pathology. Brain myeloid cells, particularly microglia, play key roles in these conditions. We employed single-cell mass cytometry (CyTOF) to compare myeloid cell populations in the experimental autoimmune encephalomyelitis (EAE) model of multiple sclerosis, the R6/2 model of Huntington's disease (HD) and the mutant superoxide dismutase 1 (mSOD1) model of amyotrophic lateral sclerosis (ALS). We identified three myeloid cell populations exclusive to the CNS and present in each disease model. Blood-derived monocytes comprised five populations and migrated to the brain in EAE, but not in HD and ALS models. Single-cell analysis resolved differences in signaling and cytokine production within similar myeloid populations in EAE compared to HD and ALS models. Moreover, these analyses highlighted α5 integrin on myeloid cells as a potential therapeutic target for neuroinflammation. Together, these findings illustrate how neuropathology may differ between inflammatory and degenerative brain disease.
Access options
Subscribe to Journal
Get full journal access for 1 year
$209.00
only $17.42 per issue
All prices are NET prices.
VAT will be added later in the checkout.
Rent or Buy article
Get time limited or full article access on ReadCube.
from$8.99
All prices are NET prices.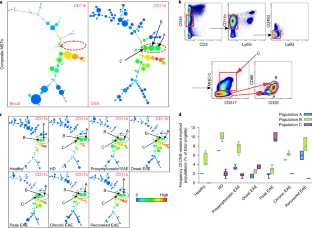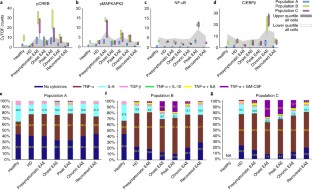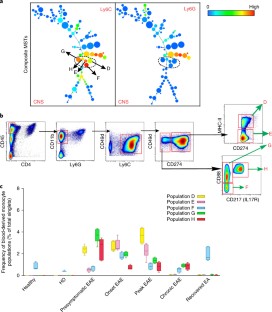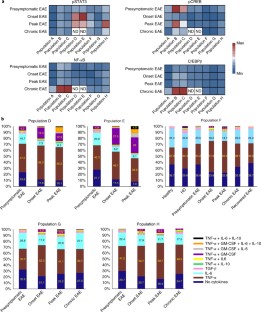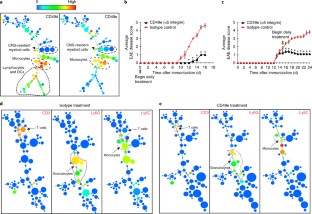 References
1.

Prinz, M. & Priller, J. The role of peripheral immune cells in the CNS in steady state and disease. Nat. Neurosci. 20, 136–144 (2017).

2.

Steinman, L. Immunology of relapse and remission in multiple sclerosis. Annu. Rev. Immunol. 32, 257–281 (2014).

3.

Heppner, F.L., Ransohoff, R.M. & Becher, B. Immune attack: the role of inflammation in Alzheimer disease. Nat Rev Neurosci. 16, 358–372 (2015).

4.

McGeer, P. L., Itagaki, S., Boyes, B. E. & McGeer, E. G. Reactive microglia are positive for HLA-DR in the substantia nigra of Parkinson's and Alzheimer's disease brains. Neurology 38, 1285–1291 (1988).

5.

Crotti, A. et al. Mutant Huntingtin promotes autonomous microglia activation via myeloid lineage-determining factors. Nat. Neurosci. 17, 513–521 (2014).

6.

Zhao, W., Beers, D. R. & Appel, S. H. Immune-mediated mechanisms in the pathoprogression of amyotrophic lateral sclerosis. J. Neuroimmune Pharmacol. 8, 888–899 (2013).

7.

Aguzzi, A., Barres, B. A. & Bennett, M. L. Microglia: scapegoat, saboteur, or something else? Science 339, 156–161 (2013).

8.

Graeber, M. B. Neuroinflammation: no rose by any other name. Brain Pathol. 24, 620–622 (2014).

9.

Rogers, J. et al. Inflammation and Alzheimer's disease pathogenesis. Neurobiol. Aging 17, 681–686 (1996).

10.

Sudduth, T. L., Schmitt, F. A., Nelson, P. T. & Wilcock, D. M. Neuroinflammatory phenotype in early Alzheimer's disease. Neurobiol. Aging 34, 1051–1059 (2013).

11.

Zhang, B. et al. Integrated systems approach identifies genetic nodes and networks in late-onset Alzheimer's disease. Cell 153, 707–720 (2013).

12.

Bendall, S. C. et al. Single-cell mass cytometry of differential immune and drug responses across a human hematopoietic continuum. Science 332, 687–696 (2011).

13.

Mangiarini, L. et al. Exon 1 of the HD gene with an expanded CAG repeat is sufficient to cause a progressive neurological phenotype in transgenic mice. Cell 87, 493–506 (1996).

14.

Solomon, J. N. et al. Origin and distribution of bone marrow-derived cells in the central nervous system in a mouse model of amyotrophic lateral sclerosis. Glia 53, 744–753 (2006).

15.

Karpuj, M. V. et al. Prolonged survival and decreased abnormal movements in transgenic model of Huntington disease, with administration of the transglutaminase inhibitor cystamine. Nat. Med. 8, 143–149 (2002).

16.

Fourgeaud, L. et al. TAM receptors regulate multiple features of microglial physiology. Nature 532, 240–244 (2016).

17.

Cardona, A. E., Huang, D., Sasse, M. E. & Ransohoff, R. M. Isolation of murine microglial cells for RNA analysis or flow cytometry. Nat. Protoc. 1, 1947–1951 (2006).

18.

Samusik, N., Good, Z., Spitzer, M. H., Davis, K. L. & Nolan, G. P. Automated mapping of phenotype space with single-cell data. Nat. Methods 13, 493–496 (2016).

19.

Brendecke, S. M. & Prinz, M. Do not judge a cell by its cover-diversity of CNS resident, adjoining and infiltrating myeloid cells in inflammation. Semin. Immunopathol. 37, 591–605 (2015).

20.

Butovsky, O. et al. Identification of a unique TGF-β-dependent molecular and functional signature in microglia. Nat. Neurosci. 17, 131–143 (2014).

21.

Goldmann, T. et al. A new type of microglia gene targeting shows TAK1 to be pivotal in CNS autoimmune inflammation.Nat. Neurosci. 16, 1618–1626 (2013).

22.

Wlodarczyk, A., Løbner, M., Cédile, O. & Owens, T. Comparison of microglia and infiltrating CD11c+ cells as antigen presenting cells for T cell proliferation and cytokine response. J. Neuroinflammation 11, 57 (2014).

23.

Kim, H. et al. Increased phosphorylation of cyclic AMP response element-binding protein in the spinal cord of Lewis rats with experimental autoimmune encephalomyelitis. Brain Res. 1162, 113–120 (2007).

24.

Liu, F. & Whitton, J. L. Cutting edge: re-evaluating the in vivo cytokine responses of CD8+ T cells during primary and secondary viral infections. J. Immunol. 174, 5936–5940 (2005).

25.

Darrah, P. A. et al. Multifunctional TH1 cells define a correlate of vaccine-mediated protection against Leishmania major. Nat. Med. 13, 843–850 (2007).

26.

Steinman, L. A brief history of TH17, the first major revision in the TH1/TH2 hypothesis of T cell-mediated tissue damage. Nat. Med. 13, 139–145 (2007).

27.

Rosen, D. R. Mutations in Cu/Zn superoxide dismutase gene are associated with familial amyotrophic lateral sclerosis. Nature 364, 362 (1993).

28.

Ajami, B., Bennett, J. L., Krieger, C., McNagny, K. M. & Rossi, F. M. Infiltrating monocytes trigger EAE progression, but do not contribute to the resident microglia pool. Nat. Neurosci. 14, 1142–1149 (2011).

29.

Ajami, B., Bennett, J. L., Krieger, C., Tetzlaff, W. & Rossi, F. M. Local self-renewal can sustain CNS microglia maintenance and function throughout adult life. Nat. Neurosci. 10, 1538–1543 (2007).

30.

Mildner, A. et al. Microglia in the adult brain arise from Ly-6ChiCCR2+ monocytes only under defined host conditions. Nat. Neurosci. 10, 1544–1553 (2007).

31.

Salama, A. D. et al. Critical role of the programmed death-1 (PD-1) pathway in regulation of experimental autoimmune encephalomyelitis. J. Exp. Med. 198, 71–78 (2003).

32.

Reiman, R., Gerard, C., Campbell, I. L. & Barnum, S. R. Disruption of the C5a receptor gene fails to protect against experimental allergic encephalomyelitis. Eur. J. Immunol. 32, 1157–1163 (2002).

33.

Lu, J. Q., Power, C., Blevins, G., Giuliani, F. & Yong, V. W. The regulation of reactive changes around multiple sclerosis lesions by phosphorylated signal transducer and activator of transcription. J. Neuropathol. Exp. Neurol. 72, 1135–1144 (2013).

34.

Yamasaki, R. et al. Differential roles of microglia and monocytes in the inflamed central nervous system. J. Exp. Med. 211, 1533–1549 (2014).

35.

De Cesare, D., Jacquot, S., Hanauer, A. & Sassone-Corsi, P. Rsk-2 activity is necessary for epidermal growth factor-induced phosphorylation of CREB protein and transcription of c-fos gene. Proc. Natl Acad. Sci. USA 95, 12202–12207 (1998).

36.

Ginhoux, F. & Merad, M. [Microglia arise from extra-embryonic yolk sac primitive progenitors]. Med. Sci. (Paris) 27, 719–724 (2011).

37.

Le Varlet, B., Staquet, M. J., Dezutter-Dambuyant, C., Delorme, P. & Schmitt, D. In vitro adhesion of human epidermal Langerhans cells to laminin and fibronectin occurs through beta 1 integrin receptors. J. Leukoc. Biol. 51, 415–420 (1992).

38.

Sobel, R. A. & Mitchell, M. E. Fibronectin in multiple sclerosis lesions. Am. J. Pathol. 135, 161–168 (1989).

39.

Boroujerdi, A., Welser-Alves, J. V. & Milner, R. Extensive vascular remodeling in the spinal cord of pre-symptomatic experimental autoimmune encephalomyelitis mice; increased vessel expression of fibronectin and the α5β1 integrin. Exp. Neurol. 250, 43–51 (2013).

40.

Estes, M. L. & McAllister, A. K. Alterations in immune cells and mediators in the brain: it's not always neuroinflammation! Brain Pathol. 24, 623–630 (2014).

41.

Salter, M. W. & Beggs, S. Sublime microglia: expanding roles for the guardians of the CNS. Cell 158, 15–24 (2014).

42.

Obrietan, K. & Hoyt, K. R. CRE-mediated transcription is increased in Huntington's disease transgenic mice. J. Neurosci. 24, 791–796 (2004).

43.

Bannerman, P. G. et al. Motor neuron pathology in experimental autoimmune encephalomyelitis: studies in THY1-YFP transgenic mice. Brain 128, 1877–1886 (2005).

44.

Steinman, L. Multiple sclerosis: a two-stage disease. Nat. Immunol. 2, 762–764 (2001).

45.

Silvestroni, A., Faull, R. L., Strand, A. D. & Möller, T. Distinct neuroinflammatory profile in post-mortem human Huntington's disease. Neuroreport 20, 1098–1103 (2009).

46.

Zhou, Z., Peng, X., Insolera, R., Fink, D. J. & Mata, M. Interleukin-10 provides direct trophic support to neurons. J. Neurochem. 110, 1617–1627 (2009).

47.

Ransohoff, R. M. A polarizing question: do M1 and M2 microglia exist? Nat. Neurosci. 19, 987–991 (2016).

48.

Mildner, A. et al. CCR2+Ly-6Chi monocytes are crucial for the effector phase of autoimmunity in the central nervous system. Brain 132, 2487–2500 (2009).

49.

Steinman, L. The discovery of natalizumab, a potent therapeutic for multiple sclerosis. J. Cell Biol. 199, 413–416 (2012).

50.

Yednock, T. A. et al. Prevention of experimental autoimmune encephalomyelitis by antibodies against α4β1 integrin. Nature 356, 63–66 (1992).

51.

Linthicum, D. S., Munoz, J. J. & Blaskett, A. Acute experimental autoimmune encephalomyelitis in mice. I. Adjuvant action of Bordetella pertussis is due to vasoactive amine sensitization and increased vascular permeability of the central nervous system. Cell. Immunol. 73, 299–310 (1982).

52.

Hofstetter, H. H., Shive, C. L. & Forsthuber, T. G. Pertussis toxin modulates the immune response to neuroantigens injected in incomplete Freund's adjuvant: induction of Th1 cells and experimental autoimmune encephalomyelitis in the presence of high frequencies of Th2 cells. J. Immunol. 169, 117–125 (2002).

53.

Hou, W. et al. Pertussis toxin enhances Th1 responses by stimulation of dendritic cells. J. Immunol. 170, 1728–1736 (2003).

54.

Chen, X. et al. Pertussis toxin as an adjuvant suppresses the number and function of CD4+CD25+ T regulatory cells. Eur. J. Immunol. 36, 671–680 (2006).

55.

Weber, M. S. et al. Repetitive pertussis toxin promotes development of regulatory T cells and prevents central nervous system autoimmune disease. PLoS One 5, e16009 (2010).

56.

Goldmann, T. et al. Origin, fate and dynamics of macrophages at central nervous system interfaces. Nat. Immunol. 17, 797–805 (2016).

57.

Pino, P. A. & Cardona, A. E. Isolation of brain and spinal cord mononuclear cells using Percoll gradients. J. Vis. Exp. https://doi.org/10.3791/2348 (2011).

58.

Zunder, E. R. et al. Palladium-based mass tag cell barcoding with a doublet-filtering scheme and single-cell deconvolution algorithm. Nat. Protoc. 10, 316–333 (2015).

59.

Finck, R. et al. Normalization of mass cytometry data with bead standards. Cytometry A 83, 483–494 (2013).

60.

Fienberg, H. G., Simonds, E. F., Fantl, W. J., Nolan, G. P. & Bodenmiller, B. A platinum-based covalent viability reagent for single-cell mass cytometry. Cytometry A 81, 467–475 (2012).

61.

Qiu, P. et al. Extracting a cellular hierarchy from high-dimensional cytometry data with SPADE. Nat. Biotechnol. 29, 886–891 (2011).

62.

Spitzer, M. H. et al. An interactive reference framework for modeling a dynamic immune system. Science 349, 1259425 (2015).
Acknowledgements
We thank O. Butovsky (Harvard University) for the generous gift of 4D4 and FCRLS antibody. We thank A. Trejo and A. Jager for mass cytometry quality control and maintenance, and S. Douglas and V. Giangarra for technical assistance. This work was supported by grants to G.P.N.: U19 AI057229, 1U19AI100627, Department of Defense (CDMRP), Northrop-Grumman Corporation, R01CA184968, 1R33CA183654-01, R33CA183692, 1R01GM10983601, 1R21CA183660, 1R01NS08953304, OPP1113682, 5UH2AR067676, 1R01CA19665701, R01HL120724. G.P.N. is supported by the Rachford & Carlotta A. Harris Endowed Chair. B.A was supported by a three-year postdoctoral fellowship from the Canadian Institute for Health Research (201102MFE-246400-166230).
Ethics declarations
Competing interests
The authors declare no competing interests.
Additional information
Publisher's note: Springer Nature remains neutral with regard to jurisdictional claims in published maps and institutional affiliations.
Integrated supplementary information
Supplementary information
Supplementary Figures 1–13 and Supplementary Tables 1 and 2
About this article
Cite this article
Ajami, B., Samusik, N., Wieghofer, P. et al. Single-cell mass cytometry reveals distinct populations of brain myeloid cells in mouse neuroinflammation and neurodegeneration models. Nat Neurosci 21, 541–551 (2018). https://doi.org/10.1038/s41593-018-0100-x
Received:

Accepted:

Published:

Issue Date: