Abstract
Repair of complex CNS circuitry requires newly incorporated neurons to become appropriately, functionally integrated. One approach is to direct differentiation of endogenous progenitors in situ, or ex vivo followed by transplantation. Prior studies find that newly incorporated neurons can establish long-distance axon projections, form synapses and functionally integrate in evolutionarily old hypothalamic energy-balance circuitry. We now demonstrate that postnatal neocortical connectivity can be reconstituted with point-to-point precision, including cellular integration of specific, molecularly identified projection neuron subtypes into correct positions, combined with development of appropriate long-distance projections and synapses. Using optogenetics-based electrophysiology, experiments demonstrate functional afferent and efferent integration of transplanted neurons into transcallosal projection neuron circuitry. Results further indicate that 'primed' early postmitotic neurons, including already fate-restricted deep-layer projection neurons and/or plastic postmitotic neuroblasts with partially fate-restricted potential, account for the predominant population of neurons capable of achieving this optimal level of integration.
Relevant articles
Open Access articles citing this article.
Xin Dong

,

Shi-Bo Xu

…

Yan Liu

Molecular Psychiatry Open Access 13 October 2020

Aline Vitrac

&

Isabelle Cloëz-Tayarani

Stem Cell Research & Therapy Open Access 23 August 2018
Access options
Access Nature and 54 other Nature Portfolio journals
Get Nature+, our best-value online-access subscription
$29.99 / 30 days
cancel any time
Subscribe to this journal
Receive 12 print issues and online access
$209.00 per year
only $17.42 per issue
Rent or buy this article
Prices vary by article type
from$1.95
to$39.95
Prices may be subject to local taxes which are calculated during checkout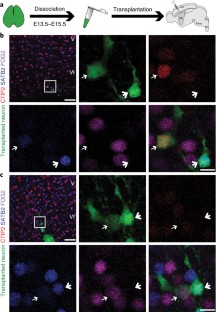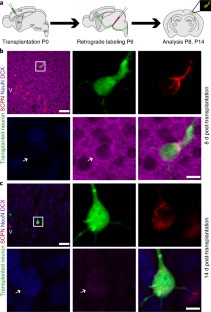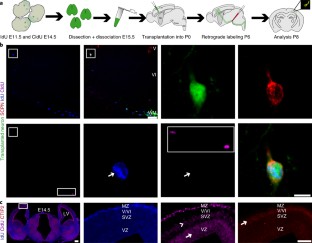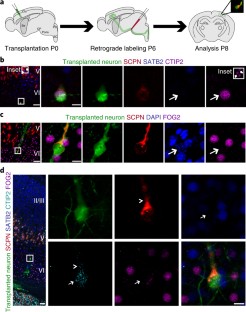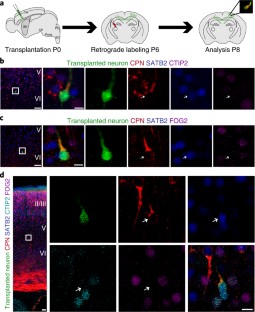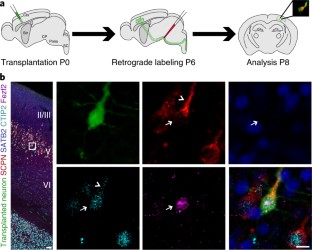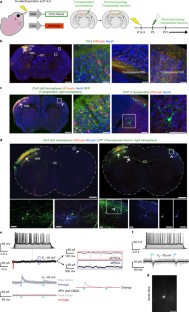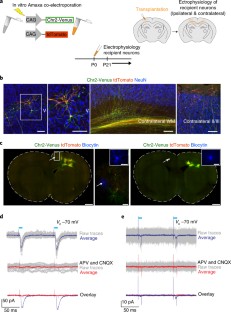 References
Czupryn, A. et al. Transplanted hypothalamic neurons restore leptin signaling and ameliorate obesity in db/db mice. Science 334, 1133–1137 (2011).

Southwell, D. G. et al. Interneurons from embryonic development to cell-based therapy. Science 344, 1240622 (2014).

Baraban, S. C. et al. Reduction of seizures by transplantation of cortical GABAergic interneuron precursors into Kv1.1 mutant mice. Proc. Natl. Acad. Sci. USA 106, 15472–15477 (2009).

Calcagnotto, M. E. et al. Effect of neuronal precursor cells derived from medial ganglionic eminence in an acute epileptic seizure model. Epilepsia 51, 71–75 (2010). Suppl 3.

Martínez-Cerdeño, V. et al. Embryonic MGE precursor cells grafted into adult rat striatum integrate and ameliorate motor symptoms in 6-OHDA-lesioned rats. Cell Stem Cell 6, 238–250 (2010).

Southwell, D. G., Froemke, R. C., Alvarez-Buylla, A., Stryker, M. P. & Gandhi, S. P. Cortical plasticity induced by inhibitory neuron transplantation. Science 327, 1145–1148 (2010).

Zipancic, I., Calcagnotto, M. E., Piquer-Gil, M., Mello, L. E. & Alvarez-Dolado, M. Transplant of GABAergic precursors restores hippocampal inhibitory function in a mouse model of seizure susceptibility. Cell Transplant. 19, 549–564 (2010).

De la Cruz, E. et al. Interneuron progenitors attenuate the power of acute focal ictal discharges. Neurotherapeutics 8, 763–773 (2011).

Tanaka, D. H., Toriumi, K., Kubo, K., Nabeshima, T. & Nakajima, K. GABAergic precursor transplantation into the prefrontal cortex prevents phencyclidine-induced cognitive deficits. J. Neurosci. 31, 14116–14125 (2011).

Hunt, R. F., Girskis, K. M., Rubenstein, J. L., Alvarez-Buylla, A. & Baraban, S. C. GABA progenitors grafted into the adult epileptic brain control seizures and abnormal behavior. Nat. Neurosci. 16, 692–697 (2013).

Stanfield, B. B. & O'Leary, D. D. Fetal occipital cortical neurones transplanted to the rostral cortex can extend and maintain a pyramidal tract axon. Nature 313, 135–137 (1985).

Hernit-Grant, C. S. & Macklis, J. D. Embryonic neurons transplanted to regions of targeted photolytic cell death in adult mouse somatosensory cortex re-form specific callosal projections. Exp. Neurol. 139, 131–142 (1996).

Shin, J. J. et al. Transplanted neuroblasts differentiate appropriately into projection neurons with correct neurotransmitter and receptor phenotype in neocortex undergoing targeted projection neuron degeneration. J. Neurosci. 20, 7404–7416 (2000).

Fricker-Gates, R. A., Shin, J. J., Tai, C. C., Catapano, L. A. & Macklis, J. D. Late-stage immature neocortical neurons reconstruct interhemispheric connections and form synaptic contacts with increased efficiency in adult mouse cortex undergoing targeted neurodegeneration. J. Neurosci. 22, 4045–4056 (2002).

Magavi, S. S., Leavitt, B. R. & Macklis, J. D. Induction of neurogenesis in the neocortex of adult mice. Nature 405, 951–955 (2000).

Gaillard, A. et al. Reestablishment of damaged adult motor pathways by grafted embryonic cortical neurons. Nat. Neurosci. 10, 1294–1299 (2007).

Chen, J., Magavi, S. S. & Macklis, J. D. Neurogenesis of corticospinal motor neurons extending spinal projections in adult mice. Proc. Natl. Acad. Sci. USA 101, 16357–16362 (2004).

Gaspard, N. et al. An intrinsic mechanism of corticogenesis from embryonic stem cells. Nature 455, 351–357 (2008).

Eiraku, M. et al. Self-organized formation of polarized cortical tissues from ESCs and its active manipulation by extrinsic signals. Cell Stem Cell 3, 519–532 (2008).

Ideguchi, M., Palmer, T. D., Recht, L. D. & Weimann, J. M. Murine embryonic stem cell-derived pyramidal neurons integrate into the cerebral cortex and appropriately project axons to subcortical targets. J. Neurosci. 30, 894–904 (2010).

Espuny-Camacho, I. et al. Pyramidal neurons derived from human pluripotent stem cells integrate efficiently into mouse brain circuits in vivo. Neuron 77, 440–456 (2013).

Michelsen, K. A. et al. Area-specific reestablishment of damaged circuits in the adult cerebral cortex by cortical neurons derived from mouse embryonic stem cells. Neuron 85, 982–997 (2015).

Falkner, S. et al. Transplanted embryonic neurons integrate into adult neocortical circuits. Nature 539, 248–253 (2016).

Custo Greig, L. F., Woodworth, M. B., Galazo, M. J., Padmanabhan, H. & Macklis, J. D. Molecular logic of neocortical projection neuron specification, development and diversity. Nat. Rev. Neurosci. 14, 755–769 (2013).

Leyva-Díaz, E. & López-Bendito, G. In and out from the cortex: development of major forebrain connections. Neuroscience 254, 26–44 (2013).

Arlotta, P. et al. Neuronal subtype-specific genes that control corticospinal motor neuron development in vivo. Neuron 45, 207–221 (2005).

Alcamo, E. A. et al. Satb2 regulates callosal projection neuron identity in the developing cerebral cortex. Neuron 57, 364–377 (2008).

Britanova, O. et al. Satb2 is a postmitotic determinant for upper-layer neuron specification in the neocortex. Neuron 57, 378–392 (2008).

Galazo, M. J., Emsley, J. G. & Macklis, J. D. corticothalamic projection neuron development beyond subtype specification: Fog2 and intersectional controls regulate intraclass neuronal diversity. Neuron 91, 90–106 (2016).

Molyneaux, B. J., Arlotta, P., Hirata, T., Hibi, M. & Macklis, J. D. Fezl is required for the birth and specification of corticospinal motor neurons. Neuron 47, 817–831 (2005).

Chen, B., Schaevitz, L. R. & McConnell, S. K. Fezl regulates the differentiation and axon targeting of layer 5 subcortical projection neurons in cerebral cortex. Proc. Natl. Acad. Sci. USA 102, 17184–17189 (2005).

Breunig, J. J., Arellano, J. I., Macklis, J. D. & Rakic, P. Everything that glitters isn't gold: a critical review of postnatal neural precursor analyses. Cell Stem Cell 1, 612–627 (2007).

Alvarez-Dolado, M. et al. Fusion of bone-marrow-derived cells with Purkinje neurons, cardiomyocytes and hepatocytes. Nature 425, 968–973 (2003).

Wagers, A. J. & Weissman, I. L. Plasticity of adult stem cells. Cell 116, 639–648 (2004).

Goldman, S. A. Stem and progenitor cell-based therapy of the central nervous system: hopes, hype, and wishful thinking. Cell Stem Cell 18, 174–188 (2016).

Oki, K. et al. Human-induced pluripotent stem cells form functional neurons and improve recovery after grafting in stroke-damaged brain. Stem Cells 30, 1120–1133 (2012).

Tornero, D. et al. Human induced pluripotent stem cell-derived cortical neurons integrate in stroke-injured cortex and improve functional recovery. Brain 136, 3561–3577 (2013).

Davies, S. J., Field, P. M. & Raisman, G. Long interfascicular axon growth from embryonic neurons transplanted into adult myelinated tracts. J. Neurosci. 14, 1596–1612 (1994).

Sadegh, C. & Macklis, J. D. Established monolayer differentiation of mouse embryonic stem cells generates heterogeneous neocortical-like neurons stalled at a stage equivalent to midcorticogenesis. J. Comp. Neurol. 522, 2691–2706 (2014).

Sances, S. et al. Modeling ALS with motor neurons derived from human induced pluripotent stem cells. Nat. Neurosci. 19, 542–553 (2016).

Ladewig, J., Koch, P. & Brüstle, O. Auto-attraction of neural precursors and their neuronal progeny impairs neuronal migration. Nat. Neurosci. 17, 24–26 (2014).

Ziemba, K. S., Chaudhry, N., Rabchevsky, A. G., Jin, Y. & Smith, G. M. Targeting axon growth from neuronal transplants along preformed guidance pathways in the adult CNS. J. Neurosci. 28, 340–348 (2008).

Péron, S. et al. A delay between motor cortex lesions and neuronal transplantation enhances graft integration and improves repair and recovery. J. Neurosci. 37, 1820–1834 (2017).

Okabe, M., Ikawa, M., Kominami, K., Nakanishi, T. & Nishimune, Y. 'Green mice' as a source of ubiquitous green cells. FEBS Lett. 407, 313–319 (1997).

Hirata, T. et al. Zinc finger gene fez-like functions in the formation of subplate neurons and thalamocortical axons. Dev. Dyn. 230, 546–556 (2004).

Catapano, L. A., Arnold, M. W., Perez, F. A. & Macklis, J. D. Specific neurotrophic factors support the survival of cortical projection neurons at distinct stages of development. J. Neurosci. 21, 8863–8872 (2001).

Molyneaux, B. J. et al. DeCoN: genome-wide analysis of in vivo transcriptional dynamics during pyramidal neuron fate selection in neocortex. Neuron 85, 275–288 (2015).

Vega, C. J. & Peterson, D. A. Stem cell proliferative history in tissue revealed by temporal halogenated thymidine analog discrimination. Nat. Methods 2, 167–169 (2005).

Petreanu, L., Mao, T., Sternson, S. M. & Svoboda, K. The subcellular organization of neocortical excitatory connections. Nature 457, 1142–1145 (2009).

Saito, T. & Nakatsuji, N. Efficient gene transfer into the embryonic mouse brain using in vivo electroporation. Dev. Biol. 240, 237–246 (2001).

Franks, K. M. & Isaacson, J. S. Synapse-specific downregulation of NMDA receptors by early experience: a critical period for plasticity of sensory input to olfactory cortex. Neuron 47, 101–114 (2005).

Albeanu, D. F., Soucy, E., Sato, T. F., Meister, M. & Murthy, V. N. LED arrays as cost effective and efficient light sources for widefield microscopy. PLoS One 3, e2146 (2008).
Acknowledgements
We thank P. Davis, D. Schuback and K. Yee for superb technical assistance; B. Goetze at the Harvard Center for Biological Imaging for excellent assistance with confocal spectral unmixing; M. Eichner at the Institute for Clinical Epidemiology and Applied Biometry at University of Tübingen for statistical advice; C. Lois at Caltech, R. Hevner at University of Washington, M. Hibi at Nagoya University) and S.K. McConnell at Stanford University for generous sharing of mice, antibodies and reagents; and current and past members of the Macklis laboratory for helpful suggestions. This work was partially supported by grants to J.D.M. from the National Institutes of Health-NINDS NS041590 and NS049553, with additional infrastructure support from NS045523 and NS075672; from the ALS Association to J.D.M.; from The Regeneration Project to J.D.M. and from DFG grant Wu 590/2-1 to T.V.W. F.M. was partially supported from a grant to V.N.M. (DC011291). H.P. was partially supported by an International Brain Research Organization (IBRO) Research Fellowship and by a fellowship from The Regeneration Project.
Ethics declarations
Competing interests
The authors declare no competing interests.
Additional information
Publisher's note: Springer Nature remains neutral with regard to jurisdictional claims in published maps and institutional affiliations.
Integrated supplementary information
Supplementary information
Supplementary Figures 1–13
About this article
Cite this article
Wuttke, T.V., Markopoulos, F., Padmanabhan, H. et al. Developmentally primed cortical neurons maintain fidelity of differentiation and establish appropriate functional connectivity after transplantation. Nat Neurosci 21, 517–529 (2018). https://doi.org/10.1038/s41593-018-0098-0
Received:

Accepted:

Published:

Issue Date:

DOI: https://doi.org/10.1038/s41593-018-0098-0