Abstract
Severe spinal cord contusions interrupt nearly all brain projections to lumbar circuits producing leg movement. Failure of these projections to reorganize leads to permanent paralysis. Here we modeled these injuries in rodents. A severe contusion abolished all motor cortex projections below injury. However, the motor cortex immediately regained adaptive control over the paralyzed legs during electrochemical neuromodulation of lumbar circuits. Glutamatergic reticulospinal neurons with residual projections below the injury relayed the cortical command downstream. Gravity-assisted rehabilitation enabled by the neuromodulation therapy reinforced these reticulospinal projections, rerouting cortical information through this pathway. This circuit reorganization mediated a motor cortex–dependent recovery of natural walking and swimming without requiring neuromodulation. Cortico–reticulo–spinal circuit reorganization may also improve recovery in humans.
Relevant articles
Open Access articles citing this article.
Claudia Kathe

,

Michael A. Skinnider

…

Grégoire Courtine

Nature Open Access 09 November 2022

Kaya J. E. Matson

,

Daniel E. Russ

…

Ariel J. Levine

Nature Communications Open Access 26 September 2022

Francina Mesquida-Veny

,

Sara Martínez-Torres

…

Arnau Hervera

Molecular Medicine Open Access 17 August 2022
Access options
Access Nature and 54 other Nature Portfolio journals
Get Nature+, our best-value online-access subscription
$29.99 / 30 days
cancel any time
Subscribe to this journal
Receive 12 print issues and online access
$209.00 per year
only $17.42 per issue
Rent or buy this article
Prices vary by article type
from$1.95
to$39.95
Prices may be subject to local taxes which are calculated during checkout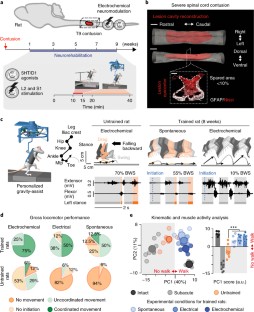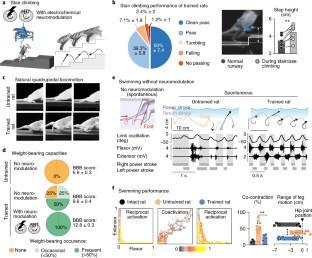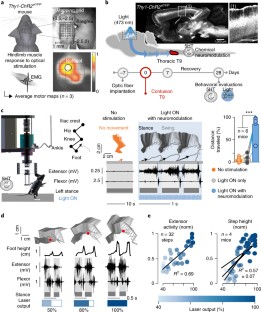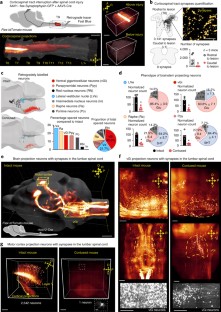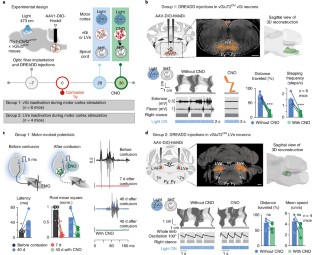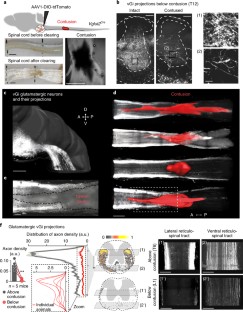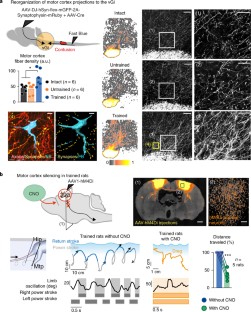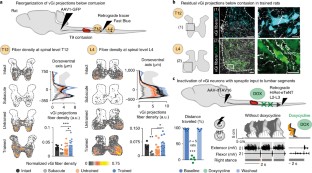 References
Petersen, J. A. et al. Chronic cervical spinal cord injury: DTI correlates with clinical and electrophysiological measures. J. Neurotrauma. 29, 1556–1566 (2012).

Angeli, C. A., Edgerton, V. R., Gerasimenko, Y. P. & Harkema, S. J. Altering spinal cord excitability enables voluntary movements after chronic complete paralysis in humans. Brain 137, 1394–1409 (2014).

Barthélemy, D., Willerslev-Olsen, M., Lundell, H., Biering-Sørensen, F. & Nielsen, J. B. Assessment of transmission in specific descending pathways in relation to gait and balance following spinal cord injury. Prog. Brain. Res. 218, 79–101 (2015).

Kakulas, B. A. A review of the neuropathology of human spinal cord injury with emphasis on special features. J. Spinal. Cord. Med. 22, 119–124 (1999).

Courtine, G. et al. Transformation of nonfunctional spinal circuits into functional states after the loss of brain input. Nat. Neurosci. 12, 1333–1342 (2009).

Kiehn, O. Locomotor circuits in the mammalian spinal cord. Annu. Rev. Neurosci. 29, 279–306 (2006).

James, N. D. et al. Conduction failure following spinal cord injury: functional and anatomical changes from acute to chronic stages. J. Neurosci. 31, 18543–18555 (2011).

Bachmann, L. C. et al. Deep brain stimulation of the midbrain locomotor region improves paretic hindlimb function after spinal cord injury in rats. Sci. Transl. Med. 5, 208ra146 (2013).

Mushahwar, V. K., Jacobs, P. L., Normann, R. A., Triolo, R. J. & Kleitman, N. New functional electrical stimulation approaches to standing and walking. J. Neural. Eng. 4, S181–S197 (2007).

Rossignol, S. et al. Pharmacological aids to locomotor training after spinal injury in the cat. J. Physiol. (Lond.) 533, 65–74 (2001).

van den Brand, R. et al. Restoring voluntary control of locomotion after paralyzing spinal cord injury. Science 336, 1182–1185 (2012).

Radhakrishna, M. et al. Double-blind, placebo-controlled, randomized phase I/IIa study (safety and efficacy) with buspirone/levodopa/carbidopa (SpinalonTM) in subjects with complete AIS A or motor-complete AIS B spinal cord injury. Curr. Pharm. Des. 23, 1789–1804 (2017).

Carhart, M. R., He, J., Herman, R., D'Luzansky, S. & Willis, W. T. Epidural spinal-cord stimulation facilitates recovery of functional walking following incomplete spinal-cord injury. IEEE. Trans. Neural. Syst. Rehabil. Eng. 12, 32–42 (2004).

Sławińska, U. et al. Comment on "Restoring voluntary control of locomotion after paralyzing spinal cord injury". Science 338, 328 (2012).

Wernig, A. No dawn yet of a new age in spinal cord rehabilitation. Brain 138, e362 (2015).

Bareyre, F. M. et al. The injured spinal cord spontaneously forms a new intraspinal circuit in adult rats. Nat. Neurosci. 7, 269–277 (2004).

Jankowska, E. & Edgley, S. A. How can corticospinal tract neurons contribute to ipsilateral movements? A question with implications for recovery of motor functions. Neuroscientist. 12, 67–79 (2006).

Courtine, G. et al. Recovery of supraspinal control of stepping via indirect propriospinal relay connections after spinal cord injury. Nat. Med. 14, 69–74 (2008).

Takeoka, A., Vollenweider, I., Courtine, G. & Arber, S. Muscle spindle feedback directs locomotor recovery and circuit reorganization after spinal cord injury. Cell 159, 1626–1639 (2014).

Ballermann, M. & Fouad, K. Spontaneous locomotor recovery in spinal cord injured rats is accompanied by anatomical plasticity of reticulospinal fibers. Eur. J. Neurosci. 23, 1988–1996 (2006).

Zörner, B. et al. Chasing central nervous system plasticity: the brainstem's contribution to locomotor recovery in rats with spinal cord injury. Brain 137, 1716–1732 (2014).

Basso, D. M., Beattie, M. S. & Bresnahan, J. C. Graded histological and locomotor outcomes after spinal cord contusion using the NYU weight-drop device versus transection. Exp. Neurol. 139, 244–256 (1996).

Silver, J., Schwab, M. E. & Popovich, P. G. Central nervous system regenerative failure: role of oligodendrocytes, astrocytes, and microglia. Cold Spring Harb. Perspect. Biol. 7, a020602 (2014).

Dominici, N. et al. Versatile robotic interface to evaluate, enable and train locomotion and balance after neuromotor disorders. Nat. Med. 18, 1142–1147 (2012).

Hollis, E. R. II et al. Ryk controls remapping of motor cortex during functional recovery after spinal cord injury. Nat. Neurosci. 19, 697–705 (2016).

Hilton, B. J. et al. Re-establishment of cortical motor output maps and spontaneous functional recovery via spared dorsolaterally projecting corticospinal neurons after dorsal column spinal cord injury in adult mice. J. Neurosci. 36, 4080–4092 (2016).

von Zitzewitz, J. et al. A neurorobotic platform for locomotor prosthetic development in rats and mice. J. Neural. Eng. 13, 026007 (2016).

Hägglund, M., Borgius, L., Dougherty, K. J. & Kiehn, O. Activation of groups of excitatory neurons in the mammalian spinal cord or hindbrain evokes locomotion. Nat. Neurosci. 13, 246–252 (2010).

Basaldella, E., Takeoka, A., Sigrist, M. & Arber, S. Multisensory signaling shapes vestibulo-motor circuit specificity. Cell 163, 301–312 (2015).

Gomez, J. L. et al. Chemogenetics revealed: DREADD occupancy and activation via converted clozapine. Science 357, 503–507 (2017).

Cowley, K. C., Zaporozhets, E. & Schmidt, B. J. Propriospinal neurons are sufficient for bulbospinal transmission of the locomotor command signal in the neonatal rat spinal cord. J. Physiol. (Lond.) 586, 1623–1635 (2008).

Kinoshita, M. et al. Genetic dissection of the circuit for hand dexterity in primates. Nature 487, 235–238 (2012).

Pivetta, C., Esposito, M. S., Sigrist, M. & Arber, S. Motor-circuit communication matrix from spinal cord to brainstem neurons revealed by developmental origin. Cell 156, 537–548 (2014).

Friedli, L. et al. Pronounced species divergence in corticospinal tract reorganization and functional recovery after lateralized spinal cord injury favors primates. Sci. Transl. Med. 7, 302ra134 (2015).

Gerasimenko, Y. P. et al. Noninvasive reactivation of motor descending control after paralysis. J. Neurotrauma. 32, 1968–1980 (2015).

Siegel, C. S., Fink, K. L., Strittmatter, S. M. & Cafferty, W. B. Plasticity of intact rubral projections mediates spontaneous recovery of function after corticospinal tract injury. J. Neurosci. 35, 1443–1457 (2015).

Esposito, M. S., Capelli, P. & Arber, S. Brainstem nucleus MdV mediates skilled forelimb motor tasks. Nature 508, 351–356 (2014).

Matsuyama, K. et al. Locomotor role of the corticoreticular-reticulospinal-spinal interneuronal system. Prog. Brain. Res. 143, 239–249 (2004).

Nathan, P. W. Effects on movement of surgical incisions into the human spinal cord. Brain 117, 337–346 (1994).

Zaaimi, B., Edgley, S. A., Soteropoulos, D. S. & Baker, S. N. Changes in descending motor pathway connectivity after corticospinal tract lesion in macaque monkey. Brain 135, 2277–2289 (2012).

Belhaj-Saïf, A. & Cheney, P. D. Plasticity in the distribution of the red nucleus output to forearm muscles after unilateral lesions of the pyramidal tract. J. Neurophysiol. 83, 3147–3153 (2000).

Koch, P., Schulz, R. & Hummel, F. C. Structural connectivity analyses in motor recovery research after stroke. Ann. Clin. Transl. Neurol. 3, 233–244 (2016).

Nudo, R. J. & Masterton, R. B. Descending pathways to the spinal cord: a comparative study of 22 mammals. J. Comp. Neurol. 277, 53–79 (1988).

Baker, S. N. & Perez, M. A. Reticulospinal contributions to gross hand function after human spinal cord injury. J. Neurosci. 37, 9778–9784 (2017).

Nathan, P. W., Smith, M. & Deacon, P. Vestibulospinal, reticulospinal and descending propriospinal nerve fibres in man. Brain 119, 1809–1833 (1996).

Kawai, R. et al. Motor cortex is required for learning but not for executing a motor skill. Neuron. 86, 800–812 (2015).

Miri, A. et al. Behaviorally selective engagement of short-latency effector pathways by motor cortex. Neuron. 95, 683–696.e611 (2017).

Kadoya, K. et al. Spinal cord reconstitution with homologous neural grafts enables robust corticospinal regeneration. Nat. Med. 22, 479–487 (2016).

Lu, P. et al. Long-distance growth and connectivity of neural stem cells after severe spinal cord injury. Cell 150, 1264–1273 (2012).

Capogrosso, M. et al. A brain-spine interface alleviating gait deficits after spinal cord injury in primates. Nature 539, 284–288 (2016).

Mignardot, J. B. et al. A multidirectional gravity-assist algorithm that enhances locomotor control in patients with stroke or spinal cord injury. Sci. Transl. Med. 9, eaah3621 (2017).

Tervo, D. G. et al. A designer AAV variant permits efficient retrograde access to projection neurons. Neuron. 92, 372–382 (2016).

Wang, H. et al. High-speed mapping of synaptic connectivity using photostimulation in Channelrhodopsin-2 transgenic mice. Proc. Natl. Acad. Sci. USA 104, 8143–8148 (2007).

Roth, B. L. DREADDs for neuroscientists. Neuron. 89, 683–694 (2016).

Chung, K. et al. Structural and molecular interrogation of intact biological systems. Nature 497, 332–337 (2013).

Tomer, R., Ye, L., Hsueh, B. & Deisseroth, K. Advanced CLARITY for rapid and high-resolution imaging of intact tissues. Nat. Protoc. 9, 1682–1697 (2014).
Acknowledgements
We are grateful to Kissei Comtec (Japan) for providing the KinemaTracer software; J. Bloch for comments on the manuscript; S. Arber for various advices and providing plasmids; D. Trono and S. Offner for their support for the production of the viruses used in this study; E. Bezard for providing us with DREADD plasmids; T. Isa for providing us with plasmids; A. Karpova from the Janelia Virus Service Facility for providing the retro-AAV vectors; J. Courtine for the voiceover in movies; T. Laroche, R. Guiet and O. Burri at the EPFL BioImaging and optics Core Facility for their assistance; F. Pidoux, V. Padrun and A. Aebi for AAV vector production; and G. Ulrich, A. Nguyen, J.H. Ghelman, P.-Y. Helleboid, S. Ghazanfari, E. de Saint-Exupéry, M. Decroux and M.-C. Ung for their help with animal care and data analysis. Financial support was provided by the International Paraplegic Foundation (IRP), a Consolidator Grant from the European Research Council (ERC-2015-CoG HOW2WALKAGAIN 682999) and the Swiss National Science Foundation including an individual grant (subside 310030A_146925), a Bonus of Excellence (310030B_166674), R'Equip (subside 316030_145035), Sinergia (CRSII3_160696) and the National Center of Competence in Research (NCCR) Robotics.
Ethics declarations
Competing interests
G.C. holds various patents in relation to the present work. G.C. is a founder and shareholder of GTX Medical, a company developing a therapeutic intervention for clinical applications directly in relation to the reported results.
Additional information
Publisher's note: Springer Nature remains neutral with regard to jurisdictional claims in published maps and institutional affiliations.
Integrated supplementary information
Supplementary information
Supplementary Figures 1–11 and Supplementary Tables 1–3
About this article
Cite this article
Asboth, L., Friedli, L., Beauparlant, J. et al. Cortico–reticulo–spinal circuit reorganization enables functional recovery after severe spinal cord contusion. Nat Neurosci 21, 576–588 (2018). https://doi.org/10.1038/s41593-018-0093-5
Received:

Accepted:

Published:

Issue Date:

DOI: https://doi.org/10.1038/s41593-018-0093-5