Abstract
In Huntington's disease (HD), expansion of CAG codons in the huntingtin gene (HTT) leads to the aberrant formation of protein aggregates and the differential degeneration of striatal medium spiny neurons (MSNs). Modeling HD using patient-specific MSNs has been challenging, as neurons differentiated from induced pluripotent stem cells are free of aggregates and lack an overt cell death phenotype. Here we generated MSNs from HD patient fibroblasts through microRNA-based direct neuronal conversion, bypassing the induction of pluripotency and retaining age signatures of the original fibroblasts. We found that patient MSNs consistently exhibited mutant HTT (mHTT) aggregates, mHTT-dependent DNA damage, mitochondrial dysfunction and spontaneous degeneration in culture over time. We further provide evidence that erasure of age stored in starting fibroblasts or neuronal conversion of presymptomatic HD patient fibroblasts results in differential manifestation of cellular phenotypes associated with HD, highlighting the importance of age in modeling late-onset neurological disorders.
This is a preview of subscription content
Access options
Subscribe to Journal
Get full journal access for 1 year
$59.00
only $4.92 per issue
All prices are NET prices.
VAT will be added later in the checkout.
Tax calculation will be finalised during checkout.
Rent or Buy article
Get time limited or full article access on ReadCube.
from$8.99
All prices are NET prices.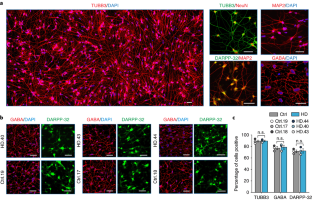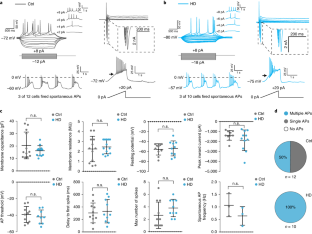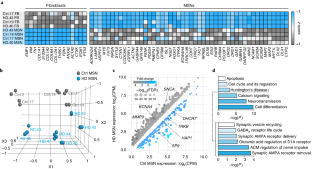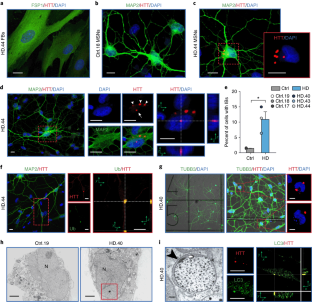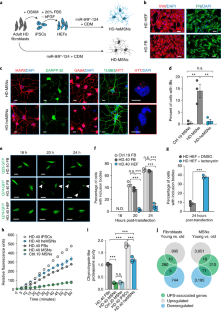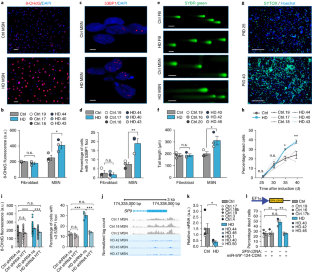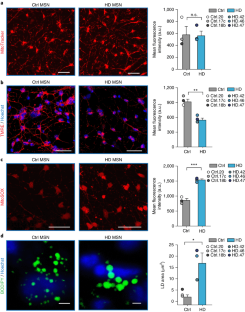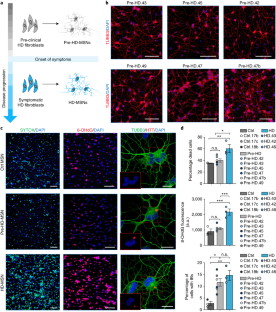 References
1.

Gusella, J. F. et al. A polymorphic DNA marker genetically linked to Huntington's disease. Nature 306, 234–238 (1983).

2.

The Huntington's Disease Collaborative Research Group. A novel gene containing a trinucleotide repeat that is expanded and unstable on Huntington's disease chromosomes. Cell 72, 971–983 (1993).

3.

Ross, C. A. et al. Huntington disease: natural history, biomarkers and prospects for therapeutics. Nat. Rev. Neurol. 10, 204–216 (2014).

4.

Kremer, B. et al. A worldwide study of the Huntington's disease mutation. The sensitivity and specificity of measuring CAG repeats. N. Engl. J. Med. 330, 1401–1406 (1994).

5.

Brinkman, R. R., Mezei, M. M., Theilmann, J., Almqvist, E. & Hayden, M. R. The likelihood of being affected with Huntington disease by a particular age, for a specific CAG size. Am. J. Hum. Genet. 60, 1202–1210 (1997).

6.

Arrasate, M., Mitra, S., Schweitzer, E. S., Segal, M. R. & Finkbeiner, S. Inclusion body formation reduces levels of mutant huntingtin and the risk of neuronal death. Nature 431, 805–810 (2004).

7.

Vonsattel, J. P. & DiFiglia, M. Huntington disease. J. Neuropathol. Exp. Neurol. 57, 369–384 (1998).

8.

Arber, C. et al. Activin A directs striatal projection neuron differentiation of human pluripotent stem cells. Development 142, 1375–1386 (2015).

9.

Camnasio, S. et al. The first reported generation of several induced pluripotent stem cell lines from homozygous and heterozygous Huntington's disease patients demonstrates mutation related enhanced lysosomal activity. Neurobiol. Dis. 46, 41–51 (2012).

10.

An, M. C. et al. Genetic correction of Huntington's disease phenotypes in induced pluripotent stem cells. Cell. Stem Cell. 11, 253–263 (2012).

11.

HD iPSC Consortium. Induced pluripotent stem cells from patients with Huntington's disease show CAG-repeat-expansion-associated phenotypes. Cell. Stem Cell. 11, 264–278 (2012).

12.

Jeon, I. et al. Neuronal properties, in vivo effects, and pathology of a Huntington's disease patient-derived induced pluripotent stem cells. Stem Cells 30, 2054–2062 (2012).

13.

Zhang, N., An, M. C., Montoro, D. & Ellerby, L. M. Characterization of human Huntington's disease cell model from induced pluripotent stem cells. PLoS. Curr. 2, RRN1193 (2010).

14.

Nekrasov, E. D. et al. Manifestation of Huntington's disease pathology in human induced pluripotent stem cell-derived neurons. Mol. Neurodegener. 11, 27 (2016).

15.

Yoo, A. S., Staahl, B. T., Chen, L. & Crabtree, G. R. MicroRNA-mediated switching of chromatin-remodelling complexes in neural development. Nature 460, 642–646 (2009).

16.

Abernathy, D. G. et al. MicroRNAs induce a permissive chromatin environment that enables neuronal subtype-specific reprogramming of adult human fibroblasts. Cell. Stem Cell. 21, 332–348 (2017).

17.

Victor, M. B. et al. Generation of human striatal neurons by microRNA-dependent direct conversion of fibroblasts. Neuron 84, 311–323 (2014).

18.

Miller, J. D. et al. Human iPSC-based modeling of late-onset disease via progerin-induced aging. Cell. Stem Cell. 13, 691–705 (2013).

19.

Horvath, S. DNA methylation age of human tissues and cell types. Genome Biol. 14, R115 (2013).

20.

Huh, C. J. et al. Maintenance of age in human neurons generated by microRNA-based neuronal conversion of fibroblasts. Elife 5, e18648 (2016).

21.

Mertens, J. et al. Directly reprogrammed human neurons retain aging-associated transcriptomic signatures and reveal age-related nucleocytoplasmic defects. Cell. Stem Cell. 17, 705–718 (2015).

22.

Silvestroni, A., Faull, R. L., Strand, A. D. & Möller, T. Distinct neuroinflammatory profile in post-mortem human Huntington's disease. Neuroreport 20, 1098–1103 (2009).

23.

Xue, M. et al. Contributions of multiple proteases to neurotoxicity in a mouse model of intracerebral haemorrhage. Brain 132, 26–36 (2009).

24.

Li, S. H. et al. Lack of huntingtin-associated protein-1 causes neuronal death resembling hypothalamic degeneration in Huntington's disease. J. Neurosci. 23, 6956–6964 (2003).

25.

Lee, J. H. et al. Reinstating aberrant mTORC1 activity in Huntington's disease mice improves disease phenotypes. Neuron 85, 303–315 (2015).

26.

Valenza, M. et al. Dysfunction of the cholesterol biosynthetic pathway in Huntington's disease. J. Neurosci. 25, 9932–9939 (2005).

27.

Tomás-Zapico, C. et al. α-Synuclein accumulates in huntingtin inclusions but forms independent filaments and its deficiency attenuates early phenotype in a mouse model of Huntington's disease. Hum. Mol. Genet. 21, 495–510 (2012).

28.

Corrochano, S. et al. α-Synuclein levels modulate Huntington's disease in mice. Hum. Mol. Genet. 21, 485–494 (2012).

29.

Strand, A. D. et al. Expression profiling of Huntington's disease models suggests that brain-derived neurotrophic factor depletion plays a major role in striatal degeneration. J. Neurosci. 27, 11758–11768 (2007).

30.

Zuccato, C. & Cattaneo, E. Role of brain-derived neurotrophic factor in Huntington's disease. Prog. Neurobiol. 81, 294–330 (2007).

31.

Plotkin, J. L. et al. Impaired TrkB receptor signaling underlies corticostriatal dysfunction in Huntington's disease. Neuron 83, 178–188 (2014).

32.

Zhang, Q. et al. The zinc finger transcription factor Sp9 is required for the development of striatopallidal projection neurons. Cell. Rep. 16, 1431–1444 (2016).

33.

Gutekunst, C. A. et al. Nuclear and neuropil aggregates in Huntington's disease: relationship to neuropathology. J. Neurosci. 19, 2522–2534 (1999).

34.

Ko, J., Ou, S. & Patterson, P. H. New anti-huntingtin monoclonal antibodies: implications for huntingtin conformation and its binding proteins. Brain Res. Bull. 56, 319–329 (2001).

35.

Zheng, S. et al. Deletion of the huntingtin polyglutamine stretch enhances neuronal autophagy and longevity in mice. PLoS. Genet. 6, e1000838 (2010).

36.

Taipale, M., Jarosz, D. F. & Lindquist, S. HSP90 at the hub of protein homeostasis: emerging mechanistic insights. Nat. Rev. Mol. Cell. Biol. 11, 515–528 (2010).

37.

Gomez-Pastor, R. et al. Abnormal degradation of the neuronal stress-protective transcription factor HSF1 in Huntington's disease. Nat. Commun. 8, 14405 (2017).

38.

Vilchez, D. et al. Increased proteasome activity in human embryonic stem cells is regulated by PSMD11. Nature 489, 304–308 (2012).

39.

Lu, X. H. et al. Targeting ATM ameliorates mutant Huntingtin toxicity in cell and animal models of Huntington's disease. Sci. Transl. Med. 6, 268ra178 (2014).

40.

Goebel, H. H., Heipertz, R., Scholz, W., Iqbal, K. & Tellez-Nagel, I. Juvenile Huntington chorea: clinical, ultrastructural, and biochemical studies. Neurology 28, 23–31 (1978).

41.

Kim, I., Rodriguez-Enriquez, S. & Lemasters, J. J. Selective degradation of mitochondria by mitophagy. Arch. Biochem. Biophys. 462, 245–253 (2007).

42.

Liu, L. et al. Glial lipid droplets and ROS induced by mitochondrial defects promote neurodegeneration. Cell 160, 177–190 (2015).

43.

Kumar, A. & Ratan, R. R. Oxidative stress and Huntington's disease: the good, the bad, and the ugly. J. Huntingt. Dis. 5, 217–237 (2016).

44.

Vonsattel, J. P. et al. Neuropathological classification of Huntington's disease. J. Neuropathol. Exp. Neurol. 44, 559–577 (1985).

45.

Yoo, A. S. et al. MicroRNA-mediated conversion of human fibroblasts to neurons. Nature 476, 228–231 (2011).

46.

Dragunow, M. et al. In situ evidence for DNA fragmentation in Huntington's disease striatum and Alzheimer's disease temporal lobes. Neuroreport 6, 1053–1057 (1995).

47.

Richner, M., Victor, M. B., Liu, Y., Abernathy, D. & Yoo, A. S. MicroRNA-based conversion of human fibroblasts into striatal medium spiny neurons. Nat. Protoc. 10, 1543–1555 (2015).

48.

Lobo, M. K., Karsten, S. L., Gray, M., Geschwind, D. H. & Yang, X. W. FACS-array profiling of striatal projection neuron subtypes in juvenile and adult mouse brains. Nat. Neurosci. 9, 443–452 (2006).
Acknowledgements
The authors thank A. Bowman and L. Solnica-Krezel for suggestions, B. Steger and J. Peyer for data quantification, the Washington University Center for Cellular Imaging (WUCCI) for their help in generating electron microscopy data, the Genome Technology Access Center (GTAC) for generating transcriptome datasets, and the Core Usage Funding Program from the Institute of Clinical and Translational Services (ICTS) and the Genome Engineering and iPSC Center (GEiC) at Washington University School of Medicine for their assistance in generating and characterizing iPSC lines. M.B.V. is supported by a National Science Foundation Graduate Research Fellowship (DGE-1143954) and a NIH/NIA dissertation award (1R36AG053444-01). A.S.Y. is supported by the Andrew B. and Virginia C. Craig Faculty Fellowship endowment, an NIH Director's Innovator Award (DP2NS083372-01), a Seed Grant from Washington University Center of Regenerative Medicine, the Ellison Medical Foundation New Scholar in Aging Award, Cure Alzheimer's Fund (CAF) and a Presidential Early Career Award for Scientists and Engineers (PECASE) (4DP2NS083372-02).
Ethics declarations
Competing interests
The authors declare no competing financial interests.
Additional information
Publisher's note: Springer Nature remains neutral with regard to jurisdictional claims in published maps and institutional affiliations.
Integrated supplementary information
Supplementary information
Supplementary Figures 1–12 and Supplementary Tables 1–3
About this article
Cite this article
Victor, M.B., Richner, M., Olsen, H.E. et al. Striatal neurons directly converted from Huntington's disease patient fibroblasts recapitulate age-associated disease phenotypes. Nat Neurosci 21, 341–352 (2018). https://doi.org/10.1038/s41593-018-0075-7
Received:

Accepted:

Published:

Issue Date: