Abstract
As animals forage, they must obtain useful targets by orchestrating appropriate actions that range from searching to chasing, biting and carrying. Here, we reveal that neurons positive for the α subunit of Ca2+/calmodulin-dependent kinase II (CaMKIIα) in the medial preoptic area (MPA) that send projections to the ventral periaqueductal gray (vPAG) mediate these target-directed actions in mice. During photostimulation of the MPA–vPAG circuit, mice vigorously engaged with 3D objects and chased moving objects. When exposed to a cricket, they hunted down the prey and bit it to kill. By applying a head-mounted object control with timely photostimulation of the MPA–vPAG circuit, we found that MPA–vPAG circuit-induced actions occurred only when the target was detected within the binocular visual field. Using this device, we successfully guided mice to navigate specified routes. Our study explains how the brain yields a strong motivation to acquire a target object along the continuum of hunting behavior.
This is a preview of subscription content
Access options
Subscribe to Nature+
Get immediate online access to the entire Nature family of 50+ journals
Subscribe to Journal
Get full journal access for 1 year
$59.00
only $4.92 per issue
All prices are NET prices.
VAT will be added later in the checkout.
Tax calculation will be finalised during checkout.
Buy article
Get time limited or full article access on ReadCube.
$32.00
All prices are NET prices.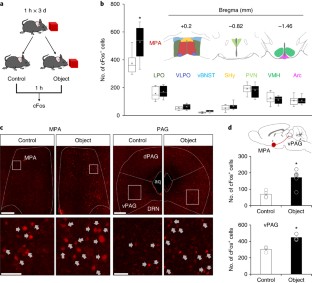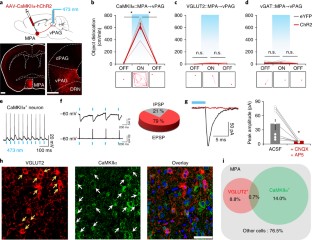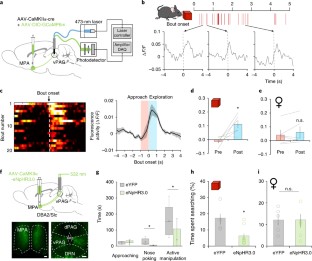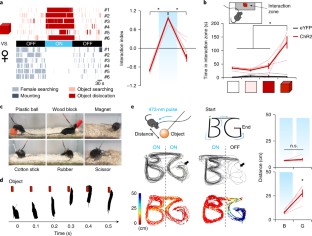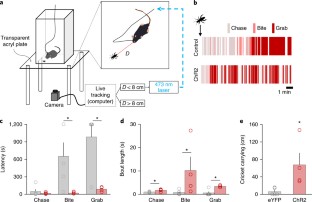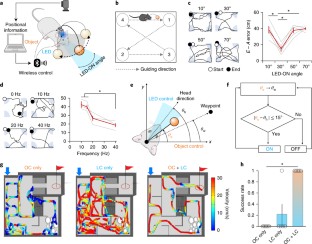 Data availability
The data that support the findings of this study are available from the corresponding author upon reasonable request.
References
Inglis, I. R., Langton, S., Forkman, B. & Lazarus, J. An information primacy model of exploratory and foraging behaviour. Anim. Behav. 62, 543–557 (2001).

Dunbar, R. I. Animal play behavior. Behav. Process. 8, 98–101 (1983). https://doi.org/10.1016/0376-6357(83)90049-9.

Bateson, P. & Young, M. The influence of male kittens on the object play of their female siblings. Behav. Neural Biol. 27, 374–378 (1979).

Ferster, C. B. & Skinner, B. F. Schedules of Reinforcement (B. F. Skinner Foundation, 1957).

Skinner, B. F. Operant behavior. Am. Psychol. 18, 503 (1963).

Klein, M. O. et al. Periaqueductal gray μ and κ opioid receptors determine behavioral selection from maternal to predatory behavior in lactating rats. Behav. Brain Res. 274, 62–72 (2014).

Mota-Ortiz, S. R. et al. The periaqueductal gray as a critical site to mediate reward seeking during predatory hunting. Behav. Brain Res. 226, 32–40 (2012).

Comoli, E., Ribeiro-Barbosa, E. R. & Canteras, N. S. Predatory hunting and exposure to a live predator induce opposite patterns of Fos immunoreactivity in the PAG. Behav. Brain Res. 138, 17–28 (2003).

Han, W. et al. Integrated control of predatory hunting by the central nucleus of the amygdala. Cell 168, 311–324.e318 (2017).

Beitz, A. J. The organization of afferent projections to the midbrain periaqueductal gray of the rat. Neuroscience 7, 133–159 (1982).

Rizvi, T. A., Ennis, M. & Shipley, M. T. Reciprocal connections between the medial preoptic area and the midbrain periaqueductal gray in rat: a WGA-HRP and PHA-L study. J. Comp. Neurol. 315, 1–15 (1992).

Malsbury, C. W. Facilitation of male rat copulatory behavior by electrical stimulation of the medial preoptic area. Physiol. Behav. 7, 797–805 (1971).

Wu, Z., Autry, A. E., Bergan, J. F., Watabe-Uchida, M. & Dulac, C. G. Galanin neurons in the medial preoptic area govern parental behaviour. Nature 509, 325–330 (2014).

Silva, B. A. et al. Independent hypothalamic circuits for social and predator fear. Nat. Neurosci. 16, 1731–1733 (2013).

Wang, L., Chen, I. Z. & Lin, D. Collateral pathways from the ventromedial hypothalamus mediate defensive behaviors. Neuron 85, 1344–1358 (2015).

Lin, D. et al. Functional identification of an aggression locus in the mouse hypothalamus. Nature 470, 221–226 (2011).

Falkner, A. L., Grosenick, L., Davidson, T. J., Deisseroth, K. & Lin, D. Hypothalamic control of male aggression-seeking behavior. Nat. Neurosci. 19, 596–604 (2016).

Falkner, A. L., Dollar, P., Perona, P., Anderson, D. J. & Lin, D. Decoding ventromedial hypothalamic neural activity during male mouse aggression. J. Neurosci. 34, 5971–5984 (2014).

Aponte, Y., Atasoy, D. & Sternson, S. M. AGRP neurons are sufficient to orchestrate feeding behavior rapidly and without training. Nat. Neurosci. 14, 351–355 (2011).

Anand, B. K. & Brobeck, J. R. Localization of a "feeding center" in the hypothalamus of the rat. Proc. Soc. Exp. Biol. Med. 77, 323–324 (1951).

Davidson, J. M. Activation of the male rat's sexual behavior by intracerebral implantation of androgen. Endocrinology 79, 783–794 (1966).

Lee, H. et al. Scalable control of mounting and attack by Esr1+ neurons in the ventromedial hypothalamus. Nature 509, 627–632 (2014).

Wallace, R. J. Hoarding of inedible objects by albino rats. Behav. Biol. 23, 409–414 (1978).

Wallace, R. J. Novelty and partibility as determinants of hoarding in the albino rat. Anim. Learn. Behav. 7, 549–554 (1979).

Morgan, J. I., Cohen, D. R., Hempstead, J. L. & Curran, T. Mapping patterns of c-fos expression in the central nervous system after seizure. Science 237, 192–197 (1987).

Kim, D., Chae, S., Lee, J., Yang, H. & Shin, H. S. Variations in the behaviors to novel objects among five inbred strains of mice. Genes. Brain Behav. 4, 302–306 (2005).

Zhang, F., Wang, L. P., Boyden, E. S. & Deisseroth, K. Channelrhodopsin-2 and optical control of excitable cells. Nat. Methods 3, 785–792 (2006).

Vong, L. et al. Leptin action on GABAergic neurons prevents obesity and reduces inhibitory tone to POMC neurons. Neuron 71, 142–154 (2011).

Fremeau, R. T. Jr. et al. The expression of vesicular glutamate transporters defines two classes of excitatory synapse. Neuron 31, 247–260 (2001).

Gorski, R. A., Harlan, R. E., Jacobson, C. D., Shryne, J. E. & Southam, A. M. Evidence for the existence of a sexually dimorphic nucleus in the preoptic area of the rat. J. Comp. Neurol. 193, 529–539 (1980).

Raisman, G. & Field, P. M. Sexual dimorphism in the preoptic area of the rat. Science 173, 731–733 (1971).

Gunaydin, L. A. et al. Natural neural projection dynamics underlying social behavior. Cell 157, 1535–1551 (2014).

Heesy, C. P. On the relationship between orbit orientation and binocular visual field overlap in mammals. Anat. Rec. A Discov. Mol. Cell. Evol. Biol. 281, 1104–1110 (2004).

Numan, M. Medial preoptic area and maternal behavior in the female rat. J. Comp. Physiol. Psychol. 87, 746–759 (1974).

Chung, S. et al. Identification of preoptic sleep neurons using retrograde labelling and gene profiling. Nature 545, 477–481 (2017).

Ziegler, D. R., Cullinan, W. E. & Herman, J. P. Distribution of vesicular glutamate transporter mRNA in rat hypothalamus. J. Comp. Neurol. 448, 217–229 (2002).

Kiss, J., Kocsis, K., Csáki, A. & Halász, B. Evidence for vesicular glutamate transporter synapses onto gonadotropin-releasing hormone and other neurons in the rat medial preoptic area. Eur. J. Neurosci. 18, 3267–3278 (2003).

Oka, T., Tsumori, T., Yokota, S. & Yasui, Y. Neuroanatomical and neurochemical organization of projections from the central amygdaloid nucleus to the nucleus retroambiguus via the periaqueductal gray in the rat. Neurosci. Res. 62, 286–298 (2008).

Wilson, A. M. et al. Locomotion dynamics of hunting in wild cheetahs. Nature 498, 185–189 (2013).

Paul, L. Predatory attack by rats: its relationship to feeding and type of prey. J. Comp. Physiol. Psychol. 78, 69–76 (1972).

Valone, T. J. & Lima, S. L. Carrying food items to cover for consumption: the behavior of ten bird species feeding under the risk of predation. Oecologia 71, 286–294 (1987).

Talwar, S. K. et al. Rat navigation guided by remote control. Nature 417, 37–38 (2002).

Maharbiz, M. & Sato, H. Cyborg beetles. Sci. Am. 303, 94–99 (2010).

O'Connell, L. A. & Hofmann, H. A. Evolution of a vertebrate social decision-making network. Science 336, 1154–1157 (2012).

Mueller, A. et al. Pathologisches Kaufen und psychische Komorbidität [Compulsive buying and psychiatric comorbidity]. Psychother. Psychosom. Med. Psychol. 59, 291–299 (2009).

Grant, J. E. & Kim, S. W. Clinical characteristics and associated psychopathology of 22 patients with kleptomania. Compr. Psychiatr 43, 378–384, https://doi.org/10.1053/comp.2002.34628 (2002)..

Saxena, S. et al. Obsessive-compulsive hoarding: symptom severity and response to multimodal treatment. J. Clin. Psychiatry 63, 21–27 (2002).

Gray, P. The decline of play and the rise of psychopathology in children and adolescents. Am. J. Play. 3, 443–463 (2011).

Paxinos, G. & Franklin, K.B.J. The Mouse Brain in Stereotaxic Coordinates (Elsevier Academic Press, 2008)

Piché, M., Robert, S., Miceli, D. & Bronchti, G. Environmental enrichment enhances auditory takeover of the occipital cortex in anophthalmic mice. Eur. J. Neurosci. 20, 3463–3472 (2004).

Mendonça, D. F. et al. The inactive form of glycogen synthase kinase-3β is associated with the development of carcinomas in galectin-3 wild-type mice, but not in galectin-3-deficient mice. Int. J. Clin. Exp. Pathol. 5, 547–554 (2012).

Cook-Snyder, D. R., Jones, A. & Reijmers, L. G. A retrograde adeno-associated virus for collecting ribosome-bound mRNA from anatomically defined projection neurons. Front. Mol. Neurosci. 8, 56 (2015).

Morrison, H. W. & Filosa, J. A. Sex differences in astrocyte and microglia responses immediately following middle cerebral artery occlusion in adult mice. Neuroscience 339, 85–99 (2016).

Musser, M. A., Correa, H. & Southard-Smith, E. M. Enteric neuron imbalance and proximal dysmotility in ganglionated intestine of the Sox10Dom/+ Hirschsprung mouse model. Cell. Mol. Gastroenterol. Hepatol. 1, 87–101 (2015).

Cui, G. et al. Concurrent activation of striatal direct and indirect pathways during action initiation. Nature 494, 238–242 (2013).

Kim, J. et al. Inhibitory basal ganglia inputs induce excitatory motor signals in the thalamus. Neuron 95, 1181–1196. e1188 (2017).
Acknowledgements
We thank K. Deisseroth at Stanford University for generously sharing the channelrhodopsin vectors and Y-S. Jeong, J-E. Choi and M-K. Han for their assistance with experiments. We also thank to S. Park for assistance with writing. This work was supported by Samsung Science and Technology Foundation under Project Number SSTF-BA1301-07.
Ethics declarations
Competing interests
The authors declare no competing financial interests.
Additional information
Publisher's note: Springer Nature remains neutral with regard to jurisdictional claims in published maps and institutional affiliations.
Integrated supplementary information
Supplementary information
Supplementary Figures 1–10
About this article
Cite this article
Park, SG., Jeong, YC., Kim, DG. et al. Medial preoptic circuit induces hunting-like actions to target objects and prey. Nat Neurosci 21, 364–372 (2018). https://doi.org/10.1038/s41593-018-0072-x
Received:

Accepted:

Published:

Issue Date:

DOI: https://doi.org/10.1038/s41593-018-0072-x