Abstract
We develop soft and stretchable fatigue-resistant hydrogel optical fibers that enable optogenetic modulation of peripheral nerves in naturally behaving animals during persistent locomotion. The formation of polymeric nanocrystalline domains within the hydrogels yields fibers with low optical losses of 1.07 dB cm−1, Young's modulus of 1.6 MPa, stretchability of 200% and fatigue strength of 1.4 MPa against 30,000 stretch cycles. The hydrogel fibers permitted light delivery to the sciatic nerve, optogenetically activating hindlimb muscles in Thy1::ChR2 mice during 6-week voluntary wheel running assays while experiencing repeated deformation. The fibers additionally enabled optical inhibition of pain hypersensitivity in an inflammatory model in TRPV1::NpHR mice over an 8-week period. Our hydrogel fibers offer a motion-adaptable and robust solution to peripheral nerve optogenetics, facilitating the investigation of somatosensation.
Access options
Access Nature and 54 other Nature Portfolio journals
Get Nature+, our best-value online-access subscription
$29.99 / 30 days
cancel any time
Subscribe to this journal
Receive 12 print issues and online access
$259.00 per year
only $21.58 per issue
Rent or buy this article
Prices vary by article type
from$1.95
to$39.95
Prices may be subject to local taxes which are calculated during checkout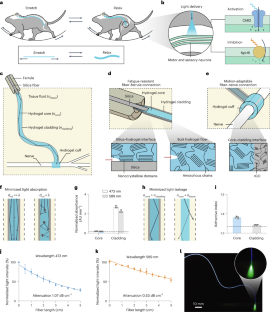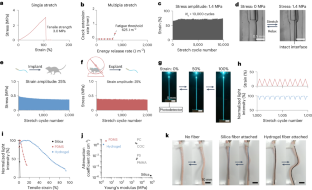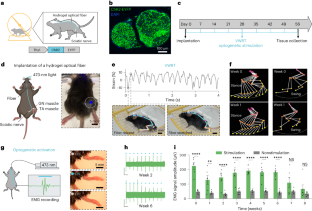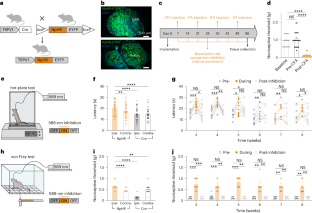 References
Deisseroth, K. Optogenetics. Nat. Methods 8, 26–29 (2011).

Kim, C. K., Adhikari, A. & Deisseroth, K. Integration of optogenetics with complementary methodologies in systems neuroscience. Nat. Rev. Neurosci. 18, 222–235 (2017).

Montgomery, K. L., Iyer, S. M., Christensen, A. J., Deisseroth, K. & Delp, S. L. Beyond the brain: optogenetic control in the spinal cord and peripheral nervous system. Sci. Transl. Med. 8, 337rv335–337rv335 (2016).

Nam, S. & Mooney, D. Polymeric tissue adhesives. Chem. Rev. 121, 11336–11384 (2021).

Chen, R., Canales, A. & Anikeeva, P. Neural recording and modulation technologies. Nat. Rev. Mater. 2, 1–16 (2017).

Liu, X., Liu, J., Lin, S. & Zhao, X. Hydrogel machines. Mater. Today 36, 102–124 (2020).

Park, S. I. et al. Soft, stretchable, fully implantable miniaturized optoelectronic systems for wireless optogenetics. Nat. Biotechnol. 33, 1280–1286 (2015).

Kathe, C. et al. Wireless closed-loop optogenetics across the entire dorsoventral spinal cord in mice. Nat. Biotechnol. 40, 198–208 (2021).

Michoud, F. et al. Epineural optogenetic activation of nociceptors initiates and amplifies inflammation. Nat. Biotechnol. 39, 179–185 (2021).

Zhang, Y. et al. Battery-free, fully implantable optofluidic cuff system for wireless optogenetic and pharmacological neuromodulation of peripheral nerves. Sci. Adv. 5, eaaw5296 (2019).

Brooks, S. P. & Dunnett, S. B. Tests to assess motor phenotype in mice: a user's guide. Nat. Rev. Neurosci. 10, 519–529 (2009).

Canales, A. et al. Multifunctional fibers for simultaneous optical, electrical and chemical interrogation of neural circuits in vivo. Nat. Biotechnol. 33, 277–284 (2015).

Park, S. et al. Adaptive and multifunctional hydrogel hybrid probes for long-term sensing and modulation of neural activity. Nat. Commun. 12, 3435 (2021).

Lu, C. et al. Flexible and stretchable nanowire-coated fibers for optoelectronic probing of spinal cord circuits. Sci. Adv. 3, e1600955 (2017).

Buchanan, K. L. et al. The preference for sugar over sweetener depends on a gut sensor cell. Nat. Neurosci. 25, 191–200 (2022).

Sparta, D. R. et al. Construction of implantable optical fibers for long-term optogenetic manipulation of neural circuits. Nat. Protoc. 7, 12–23 (2012).

Liu, Y. et al. Soft and elastic hydrogel-based microelectronics for localized low-voltage neuromodulation. Nat. Biomed. Eng. 3, 58–68 (2019).

Tringides, C. M. et al. Viscoelastic surface electrode arrays to interface with viscoelastic tissues. Nat. Nanotechnol. 16, 1019–1029 (2021).

Yuk, H., Wu, J. & Zhao, X. Hydrogel interfaces for merging humans and machines. Nat. Rev. Mater. 7, 935–952 (2022).

Guo, J. et al. Highly stretchable, strain sensing hydrogel optical fibers. Adv. Mater. 28, 10244–10249 (2016).

Choi, M. et al. Light-guiding hydrogels for cell-based sensing and optogenetic synthesis in vivo. Nat. Photonics 7, 987–994 (2013).

Bai, R., Yang, J. & Suo, Z. Fatigue of hydrogels. Eur. J. Mech. A Solids 74, 337–370 (2019).

Liu, J. et al. Fatigue-resistant adhesion of hydrogels. Nat. Commun. 11, 1071 (2020).

Kashyap, S., Pratihar, S. K. & Behera, S. K. Strong and ductile graphene oxide reinforced PVA nanocomposites. J. Alloys Compd. 684, 254–260 (2016).

Oster, G. The scattering of light and its applications to chemistry. Chem. Rev. 43, 319–365 (1948).

Rinawati, M., Triastuti, J. & Pursetyo, K. T. Characterization of elasticity and hydration of composite hydrogel based on collagen-iota carrageenan as a corneal tissue engineering. IOP Conf. Ser. Earth Environ. Sci. 137, 012042 (2018).

Zheng, H. et al. A shape-memory and spiral light-emitting device for precise multisite stimulation of nerve bundles. Nat. Commun. 10, 2790 (2019).

Liske, H., Qian, X., Anikeeva, P., Deisseroth, K. & Delp, S. Optical control of neuronal excitation and inhibition using a single opsin protein, ChR2. Sci. Rep. 3, 3110 (2013).

Iyer, S. M. et al. Virally mediated optogenetic excitation and inhibition of pain in freely moving nontransgenic mice. Nat. Biotechnol. 32, 274–278 (2014).

Antunes, P., Domingues, F., Granada, M. & André, P. Mechanical Properties of Optical Fibers (INTECH Open Access Publisher, 2012).

Guimarães, C. F., Gasperini, L., Marques, A. P. & Reis, R. L. The stiffness of living tissues and its implications for tissue engineering. Nat. Rev. Mater. 5, 351–370 (2020).

Kuthe, C. D., Uddanwadiker, R. V. & Ramteke, A. Experimental evaluation of fiber orientation based material properties of skeletal muscle in tension. Mol. Cell. Biomech. 11, 113–128 (2014).

Zwirner, J., Ondruschka, B., Scholze, M. & Hammer, N. Passive load-deformation properties of human temporal muscle. J. Biomech. 106, 109829 (2020).

Kuthe, C. D. & Uddanwadiker, R. V. Investigation of effect of fiber orientation on mechanical behavior of skeletal muscle. J. Appl. Biomater. Funct. Mater. 14, 154–162 (2016).

Layton, B. & Sastry, A. A mechanical model for collagen fibril load sharing in peripheral nerve of diabetic and nondiabetic rats. J. Biomech. Eng. 126, 803–814 (2004).

Wang, Z. et al. Stretchable materials of high toughness and low hysteresis. Proc. Natl Acad. Sci. USA 116, 5967–5972 (2019).

Griffith, A. A. VI. The phenomena of rupture and flow in solids. Philos. Trans. R. Soc. Lond. A 221, 163–198 (1921).

Park, S., Loke, G., Fink, Y. & Anikeeva, P. Flexible fiber-based optoelectronics for neural interfaces. Chem. Soc. Rev. 48, 1826–1852 (2019).

Nath, T. et al. Using DeepLabCut for 3D markerless pose estimation across species and behaviors. Nat. Protoc. 14, 2152–2176 (2019).

Chiu, I. M. et al. Activation of innate and humoral immunity in the peripheral nervous system of ALS transgenic mice. Proc. Natl Acad. Sci. USA 106, 20960–20965 (2009).

Kalinski, A. L. et al. Analysis of the immune response to sciatic nerve injury identifies efferocytosis as a key mechanism of nerve debridement. eLife 9, e60223 (2020).

Liu, Y. et al. Touch and tactile neuropathic pain sensitivity are set by corticospinal projections. Nature 561, 547–550 (2018).

Boettger, M. K. et al. Differences in inflammatory pain in nNOS-, iNOS- and eNOS-deficient mice. Eur. J. Pain 11, 810–818 (2007).

Basbaum, A. I., Bautista, D. M., Scherrer, G. & Julius, D. Cellular and molecular mechanisms of pain. Cell 139, 267–284 (2009).

Hsueh, B. et al. Cardiogenic control of affective behavioural state. Nature 615, 292–299 (2023).

Sahasrabudhe, A. et al. Multifunctional microelectronic fibers enable wireless modulation of gut and brain neural circuits. Nat. Biotechnol. https://doi.org/10.1038/s41587-023-01833-5 (2023).

Gunaydin, L. A. et al. Natural neural projection dynamics underlying social behavior. Cell 157, 1535–1551 (2014).
Acknowledgements
This work is supported in part by the National Institutes of Health (grant no. 1R01HL153857-01, grant no. 1R01HL167947-01, X.Z.), the National Science Foundation (grant no. EFMA-1935291, X.Z.), the US Army Research Office through the Institute for Soldier Nanotechnologies at MIT (grant no. W911NF-13-D-0001, X.Z.), Department of Defense Congressionally Directed Medical Research Programs (grant no. PR200524P1, X.Z.), the National Institutes of Health (grant no. K99-MH120279, grant no. R00-MH120279, S.R.), the Brain and Behavior Research Foundation (grant no. 29878, S.R.), UMass Amherst Faculty Research Grant (grant no. P1FRG0000000295, S.R.), the National Institute of Neurological Disorders and Stroke (grant no. R01-NS086804 and grant no. R01-NS115025, P.A.), the McGovern Institute for Brain Research (P.A.), the Hock E. Tan and K. Lisa Yang Center for Autism Research (P.A.) and the K. Lisa Yang Brain-Body Center (P.A.). A.S. was supported by the Lore Harp McGovern Fellowship.
Ethics declarations
Competing interests
P.A. has a financial interest in NeuroBionics Inc., a biotechnology company focused on the development of multifunctional fibers for research and clinical applications. X.Z. has a financial interest in SanaHeal, a biotechnology company focused on the development of medical devices for surgical sealing and repair. Z.H. is an advisor for Myro Therapeutics, Axonis and Rugen Therapeutics. The remaining authors declare no competing interests.
Peer review
Peer review information
Nature Methods thanks the anonymous reviewers for their contribution to the peer review of this work. Primary Handling Editor: Nina Vogt, in collaboration with the Nature Methods team.
Additional information
Publisher's note Springer Nature remains neutral with regard to jurisdictional claims in published maps and institutional affiliations.
Supplementary information
Rights and permissions
Springer Nature or its licensor (e.g. a society or other partner) holds exclusive rights to this article under a publishing agreement with the author(s) or other rightsholder(s); author self-archiving of the accepted manuscript version of this article is solely governed by the terms of such publishing agreement and applicable law.
About this article
Cite this article
Liu, X., Rao, S., Chen, W. et al. Fatigue-resistant hydrogel optical fibers enable peripheral nerve optogenetics during locomotion. Nat Methods 20, 1802–1809 (2023). https://doi.org/10.1038/s41592-023-02020-9
Received:

Accepted:

Published:

Issue Date:

DOI: https://doi.org/10.1038/s41592-023-02020-9