Abstract
Fluorescent RNAs, aptamers that bind and activate small fluorogenic dyes, have provided a particularly attractive approach to visualizing RNAs in live cells. However, the simultaneous imaging of multiple RNAs remains challenging due to a lack of bright and stable fluorescent RNAs with bio-orthogonality and suitable spectral properties. Here, we develop the Clivias, a series of small, monomeric and stable orange-to-red fluorescent RNAs with large Stokes shifts of up to 108 nm, enabling the simple and robust imaging of RNA with minimal perturbation of the target RNA's localization and functionality. In combination with Pepper fluorescent RNAs, the Clivias enable the single-excitation two-emission dual-color imaging of cellular RNAs and genomic loci. Clivias can also be used to detect RNA–protein interactions by bioluminescent imaging both in live cells and in vivo. We believe that these large Stokes shift fluorescent RNAs will be useful tools for the tracking and quantification of multiple RNAs in diverse biological processes.
Access options
Access Nature and 54 other Nature Portfolio journals
Get Nature+, our best-value online-access subscription
$29.99 / 30 days
cancel any time
Subscribe to this journal
Receive 12 print issues and online access
$259.00 per year
only $21.58 per issue
Rent or buy this article
Prices vary by article type
from$1.95
to$39.95
Prices may be subject to local taxes which are calculated during checkout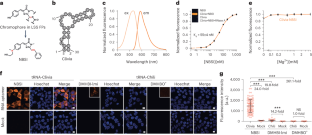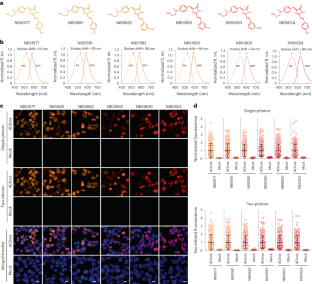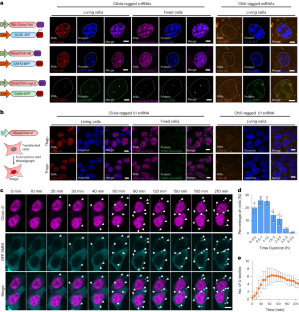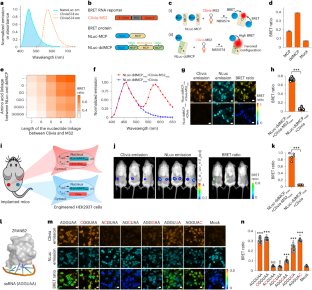 Data availability
The data supporting the findings of this study are available in the paper and its Supplementary Information files. Source data are provided with this paper.
References
Enterina, J. R., Wu, L. & Campbell, R. E. Emerging fluorescent protein technologies. Curr. Opin. Chem. Biol. 27, 10–17 (2015).

Shcherbakova, D. M., Hink, M. A., Joosen, L., Gadella, T. W. & Verkhusha, V. V. An orange fluorescent protein with a large Stokes shift for single-excitation multicolor FCCS and FRET imaging. J. Am. Chem. Soc. 134, 7913–7923 (2012).

Kogure, T. et al. A fluorescent variant of a protein from the stony coral Montipora facilitates dual-color single-laser fluorescence cross-correlation spectroscopy. Nat. Biotechnol. 24, 577–581 (2006).

Yang, J. et al. mBeRFP, an improved large Stokes shift red fluorescent protein. PLoS One 8, e64849 (2013).

Piatkevich, K. D. et al. Monomeric red fluorescent proteins with a large Stokes shift. Proc. Natl Acad. Sci. USA 107, 5369–5374 (2010).

Chu, J. et al. A bright cyan-excitable orange fluorescent protein facilitates dual-emission microscopy and enhances bioluminescence imaging in vivo. Nat. Biotechnol. 34, 760–767 (2016).

Paige, J. S., Wu, K. Y. & Jaffrey, S. R. RNA mimics of green fluorescent protein. Science 333, 642–646 (2011).

Strack, R. L., Disney, M. D. & Jaffrey, S. R. A superfolding Spinach2 reveals the dynamic nature of trinucleotide repeat-containing RNA. Nat. Methods 10, 1219–1224 (2013).

Filonov, G. S., Moon, J. D., Svensen, N. & Jaffrey, S. R. Broccoli: rapid selection of an RNA mimic of green fluorescent protein by fluorescence-based selection and directed evolution. J. Am. Chem. Soc. 136, 16299–16308 (2014).

Dolgosheina, E. V. et al. RNA mango aptamer-fluorophore: a bright, high-affinity complex for RNA labeling and tracking. ACS Chem. Biol. 9, 2412–2420 (2014).

Sunbul, M. & Jaschke, A. SRB-2: a promiscuous rainbow aptamer for live-cell RNA imaging. Nucleic Acids Res. 46, e110 (2018).

Arora, A., Sunbul, M. & Jaschke, A. Dual-colour imaging of RNAs using quencher- and fluorophore-binding aptamers. Nucleic Acids Res. 43, e144 (2015).

Sunbul, M. & Jaschke, A. Contact-mediated quenching for RNA imaging in bacteria with a fluorophore-binding aptamer. Angew. Chem. Int. Ed. Engl. 52, 13401–13404 (2013).

Autour, A. et al. Fluorogenic RNA Mango aptamers for imaging small non-coding RNAs in mammalian cells. Nat. Commun. 9, 656 (2018).

Li, X., Kim, H., Litke, J. L., Wu, J. & Jaffrey, S. R. Fluorophore-promoted RNA folding and photostability enables imaging of single Broccoli-tagged mRNAs in live mammalian cells. Angew. Chem. Int. Ed. Engl. 59, 4511–4518 (2020).

Li, X. et al. Imaging intracellular S-adenosyl methionine dynamics in live mammalian cells with a genetically encoded red fluorescent RNA-based sensor. J. Am. Chem. Soc. 142, 14117–14124 (2020).

Tan, X. et al. Fluoromodules consisting of a promiscuous RNA aptamer and red or blue fluorogenic cyanine dyes: selection, characterization, and bioimaging. J. Am. Chem. Soc. 139, 9001–9009 (2017).

Braselmann, E. et al. A multicolor riboswitch-based platform for imaging of RNA in live mammalian cells. Nat. Chem. Biol. 14, 964–971 (2018).

Bouhedda, F. et al. A dimerization-based fluorogenic dye-aptamer module for RNA imaging in live cells. Nat. Chem. Biol. 16, 69–76 (2020).

Song, W. et al. Imaging RNA polymerase III transcription using a photostable RNA–fluorophore complex. Nat. Chem. Biol. 13, 1187–1194 (2017).

Cawte, A. D., Unrau, P. J. & Rueda, D. S. Live cell imaging of single RNA molecules with fluorogenic Mango II arrays. Nat. Commun. 11, 1283 (2020).

Sunbul, M. et al. Super-resolution RNA imaging using a rhodamine-binding aptamer with fast exchange kinetics. Nat. Biotechnol. 39, 686–690 (2021).

Dey, S. K. et al. Publisher correction: Repurposing an adenine riboswitch into a fluorogenic imaging and sensing tag. Nat. Chem. Biol. 18, 236 (2022).

Wirth, R., Gao, P., Nienhaus, G. U., Sunbul, M. & Jaschke, A. SiRA: a silicon rhodamine-binding aptamer for live-cell super-resolution RNA imaging. J. Am. Chem. Soc. 141, 7562–7571 (2019).

Zhang, J., Wang, L., Jaschke, A. & Sunbul, M. A color-shifting near-infrared fluorescent aptamer-fluorophore module for live-cell RNA imaging. Angew. Chem. Int. Ed. Engl. 60, 21441–21448 (2021).

Li, X., Wu, J. & Jaffrey, S. R. Engineering fluorophore recycling in a fluorogenic RNA aptamer. Angew. Chem. Int. Ed. Engl. 60, 24153–24161 (2021).

Chen, X. et al. Visualizing RNA dynamics in live cells with bright and stable fluorescent RNAs. Nat. Biotechnol. 37, 1287–1293 (2019).

Steinmetzger, C., Palanisamy, N., Gore, K. R. & Hobartner, C. A multicolor large Stokes shift fluorogen-activating RNA aptamer with cationic chromophores. Chemistry 25, 1931–1935 (2019).

Huang, K. et al. Structure-based investigation of fluorogenic Pepper aptamer. Nat. Chem. Biol. 17, 1289–1295 (2021).

Yuan, L., Lin, W. & Chen, H. Analogs of Changsha near-infrared dyes with large Stokes shifts for bioimaging. Biomaterials 34, 9566–9571 (2013).

Grubbs, R. D. Intracellular magnesium and magnesium buffering. Biometals 15, 251–259 (2002).

Prasanth, K. V. et al. Nuclear organization and dynamics of 7SK RNA in regulating gene expression. Mol. Biol. Cell 21, 4184–4196 (2010).

Marnef, A., Richard, P., Pinzon, N. & Kiss, T. Targeting vertebrate intron-encoded box C/D 2'-O-methylation guide RNAs into the Cajal body. Nucleic Acids Res. 42, 6616–6629 (2014).

Novotny, I. et al. SART3-dependent accumulation of incomplete spliceosomal snRNPs in Cajal bodies. Cell Rep. 10, 429–440 (2015).

Tsalikis, J. et al. Intracellular bacterial pathogens trigger the formation of U small nuclear RNA bodies (U Bodies) through metabolic stress induction. J. Biol. Chem. 290, 20904–20918 (2015).

Jain, S. et al. ATPase-modulated stress granules contain a diverse proteome and substructure. Cell 164, 487–498 (2016).

Shao, S. et al. Long-term dual-color tracking of genomic loci by modified sgRNAs of the CRISPR/Cas9 system. Nucleic Acids Res. 44, e86 (2016).

Chen, B. et al. Dynamic imaging of genomic loci in living human cells by an optimized CRISPR/Cas system. Cell 155, 1479–1491 (2013).

Xiong, F. & Frasch, W. D. OmegaqPCR measures telomere length from single-cells in base pair units. Nucleic Acids Res. 49, e120 (2021).

Hall, M. P. et al. Engineered luciferase reporter from a deep sea shrimp utilizing a novel imidazopyrazinone substrate. ACS Chem. Biol. 7, 1848–1857 (2012).

Johansson, H. E. et al. A thermodynamic analysis of the sequence-specific binding of RNA by bacteriophage MS2 coat protein. Proc. Natl Acad. Sci. USA 95, 9244–9249 (1998).

Grahn, E. et al. Structural basis of pyrimidine specificity in the MS2 RNA hairpin-coat-protein complex. RNA 7, 1616–1627 (2001).

Franklin, N. C. 'N' transcription antitermination proteins of bacteriophages lambda, phi 21 and P22. J. Mol. Biol. 181, 85–91 (1985).

Loughlin, F. E. et al. The zinc fingers of the SR-like protein ZRANB2 are single-stranded RNA-binding domains that recognize 5′ splice site-like sequences. Proc. Natl Acad. Sci. USA 106, 5581–5586 (2009).

Kondo, Y., Oubridge, C., van Roon, A. M. & Nagai, K. Crystal structure of human U1 snRNP, a small nuclear ribonucleoprotein particle, reveals the mechanism of 5′ splice site recognition. eLife 4, e04986 (2015).

Spritz, R. A., Strunk, K., Surowy, C. S. & Mohrenweiser, H. W. Human U1-70K ribonucleoprotein antigen gene: organization, nucleotide sequence, and mapping to locus 19q13.3. Genomics 8, 371–379 (1990).

Wu, R. et al. Ratiometric fluorogenic RNA-based sensors for imaging live-cell dynamics of small molecules. ACS Appl. Bio Mater. 3, 2633–2642 (2020).

Konig, K. Multiphoton microscopy in life sciences. J. Microsc. 200, 83–104 (2000).

Protter, D. S. W. & Parker, R. Principles and properties of stress granules. Trends Cell Biol. 26, 668–679 (2016).

Liu, R. et al. Optogenetic control of RNA function and metabolism using engineered light-switchable RNA-binding proteins. Nat. Biotechnol. 40, 779–786 (2022).

Litke, J. L. & Jaffrey, S. R. Highly efficient expression of circular RNA aptamers in cells using autocatalytic transcripts. Nat. Biotechnol. 37, 667–675 (2019).
Acknowledgements
This research was supported by the National Key Research and Development Program of China (2022YFC3400100 to Y.Y. and X.C., 2019YFA0110500 to L.Z., 2019YFA0904800 to Y.Y. and L.Z. and 2021YFC2300300 to A.R.), NSFC (91857202, 32121005, 32150028 and 21937004 to Y.Y.; 21907029 and 21877037 to L.Z.; 32022039, 31870810, 91940302 and 91640104 to A.R.; 32250009 to X.C.; 32001051 to N.S.), STI2030-Major Projects (2021ZD0202200 and 2021ZD0202203 to X.C.), the Shanghai Municipal Education Commission (2021 Sci and Tech 03-28), ALS Project from Shanghai Jiao Tong University School of Medicine Affiliated Sixth People's Hospital (to Y.Y.), the Shanghai Rising-Star Program to X.C., the State Key Laboratory of Bioreactor Engineering (to Y.Y.), China Postdoctoral Science Foundation (2022M711147 to X. Xie.), and the Fundamental Research Funds for the Central Universities (to Y.Y. and X.C.).
Ethics declarations
Competing interests
Y.Y., X.C., X. Xie and N.S. are named inventors of patent application number 202010206404.1. All other authors have no competing interests.
Peer review
Peer review information
Nature Methods thanks Gal Haimovich and the other, anonymous, reviewer(s) for their contribution to the peer review of this work. Primary Handling Editor: Rita Strack, in collaboration with the Nature Methods team.
Additional information
Publisher's note Springer Nature remains neutral with regard to jurisdictional claims in published maps and institutional affiliations.
Supplementary information
Rights and permissions
Springer Nature or its licensor (e.g. a society or other partner) holds exclusive rights to this article under a publishing agreement with the author(s) or other rightsholder(s); author self-archiving of the accepted manuscript version of this article is solely governed by the terms of such publishing agreement and applicable law.
About this article
Cite this article
Jiang, L., Xie, X., Su, N. et al. Large Stokes shift fluorescent RNAs for dual-emission fluorescence and bioluminescence imaging in live cells. Nat Methods (2023). https://doi.org/10.1038/s41592-023-01997-7
Received:

Accepted:

Published:

DOI: https://doi.org/10.1038/s41592-023-01997-7