Abstract
The ability to quantify structural changes of the endoplasmic reticulum (ER) is crucial for understanding the structure and function of this organelle. However, the rapid movement and complex topology of ER networks make this challenging. Here, we construct a state-of-the-art semantic segmentation method that we call ERnet for the automatic classification of sheet and tubular ER domains inside individual cells. Data are skeletonized and represented by connectivity graphs, enabling precise and efficient quantification of network connectivity. ERnet generates metrics on topology and integrity of ER structures and quantifies structural change in response to genetic or metabolic manipulation. We validate ERnet using data obtained by various ER-imaging methods from different cell types as well as ground truth images of synthetic ER structures. ERnet can be deployed in an automatic high-throughput and unbiased fashion and identifies subtle changes in ER phenotypes that may inform on disease progression and response to therapy.
Access options
Access Nature and 54 other Nature Portfolio journals
Get Nature+, our best-value online-access subscription
$29.99 / 30 days
cancel any time
Subscribe to this journal
Receive 12 print issues and online access
$209.00 per year
only $17.42 per issue
Rent or buy this article
Get just this article for as long as you need it
$39.95
Prices may be subject to local taxes which are calculated during checkout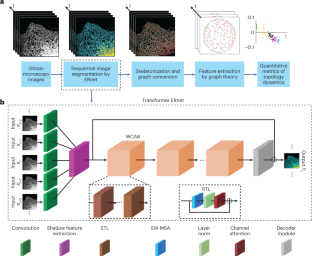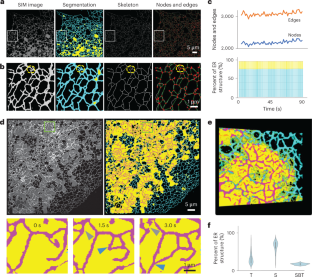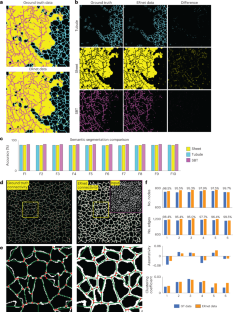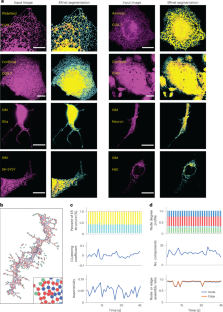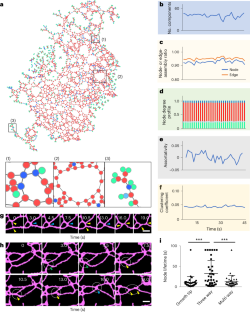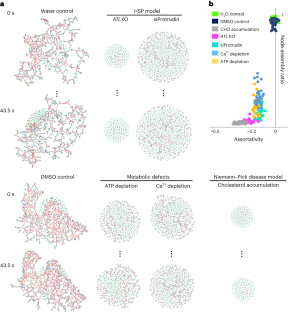 References
Schwarz, D. S. & Blower, M. D. The endoplasmic reticulum: structure, function and response to cellular signaling. Cell. Mol. Life Sci. 73, 79–94 (2016).

Schönthal, A. H. Endoplasmic reticulum stress: its role in disease and novel prospects for therapy. Scientifica 2012, 857516 (2012).

Lu, M. et al. The structure and global distribution of the endoplasmic reticulum network are actively regulated by lysosomes. Sci. Adv. 6, eabc7209 (2020).

Obara, C. J., Moore, A. S. & Lippincott-Schwartz, J. Structural diversity within the endoplasmic reticulum—from the microscale to the nanoscale. Cold Spring Harb. Perspect. Biol. 19, a041259 (2022).

Nixon-Abell, J. et al. Increased spatiotemporal resolution reveals highly dynamic dense tubular matrices in the peripheral ER. Science 354, aaf3928 (2016).

Guo, Y. et al. Visualizing intracellular organelle and cytoskeletal interactions at nanoscale resolution on millisecond timescales. Cell 175, 1430–1442 (2018).

Zhao, W. et al. Sparse deconvolution improves the resolution of live-cell super-resolution fluorescence microscopy. Nat. Biotechnol. 40, 606–617 (2022).

Stringer, C., Wang, T., Michaelos, M. & Pachitariu, M. Cellpose: a generalist algorithm for cellular segmentation. Nat. Methods 18, 100–106 (2021).

Fischer, C. A. et al. MitoSegNet: easy-to-use deep learning segmentation for analyzing mitochondrial morphology. iScience 23, 101601 (2020).

Lefebvre, A. E., Ma, D., Kessenbrock, K., Lawson, D. A. & Digman, M. A. Automated segmentation and tracking of mitochondria in live-cell time-lapse images. Nat. Methods 18, 1091–1102 (2021).

Hollandi, R. et al. nucleAIzer: a parameter-free deep learning framework for nucleus segmentation using image style transfer. Cell Syst. 10, 453–458 (2020).

English, A. R. & Voeltz, G. K. Endoplasmic reticulum structure and interconnections with other organelles. Cold Spring Harb. Perspect. Biol. 5, a013227 (2013).

Pain, C., Kriechbaumer, V., Kittelmann, M., Hawes, C. & Fricker, M. Quantitative analysis of plant ER architecture and dynamics. Nat. Commun. 10, 984 (2019).

Garcia-Pardo, M. E., Simpson, J. C. & O'Sullivan, N. C. A novel automated image analysis pipeline for quantifying morphological changes to the endoplasmic reticulum in cultured human cells. BMC Bioinformatics 22, 427 (2021).

Arganda-Carreras, I. et al. Trainable Weka Segmentation: a machine learning tool for microscopy pixel classification. Bioinformatics 33, 2424–2426 (2017).

Belthangady, C. & Royer, L. A. Applications, promises, and pitfalls of deep learning for fluorescence image reconstruction. Nat. Methods 16, 1215–1225 (2019).

Lee, T. C., Kashyap, R. L. & Chu, C. N. Building skeleton models via 3-D medial surface axis thinning algorithms. CVGIP Graph. Models Image Process. 56, 462–478 (1994).

Peixoto, P. T. The graph-tool Python library (figshare, 2014).

Dosovitskiy, A. et al. An image is worth 16 × 16 words: transformers for image recognition at scale. Preprint at arXiv https://doi.org/10.48550/arXiv.2010.11929 (2020).

Liu, Z. et al. Swin Transformer V2: scaling up capacity and resolution. In Proc. IEEE/CVF Conference on Computer Vision and Pattern Recognition 12009–12019 (IEEE/CVF, 2022).

Mateus, D., Marini, E. S., Progida, C. & Bakke, O. Rab7a modulates ER stress and ER morphology. Biochim. Biophys. Acta Mol. Cell Res. 1865, 781–793 (2018).

Chang, J., Lee, S. & Blackstone, C. Protrudin binds atlastins and endoplasmic reticulum-shaping proteins and regulates network formation. Proc. Natl Acad. Sci. USA 110, 14954–14959 (2013).

Qin, J. et al. ER–mitochondria contacts promote mtDNA nucleoids active transportation via mitochondrial dynamic tubulation. Nat. Commun. 11, 4471 (2020).

Qiao, C. et al. Evaluation and development of deep neural networks for image super-resolution in optical microscopy. Nat. Methods 18, 194–202 (2021).

Newman, M. E. J. Assortative mixing in networks. Phys. Rev. Lett. 89, 208701 (2002).

Zhao, X. et al. Mutations in a newly identified GTPase gene cause autosomal dominant hereditary spastic paraplegia. Nat. Genet. 29, 326–331 (2001).

Mannan, A. U. et al. ZFYVE27 (SPG33), a novel spastin-binding protein, is mutated in hereditary spastic paraplegia. Am. J. Hum. Genet. 79, 351–357 (2006).

Sun, S. et al. Identification of endoplasmic reticulum-shaping proteins in Plasmodium parasites. Protein Cell 7, 615–620 (2016).

Ko, D. C., Gordon, M. D., Jin, J. Y. & Scott, M. P. Dynamic movements of organelles containing Niemann–Pick C1 protein: NPC1 involvement in late endocytic events. Mol. Biol. Cell 12, 601–614 (2001).

Merritt, J. E. et al. SK&F 96365, a novel inhibitor of receptor-mediated calcium entry. Biochem. J. 271, 515–522 (1990).

McAbee, D. D. & Weigel, P. H. ATP depletion causes a reversible redistribution and inactivation of a subpopulation of galactosyl receptors in isolated rat hepatocytes. J. Biol. Chem. 262, 1942–1945 (1987).

Paul, S., & Chen, P. Y. Vision transformers are robust learners. In Proc. AAAI Conference on Artificial Intelligence Vol. 36, 2071–2081 (AAAI, 2022).

Vaswani, A. et al. Attention is all you need. Advances in Neural Information Processing Systems 30 (NIPS) (2017).

Christensen, C. N., Lu, M., Ward, E. N., Lio, P. & Kaminski, C. F. Spatio-temporal Vision Transformer for super-resolution microscopy. Preprint at arXiv https://doi.org/10.48550/arXiv.2203.00030 (2022).

Qiao, C. et al. Rationalized deep learning super-resolution microscopy for sustained live imaging of rapid subcellular processes. Nat. Biotechnol. 41, 367–377 (2023).

Liu, J. et al. Automatic reconstruction of mitochondria and endoplasmic reticulum in electron microscopy volumes by deep learning. Front. Neurosci. 14, 599 (2020).

Guo, Y. et al. Deep learning-based morphological classification of endoplasmic reticulum under stress. Front. Cell Dev. Biol. 9, 767866 (2022).

Schroeder, L. K. et al. Dynamic nanoscale morphology of the ER surveyed by STED microscopy. J. Cell Biol. 218, 83–96 (2019).

Michel, C. H. et al. Extracellular monomeric tau protein is sufficient to initiate the spread of tau protein pathology. J. Biol. Chem. 289, 956–967 (2014).

Avezov, E. et al. Retarded PDI diffusion and a reductive shift in poise of the calcium depleted endoplasmic reticulum. BMC Biol. 13, 2 (2015).

Middya, S. et al. Microelectrode arrays for simultaneous electrophysiology and advanced optical microscopy. Adv. Sci. 8, 2004434 (2021).

Lu, M. et al. Structural progression of amyloid-β Arctic mutant aggregation in cells revealed by multiparametric imaging. J. Biol. Chem. 294, 1478–1487 (2019).

Young, L. J., Ströhl, F. & Kaminski, C. F. A guide to structured illumination TIRF microscopy at high speed with multiple colors. J. Vis. Exp. https://doi.org/10.3791/53988 e53988 (2016).

Müller, M., Mönkemöller, V., Hennig, S., Hübner, W. & Huser, T. Open-source image reconstruction of super-resolution structured illumination microscopy data in ImageJ. Nat. Commun. 7, 10980 (2016).

Culley, S. et al. Quantitative mapping and minimization of super-resolution optical imaging artifacts. Nat. Methods 15, 263–266 (2018).

Liang, J. et al. SwinIR: image restoration using Swin Transformer. In Proc. IEEE/CVF International Conference on Computer Vision 1833–1844 (ICCV, 2021).

Zhang, Y. et al. Image super-resolution using very deep residual channel attention networks. In Proc. European Conference on Computer Vision 286–301 (ECCV, 2018).

Boccaletti, S., Latora, V., Moreno, Y., Chavez, M. & Hwang, D. U. Complex networks: structure and dynamics. Phys. Rep. 424, 175–308 (2006).

Costa, L. et al. Characterization of complex networks: a survey of measurements. Am. J. Enol. Vitic. 38, 293–297 (1987).

Hagberg, A., Swart, P. & Chult, S. D. Exploring Network Structure, Dynamics, and Function Using NetworkX. Report No. LA-UR-08-05495 (USDOE, 2008).

Newman, M. E. J. The structure and function of complex networks. SIAM Rev. 45, 167–256 (2003).

Cimini, G. et al. The statistical physics of real-world networks. Nat. Rev. Phys. 1, 58–71 (2019).

Albert, R. Scale-free networks in cell biology. J. Cell Sci. 118, 4947–4957 (2005).

Strogatz, S. H. Exploring complex networks. Nature 410, 268–276 (2001).
Acknowledgements
We thank A.I. Fernández Villegas and Y. Feng for helping with cell culture. We thank E. Ward for helping with image processing. We thank J. Hu (Chinese Academy of Sciences, China) for giving us the ATL KO cell line. Funding: this research was funded by Infinitus (China) (supporting M.L., C.F.K. and G.S.K.S.); a Wellcome Trust Programme Grant (085314/Z/08/Z to G.S.K.S. and C.F.K); a Swiss National Science Foundation Career Grant (P2EZP2_199843 to N.F.L.); a research fellowship from the Deutsche Forschungsgemeinschaft (DFG; SCHE 1672/2-1 to K.M.S.) and pump-prime funding from the Integrated Biological Imaging Network (G106925 to K.M.S.); the UK Dementia Research Institute, which receives its funding from the UK DRI, funded by the UK Medical Research Council, Alzheimer's Society and Alzheimer's Research UK (supporting T.K., E.A. and C.F.K.) and Alzheimer's Society 525 (AS-PhD-19a-015) supporting E.A. J.M.W.'s PhD scholarship was funded by the Department of Chemical Engineering and Biotechnology, University of Cambridge.
Ethics declarations
Competing interests
The authors declare no competing interests.
Peer review
Peer review information
Nature Methods thanks Niamh O'Sullivan and the other, anonymous, reviewer(s) for their contribution to the peer review of this work. Primary Handling Editor: Rita Strack, in collaboration with the Nature Methods team. Peer reviewer reports are available.
Additional information
Publisher's note Springer Nature remains neutral with regard to jurisdictional claims in published maps and institutional affiliations.
Supplementary information
Rights and permissions
Springer Nature or its licensor (e.g. a society or other partner) holds exclusive rights to this article under a publishing agreement with the author(s) or other rightsholder(s); author self-archiving of the accepted manuscript version of this article is solely governed by the terms of such publishing agreement and applicable law.
About this article
Cite this article
Lu, M., Christensen, C.N., Weber, J.M. et al. ERnet: a tool for the semantic segmentation and quantitative analysis of endoplasmic reticulum topology. Nat Methods 20, 569–579 (2023). https://doi.org/10.1038/s41592-023-01815-0
Received:

Accepted:

Published:

Issue Date:

DOI: https://doi.org/10.1038/s41592-023-01815-0