Abstract
Pooled CRISPR screens coupled with single-cell RNA-sequencing have enabled systematic interrogation of gene function and regulatory networks. Here, we introduce Cas13 RNA Perturb-seq (CaRPool-seq), which leverages the RNA-targeting CRISPR–Cas13d system and enables efficient combinatorial perturbations alongside multimodal single-cell profiling. CaRPool-seq encodes multiple perturbations on a cleavable CRISPR array that is associated with a detectable barcode sequence, allowing for the simultaneous targeting of multiple genes. We compared CaRPool-seq to existing Cas9-based methods, highlighting its unique strength to efficiently profile combinatorially perturbed cells. Finally, we apply CaRPool-seq to perform multiplexed combinatorial perturbations of myeloid differentiation regulators in an acute myeloid leukemia (AML) model system and identify extensive interactions between different chromatin regulators that can enhance or suppress AML differentiation phenotypes.
Relevant articles
Open Access articles citing this article.
Sarah Meyers

,

Sofie Demeyer

&

Jan Cools

Journal of Hematology & Oncology Open Access 24 October 2023
Access options
Access Nature and 54 other Nature Portfolio journals
Get Nature+, our best-value online-access subscription
$29.99 / 30 days
cancel any time
Subscribe to this journal
Receive 12 print issues and online access
$259.00 per year
only $21.58 per issue
Rent or buy this article
Prices vary by article type
from$1.95
to$39.95
Prices may be subject to local taxes which are calculated during checkout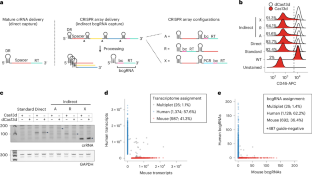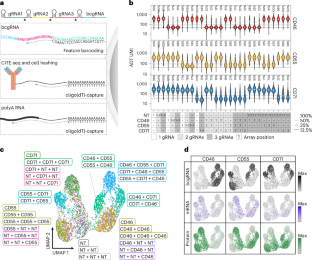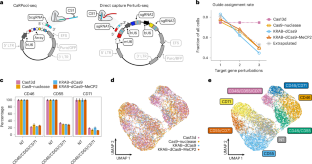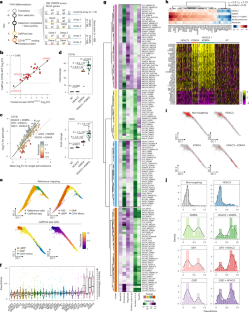 Data availability
Raw and processed sequencing data have been made available on the National Center for Biotechnology Information Gene Expression Omnibus under the accession number GSE213957. ECCITE-seq data used in this study are available at the Gene Expression Omnibus (GSE146469, ref. 23). Source data are provided with this paper.
References
Dixit, A. et al. Perturb-Seq: dissecting molecular circuits with scalable single-cell RNA profiling of pooled genetic screens. Cell 167, 1853–1866 (2016).

Datlinger, P. et al. Pooled CRISPR screening with single-cell transcriptome readout. Nat. Methods 14, 297–301 (2017).

Jaitin, D. A. et al. Dissecting immune circuits by linking CRISPR-pooled screens with single-cell RNA-seq. Cell 167, 1883–1896 (2016).

Mimitou, E. P. et al. Multiplexed detection of proteins, transcriptomes, clonotypes and CRISPR perturbations in single cells. Nat. Methods 16, 409–412 (2019).

Adamson, B. et al. A multiplexed single-cell CRISPR screening platform enables systematic dissection of the unfolded protein response. Cell 167, 1867–1882 (2016).

Replogle, J. M. et al. Combinatorial single-cell CRISPR screens by direct guide RNA capture and targeted sequencing. Nat. Biotechnol. 38, 954–961 (2020).

Norman, T. M. et al. Exploring genetic interaction manifolds constructed from rich single-cell phenotypes. Science 365, 786–793 (2019).

Michlits, G. et al. Multilayered VBC score predicts sgRNAs that efficiently generate loss-of-function alleles. Nat. Methods 17, 708–716 (2020).

Papalexi, E. et al. Characterizing the molecular regulation of inhibitory immune checkpoints with multimodal single-cell screens. Nat. Genet. 53, 322–331 (2021).

Konermann, S. et al. Transcriptome engineering with RNA-targeting type VI-D CRISPR effectors. Cell 173, 665–676 (2018).

Wessels, H. H. et al. Massively parallel Cas13 screens reveal principles for guide RNA design. Nat. Biotechnol. 38, 722–727 (2020).

Stoeckius, M. et al. Simultaneous epitope and transcriptome measurement in single cells. Nat. Methods 14, 865–868 (2017).

Tuladhar, R. et al. CRISPR-Cas9-based mutagenesis frequently provokes on-target mRNA misregulation. Nat. Commun. 10, 1–10 (2019).

Burris, B. J. D., Molina Vargas, A. M., Park, B. J. & O'Connell, M. R. Optimization of specific RNA knockdown in mammalian cells with CRISPR-Cas13. Methods 206, 58–68 (2022).

Shi, P. et al. RNA-guided cell targeting with CRISPR/RfxCas13d collateral activity in human cells. Preprint at bioRxiv https://doi.org/10.1101/2021.11.30.470032 (2021).

Kelley, C. P., Haerle, M. C. & Wang, E. T. Negative autoregulation mitigates collateral RNase activity of repeat-targeting CRISPR-Cas13d in mammalian cells. Cell Rep. 40, 111226 (2022).

Gilbert, L. A. et al. CRISPR-mediated modular RNA-guided regulation of transcription in eukaryotes. Cell 154, 442 (2013).

Morris, J. A. et al. Discovery of target genes and pathways of blood trait loci using pooled CRISPR screens and single cell RNA sequencing. Preprint at bioRxiv https://doi.org/10.1101/2021.04.07.438882 (2021).

Yeo, N. C. et al. An enhanced CRISPR repressor for targeted mammalian gene regulation. Nat. Methods 15, 611–616 (2018).

Doench, J. G. et al. Optimized sgRNA design to maximize activity and minimize off-target effects of CRISPR-Cas9. Nat. Biotechnol. 34, 184–191 (2016).

Sanson, K. R. et al. Optimized libraries for CRISPR-Cas9 genetic screens with multiple modalities. Nat. Commun. 9, 5416 (2018).

Stoeckius, M. et al. Cell Hashing with barcoded antibodies enables multiplexing and doublet detection for single cell genomics. Genome Biol. 19, 224 (2018).

Wang, E. et al. Surface antigen-guided CRISPR screens identify regulators of myeloid leukemia differentiation. Cell Stem Cell 28, 718–731 (2021).

Consortium Hubmap. The human body at cellular resolution: the NIH Human Biomolecular Atlas Program. Nature 574, 187–192 (2019).

Regev, A. et al. The human cell atlas. eLife 6, 1–30 (2017).

Granja, J. M. et al. Single-cell multiomic analysis identifies regulatory programs in mixed-phenotype acute leukemia. Nat. Biotechnol. 37, 1458–1465 (2019).

Oetjen, K. A. et al. Human bone marrow assessment by single-cell RNA sequencing, mass cytometry, and flow cytometry. JCI Insight. 3, e124928 (2018).

Nicosia, L. et al. Pharmacological inhibition of LSD1 triggers myeloid differentiation by targeting GSE1 oncogenic functions in AML. Oncogene https://doi.org/10.1038/s41388-021-02123-7 (2021).

Fiskus, W. et al. Highly effective combination of LSD1 (KDM1A) antagonist and pan-histone deacetylase inhibitor against human AML cells. Leukemia 28, 2155–2164 (2014).

Nelson, J. W. et al. Engineered pegRNAs improve prime editing efficiency. Nat. Biotechnol. https://doi.org/10.1038/s41587-021-01039-7 (2021).

Méndez-Mancilla, A. et al. Chemically modified guide RNAs enhance CRISPR-Cas13 knockdown in human cells. Cell Chem. Biol. https://doi.org/10.1016/j.chembiol.2021.07.011 (2021).

Zhang, C. et al. Structural basis for the RNA-guided ribonuclease activity of CRISPR-Cas13d. Cell 175, 212–223 (2018).

Akiyama, B. M. et al. Zika virus produces noncoding RNAs using a multi-pseudoknot structure that confounds a cellular exonuclease. Science 354, 1148–1152 (2016).

Anzalone, A. V., Lin, A. J., Zairis, S., Rabadan, R. & Cornish, V. W. Reprogramming eukaryotic translation with ligand-responsive synthetic RNA switches. Nat. Methods 13, 453–458 (2016).

Lensch, S. et al. Dynamic spreading of chromatin-mediated gene silencing and reactivation between neighboring genes in single cells. eLife 11, e75115 (2022).

Campa, C. C., Weisbach, N. R., Santinha, A. J., Incarnato, D. & Platt, R. J. Multiplexed genome engineering by Cas12a and CRISPR arrays encoded on single transcripts. Nat. Methods 16, 887–893 (2019).

Özcan, A. et al. Programmable RNA targeting with the single-protein CRISPR effector Cas7-11. Nature 597, 720–725 (2021).

Schraivogel, D. et al. Targeted Perturb-seq enables genome-scale genetic screens in single cells. Nat. Methods 17, 629–635 (2020).

Otoupal, P. B., Cress, B. F., Doudna, J. A. & Schoeniger, J. S. CRISPR-RNAa: targeted activation of translation using dCas13 fusions to translation initiation factors. Nucleic Acids Res. 50, 8986–8998 (2022).

Tong, H. et al. High-fidelity Cas13 variants for targeted RNA degradation with minimal collateral effects. Nat. Biotechnol. https://doi.org/10.1038/s41587-022-01419-7 (2022).

Wei, J. et al. Deep learning and CRISPR-Cas13d ortholog discovery for optimized RNA targeting. Preprint at bioRxiv https://doi.org/10.1101/2021.09.14.460134 (2022).

Guo, X. et al. Transcriptome-wide Cas13 guide RNA design for model organisms and viral RNA pathogens. Cell Genomics 1, 100001 (2021).

Langmead, B., Trapnell, C., Pop, M. & Salzberg, S. L. Ultrafast and memory-efficient alignment of short DNA sequences to the human genome. Genome Biol. 10, R25 (2009).

Love, M. I., Huber, W. & Anders, S. Moderated estimation of fold change and dispersion for RNA-seq data with DESeq2. Genome Biol. 15, 550 (2014).

Leek, J. T., Johnson, W. E., Parker, H. S., Jaffe, A. E. & Storey, J. D. The sva package for removing batch effects and other unwanted variation in high-throughput experiments. Bioinformatics 28, 882–883 (2012).

Kolde, R., Laur, S., Adler, P. & Vilo, J. Robust rank aggregation for gene list integration and meta-analysis. Bioinformatics 28, 573–580 (2012).

Hao, Y. et al. Integrated analysis of multimodal single-cell data. Cell 184, 3573–3587.e29 (2021).
Acknowledgements
We thank the Technology Innovation laboratory as well as all members of the Sanjana and Satija laboratories for helpful discussions. We are grateful to Z. Daniloski for cloning the Cas9-effector protein plasmids, to I. Aifantis for advice and helpful discussion related to THP1 experiments, and the Technology Innovation laboratory for generously sharing CITE-seq reagents. N.E.S. and R.S. are supported by New York University and New York Genome Center startup funds. N.E.S. is further supported by DARPA (grant no. D18AP00053), the Brain and Behavior Foundation, the Cancer Research Institute, the National Institutes of Health (NIH)/National Human Genome Research Institute (grant no. DP2HG010099) and the NIH/National Cancer Institute (grant no. R01CA218668). R.S. is supported by the Chan Zuckerberg Initiative (grant nos. EOSS-0000000082 to R.S., HCA-A-1704-01895 to P.S. and R.S.), and the National Institutes of Health (grant nos. DP2HG009623-01 to R.S. and RM1HG011014-01 to P.S. and R.S.).
Ethics declarations
Competing interests
In the past 3 years, R.S. has worked as a consultant for Bristol-Myers Squibb, Regeneron and Kallyope, and served as a SAB member for ImmunAI, Apollo Life Sciences GmbH, Nanostring and the New York City Pandemic Response Laboratory. N.E.S. is an advisor to Vertex and QIAGEN and is a cofounder of OverT Bio. P.S. is a coinventor on a patent related to protein detection by sequencing as described in this work. The New York Genome Center and New York University have applied for patents relating to the work in this article. The remaining authors declare no competing interests.
Peer review
Peer review information
Nature Methods thanks the anonymous reviewers for their contribution to the peer review of this work. Primary Handling Editor: Lei Tang, in collaboration with the Nature Methods team.
Additional information
Publisher's note Springer Nature remains neutral with regard to jurisdictional claims in published maps and institutional affiliations.
Supplementary information
Supplementary Methods and References.
Supplementary Table 1 CaRPool-seq and Perturb-seq libraries. Supplementary Table 2 Oligonucleotides for molecular cloning. Supplementary Table 3 CD55 bulk RNA-seq counts. Supplementary Table 4 CD11b and CD14b pooled screen results. Supplementary Table 5 CD11b combinatorial pooled screen results. Supplementary Table 6 ADTs used in this study. Supplementary Table 7 HTOs used in this study.
Source data
(1) Unprocessed DNA gels. (2) General gating strategy (applies also to Fig. 4b and Extended Data Figs. 1a–f, 3c–e, 5a and 6i).
General gating strategy for Extended Data Figs. 6 and 7.
Rights and permissions
Springer Nature or its licensor (e.g. a society or other partner) holds exclusive rights to this article under a publishing agreement with the author(s) or other rightsholder(s); author self-archiving of the accepted manuscript version of this article is solely governed by the terms of such publishing agreement and applicable law.
About this article
Cite this article
Wessels, HH., Méndez-Mancilla, A., Hao, Y. et al. Efficient combinatorial targeting of RNA transcripts in single cells with Cas13 RNA Perturb-seq. Nat Methods 20, 86–94 (2023). https://doi.org/10.1038/s41592-022-01705-x
Received:

Accepted:

Published:

Issue Date:

DOI: https://doi.org/10.1038/s41592-022-01705-x
This article is cited by
Sarah Meyers
Sofie Demeyer
Jan Cools

Journal of Hematology & Oncology (2023)

Lukas Heumos
Anna C. Schaar
Fabian J. Theis

Nature Reviews Genetics (2023)