Abstract
The MS2 and MS2-coat protein (MS2-MCP) imaging system is widely used to study messenger RNA (mRNA) spatial distribution in living cells. Here, we report that the MS2-MCP system destabilizes some tagged mRNAs by activating the nonsense-mediated mRNA decay pathway. We introduce an improved version, which counteracts this effect by increasing the efficiency of translation termination of the tagged mRNAs. Improved versions were developed for both yeast and mammalian systems.
Relevant articles
Open Access articles citing this article.
Hiroaki Ohishi

,

Seiru Shimada

…

Hiroshi Ochiai

Nature Communications Open Access 20 December 2022
Access options
Subscribe to Nature+
Get immediate online access to Nature and 55 other Nature journal
Subscribe to Journal
Get full journal access for 1 year
$99.00
only $8.25 per issue
All prices are NET prices.
VAT will be added later in the checkout.
Tax calculation will be finalised during checkout.
Buy article
Get time limited or full article access on ReadCube.
$32.00
All prices are NET prices.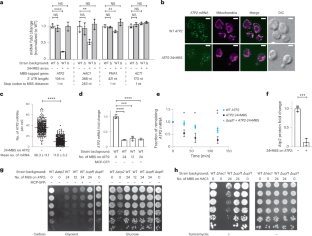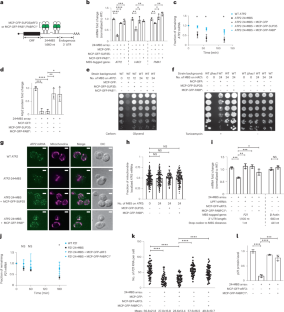 Data availability
All of the data and reagents used in this study are available upon request. The key plasmids of the MS2-MCP systems V8 and V9 will be available through Addgene. Source data are provided with this paper.
References
Martin, K. C. & Ephrussi, A. mRNA localization: gene expression in the spatial dimension. Cell 136, 719–730 (2009).

Tutucci, E., Livingston, N. M., Singer, R. H. & Wu, B. Imaging mRNA in vivo, from birth to death. Annu. Rev. Biophys. 47, 85–106 (2018).

Tutucci, E. et al. An improved MS2 system for accurate reporting of the mRNA life cycle. Nat. Methods 15, 81–89 (2018).

Kurosaki, T., Popp, M. W. & Maquat, L. E. Quality and quantity control of gene expression by nonsense-mediated mRNA decay. Nat. Rev. Mol. Cell Biol. 20, 406–420 (2019).

Amrani, N. et al. A faux 3′-UTR promotes aberrant termination and triggers nonsense-mediated mRNA decay. Nature 432, 112–118 (2004).

Kervestin, S., Li, C., Buckingham, R. & Jacobson, A. Testing the faux-UTR model for NMD: analysis of Upf1p and Pab1p competition for binding to eRF3/Sup35p. Biochimie 94, 1560–1571 (2012).

Peixeiro, I. et al. Interaction of PABPC1 with the translation initiation complex is critical to the NMD resistance of AUG-proximal nonsense mutations. Nucleic Acids Res. 40, 1160–1173 (2012).

Wu, C., Roy, B., He, F., Yan, K. & Jacobson, A. Poly(A)-binding protein regulates the efficiency of translation termination. Cell Rep. 33, 108399 (2020).

Eberle, A. B., Stalder, L., Mathys, H., Orozco, R. Z. & Muhlemann, O. Posttranscriptional gene regulation by spatial rearrangement of the 3′ untranslated region. PLoS Biol. 6, e92 (2008).

Kebaara, B. W. & Atkin, A. L. Long 3′-UTRs target wild-type mRNAs for nonsense-mediated mRNA decay in Saccharomyces cerevisiae. Nucleic Acids Res. 37, 2771–2778 (2009).

Muhlrad, D. & Parker, R. Aberrant mRNAs with extended 3′ UTRs are substrates for rapid degradation by mRNA surveillance. RNA 5, 1299–1307 (1999).

Nagalakshmi, U. et al. The transcriptional landscape of the yeast genome defined by RNA sequencing. Science 320, 1344–1349 (2008).

Takeda, M., Vassarotti, A. & Douglas, M. G. Nuclear genes coding the yeast mitochondrial adenosine triphosphatase complex. Primary sequence analysis of ATP2 encoding the F1-ATPase beta-subunit precursor. J. Biol. Chem. 260, 15458–15465 (1985).

Cox, J. S. & Walter, P. A novel mechanism for regulating activity of a transcription factor that controls the unfolded protein response. Cell 87, 391–404 (1996).

Kim, Y. K. & Maquat, L. E. UPFront and center in RNA decay: UPF1 in nonsense-mediated mRNA decay and beyond. RNA 25, 407–422 (2019).

Fatscher, T. & Gehring, N. H. Harnessing short poly(A)-binding protein-interacting peptides for the suppression of nonsense-mediated mRNA decay. Sci. Rep. 6, 37311 (2016).

Fatscher, T., Boehm, V., Weiche, B. & Gehring, N. H. The interaction of cytoplasmic poly(A)-binding protein with eukaryotic initiation factor 4G suppresses nonsense-mediated mRNA decay. RNA 20, 1579–1592 (2014).

Singh, G., Rebbapragada, I. & Lykke-Andersen, J. A competition between stimulators and antagonists of Upf complex recruitment governs human nonsense-mediated mRNA decay. PLoS Biol. 6, e111 (2008).

Silva, A. L., Ribeiro, P., Inacio, A., Liebhaber, S. A. & Romao, L. Proximity of the poly(A)-binding protein to a premature termination codon inhibits mammalian nonsense-mediated mRNA decay. RNA 14, 563–576 (2008).

Deardorff, J. A. & Sachs, A. B. Differential effects of aromatic and charged residue substitutions in the RNA binding domains of the yeast poly(A)-binding protein. J. Mol. Biol. 269, 67–81 (1997).

Margeot, A. et al. In Saccharomyces cerevisiae, ATP2 mRNA sorting to the vicinity of mitochondria is essential for respiratory function. EMBO J. 21, 6893–6904 (2002).

Abbas, T. & Dutta, A. p21 in cancer: intricate networks and multiple activities. Nat. Rev. Cancer 9, 400–414 (2009).

Lionnet, T. et al. A transgenic mouse for in vivo detection of endogenous labeled mRNA. Nat. Methods 8, 165–170 (2011).

Carvajal, L. A. et al. Dual inhibition of MDMX and MDM2 as a therapeutic strategy in leukemia. Sci. Transl. Med. 10, eaao3003 (2018).

Braselmann, E., Rathbun, C., Richards, E. M. & Palmer, A. E. Illuminating RNA biology: tools for imaging RNA in live mammalian cells. Cell Chem. Biol. 27, 891–903 (2020).

Dash, B. C. & El-Deiry, W. S. Phosphorylation of p21 in G2/M promotes cyclin B-Cdc2 kinase activity. Mol. Cell. Biol. 25, 3364–3387 (2005).

Xia, W. et al. Phosphorylation/cytoplasmic localization of p21Cip1/WAF1 is associated with HER2/neu overexpression and provides a novel combination predictor for poor prognosis in breast cancer patients. Clin. Cancer Res. 10, 3815–3824 (2004).

Karousis, E. D., Gypas, F., Zavolan, M. & Muhlemann, O. Nanopore sequencing reveals endogenous NMD-targeted isoforms in human cells. Genome Biol. 22, 223 (2021).

Ruiz-Echevarria, M. J. & Peltz, S. W. The RNA binding protein Pub1 modulates the stability of transcripts containing upstream open reading frames. Cell 101, 741–751 (2000).

Ge, Z., Quek, B. L., Beemon, K. L. & Hogg, J. R. Polypyrimidine tract binding protein 1 protects mRNAs from recognition by the nonsense-mediated mRNA decay pathway. Elife 5, e11155 (2016).

Annibaldis, G. et al. Readthrough of stop codons under limiting ABCE1 concentration involves frameshifting and inhibits nonsense-mediated mRNA decay. Nucleic Acids Res. 48, 10259–10279 (2020).

Kurosaki, T. & Maquat, L. E. Rules that govern UPF1 binding to mRNA 3′ UTRs. Proc. Natl Acad. Sci. USA 110, 3357–3362 (2013).

Kim, S. H., Vieira, M., Kim, H. J., Kesawat, M. S. & Park, H. Y. MS2 labeling of endogenous beta-actin mRNA does not result in stabilization of degradation intermediates. Mol. Cells 42, 356–362 (2019).

Das, S., Moon, H. C., Singer, R. H. & Park, H. Y. A transgenic mouse for imaging activity-dependent dynamics of endogenous Arc mRNA in live neurons. Sci. Adv. 4, eaar3448 (2018).

Gomez-Puerta, S. et al. Live imaging of the co-translational recruitment of XBP1 mRNA to the ER and its processing by diffuse, non-polarized IRE1α. Elife 11, e75580 (2022).

Aragon, T. et al. Messenger RNA targeting to endoplasmic reticulum stress signalling sites. Nature 457, 736–740 (2009).

Sato, H. & Singer, R. H. Cellular variability of nonsense-mediated mRNA decay. Nat. Commun. 12, 7203 (2021).

Fischer, J. W., Busa, V. F., Shao, Y. & Leung, A. K. L. Structure-mediated RNA decay by UPF1 and G3BP1. Mol. Cell 78, 70–84 (2020).

Mueller, F. et al. FISH-quant: automatic counting of transcripts in 3D FISH images. Nat. Methods 10, 277–278 (2013).

Viana, M. P., Lim, S. & Rafelski, S. M. Quantifying mitochondrial content in living cells. Methods Cell Biol. 125, 77–93 (2015).

Li, W. & Singer, R. H. Detecting the non-conventional mRNA splicing and translational activation of HAC1 in budding yeast. Methods Mol. Biol. 2378, 113–120 (2022).
Acknowledgements
The authors thank A. Jacobson, U.T. Meier, R.A. Coleman and the members of the Singer laboratory for insightful discussions. The authors also thank X. Meng for her help with cloning. This work was supported by American Heart Association Postdoctoral Fellowship 903024 (W.L.), 1R35 GM136296-01 (R.H.S.) and the European Research Council ERCStG-714739 IlluMitoDNA (C.O.).
Ethics declarations
Competing interests
The authors declare no competing interests.
Peer review
Peer review information
Nature Methods thanks Luisa Romão and the other, anonymous, reviewer(s) for their contribution to the peer review of this work. Primary Handling Editor: Rita Strack, in collaboration with the Nature Methods team.
Additional information
Publisher's note Springer Nature remains neutral with regard to jurisdictional claims in published maps and institutional affiliations.
Supplementary information
Source data
Unprocessed western blots of Extended Data Fig. 4
Unprocessed western blots of Extended Data Fig. 10b
Rights and permissions
Springer Nature or its licensor (e.g. a society or other partner) holds exclusive rights to this article under a publishing agreement with the author(s) or other rightsholder(s); author self-archiving of the accepted manuscript version of this article is solely governed by the terms of such publishing agreement and applicable law.
About this article
Cite this article
Li, W., Maekiniemi, A., Sato, H. et al. An improved imaging system that corrects MS2-induced RNA destabilization. Nat Methods 19, 1558–1562 (2022). https://doi.org/10.1038/s41592-022-01658-1
Received:

Accepted:

Published:

Issue Date:

DOI: https://doi.org/10.1038/s41592-022-01658-1
This article is cited by
Bastian Bühler
Janin Schokolowski
Murat Sunbul

Nature Chemical Biology (2023)

Hiroaki Ohishi
Seiru Shimada
Hiroshi Ochiai

Nature Communications (2022)