Abstract
Here, we introduce a facile, scalable engineering approach to enable long-term development and maturation of organoids. We have redesigned the configuration of conventional organoid culture to develop a platform that converts single injections of stem cell suspensions to radial arrays of organoids that can be maintained for extended periods without the need for passaging. Using this system, we demonstrate accelerated production of intestinal organoids with significantly enhanced structural and functional maturity, and their continuous development for over 4 weeks. Furthermore, we present a patient-derived organoid model of inflammatory bowel disease (IBD) and its interrogation using single-cell RNA sequencing to demonstrate its ability to reproduce key pathological features of IBD. Finally, we describe the extension of our approach to engineer vascularized, perfusable human enteroids, which can be used to model innate immune responses in IBD. This work provides an immediately deployable platform technology toward engineering more realistic organ-like structures in a dish.
Access options
Subscribe to Nature+
Get immediate online access to Nature and 55 other Nature journal
Subscribe to Journal
Get full journal access for 1 year
$99.00
only $8.25 per issue
All prices are NET prices.
VAT will be added later in the checkout.
Tax calculation will be finalised during checkout.
Buy article
Get time limited or full article access on ReadCube.
$32.00
All prices are NET prices.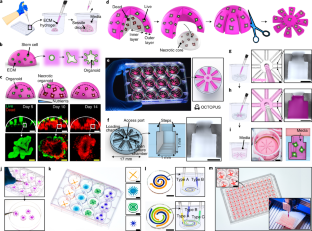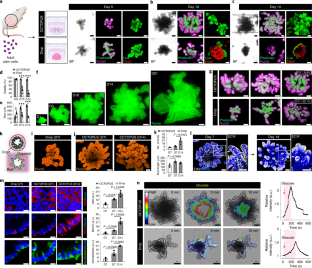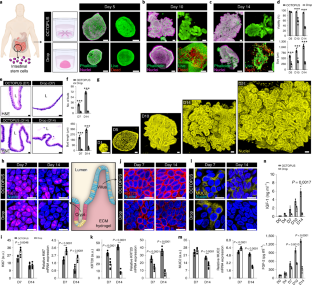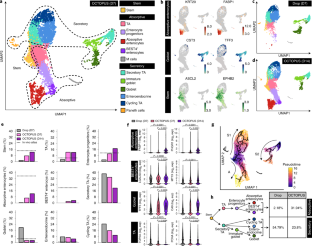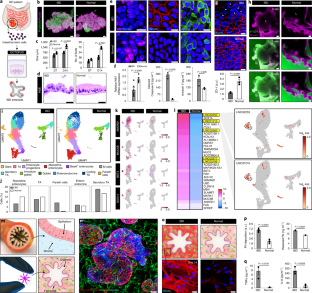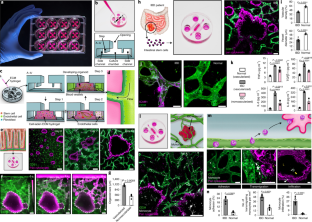 Data availability
All the numeric data used in this study are included in the Source data files provided with this paper. The human enteroids scRNA-seq dataset analyzed during the current study is available at the NCBI Gene Expression Omnibus, under accession number GSE203380. The raw images are too large for public deposit and are available from the corresponding author on reasonable request.
References
Clevers, H. Modeling development and disease with organoids. Cell 165, 1586–1597 (2016).

Lancaster, M. A. & Knoblich, J. A. Organogenesis in a dish: modeling development and disease using organoid technologies. Science 345, 1247125 (2014).

Dutta, D., Heo, I. & Clevers, H. Disease modeling in stem cell-derived 3D organoid systems. Trends Mol. Med. 23, 393–410 (2017).

Broutier, L. et al. Culture and establishment of self-renewing human and mouse adult liver and pancreas 3D organoids and their genetic manipulation. Nat. Protoc. 11, 1724–1743 (2016).

Shin, W. et al. Spatiotemporal gradient and instability of Wnt induce heterogeneous growth and differentiation of human intestinal organoids. iScience 21, 101372 (2020).

Hu, H. et al. Long-term expansion of functional mouse and human hepatocytes as 3D organoids. Cell 175, 1591–1606 (2018).

Huch, M. & Koo, B. Modeling mouse and human development using organoid cultures. Development 142, 3113–3125 (2015).

Homan, K. A. et al. Flow-enhanced vascularization and maturation of kidney organoids in vitro. Nat. Methods 16, 255–262 (2019).

Lee, G. Y., Kenny, P. A., Lee, E. H. & Bissell, M. J. Three-dimensional culture models of normal and malignant breast epithelial cells. Nat. Methods 4, 359–365 (2007).

Wang, Y. et al. Long-term culture captures injury-repair cycles of colonic stem cells. Cell 179, 1144–1159 (2019).

Wang, Y. et al. Bioengineered systems and designer matrices that recapitulate the intestinal stem cell niche. Cell. Mol. Gastroenterol. Hepatol. 5, 440–453 (2018).

Walton, K. D. et al. Hedgehog-responsive mesenchymal clusters direct patterning and emergence of intestinal villi. Proc. Natl Acad. Sci. USA 109, 15817–15822 (2012).

Walker, E. M., Thompson, C. A., Kohlnhofer, B. M., Faber, M. L. & Battle, M. A. Characterization of the developing small intestine in the absence of either GATA4 or GATA6. BMC Res. Notes 7, 902 (2014).

Serra, D. et al. Self-organization and symmetry breaking in intestinal organoid development. Nature 569, 66–72 (2019).

Sato, T. & Clevers, H. Growing self-organizing mini-guts from a single intestinal stem cell: mechanism and applications. Science 340, 1190–1194 (2013).

Sumigray, K. D., Terwilliger, M. & Lechler, T. Morphogenesis and compartmentalization of the intestinal crypt. Dev. Cell 45, 183–197 (2018).

Cattin, A. et al. Hepatocyte nuclear factor 4α, a key factor for homeostasis, cell architecture, and barrier function of the adult intestinal epithelium. Mol. Cell. Biol. 29, 6294–6308 (2009).

Spanier, B. Transcriptional and functional regulation of the intestinal peptide transporter PEPT1. J. Physiol. 592, 871–879 (2014).

Ferraris, R. P. & Diamond, J. Regulation of intestinal sugar transport. Physiol. Rev. 77, 257–302 (1997).

Chen, L., Tuo, B. & Dong, H. Regulation of intestinal glucose absorption by ion channels and transporters. Nutrients 8, 43 (2016).

Yang, X. et al. Molecular mechanisms of calcium signaling in the modulation of small intestinal ion transporters and bicarbonate secretion. Oncotarget 9, 3727–3740 (2017).

MacDonald, P. E. et al. The multiple actions of GLP-1 on the process of glucose-stimulated insulin secretion. Diabetes 51, S434–S442 (2002).

Kim, Y. S. & Ho, S. B. Intestinal goblet cells and mucins in health and disease: recent insights and progress. Curr. Gastroenterol. Rep. 12, 319–330 (2010).

Fuji, M. et al. Human intestinal organoids maintain self-renewal capacity and cellular diversity in niche-inspired culture condition. Cell Stem Cell 23, 787–792 (2018).

Elmentaite, R. et al. Single-cell sequencing of developing human gut reveals transcriptional links to childhood Crohn's disease. Dev. Cell 55, 771–783 (2020).

Wang, Y. et al. Single-cell transcriptome analysis reveals differential nutrient absorption functions in human intestine. J. Exp. Med. 217, e20191130 (2020).

Ito, G. et al. Lineage-specific expression of bestrophin-2 and bestrophin-4 in human intestinal epithelial cells. PLoS ONE 8, e79693 (2013).

Sprangers, J., Zaalberg, I. C. & Maurice, M. M. Organoid-based modeling of intestinal development, regeneration, and repair. Cell Death Differ. 28, 95–107 (2021).

Peterson, L. W. & Artis, D. Intestinal epithelial cells: regulators of barrier function and immune homeostasis. Nat. Rev. Immunol. 14, 141–153 (2014).

Modigliani, R. et al. Clinical, biological, and endoscopic picture of attacks of Crohn's disease. Gastroenterology 98, 811–818 (1990).

Guo, C. & Shen, J. Cytoskeletal organization and cell polarity in the pathogenesis in Crohn's disease. Clin. Rev. Allergy Immunol. 60, 164–174 (2021).

Schmitt, M. et al. Paneth cells respond to inflammation and contribute to tissue regeneration by acquiring stem-like features through SCF/c-Kit signaling. Cell Rep. 24, 2312–2328 (2018).

Spinelli, A., Correale, C., Szabo, H. & Montorsi, M. Intestinal fibrosis in Crohn's disease: medical treatment or surgery? Curr. Drug Targets 11, 242–248 (2010).

Reimund, J. M. et al. Increased production of tumour necrosis factor-α, interleukin-1β, and interleukin-6 by morphologically normal intestinal biopsies from patients with Crohn's disease. Gut 39, 684–689 (1996).

Grebenyuk, S. & Ranga, A. Engineering organoid vascularization. Front. Bioeng. Biotechnol. 7, 1–12 (2019).

Deban, L. et al. Multiple pathogenic roles of microvasculature in inflammatory bowel disease: a Jack of all trades. Am. J. Pathol. 172, 1457–1466 (2008).

Jones, G. et al. Dynamics of colon monocyte and macrophage activation during colitis. Front. Immunol. 27, 2764 (2018).

Demers, C. J. et al. Development-on-a-chip: in vitro neural tube patterning with a microfluidic device. Development 143, 1884–1892 (2016).

Kasendra, M. et al. Development of a primary human small intestine-on-a-chip using biopsy-derived organoids. Sci. Rep. 8, 2871 (2018).

Barker, N. et al. Lgr5+ve stem cells drive self-renewal in the stomach and build long-lived gastric units in vitro. Cell Stem Cell 6, 25–36 (2010).

Wu, F., Huang, Y., Dong, F. & Kwon, J. H. Ulcerative colitis-associated long noncoding RNA, BC012900, regulates intestinal epithelial cell apoptosis. Inflamm. Bowel Dis. 22, 782–795 (2016).

Gu, L. et al. Identification of a 5-lncRNA signature-based risk scoring system for survival prediction in colorectal cancer. Mol. Med. Rep. 18, 279–291 (2018).

Axelrad, J. E., Lichtiger, S. & Yajnik, V. Inflammatory bowel disease and cancer: the role of inflammation, immunosuppression, and cancer treatment. World J. Gastroenterol. 22, 4794–4801 (2016).

Jaeger, N. et al. Single-cell analyses of Crohn's disease tissues reveal intestinal intraepithelial T cells heterogeneity and altered subset distributions. Nat. Commun. 12, 1921 (2021).

van de Watering, M. et al. Prospective derivation of a living organoid biobank of colorectal cancer patients. Cell 161, 933–945 (2015).

Mansour, A. A. et al. An in vivo model of functional and vascularized human brain organoids. Nat. Biotechnol. 36, 432–441 (2018).

Dye, B. R. et al. A bioengineered niche promotes in vivo engraftment and maturation of pluripotent stem cell derived human lung organoids. eLife 5, e19732 (2016).

Takahashi, Y., Takebe, T. & Taniguchi, H. Methods for generating vascularized islet-like organoids via self-condensation. Curr. Protoc. Stem Cell Biol. 45, e49 (2018).

Vargas-Valderrama, A., Messina, A., Mitjavila-Garcia, M. T. & Guenou, H. The endothelium, a key factor in organ development and hPSC-derived organoid vascularization. J. Biomed. Sci. 27, 67 (2020).

Park, S. E., Georgescu, A. & Huh, D. Organoids-on-a-chip. Science 364, 960–965 (2019).
Acknowledgements
We thank R. Wells, W. Yang and G. Al for their input. This work was supported by the National Institutes of Health (NIH) (grant nos. 1DP2HL127720-01, 1UG3DK122644) (D.D.H.); NIH grant no. R01DK124369 (K.E.H.); Children's Hospital of Philadelphia Institutional Development Funds (K.E.H.); the National Science Foundation (grant no. CMMI:15-48571) (D.D.H.); the Ministry of Trade, Industry & Energy of the Republic of Korea (D.D.H.); the Kwanjeong Educational Foundation (S.E.P.); the Children's Hospital of Philadelphia Gastrointestinal Epithelium Modeling Program (K.E.H.); and the University of Pennsylvania (D.D.H.). D.D.H. is a recipient of the NIH Director's New Innovator Award and the Cancer Research Institute Technology Impact Award.
Ethics declarations
Competing interests
D.D.H. is a cofounder of Vivodyne Inc. and holds equity in Vivodyne Inc. and Emulate Inc. The remaining authors declare no competing interests.
Peer review
Peer review information
Nature Methods thanks Maxime Mahe and the other, anonymous, reviewer(s) for their contribution to the peer review of this work. Primary Handling Editor: Madhura Mukhopadhyay, in collaboration with the Nature Methods team.
Additional information
Publisher's note Springer Nature remains neutral with regard to jurisdictional claims in published maps and institutional affiliations.
Supplementary information
Rights and permissions
Springer Nature or its licensor holds exclusive rights to this article under a publishing agreement with the author(s) or other rightsholder(s); author self-archiving of the accepted manuscript version of this article is solely governed by the terms of such publishing agreement and applicable law.
About this article
Cite this article
Park, S.E., Kang, S., Paek, J. et al. Geometric engineering of organoid culture for enhanced organogenesis in a dish. Nat Methods 19, 1449–1460 (2022). https://doi.org/10.1038/s41592-022-01643-8
Received:

Accepted:

Published:

Issue Date:

DOI: https://doi.org/10.1038/s41592-022-01643-8
This article is cited by
Killian Hillion
Maxime M. Mahe

Nature Methods (2022)