Abstract
Structured illumination microscopy (SIM) doubles the spatial resolution of a fluorescence microscope without requiring high laser powers or specialized fluorophores. However, the excitation of out-of-focus fluorescence can accelerate photobleaching and phototoxicity. In contrast, light-sheet fluorescence microscopy (LSFM) largely avoids exciting out-of-focus fluorescence, thereby enabling volumetric imaging with low photobleaching and intrinsic optical sectioning. Combining SIM with LSFM would enable gentle three-dimensional (3D) imaging at doubled resolution. However, multiple orientations of the illumination pattern, which are needed for isotropic resolution doubling in SIM, are challenging to implement in a light-sheet format. Here we show that multidirectional structured illumination can be implemented in oblique plane microscopy, an LSFM technique that uses a single objective for excitation and detection, in a straightforward manner. We demonstrate isotropic lateral resolution below 150 nm, combined with lower phototoxicity compared to traditional SIM systems and volumetric acquisition speed exceeding 1 Hz.
Access options
Subscribe to Nature+
Get immediate online access to Nature and 55 other Nature journal
Subscribe to Journal
Get full journal access for 1 year
$99.00
only $8.25 per issue
All prices are NET prices.
VAT will be added later in the checkout.
Tax calculation will be finalised during checkout.
Buy article
Get time limited or full article access on ReadCube.
$32.00
All prices are NET prices.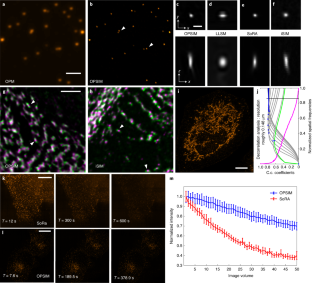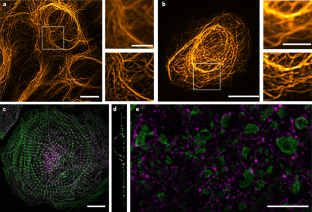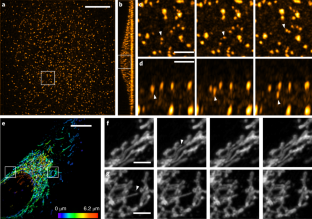 References
Liu, Z., Lavis, Luke, D. & Betzig, E. Imaging live-cell dynamics and structure at the single-molecule level. Mol. Cell 58, 644–659 (2015).

Stelzer, E. H. K. et al. Light sheet fluorescence microscopy. Nat. Rev. Methods Prim. 1, 73 (2021).

Reynaud, E. G., Kržič, U., Greger, K. & Stelzer, E. H. K. Light sheet‐based fluorescence microscopy: more dimensions, more photons, and less photodamage. HFSP J. 2, 266–275 (2010).

Olarte, O. E., Andilla, J., Gualda, E. J. & Loza-Alvarez, P. Light-sheet microscopy: a tutorial. Adv. Opt. Photonics 10, 111–179 (2018).

Stelzer, E. H. K. Light-sheet fluorescence microscopy for quantitative biology. Nat. Methods 12, 23–26 (2014).

Hu, Y. S., Zimmerley, M., Li, Y., Watters, R. & Cang, H. Single-molecule super-resolution light-sheet microscopy. ChemPhysChem. 15, 577–586 (2014).

Betzig, E. et al. Imaging intracellular fluorescent proteins at nanometer resolution. Science 313, 1642–1645 (2006).

Rust, M. J., Bates, M. & Zhuang, X. Sub-diffraction-limit imaging by stochastic optical reconstruction microscopy (STORM). Nat. Methods 3, 793–796 (2006).

Cella Zanacchi, F. et al. Live-cell 3D super-resolution imaging in thick biological samples. Nat. Methods 8, 1047–1049 (2011).

Galland, R. et al. 3D high- and super-resolution imaging using single-objective SPIM. Nat. Methods 12, 641–644 (2015).

Meddens, M. B. M. et al. Single objective light-sheet microscopy for high-speed whole-cell 3D super-resolution. Biomed. Opt. Express 7, 2219–2236 (2016).

Wäldchen, F. et al. Whole-cell imaging of plasma membrane receptors by 3D lattice light-sheet dSTORM. Nat. Commun. 11, 887 (2020).

Kim, J. et al. Oblique-plane single-molecule localization microscopy for tissues and small intact animals. Nat. Methods 16, 853–857 (2019).

Zhao, Z. W. et al. Spatial organization of RNA polymerase II inside a mammalian cell nucleus revealed by reflected light-sheet superresolution microscopy. Proc. Natl Acad. Sci. USA 111, 681–686 (2013).

Gebhardt, J. C. M. et al. Single-molecule imaging of transcription factor binding to DNA in live mammalian cells. Nat. Methods 10, 421–426 (2013).

Greiss, F., Deligiannaki, M., Jung, C., Gaul, U. & Braun, D. Single-molecule imaging in living Drosophila embryos with reflected light-sheet microscopy. Biophys. J. 110, 939–946 (2016).

Zagato, E. et al. Microfabricated devices for single objective single plane illumination microscopy (SoSPIM). Opt. Express 25, 1732–1745 (2017).

Legant, W. R. et al. High-density three-dimensional localization microscopy across large volumes. Nat. Methods 13, 359–365 (2016).

Hell, S. W. & Wichmann, J. Breaking the diffraction resolution limit by stimulated emission: stimulated-emission-depletion fluorescence microscopy. Opt. Lett. 19, 780–782 (1994).

Friedrich, M., Gan, Q., Ermolayev, V. & Harms Gregory S. STED-SPIM: stimulated emission depletion improves sheet illumination microscopy resolution. Biophys. J. 100, L43–L45 (2011).

Scheul, T., Wang, I. & Vial, J.-C. STED-SPIM made simple. Opt. Express 22, 30852–30864 (2014).

Hoyer, P. et al. Breaking the diffraction limit of light-sheet fluorescence microscopy by RESOLFT. Proc. Natl Acad. Sci. USA 113, 3442–3446 (2016).

Gustafsson, M. G. L. Surpassing the lateral resolution limit by a factor of two using structured illumination microscopy. J. Microsc. 198, 82–87 (2000).

Heintzmann, R. & Cremer, C. Laterally modulated excitation microscopy: improvement of resolution by using a diffraction grating. SPIE Proc. https://doi.org/10.1117/12.336833 (1999).

Chen, B.-C. et al. Lattice light-sheet microscopy: imaging molecules to embryos at high spatiotemporal resolution. Science 346, 1257998 (2014).

Chang, B.-J., Meza, V. D. P. & Stelzer, E. H. K. csiLSFM combines light-sheet fluorescence microscopy and coherent structured illumination for a lateral resolution below 100 nm. Proc. Natl Acad. Sci. USA 114, 4869–4874 (2017).

Dunsby, C. Optically sectioned imaging by oblique plane microscopy. Opt. Express 16, 20306–20316 (2008).

Sapoznik, E. et al. A versatile oblique plane microscope for large-scale and high-resolution imaging of subcellular dynamics. eLife 9, e57681 (2020).

Yang, B. et al. DaXi—high-resolution, large imaging volume and multi-view single-objective light-sheet microscopy. Nat. Methods 19, 461–469 (2022).

Fenix, A. M. et al. Muscle-specific stress fibers give rise to sarcomeres in cardiomyocytes. eLife 7, e42144 (2018).

Descloux, A., Grußmayer, K. S. & Radenovic, A. Parameter-free image resolution estimation based on decorrelation analysis. Nat. Methods 16, 918–924 (2019).

Stoldt, S. et al. Mic60 exhibits a coordinated clustered distribution along and across yeast and mammalian mitochondria. Proc. Natl Acad. Sci. USA 116, 9853–9858 (2019).

Baron, W. & Hoekstra, D. On the biogenesis of myelin membranes: sorting, trafficking and cell polarity. FEBS Lett. 584, 1760–1770 (2010).

Mino, R. E., Chen, Z., Mettlen, M. & Schmid, S. L. An internally eGFP-tagged α-adaptin is a fully functional and improved fiduciary marker for clathrin-coated pit dynamics. Traffic 21, 603–616 (2020).

Mettlen, M. & Danuser, G. Imaging and modeling the dynamics of clathrin-mediated endocytosis. Cold Spring Harb. Perspect. Biol. 6, a017038–a017038 (2014).

Aguet, F. et al. Advances in analysis of low signal-to-noise images link dynamin and AP2 to the functions of an endocytic checkpoint. Dev. Cell 26, 279–291 (2013).

Chakraborty, T. et al. Light-sheet microscopy of cleared tissues with isotropic, subcellular resolution. Nat. Methods 16, 1109–1113 (2019).

Dean, KevinM. et al. Deconvolution-free subcellular imaging with axially swept light sheet microscopy. Biophys. J. 108, 2807–2815 (2015).

Yeh, L.-H., Tian, L. & Waller, L. Structured illumination microscopy with unknown patterns and a statistical prior. Biomed. Opt. Express 8, 695–711 (2017).

Cai, M. et al. Total variation and spatial iteration-based 3D structured illumination microscopy. Opt. Express 30, 7938–7953 (2022).

Lai-Tim, Y. et al. Jointly super-resolved and optically sectioned Bayesian reconstruction method for structured illumination microscopy. Opt. Express 27, 33251–33267 (2019).

Jin, L. et al. Deep learning enables structured illumination microscopy with low light levels and enhanced speed. Nat. Commun. 11, 1934 (2020).

Kumar, M., Kishore, S., Nasenbeny, J., McLean, D. L. & Kozorovitskiy, Y. Integrated one- and two-photon scanned oblique plane illumination (SOPi) microscopy for rapid volumetric imaging. Opt. Express 26, 13027–13041 (2018).

Chang, B.-J. et al. Real-time multi-angle projection imaging of biological dynamics. Nat. Methods 18, 829–834 (2021).

Abrisch, R. G., Gumbin, S. C., Wisniewski, B. T., Lackner, L. L. & Voeltz, G. K. Fission and fusion machineries converge at ER contact sites to regulate mitochondrial morphology. J. Cell Biol. 219, e201911122 (2020).

Bodbin, S. E., Denning, C. & Mosqueira, D. Transfection of hPSC-cardiomyocytes using Viafect™ transfection reagent. Methods Protoc. 3, 57 (2020).

Brown, P. T., Kruithoff, R., Seedorf, G. J. & Shepherd, D. P. Multicolor structured illumination microscopy and quantitative control of polychromatic light with a digital micromirror device. Biomed. Opt. Express 12, 3700–3716 (2021).

Lal, A., Shan, C. & Xi, P. Structured illumination microscopy image reconstruction algorithm. IEEE J. Sel. Top. Quantum Electron. 22, 50–63 (2016).

Müller, M., Mönkemöller, V., Hennig, S., Hübner, W. & Huser, T. Open-source image reconstruction of super-resolution structured illumination microscopy data in ImageJ. Nat. Commun. 7, 10980 (2016).

Wicker, K., Mandula, O., Best, G., Fiolka, R. & Heintzmann, R. Phase optimisation for structured illumination microscopy. Opt. Express 21, 2032–2049 (2013).

Neil, M. A. A., Juškaitis, R. & Wilson, T. Real time 3D fluorescence microscopy by two beam interference illumination. Opt. Commun. https://doi.org/10.1016/S0030-4018(98)00210-7 (1998).

O'Holleran, K. & Shaw, M. Optimized approaches for optical sectioning and resolution enhancement in 2D structured illumination microscopy. Biomed. Opt. Express 5, 2580–2590 (2014).

Shaw, M., Zajiczek, L. & O'Holleran, K. High speed structured illumination microscopy in optically thick samples. Methods 88, 11–19 (2015).

Demmerle, J. et al. Strategic and practical guidelines for successful structured illumination microscopy. Nat. Protoc. 12, 988–1010 (2017).

Smith, C. S. et al. Structured illumination microscopy with noise-controlled image reconstructions. Nat. Methods 18, 821–828 (2021).

Perez, V., Chang, B.-J. & Stelzer, E. H. K. Optimal 2D-SIM reconstruction by two filtering steps with Richardson-Lucy deconvolution. Sci. Rep. 6, 37149 (2016).
Acknowledgements
We thank the National Institutes of Health (grant nos. 1R01DK127589, 1R21HD105189, 5P30CA142543, 1RM1GM145399 and U54CA268072 to K.M.D.; MIRA R35GM125028 to D.T.B.; R35GM133522 to R.P.F.; R35GM137894 to J.R.F.; and 5R01NS117065 to C.-L.Z.). American Heart Association Graduate Student Fellowship to J.B.H. (grant no. AHA 836090). P.R. received funding from the Investissements d'Avenir French Government program managed by the French National Research Agency (grant no. ANR-16-CONV-0001) and from Excellence Initiative of Aix-Marseille University: A*MIDEX.' The SIM code development was supported by Scialog, the Research Corporation for Science Advancement, the Frederick Gardner Cottrell Foundation (grant no. 28041) and Chan Zuckerberg Initiative (grant no. 2021-236170(5022)) to D.P.S.
Ethics declarations
Competing interests
R.P.F., B.C. and B.J.C. have filed a patent application (United States Patent and Trademark Office application number 63/253,047) for the image rotator and applications to microscopy. All other authors declare no competing interests.
Peer review
Peer review information
Nature Methods thanks Ingo Gregor, Thomas Huser and Lin Shao for their contribution to the peer review of this work. Primary Handling Editor: Rita Strack, in collaboration with the Nature Methods team. Peer reviewer reports are available.
Additional information
Publisher's note Springer Nature remains neutral with regard to jurisdictional claims in published maps and institutional affiliations.
Supplementary information
Rights and permissions
Springer Nature or its licensor holds exclusive rights to this article under a publishing agreement with the author(s) or other rightsholder(s); author self-archiving of the accepted manuscript version of this article is solely governed by the terms of such publishing agreement and applicable law.
About this article
Cite this article
Chen, B., Chang, BJ., Roudot, P. et al. Resolution doubling in light-sheet microscopy via oblique plane structured illumination. Nat Methods 19, 1419–1426 (2022). https://doi.org/10.1038/s41592-022-01635-8
Received:

Accepted:

Published:

Issue Date:

DOI: https://doi.org/10.1038/s41592-022-01635-8