Abstract
Experimental studies of cell growth, inheritance and their associated processes by microscopy require accurate single-cell observations of sufficient duration to reconstruct the genealogy. However, cell tracking—assigning identical cells on consecutive images to a track—is often challenging, resulting in laborious manual verification. Here, we propose fingerprints to identify problematic assignments rapidly. A fingerprint distance compares the structural information contained in the low frequencies of a Fourier transform to measure the similarity between cells in two consecutive images. We show that fingerprints are broadly applicable across cell types and image modalities, provided the image has sufficient structural information. Our tracker (TracX) uses fingerprints to reject unlikely assignments, thereby increasing tracking performance on published and newly generated long-term data sets. For Saccharomyces cerevisiae, we propose a comprehensive model for cell size control at the single-cell and population level centered on the Whi5 regulator, demonstrating how precise tracking can help uncover previously undescribed single-cell biology.
Access options
Subscribe to Nature+
Get immediate online access to Nature and 55 other Nature journal
Subscribe to Journal
Get full journal access for 1 year
$99.00
only $8.25 per issue
All prices are NET prices.
VAT will be added later in the checkout.
Tax calculation will be finalised during checkout.
Buy article
Get time limited or full article access on ReadCube.
$32.00
All prices are NET prices.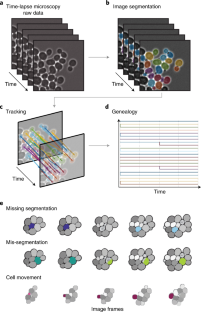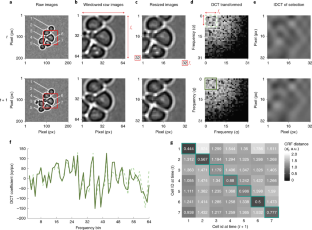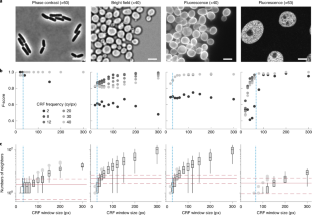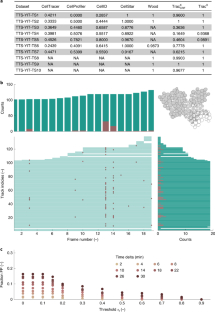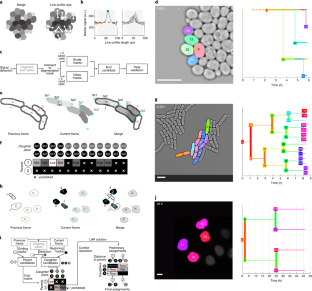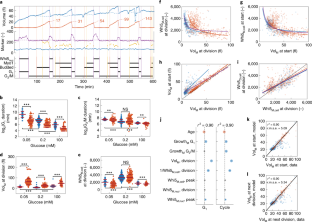 References
Luro, S., Potvin-Trottier, L., Okumus, B. & Paulsson, J. Isolating live cells after high-throughput, long-term, time-lapse microscopy. Nat. Methods 17, 93–100 (2020).

Camsund, D. et al. Time-resolved imaging-based crispri screening. Nat. Methods 17, 86–92 (2020).

Kuchen, E. E., Becker, N. B., Claudino, N. & Höfer, T. Hidden long-range memories of growth and cycle speed correlate cell cycles in lineage trees. eLife 9, e51002 (2020).

Loeffler, D. et al. Asymmetric lysosome inheritance predicts activation of haematopoietic stem cells. Nature 573, 426–429 (2019).

Moen, E. et al. Deep learning for cellular image analysis. Nat. Methods 16, 1233–1246 (2019).

Stringer, C., Wang, T., Michaelos, M. & Pachitariu, M. Cellpose: a generalist algorithm for cellular segmentation. Nat. Methods 18, 100–106 (2020).

Meijering, E. A bird's-eye view of deep learning in bioimage analysis. Comput. Struct. Biotech. J. 18, 2312–2325 (2020).

Han, H., Wu, G. & Zi, Z. eDetect: a fast error detection and correction tool for live cell imaging data analysis. iScience 13, 1–8 (2019).

Sorokin, D. V. & Matula, P. Cell tracking accuracy measurement based on comparison of acyclic oriented graphs. PLoS ONE 10, e0144959 (2015).

Ulman, V. et al. An objective comparison of cell-tracking algorithms. Nat. Methods 14, 1141–1152 (2017).

Versari, C. et al. Long-term tracking of budding yeast cells in brightfield microscopy: cellstar and the evaluation platform. J. R. Soc. Interface 14, 20160705 (2017).

Hilsenbeck, O. et al. Software tools for single-cell tracking and quantification of cellular and molecular properties. Nat Biotech 34, 703–706 (2016).

Amat, F. et al. Fast, accurate reconstruction of cell lineages from large-scale fluorescence microscopy data. Nat. Methods 11, 951–958 (2014).

Bray, M.-A. & Carpenter, A. E. CellProfiler Tracer: exploring and validating high-throughput, time-lapse microscopy image data. BMC Bioinform. 16, 369 (2015).

Winter, M., Mankowski, W., Wait, E., Temple, S. & Cohen, A. R. LEVER: software tools for segmentation, tracking and lineaging of proliferating cells. Bioinformatics 32, 3530–3531 (2016).

Lugagne, J.-B., Lin, H. & Dunlop, M. J. Delta: automated cell segmentation, tracking, and lineage reconstruction using deep learning. PLoS Comput. Biol. 16, e1007673 (2020).

Rullan, M., Benzinger, D., Schmidt, G. W., Milias-Argeitis, A. & Khammash, M. An optogenetic platform for real-time, single-cell interrogation of stochastic transcriptional regulation. Molecular Cell 70, 745–756.e6 (2018).

Cox, I. J., Kilian, J., Leighton, F. T. & Shamoon, T. Secure spread spectrum watermarking for multimedia. IEEE Trans. Image Proc. 6, 1673–1687 (1997).

Izumi, I., Hitoshi, K. DCT sign-only correlation with application to image matching and the relationship with phase-only correlation. In Proc. 2007 IEEE International Conference on Acoustics, Speech and Signal Processing - ICASSP '07 1237–1240 (2007).

Fei, M., Ju, Z., Zhen, X. & Li, J. Real-time visual tracking based on improved perceptual hashing. Multimed. Tools Appl. 76, 4617–4634 (2017).

Mayer, C., Dimopoulos, S., Rudolf, F. & Stelling, J. Using CellX to quantify intracellular events. Curr. Protoc. Mol. Biol. https://doi.org/10.1002/0471142727.mb1422s101 (2013).

Dimopoulos, S., Mayer, C. E., Rudolf, F. & Stelling, J. Accurate cell segmentation in microscopy images using membrane patterns. Bioinformatics 30, 2644–2651 (2014).

Ricicova, M. et al. Dissecting genealogy and cell cycle as sources of cell-to-cell variability in MAPK signaling using high-throughput lineage tracking. Proc. Natl Acad. Sci. USA 110, 11403–8 (2013).

Jonker, R. & Volgenant, A. A shortest augmenting path algorithm for dense and sparse linear assignment problems. Computing 38, 325–340 (1987).

Kuhn, W. H. The Hungarian method for the assignment problem. Nav. Res. Logist. Q. 2, 83–97 (1955).

Delgado-Gonzalo, R., Nicolas, D., Maerkl, S. & Unser, M. Multi-target tracking of packed yeast cells. In Proc. 7th IEEE International Symposium on Biomedical Imaging 544–547 (IEEE, 2010).

Wang, Q., Niemi, J., Tan, C. M., You, L. & West, M. Image segmentation and dynamic lineage analysis in single-cell fluorescence microscopy. Cytometry Part A. 77, 101–110 (2010).

Carpenter, A. E. et al. CellProfiler: image analysis software for identifying and quantifying cell phenotypes. Genome Biol. 7, R100 (2006).

Gordon, A. et al. Single-cell quantification of molecules and rates using open-source microscope-based cytometry. Nat. Methods 4, 175–181 (2007).

Ezgi Wood, N. & Doncic, A. A fully-automated, robust, and versatile algorithm for long-term budding yeast segmentation and tracking. PLoS ONE 14, e0206395 (2019).

Bi, E. et al. Involvement of an actomyosin contractile ring in Saccharomyces cerevisiae cytokinesis. J. Cell Biol. 142, 1301–1312 (1998).

Klein, J. et al. TLM-tracker: software for cell segmentation, tracking and lineage analysis in time-lapse microscopy movies. Bioinformatics 28, 2276–2277 (2012).

Maška, M. et al. A benchmark for comparison of cell tracking algorithms. Bioinformatics 30, 1609–1617 (2014).

Di Talia, S., Skotheim, J. M., Bean, J. M., Siggia, E. D. & Cross, F. R. The effects of molecular noise and size control on variability in the budding yeast cell cycle. Nature 448, 947–951 (2007).

Schmoller, K. M., Turner, J., Kõivomägi, M. & Skotheim, J. M. Dilution of the cell cycle inhibitor Whi5 controls budding-yeast cell size. Nature 526, 268–272 (2015).

Litsios, A. et al. Differential scaling between G1 protein production and cell size dynamics promotes commitment to the cell division cycle in budding yeast. Nature Cell Biol. 21, 1382–1392 (2019).

Chen, Y., Zhao, G., Zahumensky, J., Honey, S. & Futcher, B. Differential scaling of gene expression with cell size may explain size control in budding yeast. Mol. Cell 78, 359–370 (2020).

Qu, Y. et al. Cell cycle inhibitor Whi5 records environmental information to coordinate growth and division in yeast. Cell Reports 29, 987–994 (2019).

Barber, F., Amir, A. & Murray, A. W. Cell-size regulation in budding yeast does not depend on linear accumulation of whi5. Proc. Natl Acad. Sci. USA 117, 14243–14250 (2020).

Garmendia-Torres, C., Tassy, O., Matifas, A., Molina, N. & Charvin, G. Multiple inputs ensure yeast cell size homeostasis during cell cycle progression. eLife 7, e34025 (2018).

Liu, X. et al. Reliable cell cycle commitment in budding yeast is ensured by signal integration. eLife 4, e03977 (2015).

Leitao, R. M. & Kellogg, D. R. The duration of mitosis and daughter cell size are modulated by nutrients in budding yeast. J. Cell Biol. 216, 3463–3470 (2017).

Soifer, I., Robert, L. & Amir, A. Single-cell analysis of growth in budding yeast and bacteria reveals a common size regulation strategy. Curr. Biol. 26, 356–361 (2016).

Mayhew, M. B., Iversen, E. S. & Hartemink, A. J. Characterization of dependencies between growth and division in budding yeast. J. R. Soc. Interface 14, 20160993 (2017).

Johnston, G., Ehrhardt, C., Lorincz, A. & Carter, B. Regulation of cell size in the yeast Saccharomyces cerevisiae. J. Bacteriology 137, 1–5 (1979).

Blank, H. M., Callahan, M., Pistikopoulos, I. P., Polymenis, A. O. & Polymenis, M. Scaling of G1 duration with population doubling time by a cyclin in Saccharomyces cerevisiae. Genetics 210, 895–906 (2018).

Stylianidou, S., Brennan, C., Nissen, S. B., Kuwada, N. J. & Wiggins, P. A. Supersegger: robust image segmentation, analysis and lineage tracking of bacterial cells. Mol. Microbiol. 102, 690–700 (2016).

Rudin, L. I., Osher, S. & Fatemi, E. Nonlinear total variation based noise removal algorithms. Physica D 60, 259–268 (1992).

Weigert, M., Schmidt, U., Haase, R., Sugawara, K. & Myers, G. Star-convex polyhedra for 3D object detection and segmentation in microscopy. In Proc. IEEE/CVF Winter Conference on Applications of Computer Vision 3666–3673 (IEEE, 2020).

Dietler, N. et al. A convolutional neural network segments yeast microscopy images with high accuracy. Nature Commun. 11, 5723 (2020).

Schmidt, G. W., Frey, O. & Rudolf, F. The cellclamper: a convenient microfluidic device for time-lapse imaging of yeast. Methods Mol. Biol. 1672, 537–555 (2018).

Schmidt, G. W., Cuny, A. P. & Rudolf, F. Preventing photomorbidity in long-term multi-color fluorescence imaging of Saccharomyces cerevisiae and S. pombe. G3: Genes Genom. Genet. 10, 4373–4385 (2020).

Lang, M., Rudolf, F. & Stelling, J. Use of youscope to implement systematic microscopy protocols. Curr. Protoc. Mol. Biol. 98, 14–21 (2012).

Cuny, A. P., Ponti, A. & Stelling, J. Cell Region Fingerprints Enable Highly Precise Single-Cell Tracking and Lineage Reconstruction: Data Collection (ETH Zurich Research Collection, 2022); https://doi.org/10.3929/ethz-b-000550509
Acknowledgements
We thank M. Dürr for initial implementation of Ricicova' tracker in R and U. Küchler for its translation to MATLAB. We thank G. Schmidt for training of the CellClamper and sharing data sets.
Ethics declarations
Competing interests
The authors declare no competing interests.
Peer review
Peer review information
Nature Methods thanks Beth Cimini, Ralf Mikut and the other, anonymous, reviewer(s) for their contribution to the peer review of this work. Peer reviewer reports are available. Primary Handling Editor: Rita Strack, in collaboration with the Nature Methods team.
Additional information
Publisher's note Springer Nature remains neutral with regard to jurisdictional claims in published maps and institutional affiliations.
Supplementary information
Rights and permissions
Springer Nature or its licensor holds exclusive rights to this article under a publishing agreement with the author(s) or other rightsholder(s); author self-archiving of the accepted manuscript version of this article is solely governed by the terms of such publishing agreement and applicable law.
About this article
Cite this article
Cuny, A.P., Ponti, A., Kündig, T. et al. Cell region fingerprints enable highly precise single-cell tracking and lineage reconstruction. Nat Methods 19, 1276–1285 (2022). https://doi.org/10.1038/s41592-022-01603-2
Received:

Accepted:

Published:

Issue Date:

DOI: https://doi.org/10.1038/s41592-022-01603-2