Abstract
DNA–protein interactions mediate physiologic gene regulation and may be altered by DNA variants linked to polygenic disease. To enhance the speed and signal-to-noise ratio (SNR) in the identification and quantification of proteins associated with specific DNA sequences in living cells, we developed proximal biotinylation by episomal recruitment (PROBER). PROBER uses high-copy episomes to amplify SNR, and proximity proteomics (BioID) to identify the transcription factors and additional gene regulators associated with short DNA sequences of interest. PROBER quantified both constitutive and inducible association of transcription factors and corresponding chromatin regulators to target DNA sequences and binding quantitative trait loci due to single-nucleotide variants. PROBER identified alterations in regulator associations due to cancer hotspot mutations in the hTERT promoter, indicating that these mutations increase promoter association with specific gene activators. PROBER provides an approach to rapidly identify proteins associated with specific DNA sequences and their variants in living cells.
Access options
Subscribe to Nature+
Get immediate online access to Nature and 55 other Nature journal
Subscribe to Journal
Get full journal access for 1 year
$99.00
only $8.25 per issue
All prices are NET prices.
VAT will be added later in the checkout.
Tax calculation will be finalised during checkout.
Buy article
Get time limited or full article access on ReadCube.
$32.00
All prices are NET prices.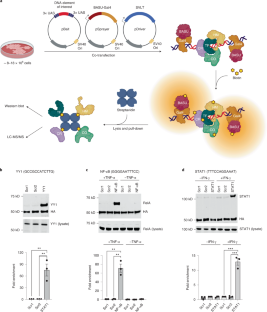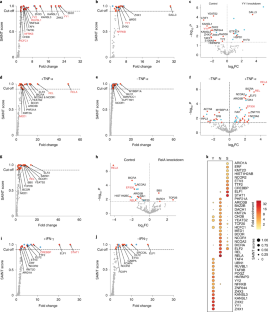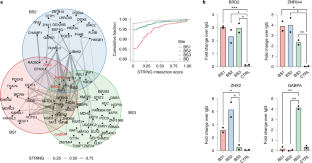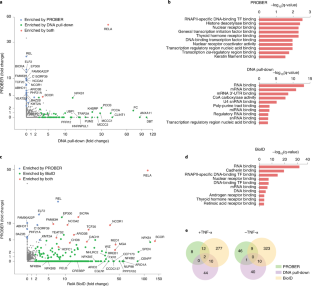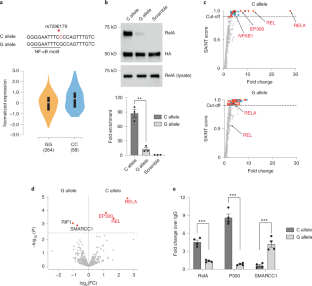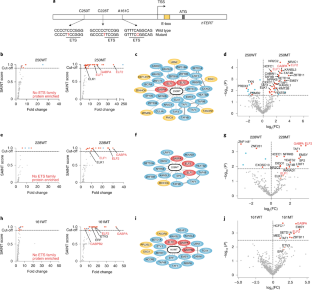 Data availability
The mass spectrometry proteomics raw data have been deposited to the ProteomeXchange Consortium via the PRIDE partner repository with the dataset identifiers PXD023732 (YY1, NF-κB, SNP rs7296179 and hTERT promoter PROBER-MS), PXD029470 (YY1 endogenous loci and U2OS cell line PROBER-MS, DNA pull-down and BioID mass spectrometry) and PXD032726 (PROBER-MS using on-bead sample processing). Raw data for STAT1 PROBER-MS are not available, therefore spectral search files (PSM) were deposited in PXD023732. Supplementary Table 29 lists the data deposited. Figure panels that were derived from mass spectrometry data are Figs. 2a–k, 3a, 4a, 4c, 5c,d, 6b–j, and Extended Data Figs. 2d, 3a, 3c-e, 4a-e, 5b-f, 6a-e, 7b,c, 6e,f, 10b,c,f. All other supporting data are available as source data with this article. Source data are provided with this paper.
References
Cozzolino, F., Iacobucci, I., Monaco, V. & Monti, M. Protein-DNA/RNA interactions: an overview of investigation methods in the -omics era. J. Proteome Res. 20, 3018–3030 (2021).

Jutras, B. L., Verma, A. & Stevenson, B. Identification of novel DNA-binding proteins using DNA-affinity chromatography/pull down. Curr. Protoc. Microbiol. Chapter 1, Unit1F.1 (2012).

Liu, X. et al. In situ capture of chromatin interactions by biotinylated dCas9. Cell 170, 1028–1043 (2017).

Byrum, S. D., Taverna, S. D. & Tackett, A. J. Purification of a specific native genomic locus for proteomic analysis. Nucleic Acids Res. 41, e195 (2013).

Guillen-Ahlers, H. et al. HyCCAPP as a tool to characterize promoter DNA–protein interactions in Saccharomyces cerevisiae. Genomics 107, 267–273 (2016).

Fujita, T. & Fujii, H. Identification of proteins associated with an IFNγ-responsive promoter by a retroviral expression system for enChIP using CRISPR. PLoS One 9, e103084 (2014).

Déjardin, J. & Kingston, R. E. Purification of proteins associated with specific genomic loci. Cell 136, 175–186 (2009).

Mohammed, H. et al. Rapid immunoprecipitation mass spectrometry of endogenous proteins (RIME) for analysis of chromatin complexes. Nat. Protoc. 11, 316–326 (2016).

Rafiee, M. R. & Krijgsveld, J. Using ChIP-SICAP to identify proteins that co-localize in chromatin. Methods Mol. Biol. 2351, 275–288 (2021).

Schmidtmann, E., Anton, T., Rombaut, P., Herzog, F. & Leonhardt, H. Determination of local chromatin composition by CasID. Nucleus 7, 476–484 (2016).

Qiu, W. et al. Determination of local chromatin interactions using a combined CRISPR and peroxidase APEX2 system. Nucleic Acids Res. 47, e52 (2019).

Myers, S. A. et al. Discovery of proteins associated with a predefined genomic locus via dCas9-APEX-mediated proximity labeling. Nat. Methods 15, 437–439 (2018).

Gao, X. D. et al. C-BERST: defining subnuclear proteomic landscapes at genomic elements with dCas9-APEX2. Nat. Methods 15, 433–436 (2018).

Ummethum, H. & Hamperl, S. Proximity labeling techniques to study chromatin. Front. Genet. 11, 450 (2020).

Ramanathan, M. et al. RNA–protein interaction detection in living cells. Nat. Methods 15, 207–212 (2018).

Caygill, E. E. & Brand, A. H. The GAL4 system: a versatile system for the manipulation and analysis of gene expression. Methods Mol. Biol. 1478, 33–52 (2016).

Wobbe, C. R. et al. In vitro replication of DNA containing either the SV40 or the polyoma origin. Philos. Trans. R. Soc. Lond. B Biol. Sci. 317, 439–453 (1987).

Teo, G. et al. SAINTq: scoring protein–protein interactions in affinity purification–mass spectrometry experiments with fragment or peptide intensity data. Proteomics 16, 2238–2245 (2016).

Mellacheruvu, D. et al. The CRAPome: a contaminant repository for affinity purification–mass spectrometry data. Nat. Methods 10, 730–736 (2013).

Choi, H. et al. Analyzing protein–protein interactions from affinity purification–mass spectrometry data with SAINT. Curr. Protoc. Bioinformatics Chapter 8, Unit8.15 (2012).

Ritchie, M. E. et al. limma powers differential expression analyses for RNA-sequencing and microarray studies. Nucleic Acids Res. 43, e47 (2015).

Cai, Y. et al. YY1 functions with INO80 to activate transcription. Nat. Struct. Mol. Biol. 14, 872–874 (2007).

Davis, C. A. et al. The Encyclopedia of DNA Elements (ENCODE): data portal update. Nucleic Acids Res. 46, D794–D801 (2018).

Sloan, C. A. et al. ENCODE data at the ENCODE portal. Nucleic Acids Res. 44, D726–D732 (2016).

Singh, B. & Nath, S. K. Identification of proteins interacting with single nucleotide polymorphisms (SNPs) by DNA pull-down assay. Methods Mol. Biol. 1855, 355–362 (2019).

Chen, E. Y. et al. Enrichr: interactive and collaborative HTML5 gene list enrichment analysis tool. BMC Bioinformatics 14, 128 (2013).

Roux, K. J., Kim, D. I., Raida, M. & Burke, B. A promiscuous biotin ligase fusion protein identifies proximal and interacting proteins in mammalian cells. J. Cell Biol. 196, 801–810 (2012).

Tehranchi, A. K. et al. Pooled ChIP-seq links variation in transcription factor binding to complex disease risk. Cell 165, 730–741 (2016).

Nica, A. C. & Dermitzakis, E. T. Expression quantitative trait loci: present and future. Philos. Trans. R. Soc. Lond. B Biol. Sci. 368, 20120362 (2013).

Stacey, S. N. et al. New basal cell carcinoma susceptibility loci. Nat. Commun. 6, 6825 (2015).

Yan, J. et al. Systematic analysis of binding of transcription factors to noncoding variants. Nature 591, 147–151 (2021).

Chiba, K. et al. Cancer-associated TERT promoter mutations abrogate telomerase silencing. Elife 4, e07918 (2015).

Bell, R. J. et al. Cancer. The transcription factor GABP selectively binds and activates the mutant TERT promoter in cancer. Science 348, 1036–1039 (2015).

Makowski, M. M. et al. An interaction proteomics survey of transcription factor binding at recurrent TERT promoter mutations. Proteomics 16, 417–426 (2016).

Heidenreich, B. & Kumar, R. TERT promoter mutations in telomere biology. Mutat. Res. Rev. Mutat. Res. 771, 15–31 (2017).

Weintraub, A. S. et al. YY1 is a structural regulator of enhancer–promoter loops. Cell 171, 1573–1588 (2017).

Zhang, W. et al. A global transcriptional network connecting noncoding mutations to changes in tumor gene expression. Nat. Genet. 50, 613–620 (2018).

Uffelmann, E. et al. Genome-wide association studies. Nat. Rev. Methods Primers 1, 59 (2021).

Tewhey, R. et al. Direct identification of hundreds of expression-modulating variants using a multiplexed reporter assay. Cell 165, 1519–1529 (2016).

Ulirsch, J. C. et al. Systematic functional dissection of common genetic variation affecting red blood cell traits. Cell 165, 1530–1545 (2016).
Acknowledgements
This work was supported by the US Veterans Affairs Office of Research and Development I01BX00140908, National Institutes of Health, National Institute for Arthritis and Musculoskeletal and Skin Diseases (NIH/NIAMS) AR076965 and AR049737, and by the NIH National Human Genome Research Institute (NIH/NHGRI) HG010856 (P.A.K.). The authors thank R. Leib at Stanford University Mass Spectrometry for help with mass spectrometry, with core support from NIH P30 CA124435 and S10RR027425.
Ethics declarations
Competing interests
The authors declare no competing interests.
Peer review
Peer review information
Nature Methods thanks Jian Yan, Markku Varjosalo and Samuel Myers for their contribution to the peer review of this work. Primary Handling Editor: Lei Tang, in collaboration with the Nature Methods team.
Additional information
Publisher's note Springer Nature remains neutral with regard to jurisdictional claims in published maps and institutional affiliations.
Supplementary information
About this article
Cite this article
Mondal, S., Ramanathan, M., Miao, W. et al. PROBER identifies proteins associated with programmable sequence-specific DNA in living cells. Nat Methods 19, 959–968 (2022). https://doi.org/10.1038/s41592-022-01552-w
Received:

Accepted:

Published:

Issue Date:

DOI: https://doi.org/10.1038/s41592-022-01552-w