Abstract
Bioluminescence imaging with luciferase–luciferin pairs is a well-established technique for visualizing biological processes across tissues and whole organisms. Applications at the microscale, by contrast, have been hindered by a lack of detection platforms and easily resolved probes. We addressed this limitation by combining bioluminescence with phasor analysis, a method commonly used to distinguish spectrally similar fluorophores. We built a camera-based microscope equipped with special optical filters to directly assign phasor locations to unique luciferase–luciferin pairs. Six bioluminescent reporters were easily resolved in live cells, and the readouts were quantitative and instantaneous. Multiplexed imaging was also performed over extended time periods. Bioluminescent phasor further provided direct measures of resonance energy transfer in single cells, setting the stage for dynamic measures of cellular and molecular features. The merger of bioluminescence with phasor analysis fills a long-standing void in imaging capabilities, and will bolster future efforts to visualize biological events in real time and over multiple length scales.
Your institute does not have access to this article
Access options
Subscribe to Nature+
Get immediate online access to the entire Nature family of 50+ journals
Subscribe to Journal
Get full journal access for 1 year
$119.00
only $9.92 per issue
All prices are NET prices.
VAT will be added later in the checkout.
Tax calculation will be finalised during checkout.
Buy article
Get time limited or full article access on ReadCube.
$32.00
All prices are NET prices.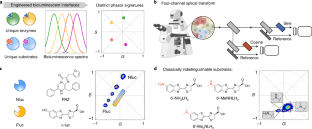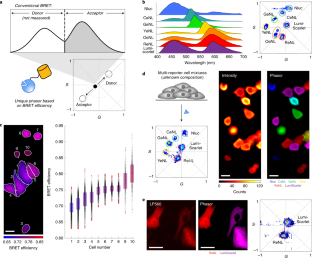 References
Love, A. C. & Prescher, J. A. Seeing (and using) the light: recent developments in bioluminescence technology. Cell Chem. Biol. 27, 904–920 (2020).

Syed, A. J. & Anderson, J. C. Applications of bioluminescence in biotechnology and beyond. Chem. Soc. Rev. 50, 5668–5705 (2021).

Mezzanotte, L., van 't Root, M., Karatas, H., Goun, E. A. & Löwik, C. In vivo molecular bioluminescence imaging: new tools and applications. Trends Biotechnol. 35, 640–652 (2017).

Contag, C. H. & Bachmann, M. H. Advances in in vivo bioluminescence imaging of gene expression. Annu. Rev. Biomed. Eng. 4, 235–260 (2002).

Yeh, H.-W. & Ai, H.-W. Development and applications of bioluminescent and chemiluminescent reporters and biosensors. Annu. Rev. Anal. Chem. 12, 129–150 (2019).

Yao, Z., Zhang, B. S. & Prescher, J. A. Advances in bioluminescence imaging: new probes from old recipes. Curr. Opin. Chem. Biol. 45, 148–156 (2018).

Rathbun, C. M. & Prescher, J. A. Bioluminescent probes for imaging biology beyond the culture dish. Biochemistry 56, 5178–5184 (2017).

Ogoh, K. et al. Bioluminescence microscopy using a short focal-length imaging lens. J. Microsc. 253, 191–197 (2014).

Rodriguez, E. A. et al. The growing and glowing toolbox of fluorescent and photoactive proteins. Trends Biochem. Sci. 42, 111–129 (2017).

Rathbun, C. M. et al. Rapid multicomponent bioluminescence imaging via substrate unmixing. ACS Chem. Biol. 16, 682––690 (2021).

Kobayashi, H., Picard, L.-P., Schönegge, A.-M. & Bouvier, M. Bioluminescence resonance energy transfer–based imaging of protein–protein interactions in living cells. Nat. Protoc. 14, 1084–1107 (2019).

Hall, M. P. et al. Engineered luciferase reporter from a deep sea shrimp utilizing a novel imidazopyrazinone xubstrate. ACS Chem. Biol. 7, 1848–1857 (2012).

Dixon, A. S. et al. NanoLuc complementation reporter optimized for accurate measurement of protein interactions in cells. ACS Chem. Biol. 11, 400–408 (2016).

Azad, T. et al. SARS-CoV-2 S1 NanoBiT: a nanoluciferase complementation-based biosensor to rapidly probe SARS-CoV-2 receptor recognition. Biosens. Bioelectron. 180, 113122 (2021).

England, C. G., Ehlerding, E. B. & Cai, W. NanoLuc: a small luciferase is brightening up the field of bioluminescence. Bioconjug. Chem. 27, 1175–1187 (2016).

Chu, J. et al. A bright cyan-excitable orange fluorescent protein facilitates dual-emission microscopy and enhances bioluminescence imaging in vivo. Nat. Biotechnol. 34, 760–767 (2016).

Takai, A. et al. Expanded palette of Nano-lanterns for real-time multicolor luminescence imaging. Proc. Natl Acad. Sci. USA 112, 4352 (2015).

Schaub, F. X. et al. Fluorophore-NanoLuc BRET reporters enable sensitive in vivo optical imaging and flow cytometry for monitoring tumorigenesis. Cancer Res. 75, 5023–5033 (2015).

Suzuki, K. et al. Five colour variants of bright luminescent protein for real-time multicolour bioimaging. Nat. Commun. 7, 13718 (2016).

Saito, K. et al. Luminescent proteins for high-speed single-cell and whole-body imaging. Nat. Commun. 3, 1262 (2012).

Su, Y. et al. Novel NanoLuc substrates enable bright two-population bioluminescence imaging in animals. Nat. Methods 17, 852–860 (2020).

Fereidouni, F., Bader, A. N. & Gerritsen, H. C. Spectral phasor analysis allows rapid and reliable unmixing of fluorescence microscopy spectral images. Opt. Express 20, 12729–12741 (2012).

Malacrida, L., Ranjit, S., Jameson, D. M. & Gratton, E. The phasor plot: a universal circle to advance fluorescence lifetime analysis and interpretation. Annu. Rev. Biophys. 50, 575–593 (2021).

Cutrale, F. et al. Hyperspectral phasor analysis enables multiplexed 5D in vivo imaging. Nat. Methods 14, 149–152 (2017).

Gammon, S. T., Leevy, W. M., Gross, S., Gokel, G. W. & Piwnica-Worms, D. Spectral unmixing of multicolored bioluminescence emitted from heterogeneous biological sources. Anal. Chem. 78, 1520–1527 (2006).

Hedde, P. N., Cinco, R., Malacrida, L., Kamaid, A. & Gratton, E. Phasor-based hyperspectral snapshot microscopy allows fast imaging of live, three-dimensional tissues for biomedical applications. Commun. Biol. 4, 721 (2021).

Dvornikov, A. & Gratton, E. Hyperspectral imaging in highly scattering media by the spectral phasor approach using two filters. Biomed. Opt. Express 9, 3503–3511 (2018).

Iwano, S. et al. Single-cell bioluminescence imaging of deep tissue in freely moving animals. Science 359, 935 (2018).

Reddy, G. R., Thompson, W. C. & Miller, S. C. Robust light emission from cyclic alkylaminoluciferin substrates for firefly luciferase. J. Am. Chem. Soc. 132, 13586–13587 (2010).

Rathbun, C. M. et al. Parallel screening for rapid identification of orthogonal bioluminescent tools. ACS Cent. Sci. 3, 1254–1261 (2017).

Jones, K. A. et al. Orthogonal luciferase–luciferin pairs for bioluminescence imaging. J. Am. Chem. Soc. 139, 2351–2358 (2017).

Harwood, K. R., Mofford, D. M., Reddy, G. R. & Miller, S. C. Identification of mutant firefly luciferases that efficiently utilize aminoluciferins. Chem. Biol. 18, 1649–1657 (2011).

Branchini, B. R., Magyar, R. A., Murtiashaw, M. H. & Portier, N. C. The role of active site residue arginine 218 in firefly luciferase bioluminescence. Biochemistry 40, 2410–2418 (2001).

Branchini, B. R., Southworth, T. L., Murtiashaw, M. H., Boije, H. & Fleet, S. E. A mutagenesis study of the putative luciferin binding site residues of firefly luciferase. Biochemistry 42, 10429–10436 (2003).

Frei, M. S. et al. Engineered HaloTag variants for fluorescence lifetime multiplexing. Nat. Methods 19, 65–70 (2022).

Frei, M. S., Koch, B., Hiblot, J. & Johnsson, K. Live-cell fluorescence lifetime multiplexing using synthetic fluorescent probes. ACS Chem. Biol., https://pubs.acs.org/doi/10.1021/acschembio.2c00041(2022).

Mehl, B. P. et al. Live cell biosensors based on the fluorescence lifetime of environment-sensing dyes. Preprint at bioRxiv https://doi.org/10.1101/2022.02.08.479035 (2022).

Zhang, B. S., Jones, K. A., McCutcheon, D. C. & Prescher, J. A. Pyridone luciferins and mutant luciferases for bioluminescence imaging. ChemBioChem 19, 470–477 (2018).

Yeh, H.-w et al. ATP-independent bioluminescent reporter variants to improve in vivo imaging. ACS Chem. Biol. 14, 959–965 (2019).

Bajar, B. T., Wang, E. S., Zhang, S., Lin, M. Z. & Chu, J. A guide to fluorescent protein FRET pairs. Sensors 6, 1488 (2016).

Lay, C. S. et al. Probing the binding of interleukin-23 to individual receptor components and the IL-23 heteromeric receptor complex in living cells using NanoBRET. Cell Chem. Biol. 29, 19–29.e16 (2022).

Machleidt, T. et al. NanoBRET—a novel BRET platform for the analysis of protein–protein Interactions. ACS Chem. Biol. 10, 1797–1804 (2015).

Hiblot, J. et al. Luciferases with tunable emission wavelengths. Angew. Chem. Int. Ed. 56, 14556–14560 (2017).

Aper, S. J. A., Dierickx, P. & Merkx, M. Dual readout BRET/FRET sensors for measuring intracellular zinc. ACS Chem. Biol. 11, 2854–2864 (2016).

Yang, J. et al. Coupling optogenetic stimulation with NanoLuc-based luminescence (BRET) Ca2+ sensing. Nat. Commun. 7, 13268 (2016).

Inagaki, S. et al. Genetically encoded bioluminescent voltage indicator for multi-purpose use in wide range of bioimaging. Sci. Rep. 7, 42398–42398 (2017).

Yevtodiyenko, A. et al. Portable bioluminescent platform for in vivo monitoring of biological processes in non-transgenic animals. Nat. Commun. 12, 2680 (2021).

Celinskis, D. et al. Miniaturized devices for bioluminescence imaging in freely behaving animals. Preprint at bioRxiv https://doi.org/10.1101/2020.06.15.152546 (2020).

Steinhardt, R. C. et al. Brominated luciferins are versatile bioluminescent probes. ChemBioChem 18, 96–100 (2017).

Brennan, C. K., Ornelas, M. Y., Yao, Z. W. & Prescher, J. A. Multicomponent bioluminescence imaging with naphthylamino luciferins. ChemBioChem 22, 2650–2654 (2021).

Musicant, A. M. et al. CRTC1/MAML2 directs a PGC-1α-IGF-1 circuit that confers vulnerability to PPARγ inhibition. Cell Rep. 34, 108768 (2021).
Acknowledgements
This research was supported by an Allen Distinguished Investigator Award, a Paul G. Allen Frontiers Group advised grant of the Paul G. Allen Family Foundation (to J.A.P. and M.A.D.), the US National Institutes of Health (grant no. R01 GM107630 to J.A.P., grant no. P41-GM103540 to L.S., E.G., and M.A.D., grant no. R01 DE030123 to A.L.A.) and the UNC University Cancer Research Fund (to A.L.A.). Z.Y. was supported by the National Science Foundation via the BEST IGERT (grant no. DGE-1144901) program and a Graduate Research Fellowship (grant no. DGE-1321846). C.K.B. was supported by the UCI Physical Sciences Machine Learning NEXUS program. We thank members of the Laboratory of Fluorescence Dynamics (LFD, UCI) for discussion. Some experiments were performed at the Laser Spectroscopy Laboratories (LSL) at UCI.
Ethics declarations
Competing interests
The authors declare no competing interests.
Peer review
Peer review information
Nature Methods thanks Huiwang Ai, Francesco Cutrale and the other, anonymous, reviewer(s) for their contribution to the peer review of this work. Primary Handling Editor: Rita Strack, in collaboration with the Nature Methods team.
Additional information
Publisher's note Springer Nature remains neutral with regard to jurisdictional claims in published maps and institutional affiliations.
Supplementary information
About this article
Cite this article
Yao, Z., Brennan, C.K., Scipioni, L. et al. Multiplexed bioluminescence microscopy via phasor analysis. Nat Methods 19, 893–898 (2022). https://doi.org/10.1038/s41592-022-01529-9
Received:

Accepted:

Published:

Issue Date:

DOI: https://doi.org/10.1038/s41592-022-01529-9