Abstract
Current imaging approaches limit the ability to perform multi-scale characterization of three-dimensional (3D) organotypic cultures (organoids) in large numbers. Here, we present an automated multi-scale 3D imaging platform synergizing high-density organoid cultures with rapid and live 3D single-objective light-sheet imaging. It is composed of disposable microfabricated organoid culture chips, termed JeWells, with embedded optical components and a laser beam-steering unit coupled to a commercial inverted microscope. It permits streamlining organoid culture and high-content 3D imaging on a single user-friendly instrument with minimal manipulations and a throughput of 300 organoids per hour. We demonstrate that the large number of 3D stacks that can be collected via our platform allows training deep learning-based algorithms to quantify morphogenetic organizations of organoids at multi-scales, ranging from the subcellular scale to the whole organoid level. We validated the versatility and robustness of our approach on intestine, hepatic, neuroectoderm organoids and oncospheres.
This is a preview of subscription content
Access options
Subscribe to Nature+
Get immediate online access to the entire Nature family of 50+ journals
Subscribe to Journal
Get full journal access for 1 year
$119.00
only $9.92 per issue
All prices are NET prices.
VAT will be added later in the checkout.
Tax calculation will be finalised during checkout.
Buy article
Get time limited or full article access on ReadCube.
$32.00
All prices are NET prices.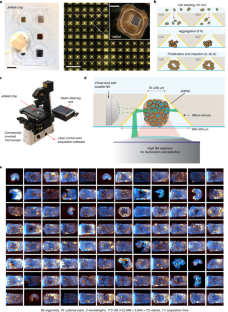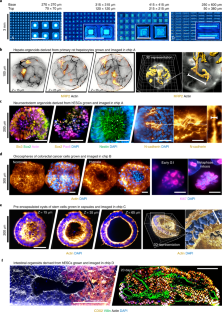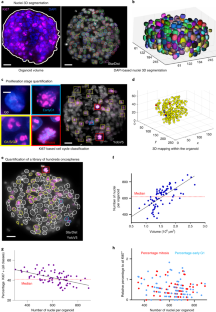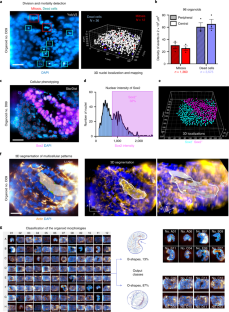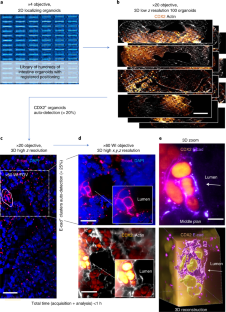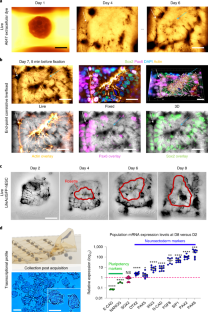 Data availability
Due to the size of the dataset, the raw images of the organoids acquired in this study as well as the training datasets for the CNNs will be available upon request. We will also provide free access to JeWell chips for testing by a Material Transfer Agreement. Source data are provided with this paper.
Code availability
All the Neural networks used in this paper are publicly available and have been used without any modifications.
References
Kim, J., Koo, B. K. & Knoblich, J. A. Human organoids: model systems for human biology and medicine. Nat. Rev. Mol. Cell Biol. https://doi.org/10.1038/s41580-020-0259-3 (2020).

Takebe, T. & Wells, J. M. Organoids by design. Science 364, 956–959 (2019).

Kratochvil, M. J. et al. Engineered materials for organoid systems. Nat. Rev. Mater. 4, 606–622 (2019).

Rossi, G., Manfrin, A. & Lutolf, M. P. Progress and potential in organoid research. Nat. Rev. Genet. 19, 671–687 (2018).

O'Connell, L. & Winter, D. C. Organoids: past learning and future directions. Stem. Cells Dev. 29, 281–289 (2020).

Vives, J. & Batlle-Morera, L. The challenge of developing human 3D organoids into medicines. Stem Cell Res. Ther. https://doi.org/10.1186/s13287-020-1586-1 (2020).

Busslinger, G. A. et al. The potential and challenges of patient-derived organoids in guiding the multimodality treatment of upper gastrointestinal malignancies. Open Biol. https://doi.org/10.1098/rsob.190274 (2020).

Lukonin, I. et al. Phenotypic landscape of intestinal organoid regeneration. Nature https://doi.org/10.1038/s41586-020-2776-9 (2020).

Renner, H. et al. A fully automated high-throughput workflow for 3D-based chemical screening in human midbrain organoids. eLife https://doi.org/10.7554/eLife.52904 (2020).

Bock, C. et al. The Organoid Cell Atlas. Nat. Biotechnol. https://doi.org/10.1038/s41587-020-00762-x (2021).

Rios, A. C. & Clevers, H. Imaging organoids: a bright future ahead. Nat. Methods https://doi.org/10.1038/nmeth.4537 (2018).

Dekkers, J. F. et al. High-resolution 3D imaging of fixed and cleared organoids. Nat. Protoc. 14, 1756–1771 (2019).

Lukonin, I., Zinner, M. & Liberali, P. Organoids in image-based phenotypic chemical screens. Exp. Mol. Med. https://doi.org/10.1038/s12276-021-00641-8 (2021).

Wan, Y., McDole, K. & Keller, P. J. Light-sheet microscopy and its potential for understanding developmental processes. Annu. Rev. Cell Dev. Biol. https://doi.org/10.1146/annurev-cellbio-100818-125311 (2019).

Yang, Q. et al. Cell fate coordinates mechano-osmotic forces in intestinal crypt formation. Nat. Cell Biol. https://doi.org/10.1038/s41556-021-00700-2 (2021).

Serra, D. et al. Self-organization and symmetry breaking in intestinal organoid development. Nature https://doi.org/10.1038/s41586-019-1146-y (2019).

Eismann, B. et al. Automated 3D light-sheet screening with high spatiotemporal resolution reveals mitotic phenotypes. J. Cell Sci. https://doi.org/10.1242/jcs.245043 (2020).

Voleti, V. et al. Real-time volumetric microscopy of in vivo dynamics and large-scale samples with SCAPE 2.0. Nat. Methods https://doi.org/10.1038/s41592-019-0579-4 (2019).

Yang, B. et al. Epi-illumination SPIM for volumetric imaging with high spatial-temporal resolution. Nat. Methods https://doi.org/10.1038/s41592-019-0401-3 (2019).

Maioli, V. et al. Time-lapse 3-D measurements of a glucose biosensor in multicellular spheroids by light sheet fluorescence microscopy in commercial 96-well plates. Sci. Rep. https://doi.org/10.1038/srep37777 (2016).

Galland, R. et al. 3D high-and super-resolution imaging using single-objective SPIM. Nat. Methods https://doi.org/10.1038/nmeth.3402 (2015).

Sorrentino, G. et al. Mechano-modulatory synthetic niches for liver organoid derivation. Nat. Commun. https://doi.org/10.1038/s41467-020-17161-0 (2020).

Fedorova, V. et al. Differentiation of neural rosettes from human pluripotent stem cells in vitro is sequentially regulated on a molecular level and accomplished by the mechanism reminiscent of secondary neurulation. Stem Cell Res. https://doi.org/10.1016/j.scr.2019.101563 (2019).

Yoshida, S., Miwa, H., Kawachi, T., Kume, S. & Takahashi, K. Generation of intestinal organoids derived from human pluripotent stem cells for drug testing. Sci. Rep. https://doi.org/10.1038/s41598-020-63151-z (2020).

Weigert, M., Schmidt, U., Haase, R., Sugawara, K. & Myers, G. Star-convex polyhedra for 3D object detection and segmentation in microscopy. In Proc. 2020 IEEE Winter Conference on Applications of Computer Vision, WACV 2020 3655–3662 (IEEE, 2019); https://doi.org/10.1109/WACV45572.2020.9093435

Sun, X. & Kaufman, P. D. Ki-67: more than a proliferation marker. Chromosoma https://doi.org/10.1007/s00412-018-0659-8 (2018).

Lancaster, M. A. et al. Cerebral organoids model human brain development and microcephaly. Nature https://doi.org/10.1038/nature12517 (2013).

Hříbková, H., Grabiec, M., Klemová, D., Slaninová, I. & Sun, Y. M. Calcium signaling mediates five types of cell morphological changes to form neural rosettes. J. Cell Sci. 131, jcs206896 (2018).

Meinhardt, A. et al. 3D reconstitution of the patterned neural tube from embryonic stem cells. Stem Cell Rep. https://doi.org/10.1016/j.stemcr.2014.09.020 (2014).

Chandrasekaran, A. et al. Comparison of 2D and 3D neural induction methods for the generation of neural progenitor cells from human induced pluripotent stem cells. Stem Cell Res. https://doi.org/10.1016/j.scr.2017.10.010 (2017).

Ronneberger, O., Fischer, P., Brox, T. U-Net: Convolutional Networks for Biomedical Image Segmentation. In: Navab, N., Hornegger, J., Wells, W., Frangi, A. (eds) Medical Image Computing and Computer-Assisted Intervention – MICCAI 2015. MICCAI 2015. Lecture Notes in Computer Science(), vol 9351. Springer, Cham. https://doi.org/10.1007/978-3-319-24574-4_28

Huang, G., Liu, Z., Van Der Maaten, L. & Weinberger, K. Q. Densely connected convolutional networks. In Proc. 30th IEEE Conference on Computer Vision and Pattern Recognition, CVPR 2017, 21–26 July, Honolulu, HI, USA (IEEE, 2017); https://doi.org/10.1109/CVPR.2017.243

Karzbrun, E., Kshirsagar, A., Cohen, S. R., Hanna, J. H. & Reiner, O. Human brain organoids on a chip reveal the physics of folding. Nat. Phys. https://doi.org/10.1038/s41567-018-0046-7 (2018).

Driehuis, E. et al. Pancreatic cancer organoids recapitulate disease and allow personalized drug screening. Proc. Natl Acad. Sci. USA https://doi.org/10.1073/pnas.1911273116 (2019).

Beccari, L. et al. Multi-axial self-organization properties of mouse embryonic stem cells into gastruloids. Nature https://doi.org/10.1038/s41586-018-0578-0 (2018).

Kumar, S. V. et al. Kidney micro-organoids in suspension culture as a scalable source of human pluripotent stem cell-derived kidney cells. Dev. https://doi.org/10.1242/dev.172361 (2019).

Perche, F. & Torchilin, V. P. Cancer cell spheroids as a model to evaluate chemotherapy protocols. Cancer Biol. Ther. https://doi.org/10.4161/cbt.21353 (2012).

Seglen, P. O. Preparation of isolated rat liver cells. Methods Cell. Biol. https://doi.org/10.1016/S0091-679X(08)61797-5 (1976).

Quelennec, E. et al. Generation of two induced pluripotent stem cell lines IMAGINi004-A and IMAGINi005-A from healthy donors. Stem Cell Res. 48, 101959 (2020).

Alessandri, K. et al. A 3D printed microfluidic device for production of functionalized hydrogel microcapsules for culture and differentiation of human neuronal stem cells (hNSC). Lab Chip 16, 1593–1604 (2016).

Sofroniew, N. et al. napari/napari: 0.4.9rc1. Zenodo https://doi.org/10.5281/ZENODO.4905201 (2021).

Legland, D., Arganda-Carreras, I. & Andrey, P. MorphoLibJ: integrated library and plugins for mathematical morphology with ImageJ. Bioinformatics https://doi.org/10.1093/bioinformatics/btw413 (2016).

Kingma, D. P. & Ba, J. L. Adam: a method for stochastic optimization. In Proc. 3rd International Conference on Learning Representations, ICLR 2015 - Conference Track Proceedings (2015).

Fedorov, A. et al. 3D Slicer as an image computing platform for the Quantitative Imaging Network. Magn. Reson. Imaging https://doi.org/10.1016/j.mri.2012.05.001 (2012).
Acknowledgements
The research is supported by the CALIPSO project supported by the National Research Foundation (NRF), Prime Minister's Office, Singapore under its Campus for Research Excellence and Technological Enterprise program. V.V. acknowledges the support of NRF investigator grant nos. NRF-NRFI2018-07, MOE Tier 3 MOE2016-T3-1-005, MechanoBiology Institute (MBI) seed funding and ANR ADGastrulo. J.B.S. and R.G. are supported by the Labex BRAIN, the 'program investissement d'avenir' (grant no. The grant for the Agence Nationale de la Recherche (ANR) ANR-10-IDEX-03-02), the ANR soLIVE (grant no. ANR16-CE11-0015) and France BioImaging infrastructure (grant no. ANR-10-INSB-04). T.D. holds a CNRS PhD fellowship. We thank F. Saltel (BaRiTon laboratory) for providing the HEP3B-H2B-GFP stable cell line. We thank P. Cohen, K. Alessandri and A. Leonard (TreeFrog Therapeutics) for providing the encapsulated stem cell cysts. We acknowledge the kind gift of Lifeact/H2D Esc from O. Reiner (Weizmann) and C. Butler for their discussions. A.B. and G.G. acknowledge support from MBI core funding. We all thank A. Wong and D. Pitta de Araujo for help editing the manuscript.
Ethics declarations
Competing interests
The authors declare no competing interests.
Peer review
Peer review information
Nature Methods thanks Bon-Kyoung Koo, Prisca Liberali and the other, anonymous, reviewer(s) for their contribution to the peer review of this work. Madhura Mukhopadhyay was the primary editor on this article and managed its editorial process and peer review in collaboration with the rest of the editorial team.
Additional information
Publisher's note Springer Nature remains neutral with regard to jurisdictional claims in published maps and institutional affiliations.
Supplementary information
About this article
Cite this article
Beghin, A., Grenci, G., Sahni, G. et al. Automated high-speed 3D imaging of organoid cultures with multi-scale phenotypic quantification. Nat Methods (2022). https://doi.org/10.1038/s41592-022-01508-0
Received:

Accepted:

Published:

DOI: https://doi.org/10.1038/s41592-022-01508-0