Abstract
Studies of genome regulation routinely use high-throughput DNA sequencing approaches to determine where specific proteins interact with DNA, and they rely on DNA amplification and short-read sequencing, limiting their quantitative application in complex genomic regions. To address these limitations, we developed directed methylation with long-read sequencing (DiMeLo-seq), which uses antibody-tethered enzymes to methylate DNA near a target protein's binding sites in situ. These exogenous methylation marks are then detected simultaneously with endogenous CpG methylation on unamplified DNA using long-read, single-molecule sequencing technologies. We optimized and benchmarked DiMeLo-seq by mapping chromatin-binding proteins and histone modifications across the human genome. Furthermore, we identified where centromere protein A localizes within highly repetitive regions that were unmappable with short sequencing reads, and we estimated the density of centromere protein A molecules along single chromatin fibers. DiMeLo-seq is a versatile method that provides multimodal, genome-wide information for investigating protein–DNA interactions.
This is a preview of subscription content
Access options
Subscribe to Nature+
Get immediate online access to the entire Nature family of 50+ journals
Subscribe to Journal
Get full journal access for 1 year
$119.00
only $9.92 per issue
All prices are NET prices.
VAT will be added later in the checkout.
Tax calculation will be finalised during checkout.
Buy article
Get time limited or full article access on ReadCube.
$32.00
All prices are NET prices.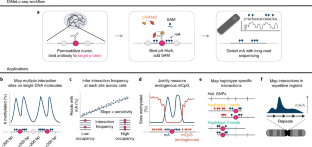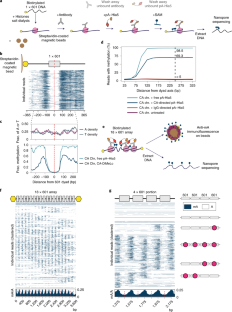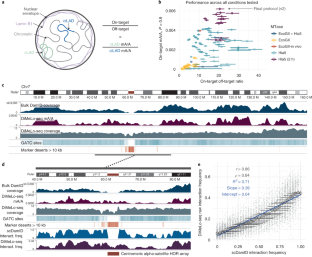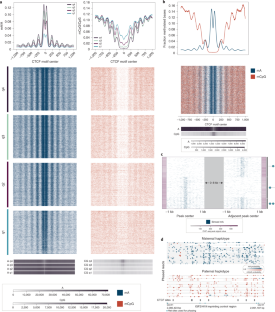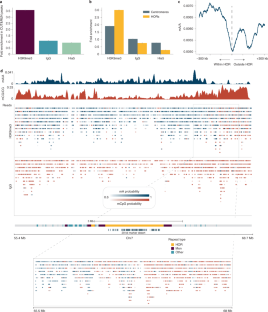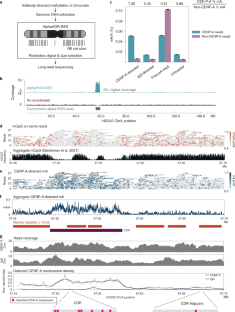 Data availability
All raw fast5 sequencing data are available in the Sequence Read Archive (SRA) under BioProject accession PRJNA752170. These data were used to produce Figs. 2–6, Extended Data Figs. 1–10, Supplementary Tables 1–3 and Supplementary Fig. 2. The CTCF ChIP–seq peak bed file for GM12878 is available from ENCODE Project Consortium under accession ENCFF797SDL. The ATAC–seq peak bed file for GM12878 is available from ENCODE Project Consortium under accession ENCFF748UZH. Bulk and scDamID data were obtained from the Gene Expression Omnibus (GEO) under accession GSE156150. H3K9me3 CUT&RUN data are from Altemose et al.35 and accessible in the SRA with BioProject accession PRJNA752795. Data for Fig. 6c used CHM13 CENP-A ChIP–seq data for CENP-A k-mer analyses, which are available under BioProject accession PRJNA559484 from Logsdon et al.41. Centromere and HOR definition bed files from the telomere-to-telomere consortium can be found at https://github.com/marbl/chm13. Known CTCF motifs are from http://compbio.mit.edu/encode-motifs/matches.txt.gz. Data for the CpG methylation track in Fig. 6d were obtained from data available at https://github.com/nanopore-wgs-consortium/CHM13 (ref. 35). Source data are provided with this paper.
References
van Steensel, B. & Henikoff, S. Identification of in vivo DNA targets of chromatin proteins using tethered dam methyltransferase. Nat. Biotechnol. 18, 424–428 (2000).

Mikkelsen, T. S. et al. Genome-wide maps of chromatin state in pluripotent and lineage-committed cells. Nature 448, 553–560 (2007).

Robertson, G. et al. Genome-wide profiles of STAT1 DNA association using chromatin immunoprecipitation and massively parallel sequencing. Nat. Methods 4, 651–657 (2007).

Johnson, D. S., Mortazavi, A., Myers, R. M. & Wold, B. Genome-wide mapping of in vivo protein–DNA interactions. Science 316, 1497–1502 (2007).

Barski, A. et al. High-resolution profiling of histone methylations in the human genome. Cell 129, 823–837 (2007).

Skene, P. J. & Henikoff, S. An efficient targeted nuclease strategy for high-resolution mapping of DNA binding sites. Elife 6, e21856 (2017).

Rivera, C. M. & Ren, B. Mapping human epigenomes. Cell 155, 39–55 (2013).

Sönmezer, C. et al. Molecular co-occupancy identifies transcription factor binding cooperativity in vivo. Mol. Cell 81, 255–267 (2021).

Nurk, S. et al. The complete sequence of a human genome. Science 376, 44–53 (2022).

Abdulhay, N. J. et al. Massively multiplex single-molecule oligonucleosome footprinting. Elife 9, e59404 (2020).

Stergachis, A. B., Debo, B. M., Haugen, E., Churchman, L. S. & Stamatoyannopoulos, J. A. Single-molecule regulatory architectures captured by chromatin fiber sequencing. Science 368, 1449–1454 (2020).

Lee, I. et al. Simultaneous profiling of chromatin accessibility and methylation on human cell lines with nanopore sequencing. Nat. Methods 17, 1191–1199 (2020).

Shipony, Z. et al. Long-range single-molecule mapping of chromatin accessibility in eukaryotes. Nat. Methods 17, 319–327 (2020).

Wang, Y. et al. Single-molecule long-read sequencing reveals the chromatin basis of gene expression. Genome Res. 29, 1329–1342 (2019).

Schmid, M., Durussel, T. & Laemmli, U. K. ChIC and ChEC; genomic mapping of chromatin proteins. Mol. Cell 16, 147–157 (2004).

van Schaik, T., Vos, M., Peric-Hupkes, D., Hn Celie, P. & van Steensel, B. Cell cycle dynamics of lamina-associated DNA. EMBO Rep. 21, e50636 (2020).

O'Brown, Z. K. et al. Sources of artifact in measurements of 6mA and 4mC abundance in eukaryotic genomic DNA. BMC Genomics 20, 445 (2019).

Drozdz, M., Piekarowicz, A., Bujnicki, J. M. & Radlinska, M. Novel nonspecific DNA adenine methyltransferases. Nucleic Acids Res. 40, 2119–2130 (2012).

Lowary, P. T. & Widom, J. New DNA sequence rules for high affinity binding to histone octamer and sequence-directed nucleosome positioning. J. Mol. Biol. 276, 19–42 (1998).

Guelen, L. et al. Domain organization of human chromosomes revealed by mapping of nuclear lamina interactions. Nature 453, 948–951 (2008).

Meuleman, W. et al. Constitutive nuclear lamina–genome interactions are highly conserved and associated with A/T-rich sequence. Genome Res. 23, 270–280 (2013).

Altemose, N. et al. μDamID: a microfluidic approach for joint imaging and sequencing of protein–DNA interactions in single cells. Cell Syst. 11, 354–366 (2020).

Sobecki, M. et al. MadID, a versatile approach to map protein–DNA interactions, highlights telomere-nuclear envelope contact sites in human cells. Cell Rep. 25, 2891–2903 (2018).

Kind, J. et al. Genome-wide maps of nuclear lamina interactions in single human cells. Cell 163, 134–147 (2015).

Bell, A. C. & Felsenfeld, G. Methylation of a CTCF-dependent boundary controls imprinted expression of the Igf2 gene. Nature 405, 482–485 (2000).

Song, L. et al. Open chromatin defined by DNase I and FAIRE identifies regulatory elements that shape cell-type identity. Genome Res. 21, 1757–1767 (2011).

Boyle, A. P. et al. High-resolution genome-wide in vivo footprinting of diverse transcription factors in human cells. Genome Res. 21, 456–464 (2011).

Klenova, E. M. et al. CTCF, a conserved nuclear factor required for optimal transcriptional activity of the chicken c-myc gene, is an 11-Zn-finger protein differentially expressed in multiple forms. Mol. Cell. Biol. 13, 7612–7624 (1993).

Lobanenkov, V. V. et al. A novel sequence-specific DNA binding protein which interacts with three regularly spaced direct repeats of the CCCTC-motif in the 5′-flanking sequence of the chicken c-myc gene. Oncogene 5, 1743–1753 (1990).

Ohlsson, R., Renkawitz, R. & Lobanenkov, V. CTCF is a uniquely versatile transcription regulator linked to epigenetics and disease. Trends Genet. 17, 520–527 (2001).

Rhee, H. S. & Pugh, B. F. Comprehensive genome-wide protein–DNA interactions detected at single-nucleotide resolution. Cell 147, 1408–1419 (2011).

Kelly, T. K. et al. Genome-wide mapping of nucleosome positioning and DNA methylation within individual DNA molecules. Genome Res. 22, 2497–2506 (2012).

Wenger, A. M. et al. Accurate circular consensus long-read sequencing improves variant detection and assembly of a human genome. Nat. Biotechnol. 37, 1155–1162 (2019).

Gershman, A. et al. Epigenetic patterns in a complete human genome. Science 376, eabj5089 (2022).

Altemose, N. et al. Complete genomic and epigenetic maps of human centromeres. Science 376, eabl4178 (2022).

McNulty, S. M. & Sullivan, B. A. Alpha satellite DNA biology: finding function in the recesses of the genome. Chromosome Res. 26, 115–138 (2018).

Rudd, M. K., Schueler, M. G. & Willard, H. F. Sequence organization and functional annotation of human centromeres. Cold Spring Harb. Symp. Quant. Biol. 68, 141–149 (2003).

Willard, H. F. & Waye, J. S. Hierarchical order in chromosome-specific human alpha satellite DNA. Trends Genet. 3, 192–198 (1987).

Miga, K. H. et al. Centromere reference models for human chromosomes X and Y satellite arrays. Genome Res. 24, 697–707 (2014).

Hayden, K. E. et al. Sequences associated with centromere competency in the human genome. Mol. Cell. Biol. 33, 763–772 (2013).

Logsdon, G. A. et al. The structure, function and evolution of a complete human chromosome 8. Nature 593, 101–107 (2021).

Lica, L. & Hamkalo, B. Preparation of centromeric heterochromatin by restriction endonuclease digestion of mouse L929 cells. Chromosoma 88, 42–49 (1983).

Smith, O. K. et al. Identification and characterization of centromeric sequences in Xenopus laevis. Genome Res. 31, 958–967 (2021).

Miga, K. H. et al. Telomere-to-telomere assembly of a complete human X chromosome. Nature 585, 79–84 (2020).

Bodor, D. L. et al. The quantitative architecture of centromeric chromatin. Elife 3, e02137 (2014).

Aldrup-MacDonald, M. E., Kuo, M. E., Sullivan, L. L., Chew, K. & Sullivan, B. A. Genomic variation within alpha satellite DNA influences centromere location on human chromosomes with metastable epialleles. Genome Res. 26, 1301–1311 (2016).

Gilpatrick, T. et al. Targeted nanopore sequencing with Cas9-guided adapter ligation. Nat. Biotechnol. 38, 433–438 (2020).

Kovaka, S., Fan, Y., Ni, B., Timp, W. & Schatz, M. C. Targeted nanopore sequencing by real-time mapping of raw electrical signal with UNCALLED. Nat. Biotechnol. 39, 431–441 (2021).

Gamba, R. et al. A method to enrich and purify centromeric DNA from human cells. Preprint at bioRxiv https://doi.org/10.1101/2021.09.24.461328 (2021).

Meers, M. P., Bryson, T. D., Henikoff, J. G. & Henikoff, S. Improved CUT&RUN chromatin profiling tools. Elife 8, e46314 (2019).

Cao, S., Zhou, K., Zhang, Z., Luger, K. & Straight, A. F. Constitutive centromere-associated network contacts confer differential stability on CENP-A nucleosomes in vitro and in the cell. Mol. Biol. Cell 29, 751–762 (2018).

Zhou, K. et al. CENP-N promotes the compaction of centromeric chromatin. Preprint at bioRxiv https://doi.org/10.1101/2021.06.14.448351 (2021).

Kim, B. Y. et al. Highly contiguous assemblies of 101 drosophilid genomes. Preprint at bioRxiv https://doi.org/10.1101/2020.12.14.422775 (2020).

Hellman, A. & Chess, A. Gene body-specific methylation on the active X chromosome. Science 315, 1141–1143 (2007).
Acknowledgements
We thank A. Stergachis for the plasmid encoding Hia5, G. Caldas for experimental training, and G. Karpen for helpful discussions. We thank Stanford University and the Stanford Research Computing Center for providing computational resources and support that contributed to these research results. We thank M. Tan for contributions to sequencing. This work was supported by the Chan Zuckerberg Biohub and by the NIGMS of the National Institutes of Health under award no. R35GM124916 to A.S. and R01 GM074728 to A.F.S. K.H.M. is supported by R21HG010548-01. O.K.S. and R.R.B. are supported by a National Institutes of Health T32 award, nos. GM113854-02 and GM007279-45, respectively. A.M., O.K.S. and R.R.B. are supported by NSF GRFP awards. N.A. is an HHMI Hanna H. Gray Fellow. A.S. is a Chan Zuckerberg Biohub Investigator, and a Pew Scholar in the Biomedical Sciences.
Ethics declarations
Competing interests
N.A., A.M., O.K.S., K.S., A.F.S. and A.S. are co-inventors on a patent application related to this work. The remaining authors declare no competing interests.
Peer review
Peer review information
Nature Methods thanks the anonymous reviewers for their contribution to the peer review of this work. Primary Handling Editor: Lei Tang, in collaboration with the Nature Methods team. Peer reviewer reports are available.
Additional information
Publisher's note Springer Nature remains neutral with regard to jurisdictional claims in published maps and institutional affiliations.
Supplementary information
Supplementary Tables 1–3, Figs. 1 and 2 and Notes 1–15
About this article
Cite this article
Altemose, N., Maslan, A., Smith, O.K. et al. DiMeLo-seq: a long-read, single-molecule method for mapping protein–DNA interactions genome wide. Nat Methods 19, 711–723 (2022). https://doi.org/10.1038/s41592-022-01475-6
Received:

Accepted:

Published:

Issue Date:

DOI: https://doi.org/10.1038/s41592-022-01475-6