Abstract
Transneuronal viruses are powerful tools for tracing neuronal circuits or delivering genes to specific neurons in the brain. While there are multiple retrograde viruses, few anterograde viruses are available. Further, available anterograde viruses often have limitations such as retrograde transport, high neuronal toxicity or weak signals. We developed an anterograde viral system based on a live attenuated vaccine for yellow fever—YFV-17D. Replication- or packaging-deficient mutants of YFV-17D can be reconstituted in the brain, leading to efficient synapse-specific and anterograde-only transneuronal spreading, which can be controlled to achieve either monosynaptic or polysynaptic tracing. Moreover, inducible transient replication of YFV-17D mutant is sufficient to induce permanent transneuronal genetic modifications without causing neuronal toxicity. The engineered YFV-17D systems can be used to express fluorescent markers, sensors or effectors in downstream neurons, thus providing versatile tools for mapping and functionally controlling neuronal circuits.
Relevant articles
Open Access articles citing this article.
Steven F. Grieco

,

Todd C. Holmes

&

Xiangmin Xu

Molecular Psychiatry Open Access 23 March 2023

Feng Xiong

,

Hong Yang

…

Wen-Bo Zeng

Nature Communications Open Access 10 December 2022

Liyao Qiu

,

Bin Zhang

&

Zhihua Gao

Neuroscience Bulletin Open Access 16 May 2022
Access options
Access Nature and 54 other Nature Portfolio journals
Get Nature+, our best-value online-access subscription
$29.99 / 30 days
cancel any time
Subscribe to this journal
Receive 12 print issues and online access
$259.00 per year
only $21.58 per issue
Rent or buy this article
Prices vary by article type
from$1.95
to$39.95
Prices may be subject to local taxes which are calculated during checkout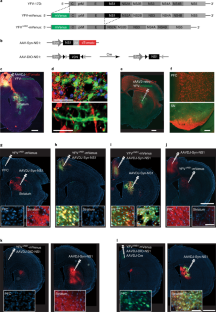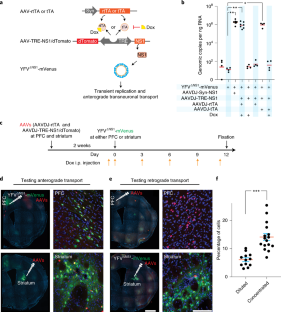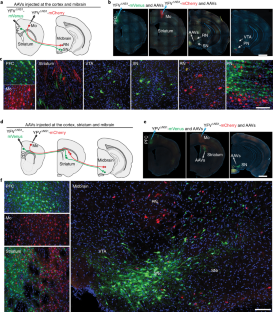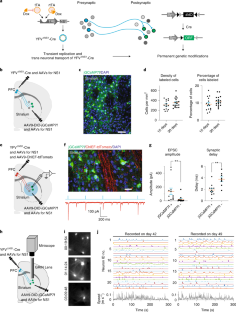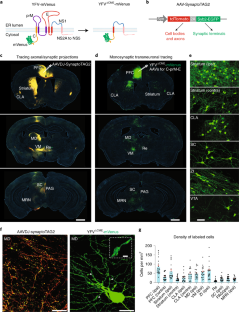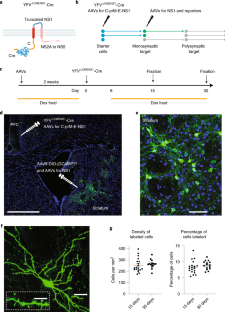 Data availability
The original data in this study include images of brain sections, calcium imaging data of freely moving mice and sequences of plasmids. The sequences of the plasmids have been deposited to GenBank as follows: pAAV-DIO-NS1 (MZ708030), pAAV-Syn-NS1-p2A-NLSdTomato (MZ695807), pAAV-rtTA (MZ708018), pAAV-SynaptoTAG2 (MZ708019), pAAV-TRE-C-prM-E-NS1 (MZ708020), pAAV-TRE-NS1-dTomato (MZ708021), pAAV-TRE-NS1NF (MZ708022), pAAV-tTA (MZ708023), pFUW-C-prM-E-NS1 (MZ708024), pYFVdelCME-mVenus (MZ708025), pYFVdeltaCMENS1-Cre (MZ708026), pYFVdeltaNS1-Cre (MZ708027), pYFVdeltaNS1-mCherry (MZ708028) and pYFVdeltaNS1-mVenus (MZ708029). The plasmids have been deposited to Addgene as follows: pAAV-DIO-NS1 (plasmid 175273), pAAV-Syn-NS1-p2A-NLSdTomato (plasmid 175276), pAAV-rtTA (plasmid 175274), pAAV-SynaptoTAG2 (plasmid 175275), pAAV-TRE-C-prM-E-NS1 (plasmid 175277), pAAV-TRE-NS1-dTomato (plasmid 175278), pAAV-TRE-NS1NF (plasmid 175279), pAAV-tTA (plasmid 175280) and pFUW-C-prM-E-NS1 (plasmid 175281). The other plasmids or reagents can be requested from the corresponding authors. The raw imaging data are in large files (total >100 GB) and can be requested from the corresponding authors. Source data are provided with this paper.
References
Zeng, H. & Sanes, J. R. Neuronal cell-type classification: challenges, opportunities and the path forward. Nat. Rev. Neurosci. 18, 530–546 (2017).

Callaway, E. M. Transneuronal circuit tracing with neurotropic viruses. Curr. Opin. Neurobiol. 18, 617–623 (2008).

Ekstrand, M. I., Enquist, L. W. & Pomeranz, L. E. The alpha-herpesviruses: molecular pathfinders in nervous system circuits. Trends Mol. Med. 14, 134–140 (2008).

Miyamichi, K. et al. Cortical representations of olfactory input by trans-synaptic tracing. Nature 472, 191–196 (2011).

Oyibo, H. K., Znamenskiy, P., Oviedo, H. V., Enquist, L. W. & Zador, A. M. Long-term Cre-mediated retrograde tagging of neurons using a novel recombinant pseudorabies virus. Front Neuroanat. 8, 86 (2014).

Wickersham, I. R. et al. Monosynaptic restriction of transsynaptic tracing from single, genetically targeted neurons. Neuron 53, 639–647 (2007).

Osakada, F. et al. New rabies virus variants for monitoring and manipulating activity and gene expression in defined neural circuits. Neuron 71, 617–631 (2011).

Enquist, L. W. Exploiting circuit-specific spread of pseudorabies virus in the central nervous system: insights to pathogenesis and circuit tracers. J. Infect. Dis. 186, S209–S214 (2002).

Wojaczynski, G. J., Engel, E. A., Steren, K. E., Enquist, L. W. & Patrick Card, J. The neuroinvasive profiles of H129 (herpes simplex virus type 1) recombinants with putative anterograde-only transneuronal spread properties. Brain Struct. Funct. 220, 1395–1420 (2015).

Zemanick, M. C., Strick, P. L. & Dix, R. D. Direction of transneuronal transport of herpes simplex virus 1 in the primate motor system is strain-dependent. Proc. Natl Acad. Sci. USA 88, 8048–8051 (1991).

Lo, L. & Anderson, D. J. A Cre-dependent, anterograde transsynaptic viral tracer for mapping output pathways of genetically marked neurons. Neuron 72, 938–950 (2011).

Zeng, W. B. et al. Anterograde monosynaptic transneuronal tracers derived from herpes simplex virus 1 strain H129. Mol. Neurodegener. 12, 38 (2017).

Dix, R. D., McKendall, R. R. & Baringer, J. R. Comparative neurovirulence of herpes simplex virus type 1 strains after peripheral or intracerebral inoculation of BALB/c mice. Infect. Immun. 40, 103–112 (1983).

Itzhaki, R. F. Corroboration of a major role for herpes simplex virus type 1 in Alzheimer's disease. Front Aging Neurosci. 10, 324 (2018).

Beier, K. T. et al. Anterograde or retrograde transsynaptic labeling of CNS neurons with vesicular stomatitis virus vectors. Proc. Natl Acad. Sci. USA 108, 15414–15419 (2011).

Zingg, B. et al. AAV-mediated anterograde transsynaptic tagging: mapping corticocollicular input-defined neural pathways for defense behaviors. Neuron 93, 33–47 (2017).

Castle, M. J., Gershenson, Z. T., Giles, A. R., Holzbaur, E. L. & Wolfe, J. H. Adeno-associated virus serotypes 1, 8, and 9 share conserved mechanisms for anterograde and retrograde axonal transport. Hum. Gene Ther. 25, 705–720 (2014).

Burger, C. et al. Recombinant AAV viral vectors pseudotyped with viral capsids from serotypes 1, 2, and 5 display differential efficiency and cell tropism after delivery to different regions of the central nervous system. Mol. Ther. 10, 302–317 (2004).

Mukhopadhyay, S., Kuhn, R. J. & Rossmann, M. G. A structural perspective of the flavivirus life cycle. Nat. Rev. Microbiol. 3, 13–22 (2005).

Yi, Z. et al. Identification and characterization of the host protein DNAJC14 as a broadly active flavivirus replication modulator. PLoS Pathog. 7, e1001255 (2011).

Voorn, P., Vanderschuren, L. J., Groenewegen, H. J., Robbins, T. W. & Pennartz, C. M. Putting a spin on the dorsal-ventral divide of the striatum. Trends Neurosci. 27, 468–474 (2004).

Bienkowski, M. S. et al. Integration of gene expression and brain-wide connectivity reveals the multiscale organization of mouse hippocampal networks. Nat. Neurosci. 21, 1628–1643 (2018).

Tervo, D. G. et al. A designer AAV variant permits efficient retrograde access to projection neurons. Neuron 92, 372–382 (2016).

Lindenbach, B. D. & Rice, C. M. Trans-complementation of yellow fever virus NS1 reveals a role in early RNA replication. J. Virol. 71, 9608–9617 (1997).

Dana, H. et al. High-performance calcium sensors for imaging activity in neuronal populations and microcompartments. Nat. Methods 16, 649–657 (2019).

Boudkkazi, S. et al. Release-dependent variations in synaptic latency: a putative code for short- and long-term synaptic dynamics. Neuron 56, 1048–1060 (2007).

Barbera, G. et al. Spatially compact neural clusters in the dorsal striatum encode locomotion relevant information. Neuron 92, 202–213 (2016).

Xu, W. & Sudhof, T. C. A neural circuit for memory specificity and generalization. Science 339, 1290–1295 (2013).

van Strien, N. M., Cappaert, N. L. & Witter, M. P. The anatomy of memory: an interactive overview of the parahippocampal-hippocampal network. Nat. Rev. Neurosci. 10, 272–282 (2009).

Reardon, T. R. et al. Rabies virus CVS-N2c(DeltaG) strain enhances retrograde synaptic transfer and neuronal viability. Neuron 89, 711–724 (2016).

Chatterjee, S. et al. Nontoxic, double-deletion-mutant rabies viral vectors for retrograde targeting of projection neurons. Nat. Neurosci. 21, 638–646 (2018).

Ciabatti, E., Gonzalez-Rueda, A., Mariotti, L., Morgese, F. & Tripodi, M. Life-long genetic and functional access to neural circuits using self-inactivating rabies virus. Cell 170, 382–392 e314 (2017).

Gradinaru, V. et al. Molecular and cellular approaches for diversifying and extending optogenetics. Cell 141, 154–165 (2010).

Libbrecht, S., Van den Haute, C., Malinouskaya, L., Gijsbers, R. & Baekelandt, V. Evaluation of WGA-Cre-dependent topological transgene expression in the rodent brain. Brain Struct. Funct. 222, 717–733 (2017).

Inagaki, H. K. et al. Visualizing neuromodulation in vivo: TANGO-mapping of dopamine signaling reveals appetite control of sugar sensing. Cell 148, 583–595 (2012).

Jagadish, S., Barnea, G., Clandinin, T. R. & Axel, R. Identifying functional connections of the inner photoreceptors in Drosophila using Tango-Trace. Neuron 83, 630–644 (2014).

Huang, T. H. et al. Tracing neuronal circuits in transgenic animals by transneuronal control of transcription (TRACT). eLife 6, e32027 (2017).

Barrett, A. D. T. Yellow fever live attenuated vaccine: a very successful live attenuated vaccine but still we have problems controlling the disease. Vaccine 35, 5951–5955 (2017).

Zolotukhin, S. et al. Recombinant adeno-associated virus purification using novel methods improves infectious titer and yield. Gene Ther. 6, 973–985 (1999).

Pnevmatikakis, E. A. & Giovannucci, A. NoRMCorre: an online algorithm for piecewise rigid motion correction of calcium imaging data. J. Neurosci. Methods 291, 83–94 (2017).

Zhou, P. et al. Efficient and accurate extraction of in vivo calcium signals from microendoscopic video data. eLife 7, e28728 (2018).
Acknowledgements
We thank E. Kavalali for critical comments and suggestions. This study was supported by Klingenstein-Simons Fellowship Awards in Neuroscience (to W.X.) and grants NIH/NINDS (no. NS104828 to W.X.), NIH/NIMH (no. MH099153 to W.X.) and NIH/NIAID (no. AI117922 to J.W.S.). UT BRAIN seed grants (no. 365231) and a Texas Institute for Brain Injury and Repair pilot grant provided funds to initiate this study. We thank D. Ramirez, J. Meeks and the Whole Brain Microscopy Facility at UT Southwestern and S. Yamazaki (Neuroscience Microscopy Facility at UT Southwestern) for help with imaging.
Ethics declarations
Competing interests
The authors declare no competing interests.
Additional information
Peer review information Nature Methods thanks Esteban Engel, Liqun Luo and Jennifer Treweek for their contribution to the peer review of this work. Nina Vogt was the primary editor on this article and managed its editorial process and peer review in collaboration with the rest of the editorial team.
Publisher's note Springer Nature remains neutral with regard to jurisdictional claims in published maps and institutional affiliations.
Supplementary information
About this article
Cite this article
Li, E., Guo, J., Oh, S.J. et al. Anterograde transneuronal tracing and genetic control with engineered yellow fever vaccine YFV-17D. Nat Methods 18, 1542–1551 (2021). https://doi.org/10.1038/s41592-021-01319-9
Received:

Accepted:

Published:

Issue Date:

DOI: https://doi.org/10.1038/s41592-021-01319-9
This article is cited by
Steven F. Grieco
Todd C. Holmes
Xiangmin Xu

Molecular Psychiatry (2023)

Feng Xiong
Hong Yang
Wen-Bo Zeng

Nature Communications (2022)

Liyao Qiu
Bin Zhang
Zhihua Gao

Neuroscience Bulletin (2022)