Abstract
Understanding complex biological systems requires visualizing structures and processes deep within living organisms. We developed a compact adaptive optics module and incorporated it into two- and three-photon fluorescence microscopes, to measure and correct tissue-induced aberrations. We resolved synaptic structures in deep cortical and subcortical areas of the mouse brain, and demonstrated high-resolution imaging of neuronal structures and somatosensory-evoked calcium responses in the mouse spinal cord at great depths in vivo.
This is a preview of subscription content
Access options
Subscribe to Journal
Get full journal access for 1 year
$119.00
only $9.92 per issue
All prices are NET prices.
VAT will be added later in the checkout.
Tax calculation will be finalised during checkout.
Rent or Buy article
Get time limited or full article access on ReadCube.
from$8.99
All prices are NET prices.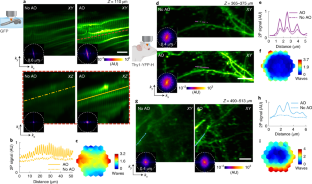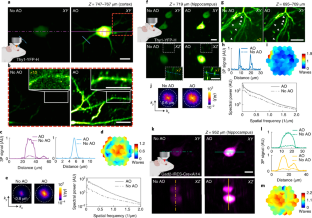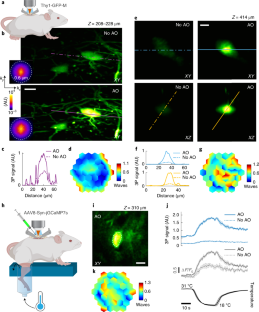 References
1.

Horton, N. G. et al. In vivo three-photon microscopy of subcortical structures within an intact mouse brain. Nat. Photonics 7, 205–209 (2013).

2.

Ouzounov, D. G. et al. In vivo three-photon imaging of activity of GCaMP6-labeled neurons deep in intact mouse brain. Nat. Methods 14, 388–390 (2017).

3.

Wang, T. & Xu, C. Three-photon neuronal imaging in deep mouse brain. Optica 7, 947–960 (2020).

4.

Kubby, J. A. Adaptive Optics for Biological Imaging (CRC Press, 2013).

5.

Booth, M. J. Adaptive optical microscopy: the ongoing quest for a perfect image. Light.: Sci. Appl. 3, e165 (2014).

6.

Ji, N. Adaptive optical fluorescence microscopy. Nat. Methods 14, 374–380 (2017).

7.

Rodríguez, C. & Ji, N. Adaptive optical microscopy for neurobiology. Curr. Opin. Neurobiol. 50, 83–91 (2018).

8.

Wang, K. et al. Direct wavefront sensing for high-resolution in vivo imaging in scattering tissue. Nat. Commun. 6, 7276 (2015).

9.

Liu, R., Li, Z., Marvin, J. S. & Kleinfeld, D. Direct wavefront sensing enables functional imaging of infragranular axons and spines. Nat. Methods 16, 615–618 (2019).

10.

Wang, C. et al. Multiplexed aberration measurement for deep tissue imaging in vivo. Nat. Methods 11, 1037–1040 (2014).

11.

Liu, R., Milkie, D. E., Kerlin, A., MacLennan, B. & Ji, N. Direct phase measurement in zonal wavefront reconstruction using multidither coherent optical adaptive technique. Opt. Express 22, 1619–1628 (2014).

12.

Ji, N., Sato, T. R. & Betzig, E. Characterization and adaptive optical correction of aberrations during in vivo imaging in the mouse cortex. Proc. Natl Acad. Sci. USA 109, 22–27 (2012).

13.

Ran, C., Hoon, M. A. & Chen, X. The coding of cutaneous temperature in the spinal cord. Nat. Neurosci. 19, 1201–1209 (2016).

14.

Johannssen, H. C. & Helmchen, F. In vivo Ca2+ imaging of dorsal horn neuronal populations in mouse spinal cord. J. Physiol. 588, 3397–3402 (2010).

15.

Matsumura, S., Taniguchi, W., Nishida, K., Nakatsuka, T. & Ito, S. In vivo two-photon imaging of structural dynamics in the spinal dorsal horn in an inflammatory pain model. Eur. J. Neurosci. 41, 989–997 (2015).

16.

Cheng, Y.-T., Lett, K. M. & Schaffer, C. B. Surgical preparations, labeling strategies, and optical techniques for cell-resolved, in vivo imaging in the mouse spinal cord. Exp. Neurol. 318, 192–204 (2019).

17.

Sekiguchi, K. J. et al. Imaging large-scale cellular activity in spinal cord of freely behaving mice. Nat. Commun. 7, 11450 (2016).

18.

Dana, H. et al. High-performance calcium sensors for imaging activity in neuronal populations and microcompartments. Nat. Methods 16, 649–657 (2019).

19.

Débarre, D. et al. Image-based adaptive optics for two-photon microscopy. Opt. Lett. 34, 2495–2497 (2009).

20.

Galwaduge, P. T., Kim, S. H., Grosberg, L. E. & Hillman, E. M. C. Simple wavefront correction framework for two-photon microscopy of in-vivo brain. Biomed. Opt. Express 6, 2997 (2015).

21.

Streich, L. et al. High-resolution structural and functional deep brain imaging using adaptive optics three-photon microscopy. Preprint at bioRxiv https://doi.org/10.1101/2021.01.12.426323 (2021).

22.

Tao, X. et al. Transcutical imaging with cellular and subcellular resolution. Biomed. Opt. Express 8, 1277 (2017).

23.

Panagopoulou, S. I. & Neal, D. R. Zonal matrix iterative method for wavefront reconstruction from gradient measurements. J. Refract. Surg. 21, 563–569 (2005).

24.

Hu, Q. et al. A universal framework for microscope sensorless adaptive optics: generalized aberration representations. APL Photonics 5, 100801 (2020).

25.

Podgorski, K. & Ranganathan, G. Brain heating induced by near-infrared lasers during multiphoton microscopy. J. Neurophysiol. 116, 1012–1023 (2016).

26.

Wang, T. et al. Quantitative analysis of 1300-nm three-photon calcium imaging in the mouse brain. eLife 9, e53205 (2020).

27.

Olivié, G. et al. Wavelength dependence of femtosecond laser ablation threshold of corneal stroma. Opt. Express 16, 4121–4129 (2008).

28.

Akturk, S., Gu, X., Kimmel, M. & Trebino, R. Extremely simple single-prism ultrashort- pulse compressor. Opt. Express 14, 10101–10108 (2006).

29.

Horton, N. G. & Xu, C. Dispersion compensation in three-photon fluorescence microscopy at 1,700 nm. Biomed. Opt. Express 6, 1392–1397 (2015).

30.

Ji, N., Milkie, D. E. & Betzig, E. Adaptive optics via pupil segmentation for high-resolution imaging in biological tissues. Nat. Methods 7, 141–147 (2010).

31.

Bridges, W. B. et al. Coherent optical adaptive techniques. Appl. Opt. 13, 291–300 (1974).

32.

O'Meara, T. R. Theory of multidither adaptive optical systems operating with zonal control of deformable mirrors. J. Opt. Soc. Am. 67, 318–325 (1977).

33.

O'Meara, T. R. The multidither principle in adaptive optics. J. Opt. Soc. Am. 67, 306–315 (1977).

34.

Turcotte, R., Liang, Y. & Ji, N. Adaptive optical versus spherical aberration corrections for in vivo brain imaging. Biomed. Opt. Express 8, 3891–3902 (2017).

35.

Thévenaz, P., Ruttimann, U. E. & Unser, M. A pyramid approach to subpixel registration based on intensity. IEEE Trans. Image Process. 7, 27–41 (1998).

36.

Godinho, L. Imaging zebrafish development. Cold Spring Harb. Protoc. 2011, 879–883 (2011).

37.

Sun, W., Tan, Z., Mensh, B. D. & Ji, N. Thalamus provides layer 4 of primary visual cortex with orientation- and direction-tuned inputs. Nat. Neurosci. 19, 308–315 (2016).
Acknowledgements
We thank J. Wu for help with the detection system; the Janelia JET team for designing and assembling the dispersion compensation unit; E. Carroll for help with galvo electronics; S. Chen for surgical assistance and K. Borges and Q. Zhang for helpful discussions. This work was supported by the Howard Hughes Medical Institute (C.R., A.C., Y.L., R.G.N., W.S., D.E.M. and N.J.); the National Institutes of Health U01NS118300 (C.R. and N.J.); the Burroughs Wellcome Fund under the Career Awards at the Scientific Interface (C.R.); Lawrence Berkeley National Laboratory LDRD 20–116 (J.A.R.) and the Firmenich Next Generation Fund, the Terman Fellowship, NIH grant nos. R01DA045664, R01MH116904 and R01HL150566 (X.C.).
Ethics declarations
Competing interests
N.J. and Howard Hughes Medical Institute have filed patent applications that relate to the principle of frequency-multiplexed aberration measurement. T.G.B. has a financial interest in Boston Micromachines Corporation, which produced commercially the DB used in this work. The remaining authors declare no competing interests.
Additional information
Peer review information Nature Methods thanks the anonymous reviewers for their contribution to the peer review of this work. Nina Vogt was the primary editor on this article and managed its editorial process and peer review in collaboration with the rest of the editorial team.
Publisher's note Springer Nature remains neutral with regard to jurisdictional claims in published maps and institutional affiliations.
Supplementary information
About this article
Cite this article
Rodríguez, C., Chen, A., Rivera, J.A. et al. An adaptive optics module for deep tissue multiphoton imaging in vivo. Nat Methods 18, 1259–1264 (2021). https://doi.org/10.1038/s41592-021-01279-0
Received:

Accepted:

Published:

Issue Date: