A gene sequence-to-expression machine learning model achieves improved accuracy by incorporating information about potential long-range interactions.
This is a preview of subscription content
Access options
Subscribe to Journal
Get full journal access for 1 year
$119.00
only $9.92 per issue
All prices are NET prices.
VAT will be added later in the checkout.
Tax calculation will be finalised during checkout.
Rent or Buy article
Get time limited or full article access on ReadCube.
from$8.99
All prices are NET prices.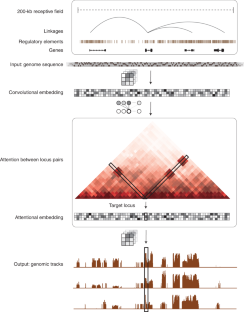 References
1.

Avsec, Z. et al. Nat. Methods https://doi.org/10.1038/s41592-021-01252-x (2021).

2.

Kelley, D. R. et al. Genome Res. 28, 739–750 (2018).

3.

Ouyang, Z., Zhou, Q. & Wong, W. H. Proc. Natl Acad. Sci. USA 106, 21521–21526 (2009).

4.

Karlić, R. et al. Proc. Natl Acad. Sci. USA 107, 2926–2931 (2010).

5.

Kelley, D. R., Snoek, J. & Rinn, J. L. Genome Res. 26, 990–999 (2016).

6.

Zhou, J. et al. Nat. Genet. 50, 1171–1179 (2018).

7.

Waswani, A. et al. in Advances in Neural Information Processing Systems 30 (NIPS2017) 6000–6010 (2017).

8.

Gasperini, M., Tome, J. M. & Shendure, J. Nat. Rev. Genet. 21, 292–310 (2020).

9.

Fudenberg, G., Kelley, D. R. & Pollard, K. S. Nat. Methods 17, 1111–1117 (2020).

10.

Schreiber, J.M., Lu, Y.Y. & Noble, W.S. in ICML Workshop on Computational Biology (2020).
Acknowledgements
This work was supported by NIH award U01 HG009395.
Ethics declarations
Competing interests
The authors declare no competing interests.
About this article
Cite this article
Lu, Y.Y., Noble, W.S. A wider field of view to predict expression. Nat Methods 18, 1155–1156 (2021). https://doi.org/10.1038/s41592-021-01259-4