Abstract
Two-photon microscopy has enabled high-resolution imaging of neuroactivity at depth within scattering brain tissue. However, its various realizations have not overcome the tradeoffs between speed and spatiotemporal sampling that would be necessary to enable mesoscale volumetric recording of neuroactivity at cellular resolution and speed compatible with resolving calcium transients. Here, we introduce light beads microscopy (LBM), a scalable and spatiotemporally optimal acquisition approach limited only by fluorescence lifetime, where a set of axially separated and temporally distinct foci record the entire axial imaging range near-simultaneously, enabling volumetric recording at 1.41 × 108 voxels per second. Using LBM, we demonstrate mesoscopic and volumetric imaging at multiple scales in the mouse cortex, including cellular-resolution recordings within ~3 × 5 × 0.5 mm volumes containing >200,000 neurons at ~5 Hz and recordings of populations of ~1 million neurons within ~5.4 × 6 × 0.5 mm volumes at ~2 Hz, as well as higher speed (9.6 Hz) subcellular-resolution volumetric recordings. LBM provides an opportunity for discovering the neurocomputations underlying cortex-wide encoding and processing of information in the mammalian brain.
Access options
Subscribe to Journal
Get full journal access for 1 year
$119.00
only $9.92 per issue
All prices are NET prices.
VAT will be added later in the checkout.
Tax calculation will be finalised during checkout.
Rent or Buy article
Get time limited or full article access on ReadCube.
from$8.99
All prices are NET prices.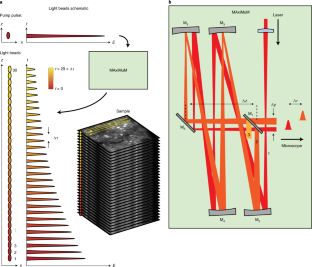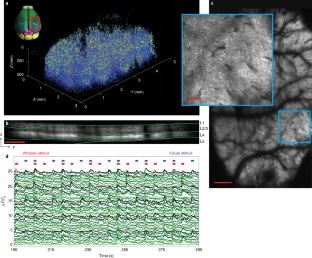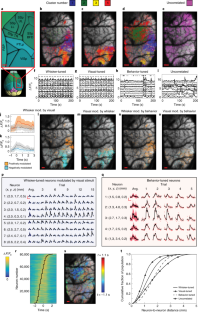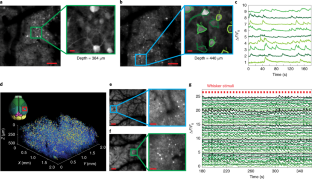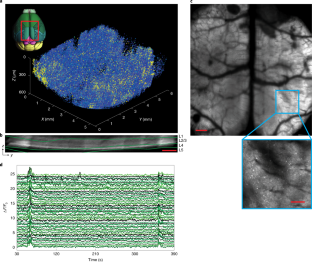 Data availability
The raw image data presented in this work is currently too large for sharing via typical public repositories. It is available from the corresponding author upon reasonable request. Source data are provided with this paper.
Code availability
Stimulus delivery and treadmill control was implemented with a combination of MATLAB, Python, and Arduino scripts. Neuronal segmentation and non-rigid motion correction were based on the CaImAn53,54 and NoRMCorre52 software packages, respectively, and implemented using MATLAB. All custom code, including pipelines based on CaImAn and NoRMCorre, is publicly available on the Vaziri lab GitHub repository (https://github.com/vazirilab).
References
1.

Denk, W., Strickler, J. H. & Webb, W. W. Two-photon laser scanning fluorescence microscopy. Science 248, 73–76 (1990).

2.

So, P. T. C., Dong, C. Y., Masters, B. R. & Berland, K. M. Two photon excitation fluorescence microscopy. Annu. Rev. Biomed. Eng. 2, 399–429 (2000).

3.

Helmchen, F. & Denk, W. Deep tissue two-photon microscopy. Nat. Methods 2, 932–940 (2005).

4.

Miyawaki, A. et al. Fluorescent indicators for Ca2+ based on green fluorescent proteins and calmodulin. Nature 388, 882–887 (1997).

5.

Nakai, J., Ohkura, M. & Imoto, K. A high signal-to-noise Ca2+ probe composed of a single green fluorescent protein. Nat. Biotechnol. 19, 137–141 (2001).

6.

Chen, T. et al. Ultrasensitive fluorescent proteins for imaging neuronal activity. Nature 499, 295–300 (2013).

7.

Harris, J. A. et al. Hierarchical organization of cortical and thalamic connectivity. Nature 575, 195–202 (2019).

8.

Kuchibhotla, K. V. et al. Parallel processing by cortical inhibition enables context-dependent behavior. Nat. Neurosci. 20, 62–71 (2017).

9.

Stringer, C., Pachitariu, M., Steinmetz, N., Carandini, M. & Harris, K. D. High-dimensional geometry of population responses in visual cortex. Nature 571, 361–365 (2019).

10.

Rumyantsev, O. I. et al. Fundamental bounds on the fidelity of sensory cortical coding. Nature 580, 100–105 (2020). NC.

11.

Musall, S., Kaufman, M. T., Juavinett, A. L., Gluf, S. & Churchland, A. K. Single-trial neural dynamics are dominated by richly varied movements. Nat. Neurosci. 22, 1677–1686 (2019). NC.

12.

Makino, H. et al. Transformation of cortex-wide emergent properties during motor learning. Neuron 94, 880–890 (2017).

13.

Mao, T. et al. Long-range neuronal circuits underlying the interaction between sensory and motor cortex. Neuron 71, 111–123 (2011).

14.

Pinto, L. et al. Task-dependent changes in the large-scale dynamics and necessity of cortical regions. Neuron 104, 810–8214 (2019).

15.

Lin, Q. et al. Cerebellar neurodynamics predict decision timing and outcome on the Single-Trial level. Cell 180, 1–16 (2020).

16.

Bartolo, R., Saunders, R. C., Mitz, A. R. & Averbeck, B. B. Information-limiting correlations in large neural populations. J. Neurosci. 40, 1668–1678 (2020).

17.

Tsai, P. S. et al. Ultra-large field-of-view two-photon microscopy. Opt. Express 23, 13833–13847 (2015).

18.

Sofroniew, N. J., Flickinger, D., King, J. & Svoboda, K. A large field of view two-photon mesoscope with subcellular resolution for in vivo imaging. eLife 5, 14472 (2016).

19.

Stirman, J. N., Smith, I. T., Kudenov, M. W. & Smith, S. L. Wide field- of-view, multi-region, two-photon imaging of neuronal activity in the mammalian brain. Nat. Biotechnol. 34, 857–862 (2016).

20.

Ji, N., Freeman, J. & Smith, S. L. Technologies for imaging neural activity in large volumes. Nat. Neurosci. 19, 1154–1164 (2016).

21.

Weisenburger, S. & Vaziri, A. A guide to emerging technologies for large-scale and whole-brain optical imaging of neuronal activity. Annu. Rev. Neurosci. 41, 431–452 (2018).

22.

Yang, W. & Yuste, R. In vivo imaging of neural activity. Nat. Methods 14, 349–359 (2017).

23.

Yu, C., Stirman, J. N., Riichiro Hira, Y. Y., & Smith, S. L. Diesel2p mesoscope with dual independent scan engines for flexible capture of dynamics in distributed neural circuitry. Preprint at bioRxiv https://doi.org/10.1101/2020.09.20.305508 (2020).

24.

Prevedel, R. et al. Fast volumetric calcium imaging across multiple cortical layers using sculpted light. Nat. Methods 13, 1021–1028 (2016).

25.

Weisenburger, S. et al. Volumetric Ca2+ imaging in the mouse brain using hybrid multiplexed sculpted light (HyMS) microscopy. Cell 177, 1–17 (2019).

26.

Kazemipour, A. et al. Kilohertz frame-rate two-photon tomography. Nat. Methods 16, 778–786 (2019).

27.

Botcherby, E. J., Juškaitis, R. & Wilson, T. Scanning two photon fluorescence microscopy with extended depth of field. Opt. Commun. 268, 253–260 (2006).

28.

Song, A. et al. Volumetric two-photon imaging of neurons using stereoscopy (vTwINS). Nat. Methods 14, 420–426 (2017).

29.

Lu, R. et al. Rapid mesoscale volumetric imaging of neural activity with synaptic resolution. Nat. Methods 17, 291–294 (2020).

30.

Zhang, T. et al. Kilohertz two-photon brain imaging in awake mice. Nat. Methods 16, 1119–1122 (2019).

31.

Tsai, Y.-H. et al. Two-photon microscopy at >500 volumes/second. Preprint at bioRxiv https://doi.org/10.1101/2020.10.21.349712 (2020).

32.

Amir, W. et al. Simultaneous imaging of multiple focal planes using a two-photon scanning microscope. Opt. Lett. 32, 1731–1733 (2007).

33.

Cheng, A., Gonçalves, J., Golshani, P., Arisaka, K. & Portera-Cailliau, C. Simultaneous two-photon calcium imaging at different depths with spatiotemporal multiplexing. Nat. Methods 8, 139–142 (2011).

34.

Tsyboulski, D. et al. Remote focusing system for simultaneous dual-plane mesoscopic multiphoton imaging. Preprint at bioRxiv https://doi.org/10.1101/503052 (2018).

35.

Wu, J. et al. Ultrafast laser-scanning time-stretch imaging at visible wavelengths. Light.: Sci. Appl. 6, e16196 (2017).

36.

Beaulieu, D. R., Davison, I. G., Kılıç, K., Bifano, T. G. & Mertz, J. Simultaneous multiplane imaging with reverberation two-photon microscopy. Nat. Methods 17, 283–286 (2020).

37.

Wu, J. et al. Kilohertz two-photon fluorescence microscopy imaging of neural activity in vivo. Nat. Methods 17, 287–290 (2020).

38.

Daigle, T. L. et al. A suite of transgenic driver and reporter mouse lines with enhanced brain-cell-type targeting and functionality. Cell 174, 465–480 (2018).

39.

Horton, N. et al. In vivo three-photon microscopy of subcortical structures within an intact mouse brain. Nat. Photon 7, 205–209 (2013).

40.

Cooper, B. G., Manka, T. F. & Mizumori, S. J. Y. Finding your way in the dark: the retrosplenial cortex contributes to spatial memory and navigation without visual cues. Behav. Neurosci. 115, 1012–1028 (2001).

41.

Cohen, M. R. & Kohn, A. Measuring and interpreting neuronal correlations. Nat. Neurosci. 14, 811–819 (2011).

42.

Stringer, C. et al. Spontaneous behaviors drive multidimensional, brainwide activity. Science 364, 255 (2019).

43.

Dana, H. et al. High-performance calcium sensors for imaging activity in neuronal populations and microcompartments. Nat. Methods 16, 649–657 (2019).

44.

Rigotti, M. et al. The importance of mixed selectivity in complex cognitive tasks. Nature 497, 585–590 (2013).

45.

Abbott, L. F. & Dayan, P. The effect of correlated variability on the accuracy of a population code. Neural Comput. 11, 91–101 (1999). NC.

46.

Steinmetz, N. A., Zatka-Haas, P., Carandini, M. & Harris, K. D. Distributed coding of choice, action and engagement across the mouse brain. Nature 576, 266–273 (2019).

47.

Runyan, C., Piasini, E., Panzeri, S. & Harvey, C. D. Distinct timescales of population coding across cortex. Nature 548, 92–96 (2017).

48.

Li, N., Daie, K., Svoboda, K. & Druckmann, S. Robust neuronal dynamics in premotor cortex during motor planning. Nature 532, 459–464 (2016).

49.

Howe, M. W. & Dombeck, D. A. Rapid signalling in distinct dopaminergic axons during locomotion and reward. Nature 535, 505–510 (2016).

50.

Rajasethupathy, P. et al. Projections from neocortex mediate top-down control of memory retrieval. Nature 526, 653–659 (2015).

51.

Lau, C. et al. Exploration and visualization of gene expression with neuroanatomy in the adult mouse brain. BMC Bioinf. 9, 153–163 (2008).

52.

Zariwala, H. A. et al. A Cre-dependent GCaMP3 reporter mouse for neuronal imaging in vivo. J. Neuroscience 32, 3131–3141 (2012).

53.

Pnevmatikakis, E. A. & Giovannucci, A. NoRMCorre: an online algorithm for piecewise rigid motion correction of calcium imaging data. J. Neurosci. Meth. 291, 83–94 (2016).

54.

Pnevmatikakis, E. A. et al. Simultaneous denoising, deconvolution, and demixing of calcium imaging data. Neuron 89, 285–299 (2016).

55.

Giovannucci, A. et al. CaImAn: an open source tool for scalable calcium imaging data analysis. eLife 8, 38173 (2019).

56.

Kandel, E. R., Schwartz, J. H. & Jessell, T. M. Principles of Neural Science. (McGraw-Hill, Health Professions Division, 2000).

57.

Mathis, A. et al. DeepLabCut: markerless pose estimation of user-defined body parts with deep learning. Nat. Neurosci. 21, 1281–1289 (2018).

58.

Nath, T. et al. Using DeepLabCut for 3D markerless pose estimation across species and behaviors. Nat. Protoc. 14, 2152–2176 (2019).

59.

Stujenske, J. M., Spellman, T. & Gordon, J. A. Modeling the spatiotemporal dynamics of light and heat propagation for in vivo optogenetics. Cell Rep. 12, 525–534 (2015).

60.

Podgorski, K. & Ranganathan, G. Brain heating induced by near-infrared lasers during multiphoton microscopy. J. Neurophysiol. 116, 1012–1023 (2016).
Acknowledgements
We thank P. Strogies and J. M. Petrillo (Precision Instrumentation Technology, Rockefeller University) for manufacturing mechanical components and K. Cialowicz (Bio-Imaging Resource Center, Rockefeller University) for performing confocal imaging of immunolabelled samples. We thank S. Weisenburger (LUMICKS) for helpful discussions related to microscope development and synchronization, and T. Nöbauer (Rockefeller University) for discussions regarding data management and processing. We thank K. Podgorski (Howard Hughes Medical Institute) for sharing previously used simulation software58 for laser-induced heating. Research reported in this publication was supported by the National Institute of Neurological Disorders and Stroke of the National Institutes of Health under award numbers 5U01NS103488, 1RF1NS113251, and 1RF1NS110501 (A. V.) and the Kavli Foundation (A.V., J. M., J. D.). This research was supported in part by a Bristol-Myers Squibb Postdoctoral Fellowship (J. D.).
Ethics declarations
Competing interests
A. V. and J. D. described Light Beads Microscopy in patent application PCT/US2021/015957.
Additional information
Peer review information Nature Methods thanks Rosa Cossart and the other, anonymous, reviewer(s) for their contribution to the peer review of this work.
Publisher's note Springer Nature remains neutral with regard to jurisdictional claims in published maps and institutional affiliations.
Supplementary information
About this article
Cite this article
Demas, J., Manley, J., Tejera, F. et al. High-speed, cortex-wide volumetric recording of neuroactivity at cellular resolution using light beads microscopy. Nat Methods 18, 1103–1111 (2021). https://doi.org/10.1038/s41592-021-01239-8
Received:

Accepted:

Published:

Issue Date: